It's almost that time of year again! March Madness is just around the corner, and its arrival also signals the beginning of other competitions that coincide with the culturally transcendent college basketball tournament. Last year, Merriment Social asked its regulars to create signature sandwiches for its inaugural "March Madness Burger Series." After seven weeks, thousands of votes from happy hour diners, and three rounds of competition, Mark Fraaza was crowned the champion. His delectable "Swayze Train" was added to Merriment's menu (where it currently has the distinction of being the second best-selling burger). With the first tourney's undisputed success, Merriment decided to bring the culinary competition back in 2018, with a charitable twist this time around.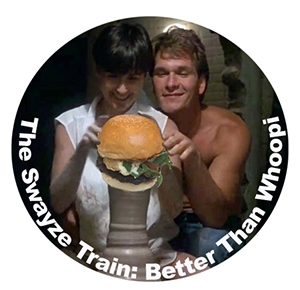 Fraaza—a medical professional who also drums in The DUIs—was invited to defend his title, and he'll be facing off against seven Milwaukee businesses this year. Those competitors include 88Nine, Moda3, Founders 3, Lammi Sports Management, PKWare, PRA, and Traction Factory. Each of the participating businesses are located near Merriment, which owner Sam Emery hopes will bring a sense of community to the series and increase the level of competition between them.
"Involving the community and knowing most of the companies are right here on this street, it gives you a sense of neighborhood," Emery says.
Every Tuesday to Friday starting February 20 and running through the second week in April, Merriment will offer two happy hour burgers ($5 each) for patrons to try. Customers will also be given a ballot to cast their vote for which of the two burgers is most worthy of advancement. The restaurant will also extend the happy hour burgers all night long every Thursday to coincide with a live Bucks Basketball Hour broadcast with 105.7 The Fan's Bill Michaels, Sparky Fifer, and a current or former Milwaukee player.
After four weekly head-to-head match-ups, two semi-final contests, and the finals, there will be a new champion. In addition to the glory of having their burger added to the respected young restaurant's menu, Merriment will also donate $1,000 to a charity of the winner's choosing and will host a fundraiser for the winning business.
"The whole reason we started this restaurant was to have a canvas where we could do whatever," Emery says. "We're going to be raising a ton of money for non-profits. So now, instead of just doing it because it's fun, and funky, and cool, we're going to have an actual mission for it. Hopefully it'll keep snowballing year after year."
Emery says he thinks this year's tourney could raise upwards of $10,000 between the $1,000 grand prize and the additional $500 Merriment will add to the donation pool every week somebody rents out the restaurant's upper level. Milwaukee Fire Department's "Warm Up Winter" program, Honor Flight, Donald Driver Foundation, and Walker's Point School For The Arts are some of the organizations participating businesses have selected as their benefactor. If he can repeat last year's beefy feat, Fraaza will give his prize to K9 Cupids. He's planning an homage to a Taco Bell favorite this year.
"My friends are like 'This is the biggest thing you've done in your life, and it's all for a burger,'" Fraaza says. "'You've put more effort into this than anything you've ever done.'"
If you want to see what sort of crazy burgers some Milwaukee businesses (and Fraaza) craft, exercise your right to vote, and be part of a unique benefit, swing by Merriment Social for a happy hour bite next week and subsequent every week through mid-April.