Back in February we hipped you to a place called Louie's Char Dogs & Butter Burgers, opening soon at 2336 N. Farwell Ave.—a.k.a. the little strip mall on the East Side where Blockbuster used to be. Well, the wait is over, char dog fans: Louie's is open for business, and it's good.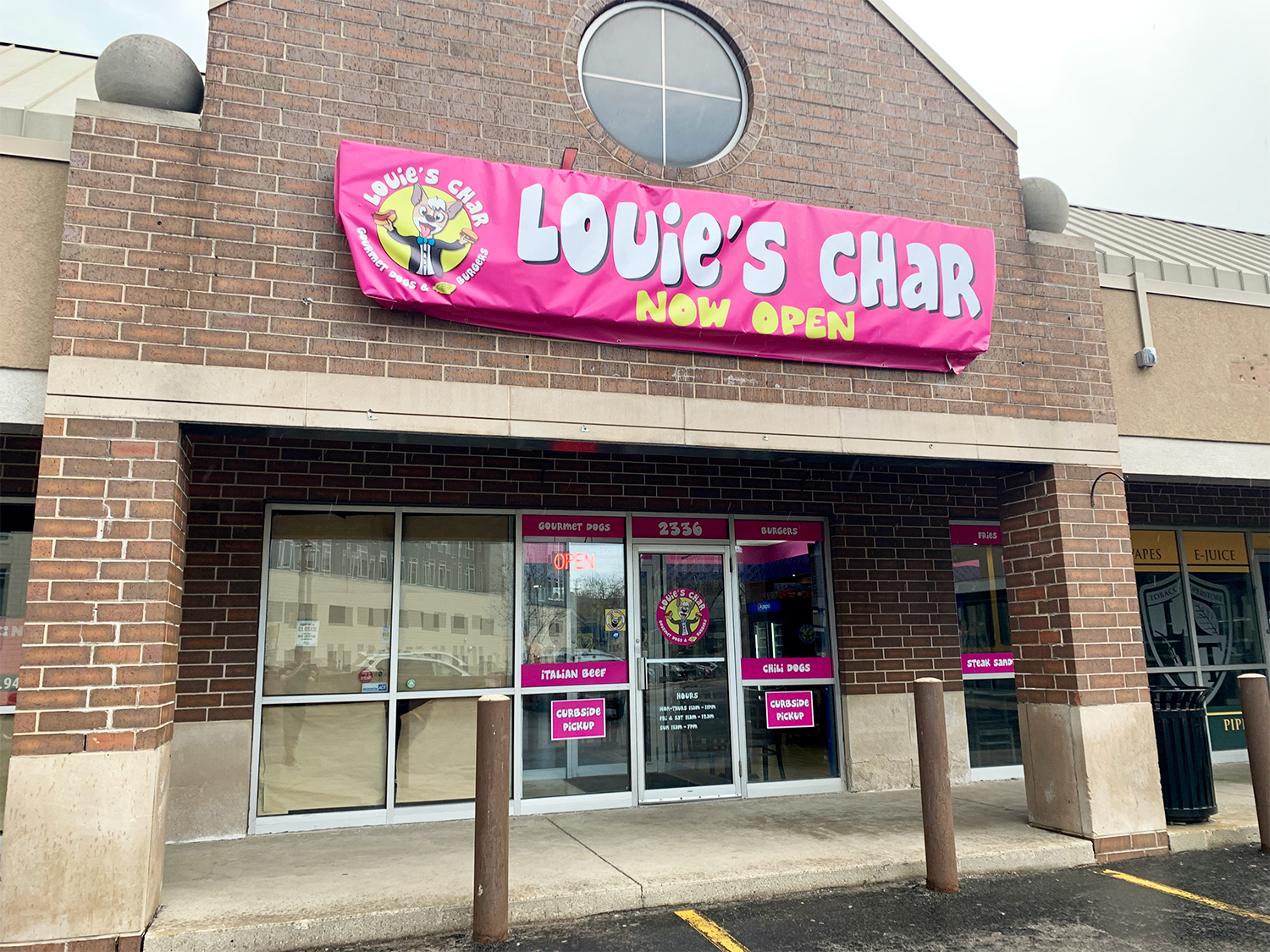 From butter burgers and gourmet hot dogs to beef sandwiches and fish platters, Louie's has a lot on its menu. In the mood for soup, chili, or mac & cheese? Louie's has you covered. Cheese curds? Louie's has you covered. Feeding a finicky kid who doesn't want jalapeños or Louisiana hot sauce on their dog? Yep, Louie's has you covered.
We paid Louie's a visit on Tuesday afternoon. Located in the space last occupied by Bee's Cuisine, it's a bright and welcoming little joint filled with mirrors, a flatscreen TV, ample seating, and—you better believe it—an ICEE MACHINE. Friends was on the TV. Britney Spears and Avril Lavigne were on the radio. Be still our hearts.
Of course, what with the pandemic and all, we got our food to go. (Louie's also offers curbside pickup; call 414-212-8761.) Back at home, we enjoyed a Chicago Style Char Dog (yellow mustard, garlic aioli, neon green relish, chopped onion, tomato slices, sport peppers, Schwartz's pickle spear, celery salt; $7.49), a Chili Mac Char Dog (white cheddar mac & cheese, chili meat, chili beans, seasoned sour cream, jalapeño sauce and slices, baked beans, yellow mustard, garlic aioli; $7.49), Louie's Crazy Burger (yellow mustard, garlic aioli, American cheese, cheddar cheese, lettuce, tomato, sliced onion, sweet pickles, Peppadew peppers, Louie Sauce; $8.95), and a plain ol' single patty butter burger ($7.95). Did we get fries with that? Yes. Did we pick up two cans of Mountain Dew with that? You have to ask?
Our Louie's Char Dogs & Butter Burgers verdict? Everything was great! The burgers were juicy and buttery, the buns were fluffy and buttery, the dogs were nice and snappy, and the fries were nice and peppery. Good, solid, delicious comfort food from a local upstart business? What's not to love? We'll be back!
Also, this totally happened:
When you're at a new restaurant and they ask the guy ahead of you where he heard about the place and he says "OnMilwaukee" but you know it's actually Milwaukee Record because you're the only one who's written about the place so far

— Matt Wild (@ByMattWild) April 6, 2021
So check it out! And tell 'em Milwaukee Record sent you.
Exclusive articles, podcasts, and more. Support Milwaukee Record on Patreon.
---
RELATED ARTICLES
 • Louie's Char Dogs & Butter Burgers coming to East Side strip mall where Blockbuster used to be