In spring of 2011, Elisabeth Stoeger and husband Oscar Castañeda quietly opened Oscar's Pub & Grill on 17th and Pierce. It didn't take long for buzz to build around the bar and restaurant, its excellent selection of beer, and its incredible half-pound burgers created by Oscar himself—who previously worked at Sobelman's and Wild Flour Bakery—that top out at $7.25 (including fries!). After the unabashed success of the flagship establishment, expansion was a natural next step.
Last year, the Oscar's ownership team acquired the former site of Winner's Circle Bar & Grill in Burnham Park, with aspirations of bringing their winning formula of awesome burgers, craft beer, and low prices to another neighborhood. Almost exactly seven years after the first Oscar's fired up its grill with little fanfare, Oscar's Winner's Circle (3800 W. Burnham St., 414-249-5701) opened about 20 blocks to the west. With exponentially more awareness and expectation this time around, could Oscar's Winner's Circle continue to sterling reputation of its predecessor? A few days after its March 19 opening, Milwaukee Record went to Burnham Park to try Oscar's latest creations.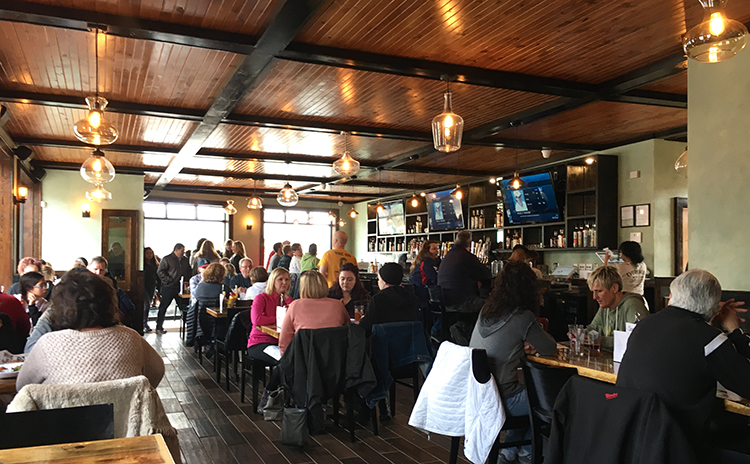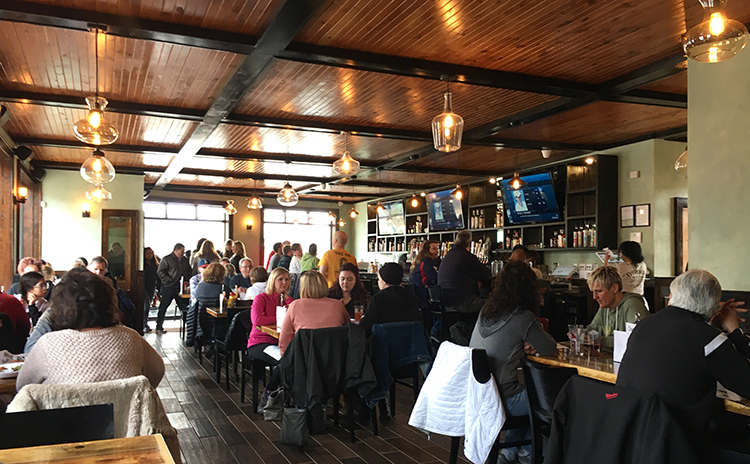 The space: Oscar's Winner's Circle was originally projected to open last August. As usual, construction delays and red tape pushed the opening date back a few months. While we'd never stepped foot in the original Winner's Circle, the improvements were apparent. The interior—approximately half the square footage of the original Oscar's—is outfitted with new light fixtures, a shimmering ceiling, an updated bar and bar back shelving, and stylish tiled flooring. The room is crammed tight with tables and barstools to maximize the restaurant's limited space.
During our visit, Johnny Cash songs provided much of the soundtrack, at least until NCAA tournament action tipped off, at which point the audio from the game that was displayed on the handful of wall- and bar-mounted flatscreens took over. There was little-to-no decoration on the light green walls, but the blank canvas is sure to take on some personality as the business settles in.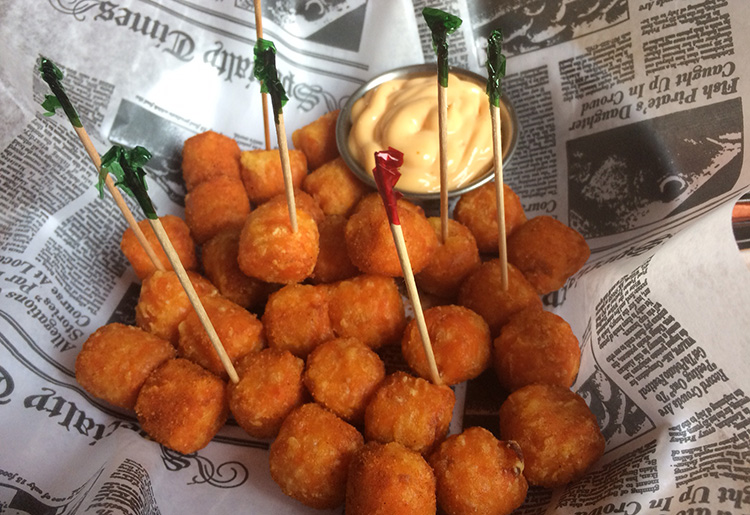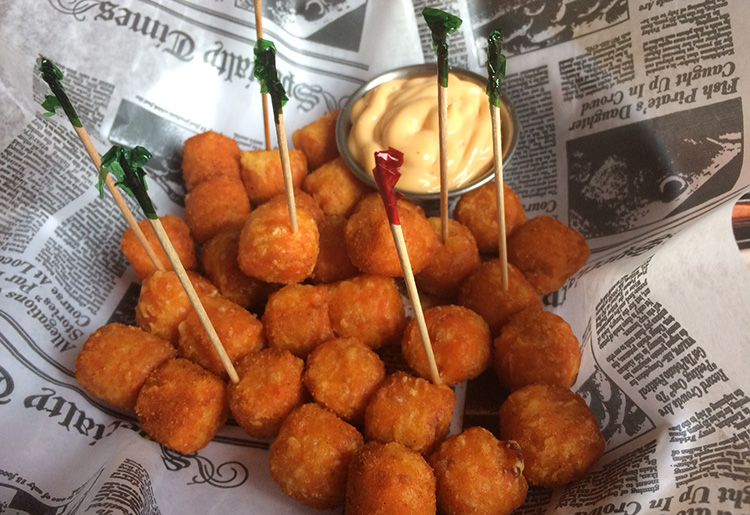 Milwaukee Record's food: While Oscar's Pub & Grill has earned oodles of positive reviews, and its "Big O" burger has attained local legend status, the new offshoot has a completely new menu. There are breakfast skillets, wraps, salads, and an array of new side dishes. We started with an order of Winner's Puffs ($4.99), one of the more interesting appetizer options in the arsenal of deep-fried fare. The "puffs" are essentially sweet potato tater tots that are dressed up and accented with a zesty Korean BBQ rub and served with a spiced mayo dipping sauce. Though not revolutionary, they're a more-than-serviceable starter to enjoy with one of Winner's Circle's 40 (yes, FORTY!) draft beer choices.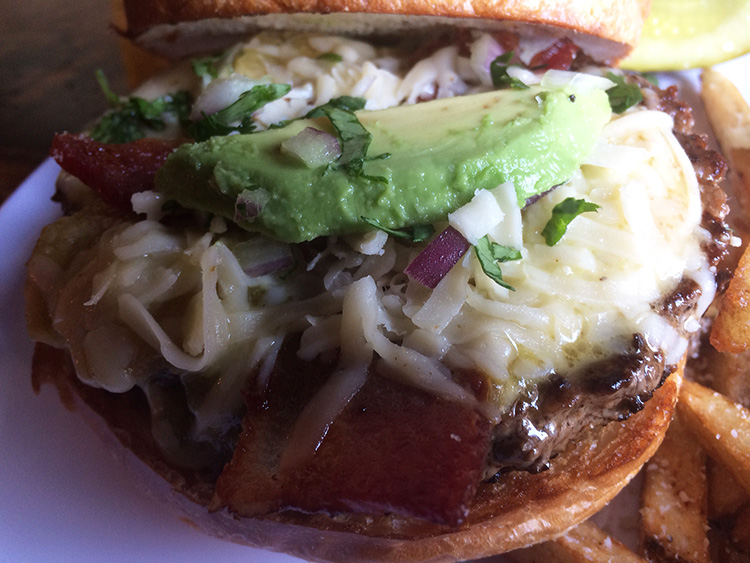 Fortunately, burgers still dominate the menu. There's no retread of the original Oscar's menu, but Castañeda and company have crafted more unconventional beef creations. In all, there are seven new burgers in addition to a standard offering and build-your-own options. The aptly-named "Gordo" ($7.75) is among the more indulgent newcomers on hand. It finds the familiar eight-ounce Angus beef patty topped with bacon, chicharron, salsa verde, red onion, cilantro, fresh avocado, and chihuahua cheese crammed betwixt Oscar's trademark Wild Flour bun. In spite of the bacon and chicharron, we felt this was a (comparably) lighter, fresher, and less bold take on the Big O—which, for our money, is probably the best burger in Milwaukee—that would've benefited from sliced cheese instead of the partially melted chihuahua. Even with the noticeable differences, we found it to be a very good departure that still managed to capture the spirit of the original. As always, the burger came with Oscar's underrated Parmesan-dusted fries and a pickle spear.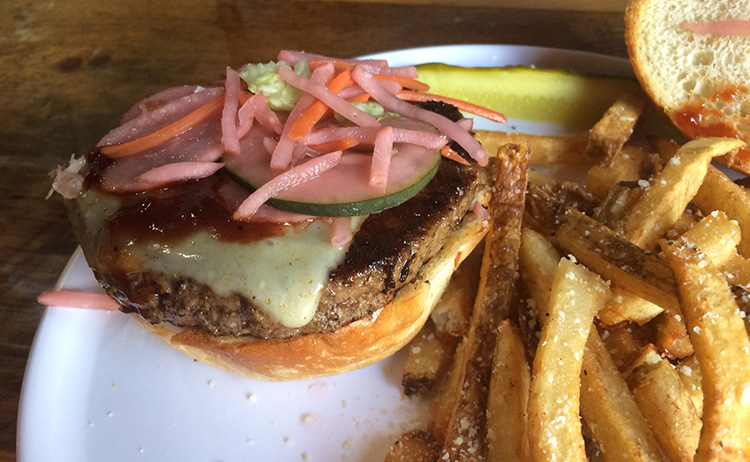 Our table also took a gamble on the most adventurous option on hand. The Banh Mi Burger ($7.75) combines a beef patty, a slice of fontina cheese, pickled radish and carrot, cilantro, fresh cucumbers, lettuce, and a liberal smear of sesame garlic sauce to be a beefy take on the Vietnamese sandwich. The cilantro was absent from our burger—a minor oversight that Oscar himself generously offered to correct—but it was an otherwise above average burger that was carried by the sesame sauce and the vinegary crunch of pickled veggies. For those hoping to avoid beef, Winner's Circle also offers the Impossible Burger on its "Flaca" burger, and there's a handful of wraps and sandwiches on hand that focus on chicken or pork.
The verdict: Even when adjusting for the hiccups and learning curve that come with a new restaurant, it's clear that Oscar's Winner's Circle finishes in second place in the purveyor's two-establishment lineup. That said, its only shortcoming is not also offering Milwaukee's best burger. If you want the Big O and other familiar favorites near the edge of Walker's Point, you know where to go. But if you're seeking another place to enjoy an awesome meal for less than $8 along with more than three dozen craft beer options, you have a new favorite place waiting for you out in Burnham Park.