Though it will always be among the few accessible luxuries of modern life, dining out comes with a certain level of acceptance and an inevitable amount of settling. With the decision to leave home or the workplace to enjoy a meal prepared by a stranger, customers are either paying out the ass, offering a significant portion of their day to the experience, or knowingly consuming something that's unhealthy. Oftentimes, diners are simultaneously giving away sizable portions of their money, time, and personal well-being to indulge. At best, usually at least one of those three components is lost in the exchange. Every now and then, though, a delicious and nutritious meal can be experienced in a comfortable setting for a proportionately-paltry sum of money. Establishments that offer that rare trifecta are truly places to behold.
On June 5, Walker's Point gained such a business when Bowls Restaurant (207 W. Freshwater Way, 414-800-5667) officially opened its doors. The National chef Nell Benton and Float Milwaukee owner Andy Larson joined forces to start a restaurant that was "Delicious. Nourishing. Quick." with a smoothies, breakfast and lunch entrees, and salads that were all served in, as the name would suggest, bowls. With a very specific—if not strange—concept, will Milwaukee be bowled over by a fast-casual restaurant that manages to be both healthy and tasty or would Bowls fall short of its lofty claims in regard to quality, nutrition, and speed?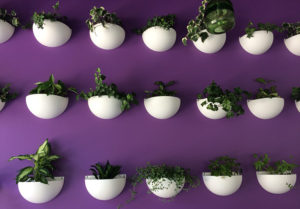 The space: Nestled betwixt Float and Purple Door Ice Cream near the intersection of Second Street and Freshwater Way, Bowls doesn't mislead when it comes to implying its quickness. A prep counter stretches nearly the length of the long, narrow restaurant, but orders are placed at a small host station set close to the door.
Size constraints notwithstanding, Bowls succeeds in crafting comfort in the cozy corridor. After we placed our order and took a seat, and as Prince, The Beatles, and Michael Jackson played over the speakers, we took note of the decorative warmth brought forth with shimmering hardwood flooring and the primarily white walls, with subtle purple and green accents. Natural light seeped in, but each of the seven tables had a light source above it to accommodate customers who came in at either end of Bowls' 7:30 a.m. to 8 p.m. hours of operation.


Milwaukee Record's food: Within that 12.5-hour window, Bowls manages a respectable number of breakfast options like smoothie bowls and oatmeal, as well as elaborate salads and grain bowls (vegetarian and meat-forward) that are befitting of a fast and filling lunch or a light, casual dinner. Everything ranges between $7 and $12, which isn't exactly dirt cheap, but more-than-acceptable when taking the portions and quality of ingredients into account.
We started with the Steak And Rice Bowl ($12), one of just two menu items that wasn't either vegetarian or vegan—though chicken, steak, tuna, and egg can be added to any grain or green bowl for a slight up-charge. We bypassed the healthier brown rice option in favor of white rice. In under 10 minutes, a hefty bed of rice came out topped with an assemblage of marinated rare steak pieces, carrots, white radish, sauteed mushrooms, bean sprouts, and kimchi that was doused with bibimbop sauce and capped off with an egg (fried over easy). As expected, the eight strips of marinated steak led the way, but the satisfying triad of bibimbop sauce, spicy kimchi, and egg yolk permeated the fluffy bed of rice and left the most lasting impression. The crunch of carrots, sprouts, and daikon were a welcomed accent, too.
Wishing to sample from the polar opposite end of the spectrum, we returned to the host station to order an unconventional dessert of sorts: a smoothie bowl. We bypassed the Berry Acai bowl, the Mango bowl, the Apple Pie bowl, the Super Green bowl, and each oatmeal varietal in favor of the Chocolate PB Smoothie Bowl ($8). About five minutes later, a frigid bowl of dense and delicious provisions was delivered to our table. In addition to the eponymous inclusion of "chocolate"—actually cocoa powder to help preserve its vegan standing—and rich natural peanut butter, the smoothie bowl was a sweet-yet-hearty blend of almond milk, ancho (that didn't really come through in the final product), vanilla, dates, raspberries, and bananas. The thick, chilled bowl was also topped with a decorative accent of granola, gigantic raspberries, banana pieces, and ground coconut.
Admittedly, it was an odd way to chase a big bowl of seasoned steak and spicy pickled cabbage, but the smoothie bowl has the makings of an excellent way to start the day or a somewhat healthier (and still quite good) substitute for the sweet treats being served next door. In spite of the restaurant's name, it's also worth noting that anything Bowls makes can be packaged to go.
The verdict: "Delicious. Nourishing. Quick." That says it all.