Milwaukee loves donuts. Dozens of bakeries in the city and its surrounding suburbs help people get a sweet start to their day with long johns, crullers, jellies, powdered, cream-filled, cake donuts, and more. If you're looking for the "hole story" on Milwaukee-area breakfast pastries, let our Dollars For Donuts column be your guide.
It's hard to miss Sweet Rings. In early 2018, Bay View learned a new bakery would be moving to the former site of East Side Ovens at 2895-2899 S. Kinnickinnic Ave. In the year and a half since that news broke, owners Bobby and Amanda Ring added a striking coat of bright pink paint to the exterior facade of the business that would soon be home to their brick and mortar donut shop. Unfortunately, the process has taken much longer than expected.
Over the course of the year and a half since the Rings made their pastry plans known, the owners were allegedly swindled out of thousands of dollars by contractors who left the forthcoming business' renovations unfinished. Though the unsavory events proved to be a tough test, the spirit of the owners and the generosity of the community is helping to make the dream of a Sweet Rings store closer to becoming a reality—even if it has required far more time and trouble than anyone could have ever anticipated.
While Milwaukee and its surrounding south shore suburbs anxiously await the official arrival of Sweet Rings, folks are getting their fix at benefit pop-up events and through wholesale availability at a growing number of area establishments. As we continue to wait for a proper location, we decided to bide our time (and hopefully help speed up the project's completion) by picking up a few treats from Sweet Rings.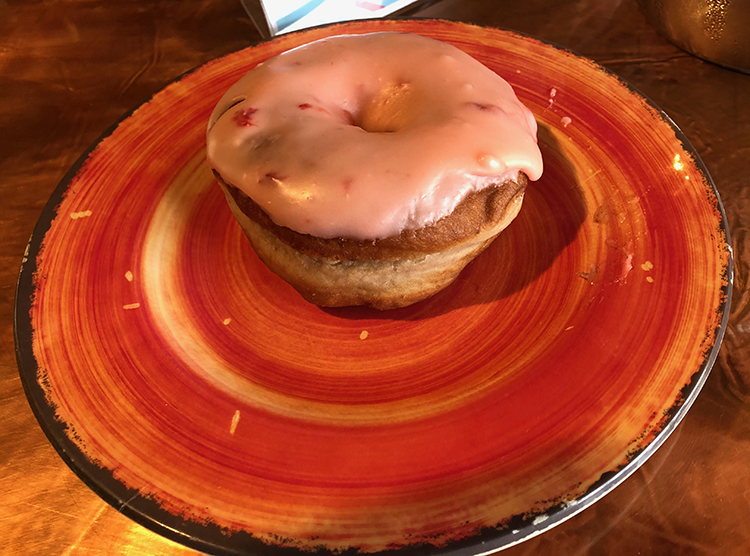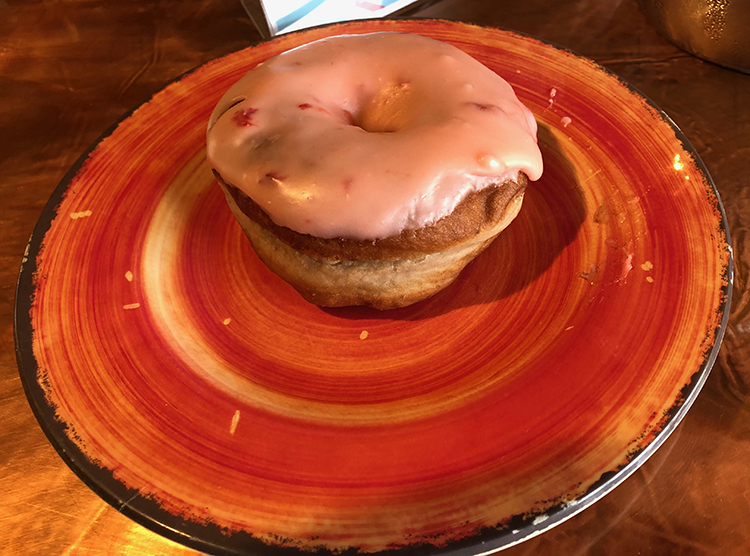 In our attempts to keep up with the progress of Sweet Rings on Facebook, we've learned a few of the area businesses that routinely sell their donuts. Friday, we made our way to Toast in Walker's Point and managed to get one of the last Sweet Rings donuts in stock that day. The Cherry donut ($2.99) was a huge, fluffy, and decadent ring of soft, fresh-fried dough. It was topped with rich and sweet icing that was rife with chunks of real cherries that added a refreshing dash of tartness.
Though the $3 toll, admittedly, was a tad steep, the price certainly went up because it was sold by a secondary vendor. Plus, we assume the mark-up is also helping the owners gradually dig out of the financial hole the reportedly shady contractors marooned them in. Even without the backstory, though, the donut was excellent and big enough to make for a filling $3 meal on its lonesome.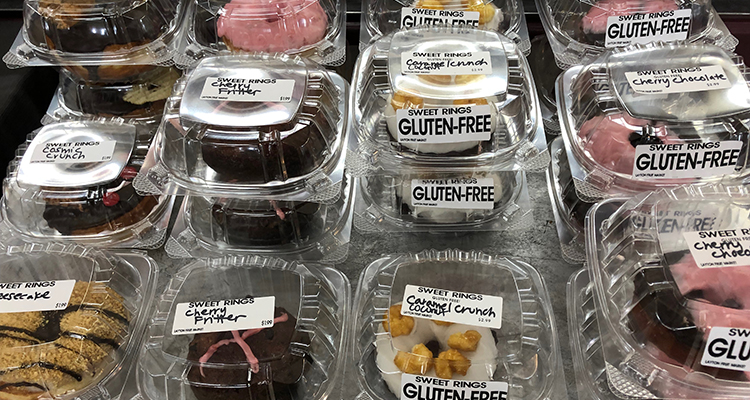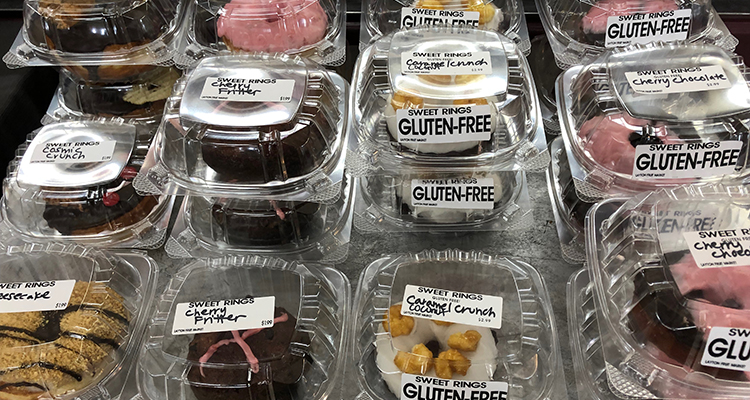 On Saturday, we took a morning drive to Layton Fruit Market, a southside treasure that currently offers a pretty vast arsenal of Sweet Rings goodies. The cash register-adjacent table full of donuts included more than a half-dozen varieties that ranged between $1.99 and $2.99 in price and featured a few gluten-free options as well.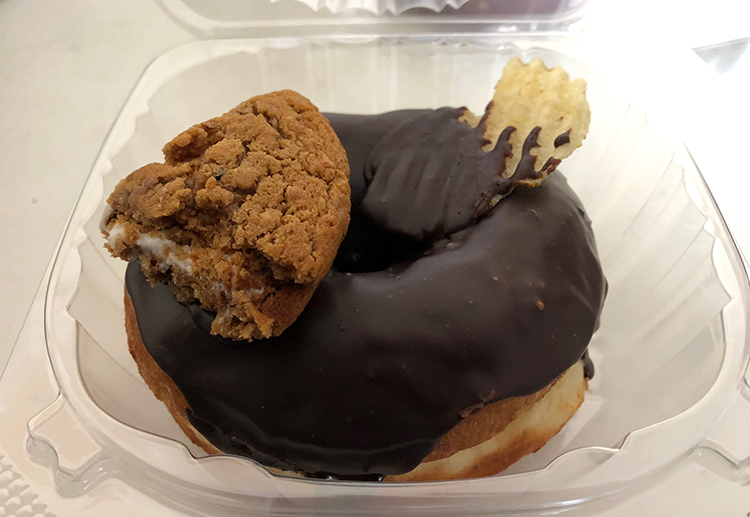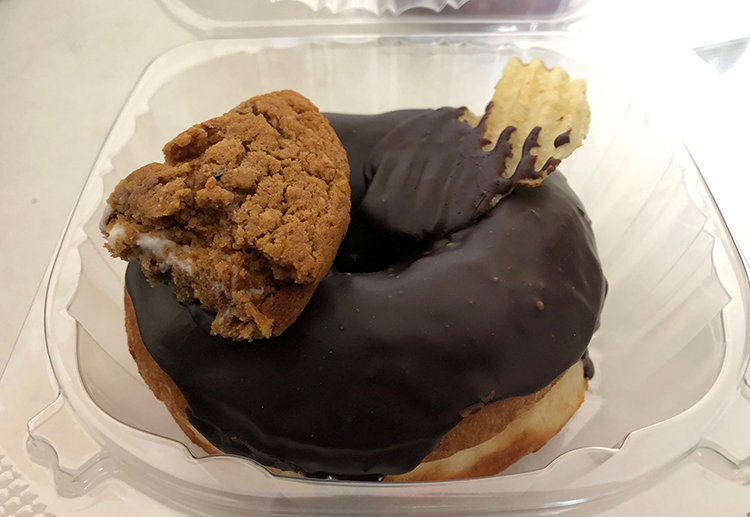 Our Chocolate "Chip" Creampie donut ($1.99) was a massive hunk of perfectly prepared dough that was liberally topped with delicious chocolate frosting, a piece of an Oatmeal Cream Pie snack cake, and a ridged potato chip with brought a touch of savoriness into the otherwise sweet treat.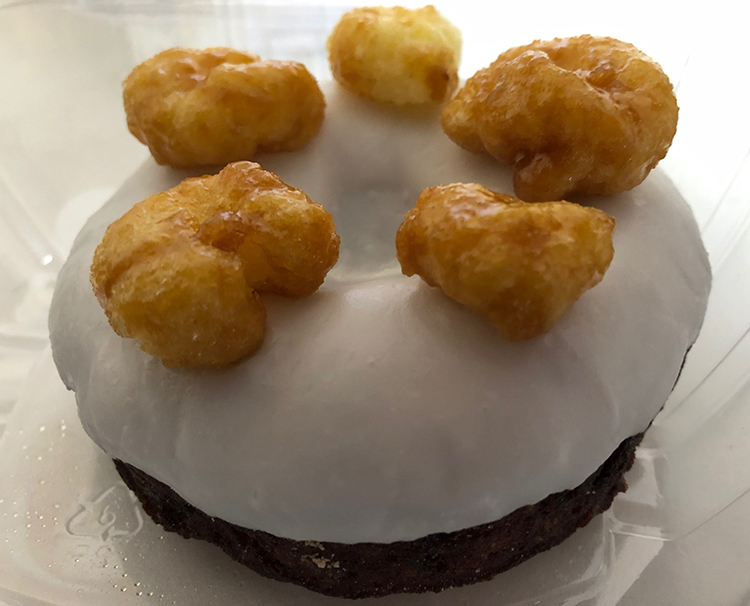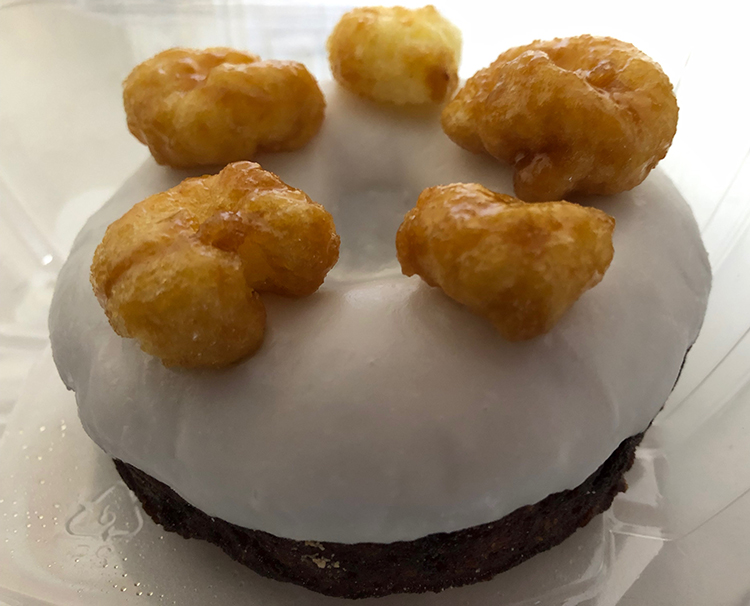 Speaking of sweet, we were taken by the sugary goodness of the Caramel Coconut Crunch ($2.99), a gluten-free offering that was almost entirely enveloped with a thick covering of white frosting and topped with five crunchy pieces of caramel corn. Any concerns about the gluten-free aspect adversely impacting the texture or taste were quickly dashed when we took our first bite of the moist and flavorful cake donut and creamy/corn-y combo.
Beyond Toast and Layton Fruit Market, Sweet Rings donuts can also be found at the BP gas station on the corner of Clement and Howard just outside of Bay View and can be picked up every Wednesday from 10 a.m. to 2 p.m. at the Westown Farmer's Market in Zeidler Park. It surely hasn't been easy on the owners and it's required some patience on behalf of Bay View residents with a sweet tooth, but Sweet Rings absolutely lives up to the hype and they're worth the wait. Once Milwaukee is able to pick up outstanding donuts each and every day at the cute little pink building on KK, Sweet Rings will only taste that much sweeter.