Every Friday, Stuff We Missed looks to other Milwaukee publications (and beyond) for, well, stuff we missed throughout the week. This week: Comet and Fuel!
• There were many Milwaukee business losses in 2020, but few stung more than Comet Cafe and the original Fuel Cafe. Two longtime staples of Milwaukee's coffee and dining scenes were suddenly gone, victims of the COVID-19 pandemic (though Comet certainly had other…problems), never to return again. Until now. Sort of.
Yes, Comet is set to reopen! Under new ownership! Soon! Former Comet partner Val Lucks (Honeypie, Palomino, SmallPie) will join former Comet dishwasher Derek Petersen in reopening the storied East Side establishment sometime this winter. "We have Comet in our DNA," Lucks tells [Milwaukee Magazine]. "We are honored to take stewardship of such a beloved cafe and operate it again." Lucks and Petersen say they "will be keeping the food, the drinks—everything very much the same."
• Meanwhile, the original Fuel Cafe in Riverwest has a new tenant. Pop-up coffee shop The Daily Bird has been operating out of nearby Centro Cafe since April, but it will now take up permanent residence at the former Fuel space. The familiar Fuel exterior is now a bright yellow, and the "Killer Coffee, Lousy Service" sign is no more. Sigh. The Daily Bird tells [Urban Milwaukee] that the new cafe will be ready by mid-November. The 5th Street Fuel Cafe remains open and busy.
• Speaking of Riverwest, a new brewery and taproom called Amorphic Beer is set to open at 3700 N. Fratney St. "toward the end of November." [Milwaukee Journal Sentinel]
• Over in the Rufus King neighborhood, a new daiquiri bar called Daq Shack has opened at 4191 N. Green Bay Ave. [Milwaukee Journal Sentinel]
• Remember last summer when the Milwaukee Police Department tweeted a photo of a "molotov cocktail" they said had been thrown at an officer, and it totally wasn't a molotov cocktail? Remember when, in the face of calls for defunding the police, they got real snippy on Twitter and said: "MPD is committed to serving our community with the resources we are afforded. However, the Mayor and Common Council reduced our budget by 60 police officers this year. The homicide rate has more than doubled & non-fatal shootings have increased by over 35% since 2019. #DidYouKnow"? Well, a new citywide social media audit called MPD out on those tweets, saying they led to "loss of trust and potential for misinformation or outdated information misleading Milwaukee residents." #DidYouKnow, indeed. [Urban Milwaukee]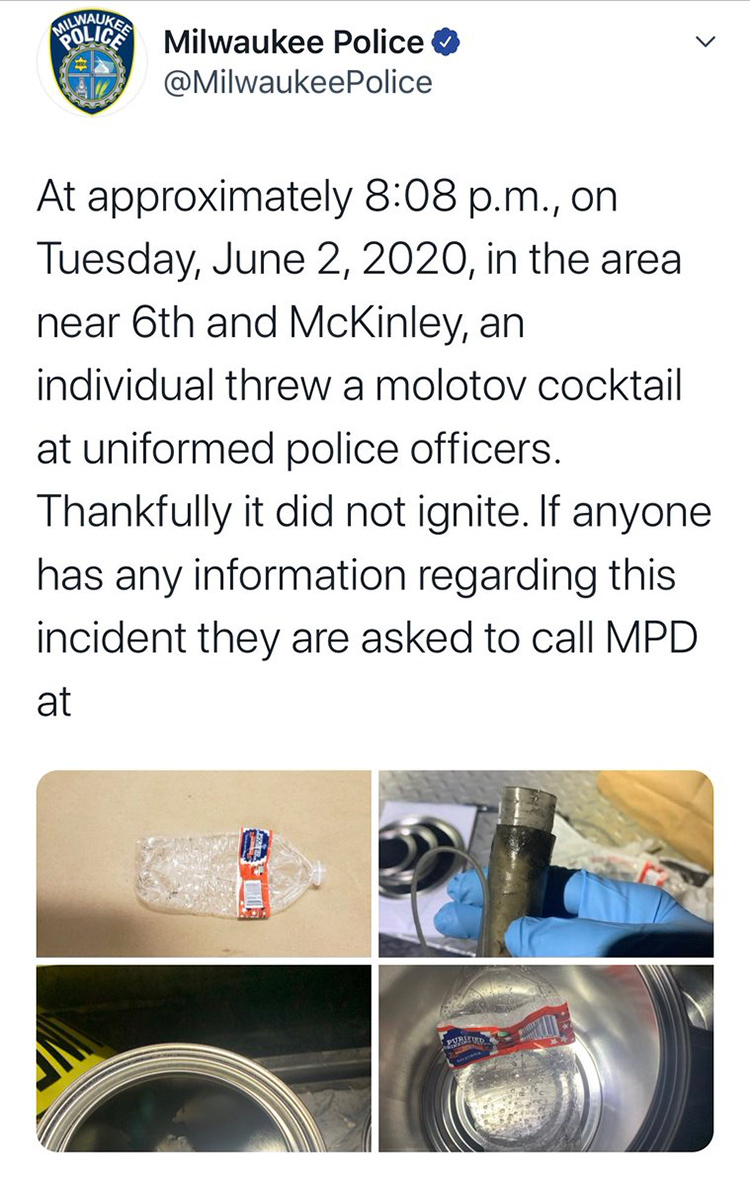 • Milwaukee County Supervisor Jason Haas wants to "employ goats for landscaping purposes around the county," and we are 100% on board with this. A resolution is currently being discussed within the Parks, Energy and Environment Committee. [Urban Milwaukee]
• Ever notice how busy the Milwaukee Bucks' Twitter account is during games? Unsurprisingly, the team ranks third in social media presence—behind the Los Angeles Lakers (#1) and the Golden State Warriors (#2). [Milwaukee Business Journal]
• Milwaukee would like to host the next Democratic National Convention. Milwaukee would also like to host the next Republican National Convention. [Milwaukee Business Journal]
• RIP Milwaukee music legend Mike Hoffmann. The [Milwaukee Journal Sentinel] has a terrific article on his life and career.
• Have a great weekend, Milwaukee. Here's Hoffmann playing with one of his many classic Milwaukee bands, Yipes!