Last week, we announced The Vanguard would be saying goodbye to 12 of its menu items. Even though some popular fare and other longer-tenured items—most notably the beloved Wampa-Della and the Wee-Bey—have either been 86ed for good or removed from the menu until further notice, head chef Patrick "Paddy" Joyce enacted those difficult cuts in order to make room for more than a dozen delicious new options on The Vanguard's new spring and summer menu.
Starting at 11 a.m. today, The Vanguard will be offering seven new sausages (and a new Sausage By City variant), both a patty melt and a monte cristo sandwich, four new sides, and their take on chilaquiles. Oh, and one of the newcomers is named after Giannis Antetokounmpo for all the right reasons. Plus, there are now even more menu items that can be made in vegetarian or vegan form.
We suggest you put some new items to the test during the Bay View sausage staple's 5th Anniversary Party this Thursday night. Feast your eyes on The Vanguard's new and improved menu below.
Classics
Green Chorizo
Pork, serrano, cilantro, and pepita butter
Vegan Mushroom & Swiss
Seitan, crimini, and Maya Ophelia's vegan Swiss "cheese"
Styled
The Popper (vegetarian version also available)
Panko-breaded and fried jalapeno cheddar brat with cream cheese, jalapeno, cheddar, and jalapeno jam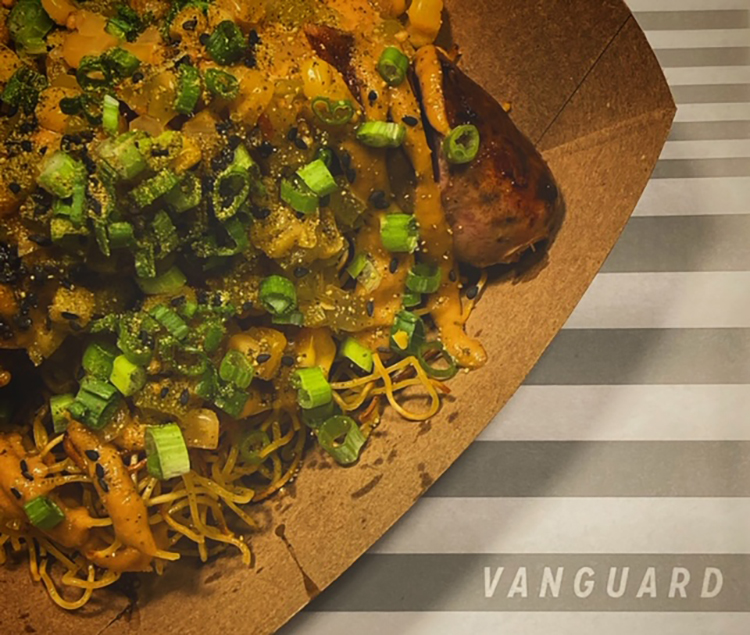 Okada (vegan version also available)
Pork, shiitake, white pepper, and ginger sausage with red miso garlic sauce, sweet corn and pepper relish, scallion, and sansho pepper served over crispy yakisoba noodles
Giannis
Venison, bacon, grilled leek, red wine, and orange sausage with zucchini and eggplant briami, manouri cheese, and oregano
Diablo Verde (vegetarian and vegan versions also available)
Green chorizo sausage with grilled salsa verde, chili pepita butter, cotija cheese, pickled red onion, and cilantro
Clemenza (no bun — vegetarian and vegan versions also available)
Italian sausage with arrabbiata sauce, rapini, and sarvecchio, served over gemelli
Tube-less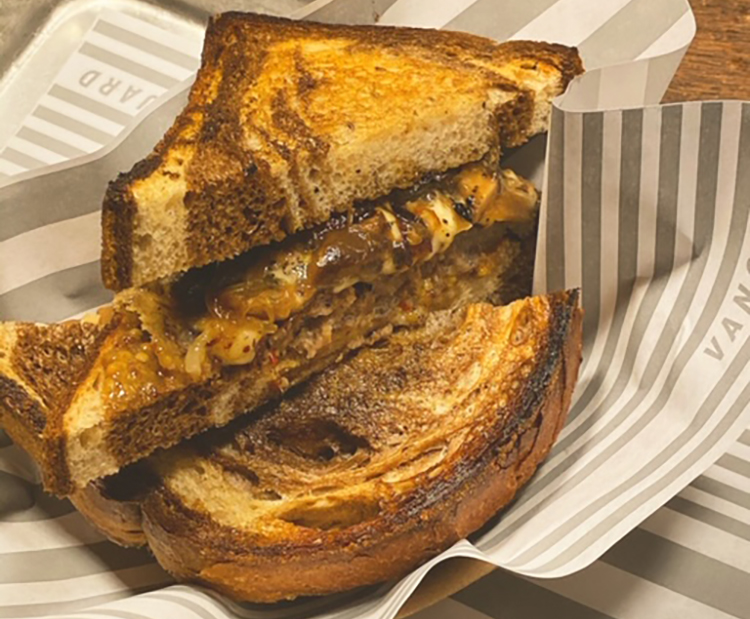 Paddy Melt
Freshly ground beef brisket and American cheese patty with house bourbon mustard, mushroom gravy, Chimay braised onions, and Swiss cheese, served on toasted marble rye
Sides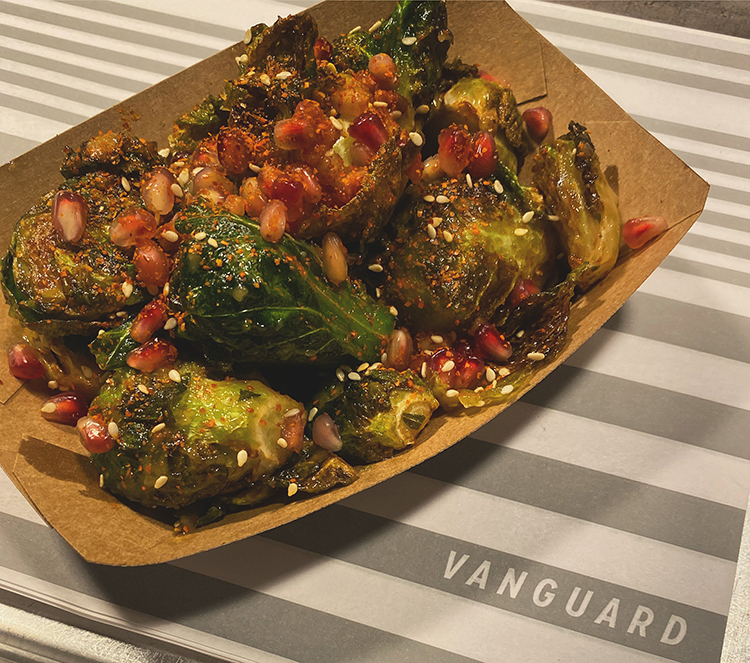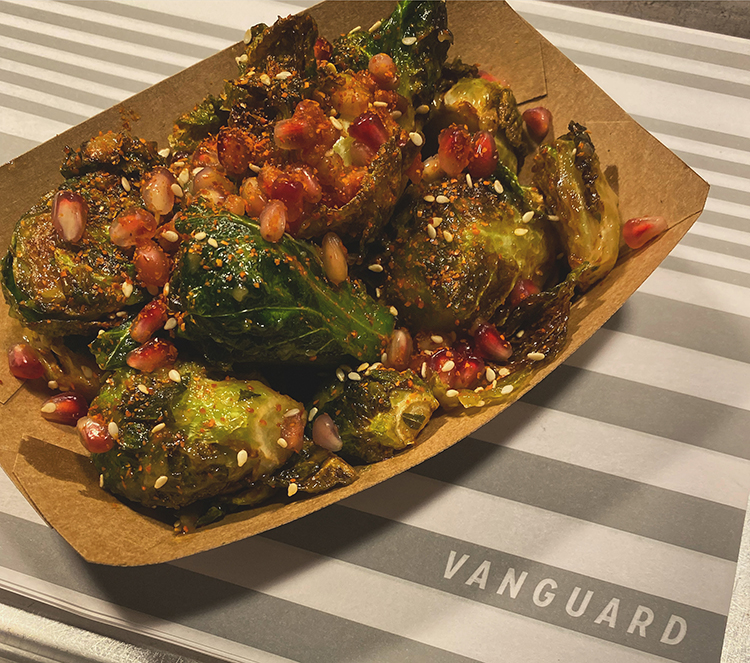 Fried Brussel Sprouts (vegan version also available)
Topped with white miso, soy, honey, pomegranate, and togarashi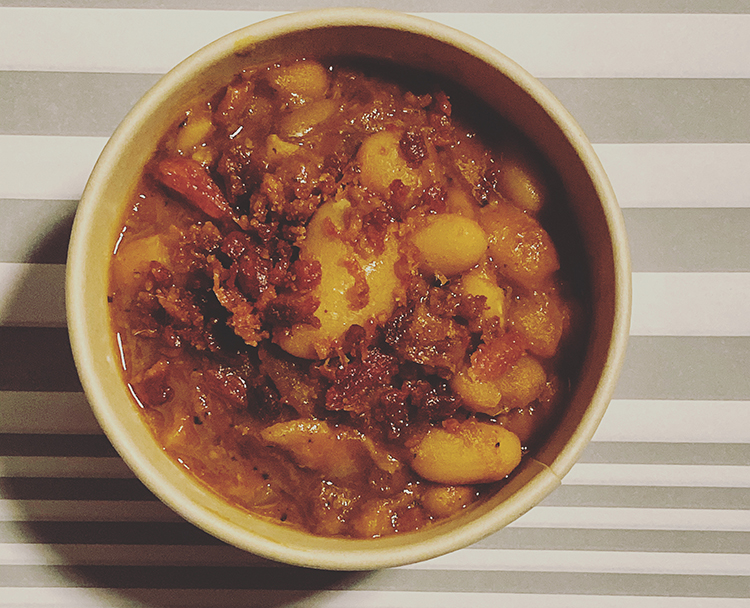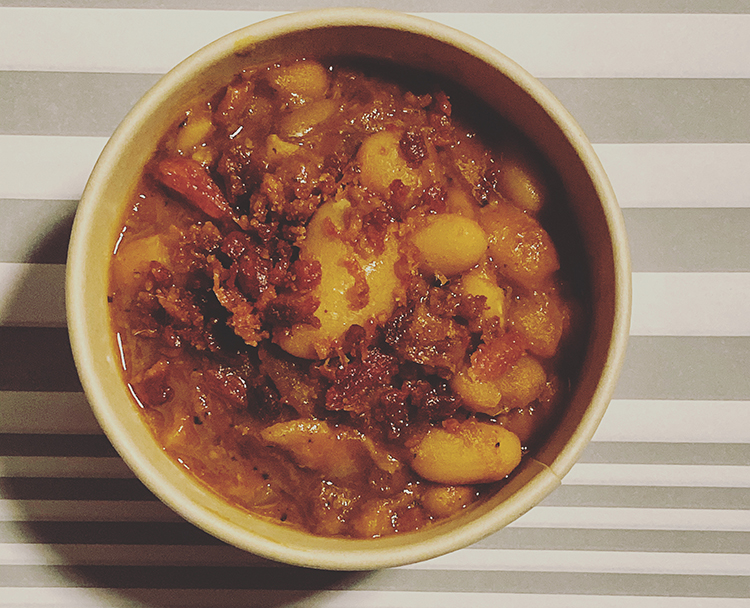 Maker's Mark Baked Beans
Northern and butter beans, pork belly, Maker's Mark bourbon, molasses, and bacon
House Pickles
Rotating selection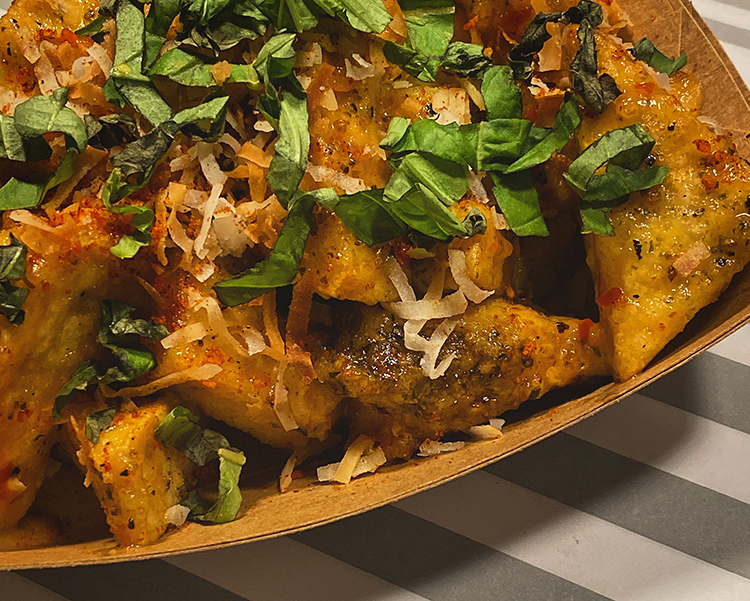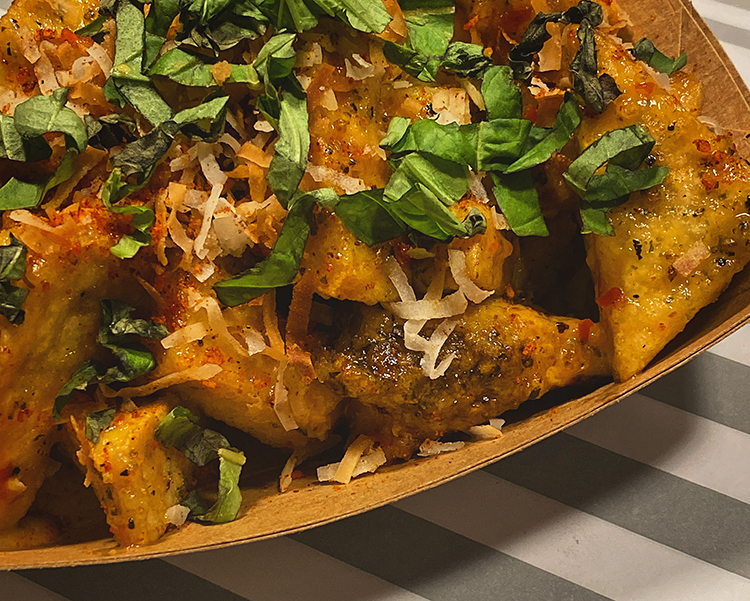 Chili Coconut Tofu (vegan version also available)
Fried tofu with chili coconut glaze, basil, and toasted coconut flakes
Brunch
Vanguard Monte Cristo (no bun)
Turkey, smoked ham, and Swiss-stuffed sausage with mornay, and fried egg, served on sourdough French toast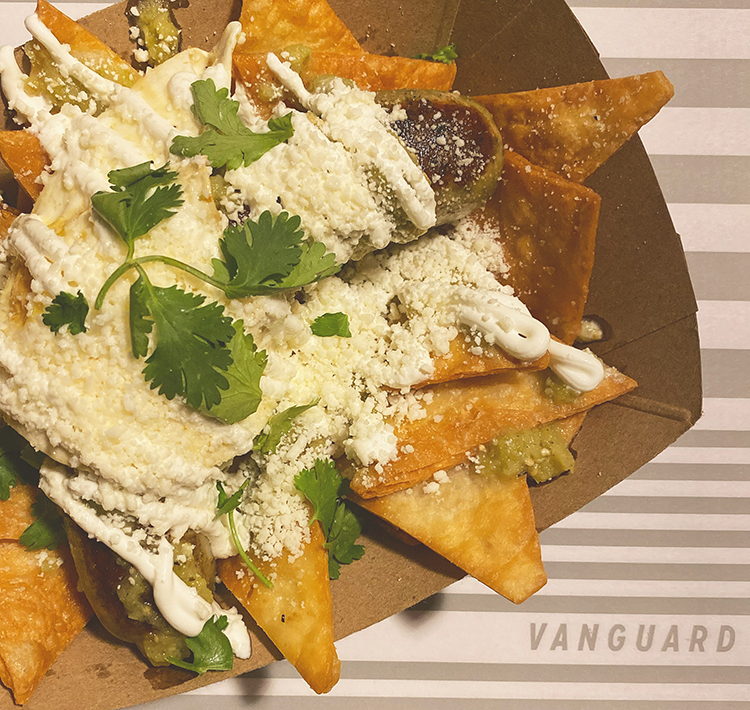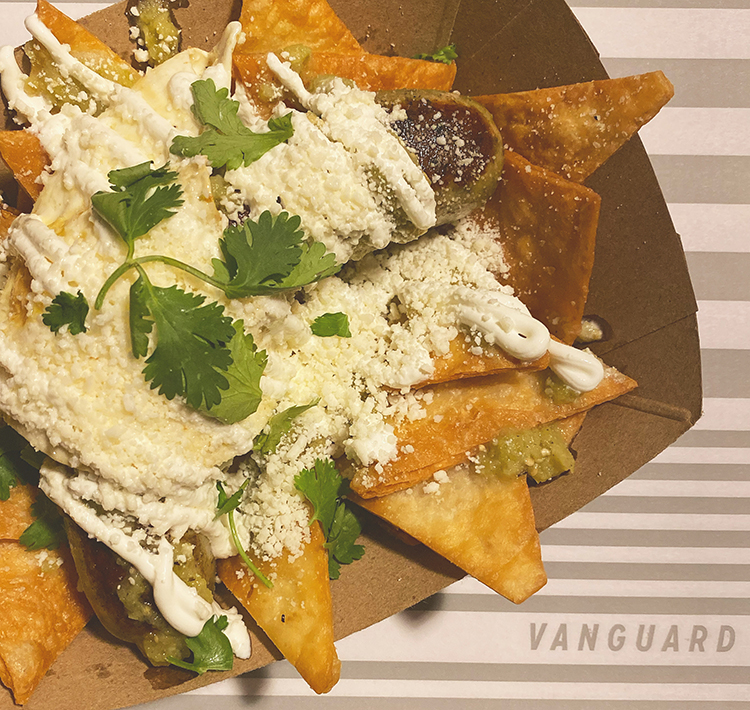 Chilaquiles (no bun)
Green chorizo sausage with grilled salsa verde, sour cream, cotija cheese, fried egg, and cilantro, served over tortilla chips
Sausage By City
Kansas City (vegetarian version also available)
Sauerkraut, melted Swiss, sesame seed