It's an unprecedented and incredibly difficult time for restaurants right now. Wanting to highlight local establishments who are keeping food quality high while also keeping its customers and employees as safe as possible during the ongoing COVID-19 crisis, we're going to focus on restaurants that have completely shifted to carryout and/or delivery service in a series we're calling "Carryout Chronicles."
Even though carryout quality and technology have both improved by leaps and bounds (especially over the last year-plus), we have to admit that sometimes it's a race against the clock to get your food home and ready to eat before the passage of time significantly diminishes its quality. In our extensive studies—a.k.a. getting carryout at least once a week for close to 13 months and counting—we've learned a few types of food tend to hold up against factors like time and transport better than others. Some examples of this includes Thai food (especially curry dishes), Indian, and pizza. Another top-tier type of takeout we've enjoyed a few times this past year is sushi.
With little concern over it getting too cold or too hot in the time between restaurant and residence, sushi has been just right as a part of our carryout rotation since last March. And due to its location, its thorough safety protocols since day one, and how great it has consistently been, Hungry Sumo Sushi Bar (2663 S. Kinnickinnic Ave., 414-595-9656) has become our go-to for sushi to-go. Hungry Sumo takeout was our chosen birthday meal. It's been a place we've relied upon when the household is split between wanting curry and maki, it's been a trusted place we return to after we've been let down by carryout from elsewhere. And in the case of last weekend's purchase, it's something we got just because.
Policies And Procedures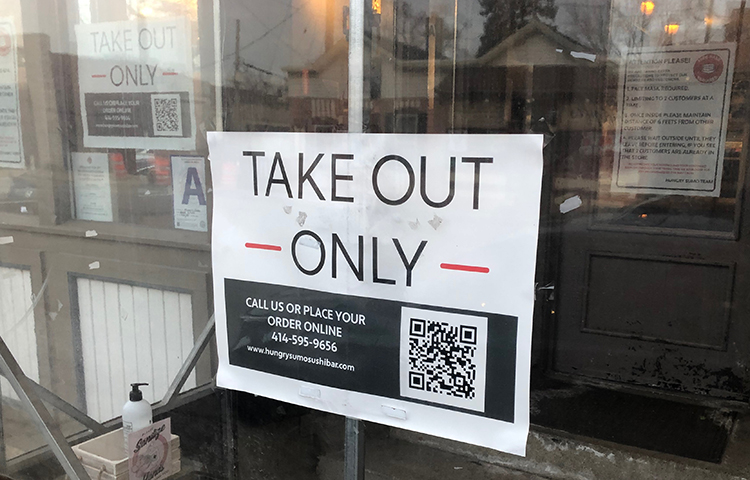 Pretty much immediately after the COVID-19 crisis made its way to Milwaukee, Hungry Sumo buckled down and fully transitioned to 100 percent takeout. Orders can be placed over the phone or online at the restaurant's handy website. We've always used the website, which gives an approximate timeframe when orders can be picked up. If the time changes, you'll be notified it will be ready either earlier or later than expected.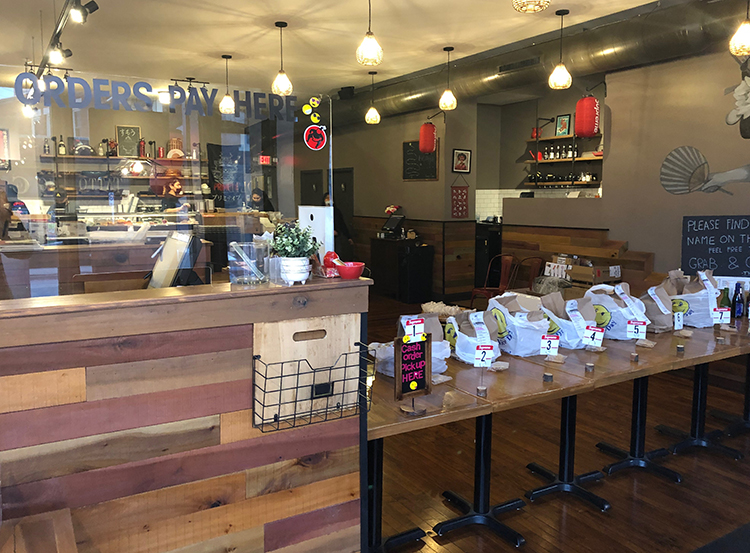 Once the time comes to pick up your food, mask up (as the STILL IN EFFECT Milwaukee mask ordinance—not to mention as basic human decency during a goddamn pandemic—requires) and walk into the restaurant to take your order from the collection of bags on the makeshift table barricade. It's as easy as that!
Carryout Quality
We've mentioned sushi a bunch already, but we should note that even though "Sushi Bar" is in its name, Hungry Sumo offers a lot more than that. Its menu is full of other outstanding offerings, such as rice bowls, Ramen, pot stickers, edamame, soups, salads, curry dishes, rice and noodle entrees, poke, and more. A starter we've made sure to include in every single order is Sumo Pork Bun ($7.95), which includes two soft and sizeable steamed buns that are stuffed with what the menu accurately describes as "juicy braised pork belly," fresh greens, and a semi-sweet and savory topping known as "Sumo Sauce." They're incredible. After all these articles, we should be better at writing about food, but whatever…they're incredible.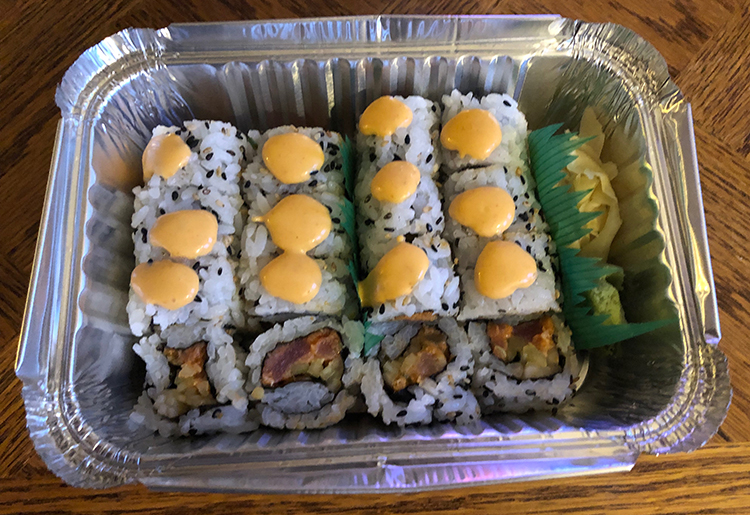 Moving onto sushi, we've also made a habit of getting Spicy Tuna rolls ($6.95). They're simple and smallish (two orders are pictured above), but the smokey and spicy mayo-dabbed classic has been a longtime favorite of ours and something we make sure to include in every order to return to as we experiment and alternate between other maki types.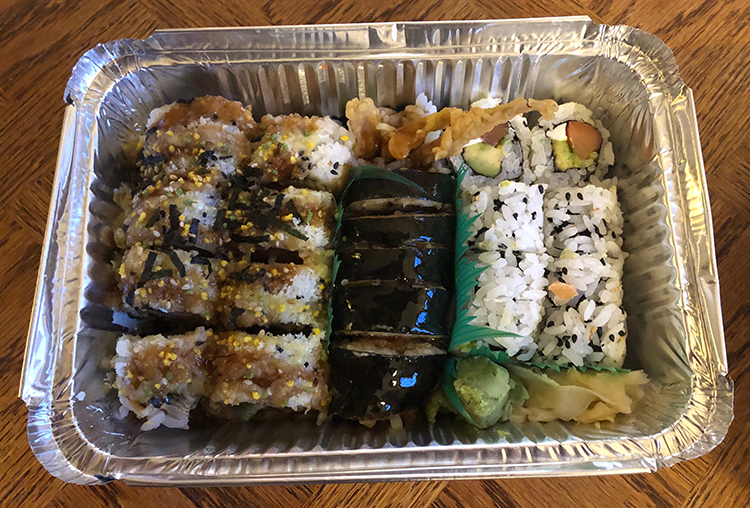 As we just noted, we've roved around Hungry Sumo's extensive and ambitious arsenal of sushi options these past few months. This time around, we got—pictured left to right—Godzilla ($13.95), Spider ($9.50), and Philly ($7.50) rolls that gave a variety of tastes, textures, and types of fish/crustaceans to enjoy. The salmon was creamy and tender. Godzilla offered flavorful tempura battered shrimp with a subtle spicy hint of wasabi mayo. The Spider had a savory and satisfying crunch of tempura crab and fresh cucumber that was accented with unagi sauce.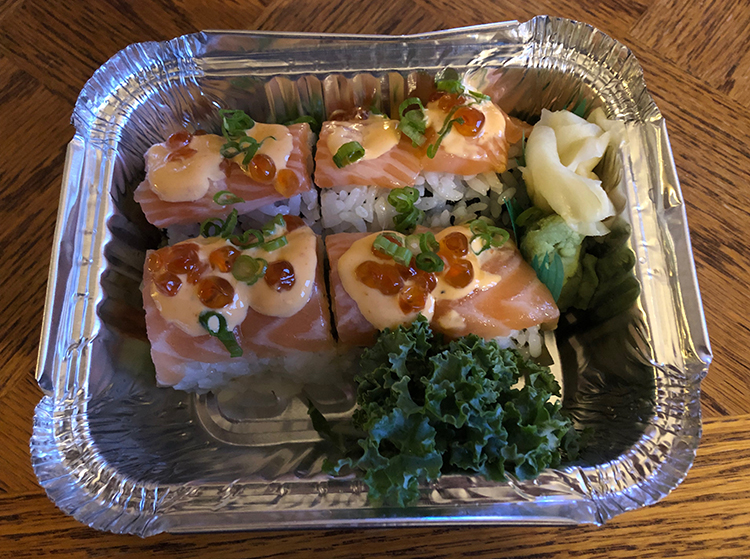 Leaving no doubt as to whether we'd purchased enough food for just two people, we concluded our order with a Lady Marmalade ($13.95), which includes "spicy salmon, masago, avocado, and cucumber topped with fresh salmon, spicy mayo, ikura, lemon juice, and scallion." Though it landed somewhere in the middle of the pack (in terms of "Lady Marmalade" performers, we'd liken it to the Mya of the bunch), it was still quite good and gave us much more fish than other options afforded us. Though we didn't hold back whatsoever with our order this time around, all of that makes up for maybe a third of Hungry Sumo's sushi options.
Other Info
For those of you who don't eat meat/fish, there's a respectable selection of veggie maki, with roughly a dozen options in total. Unlike lots of other restaurants that have limited their hours to adjust for the times, Hungry Sumo is open for both lunch service (11:30 a.m. to 2:45 p.m. Tuesday through Saturday) and dinner service (4:30 p.m. to 9 p.m. Tuesday through Saturday). Sunday hours at 12:30 p.m. to 9 p.m., and it's closed every Monday. We've had trouble tipping on the site, so consider bringing cash to put in the tip jar when you pick up your order.
With the heartbreaking rise in hate crimes, persecution, and violence that Asian people are presently facing in this country, it's an especially important time to support Asian-owned businesses. Moreover, Hungry Sumo has made the safety of its customers, its staff, and the city as a whole a top priority—even though closing for in-person dining has surely impacted business—since the moment the pandemic came. And if those two reasons somehow still aren't enough to get you to order Hungry Sumo, allow us to repeat: the food is delicious and it's held up quite well as a carryout option time and time again.