It's sad but true: the incredible Boo-Boo's Sandwiches (405 S. 2nd St.) is closed. For now.
On Sunday night, the Walker's Point sandwich shop posted this message to social media:
To all our Fantastic Fans, Newbies and Repeat Offenders!! We are sad to announce that we are closing our doors until we find a new location. We love and appreciate every single one of you. We wouldn't be who we are without every single one of you. Thank you all for being you and loving us. We will post our new location as soon as it is found. We will miss you all. It's not good bye… It's we will see you later.
Urban Milwaukee previously reported the news on Friday. The (fingers crossed!) temporary closure follows the August closure of Boo-Boo's sister business, Soup Bros.
In honor of Boo-Boo's, here are 700 words about Boo-Boo's K-Jon Chicken Sandwich, which we're totally missing right now. This story originally ran as a Patreon exclusive in July. You can subscribe to our Patreon HERE.
---
We've been doing this Patreon for just over two years. In that time, we've published 55 episodes of our From The Archives podcast, and 53 exclusive articles (54 when you count this one). The podcast episodes have focused on our most popular and well-read stories; the exclusive articles have been more varied, focusing on everything from personal memories and anecdotes to Milwaukee-related fan fiction and pictures of our new cats. To everyone who has chipped in even $1 for this protracted ridiculousness: THANK YOU.
So what should the perfect Patreon-exclusive article be? Should it be something Milwaukee-centric, like the time I wrote about some old Milwaukee places that aren't around anymore? (R.I.P. Flipville Records.) Should it be a weird personal story, like the time I wrote about getting beat up in the parking lot of the old East Side Blockbuster? (R.I.P. old East Side Blockbuster.) Or should it be an article with some sort of utility, some sort of actionable purpose? You know, news you can use!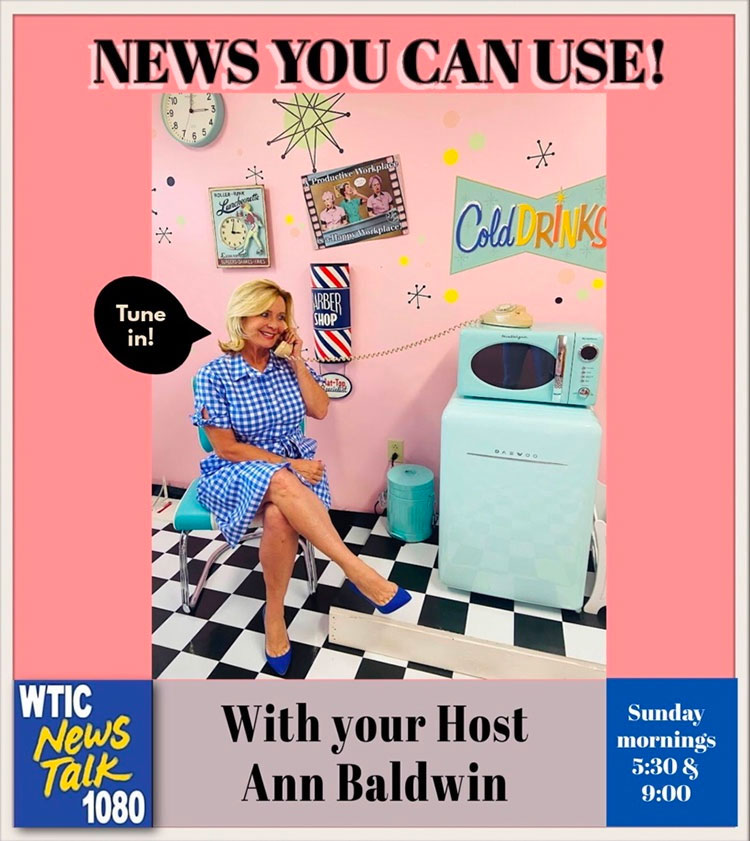 I've decided it's the latter. So that's why today, in this very exclusive article, I'm giving you a recommendation. Nay, AN ORDER! And that order is…
Go out and get a K-Jon Chicken Sandwich from Boo-Boo's Sandwiches (405 S. 2nd St.) RIGHT NOW.
Seriously. Get one now. I'll wait.
Okay. Let's dig in. Get it? Ha.
I realize I'm late to the party on Boo-Boo's K-Jon Chicken Sandwich, and on Boo-Boo's in general. The Walker's Point sandwich shop opened in 2017. It's located just around the corner from its wildly popular sister restaurant, Soup Bros. It has received oodles of press and oodles of glowing reviews. "You've never eaten at Boo-Boo's?" a friend cried when I recently told her I had never eaten at Boo-Boo's. "You HAVE to get their chicken sandwich!" Well, it was time to eat at Boo-Boo's. And get that chicken sandwich.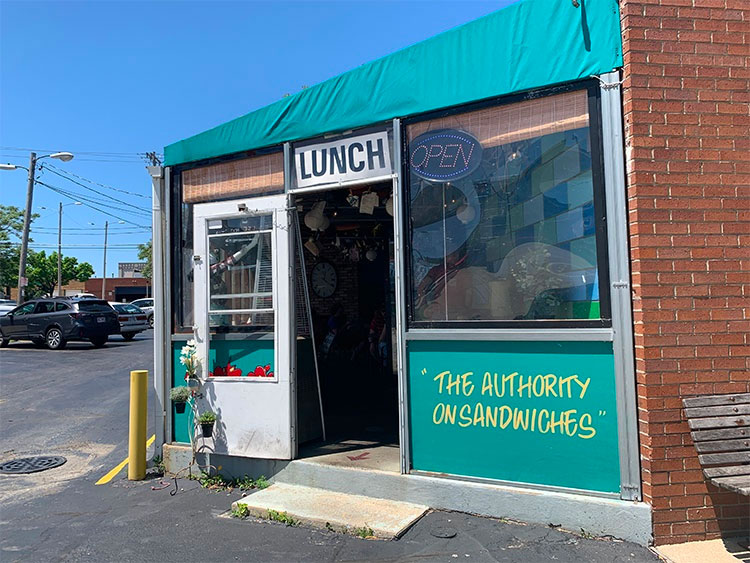 The opportunity arose in early May. Feeling peckish at my office one afternoon, I decided to hike over to Boo-Boo's and nab one of their mythical chicken beasts. I wasn't alone: a line roughly seven people deep greeted me when I arrived. Yep, I was clearly late to the party. I gladly waited.
Boo-Boo's is super tiny. There's a nifty little enclosed patio space for waiting or eating, but the bulk of the joint is the small counter area and the behind-the-counter kitchen and flat-top grill. If your phone is out of juice and you need something to do while you're waiting, Boo-Boo's offers a bunch of day-glo magic markers that you can use to mark up the walls and tables. The gleeful graffiti gives the whole place a '80s skating rink vibe. And if you've read my story about my hometown's '80s-era "skate bus," you know I love '80s skating rinks.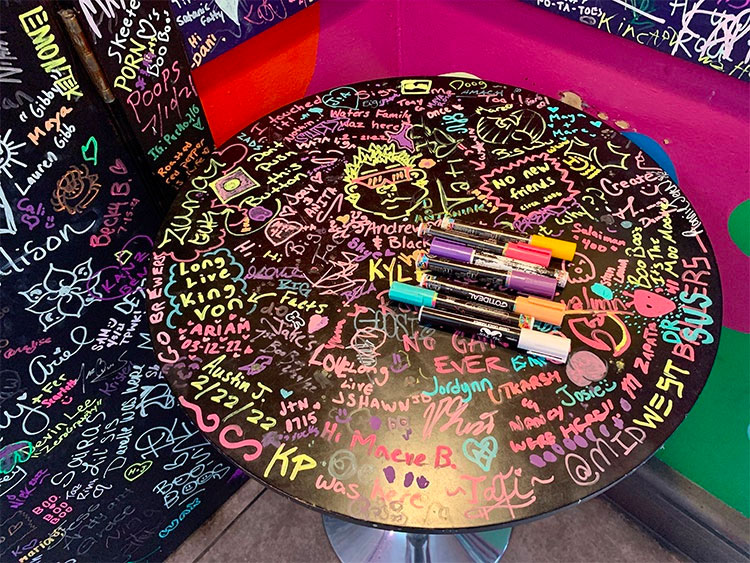 "What can I get you?" asked the masked woman behind the counter. "I'll have the K-Jon, please," I replied, hastily putting on my own mask and only then getting the "Cajun" pun. "No surprises there!" the woman replied.
Like I said, I was clearly late to the party.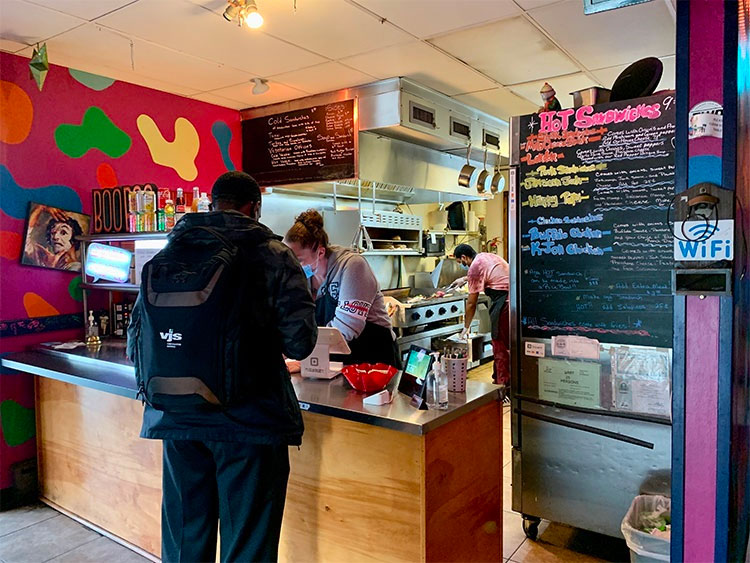 I waited. I got my sandwich. I hiked back to my office. I sat down to eat my sandwich. But first, I simply gazed at my sandwich. JUST LOOK AT THIS THING: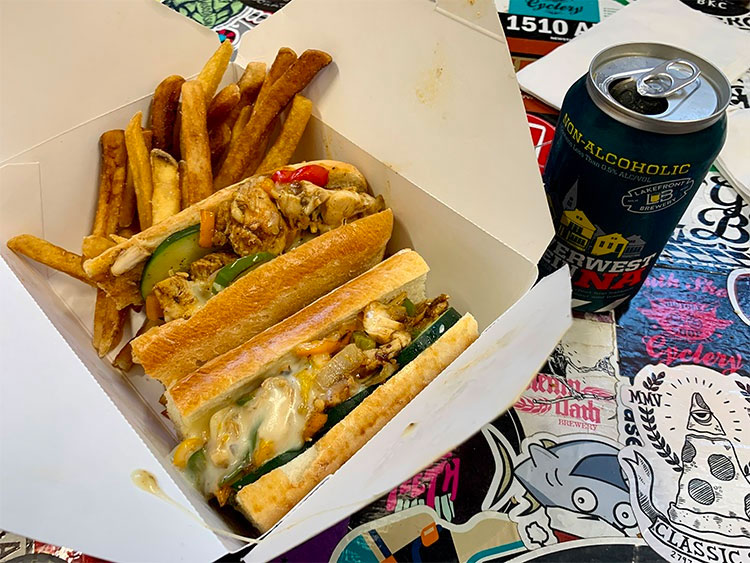 I took a bite. Reader, I've had some fine sandwiches in my day, but few compare to Boo-Boo's K-Jon Chicken Sandwich. The bread? A soft, fantastic baguette. The grilled chicken? Moist and flavorful. The sweet peppers and jerk sauce? A mind-melting combination. The overall experience? Sheer bliss. This is a hearty, not-small chicken sandwich. I finished it in about three minutes flat.
I've been told the rest of Boo-Boo's offerings are just as good as the K-Jon. I don't doubt it. But I'm sticking with the K-Jon for a while. Since my initial May visit, I've been back to Boo-Boo's four times. Each time I've ordered the K-Jon. Each time I've come away happy, satisfied, and eager for more. The sandwich also comes with fries, which is nice.
Thanks for reading my purpose-filled exclusive article on Boo-Boo's K-Jon Chicken Sandwich! And thanks for your continued support! I'm hitting 700 words right…now. Oops, now. No, now.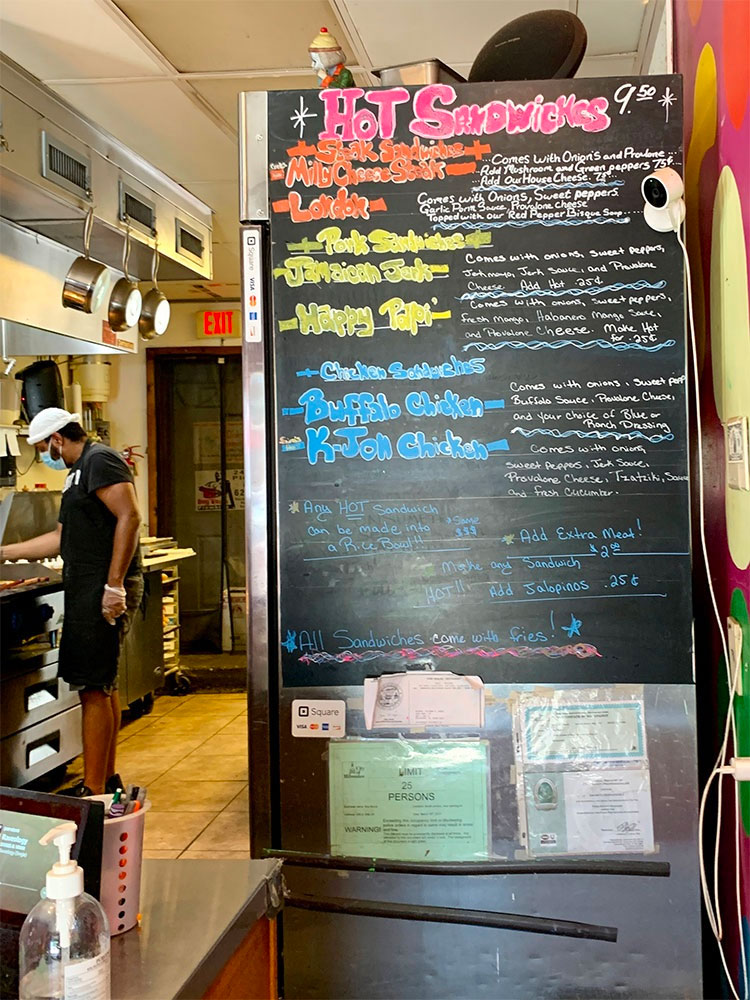 Exclusive articles, podcasts, and more. Support Milwaukee Record on Patreon.
---
RELATED ARTICLES