Caleb Westphal hasn't missed a Friday fish fry since 2013. Follow along with his never-ending adventures here.
As I pulled into the Johnny Carson spot at JC's Pub and Grub (8028 W. National Ave.; West Allis; 414-210-3961), it dawned on me that I had been outside of the building before. Yes, it was here that I stood waiting for a ride, after I had eaten a boat of smelt while watching Alice Cooper at last year's State Fair. I was back because it felt like a West Allis kind of night, and because it appeared the place had an all-you-can-eat fish fry.
JC's Pub and Grub has been open since 2018. The one-story building was once a two-and-a-half story Queen Anne style structure. Built in the 1890s, it housed the Greenfield Hotel until about 1910, and then was home to a string of saloons and soft drink parlors. In 1953, while it was Pintar's Tap, Joe Pintar took off the top floor-and-a-half and built a brick addition to the facade. For roughly three decades, beginning in the early 1960s, it was Bowman's Cocktail Lounge and Restaurant. In more recent years it has been Painted Parrot and Jack Rabbit Slims.
At the center of the pub is a large, rectangular bar, capable of seating perhaps 60 people. It is flanked by assorted tables, dart boards, and a pool table. A stage is situated in the southwest corner, and what looked to be a house drum set was atop it. There were only 10 or 15 people in the place when I arrived, and I took a seat at the center of one of the bar's sides, with five or so empty seats to each side of me. When a bartender arrived, I ordered an Old Fashioned and asked for a menu.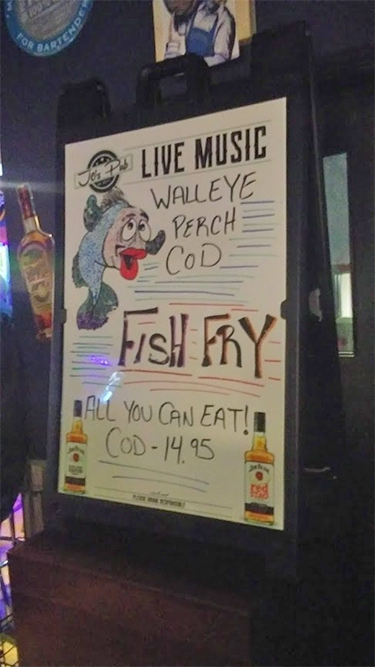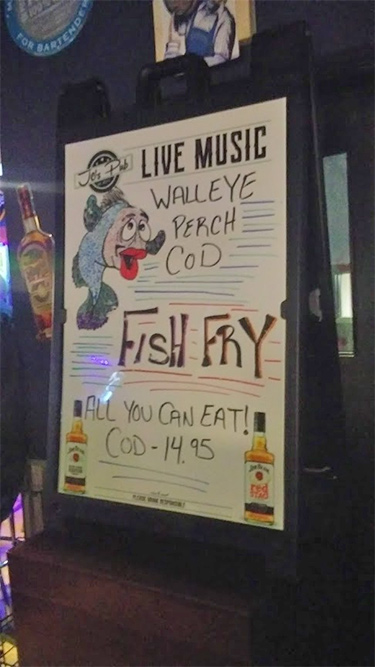 There are three types of fish available: cod ($11.99/ $14.95 for all you can eat), yellow lake perch ($13.99), and walleye ($14.99). All can be ordered either beer battered or breaded, and come with a side of "Potater Tots," french fries, or side salad. While trying to decide which type of cod I was going to start with, a server walked by and suggested the beer battered, so that's what I went with. I chose the Potater Tots as the side because they were homemade, they were something out of the ordinary, and I really wanted to say the word "potater." I didn't see clam chowder on the menu, but ordered some after I asked about it and found that they did have some.
The Old Fashioned was pint-sized, muddled, and garnish-free. The drink menu said the $7 cocktail was mixed with Copper & Kings American Craft Brandy. Overall, I thought it was a little too far on the sweet end and could have used another splash of booze.
The fish fry came out lickety-split, somehow arriving before the chowder. The flaky, white cod was covered with a thin, golden-hued, and subtly-seasoned batter. The batter had a lightness that allowed the fish to go down easy—it was devoid of the grease and bulkiness that fried fish is sometimes plagued with. Despite the thin and light nature of the batter, it still managed to hold the fish together quite well, too. The tartar had a reputable relish balance, could be described as "classic," and elevated the fish.
The Potater Tots had a consistency similar to hash browns, and weren't too far away from if a potato pancake had been rolled into a ball. Oh, and they had chunks of bacon and a bit of cheddar cheese inside them as well. The coleslaw was peppery but sweet, and super creamy while somehow retaining a crunchiness. I could have gone for more of it, but alas, I was only given a small cup. I was also given a half slice of marble rye.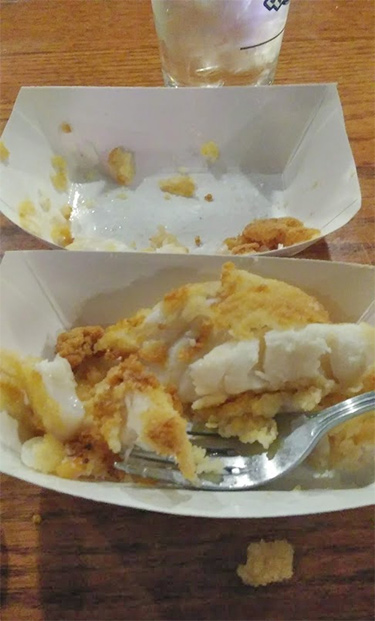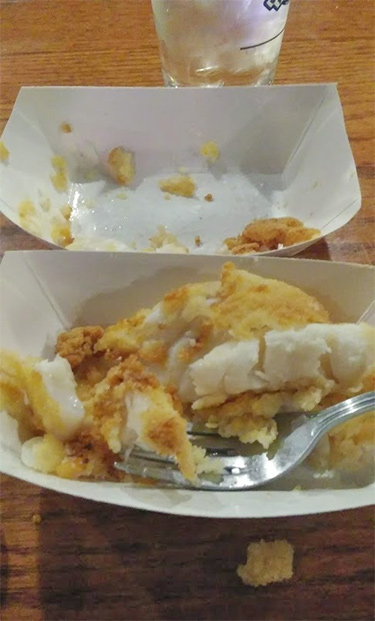 The fish was going down so easy that I had half of it gone by the time the chowder arrived. Now, the chowder was okay, but I couldn't get the thought out of my head that it was Campbell's Chunky New England Clam Chowder. I probably haven't had the Campbell's variety in a decade, but it reminded me exactly of the taste and consistency of it. Did this explain why it was only available in bowls and not in cups? Is this why I couldn't find it on the menu? Should I have asked if it was homemade? As I said, it really wasn't that bad, but paying $6 for something that my mind kept telling me was canned chowder didn't exactly satisfy me.
I asked for more fish, this time requesting some of each of the beer battered and the breaded. I was instead brought two pieces of breaded. "That's okay," I thought, "I'll see how these are, and then switch back to the beer battered." Whereas the beer batter was thin and light but still held together well, the breading was thin and light but crumbled when barely being touched with a fork, which caused the fish to fall apart as well. The flavor was commonplace, so the texture overshadowed it. I then ordered one piece of the beer battered as a fish fry nightcap of sorts, and again was brought two pieces of breaded fish. They were just like the last two. I'm not one to complain or waste fish, so I ate them quietly, with a forlorn longing for the beer-battered fish I once knew and would never again have. I was eating my sixth and seventh pieces of fish, and knew it was time to stop.
As I finished, I took note that the amount of people in the building had ballooned to perhaps five times what it had been when I had arrived—the change was quite remarkable. In my estimation, this could have had some bearing as to why my second and third fish orders got mixed up. Still, I was disappointed with the occurrence. If you choose JC's Pub and Grub for a Friday fish fry, I'd suggest ordering the beer-battered cod from the start and not deviating from it. It is delicious and is all you need.
Takeaways: Potater Tots; solid slaw; the chowder may have been homemade or it may have been Campbell's Chunky New England Clam Chowder; all-you-can-eat fish option; I loved the beer-battered cod, but kept ending up with the breaded cod, and it was not as good.