Caleb Westphal hasn't missed a Friday fish fry since 2013. Follow along with his never-ending quest here.
As I drove south on South 13th Street from Layton Avenue, I could see cars lined up on both sides of the road ahead, and multiple signs from Coach's Pub 'N' Grill (5356 South 13th St.; 414-281-8175) illuminating the night. Upon getting out of my car, the smell of fried fish was strong in the air, and as cars whizzed past I had to keep myself from erratically dashing across the street to the heavenly glory that awaited. I took a deep breath and regained my composure; I am not ready for hospital fish frys just quite yet.
The building was almost overflowing with people as my friend and I entered, and we put a name in and were told it would be about 10 to 15 minutes for a table. The square bar had people hunkered down at it, some of whom were eating fish frys. A paper menu titled "Friday's Drink Specials" had rail Old Fashioneds listed at $3.50, which we of course ordered. Now, by no means were these Old Fashioneds great—they weren't muddled and they were quickly made—but I've paid a hell of a lot more for Old Fashioneds of a similar caliber elsewhere. These came with a cinnamon stick, and also had a solid amount of brandy—which in Wisconsin should be concern number one. Shortly after finishing our first drinks, our table was called. I didn't have time for one of the other Friday drink specials, two-for-a-dollar Jello shots.
The dining room was directly adjacent to the bar, with no divider between the two. Sports memorabilia—some of which looked like it was decades old—hung from the green-trimmed white walls, along with a large television. Green and white tablecloths covered the tables, as well as large baskets of assorted crackers. An enclosed outdoor deck just south of the dining room also looked to be full of people, all ready for the same ritual as myself.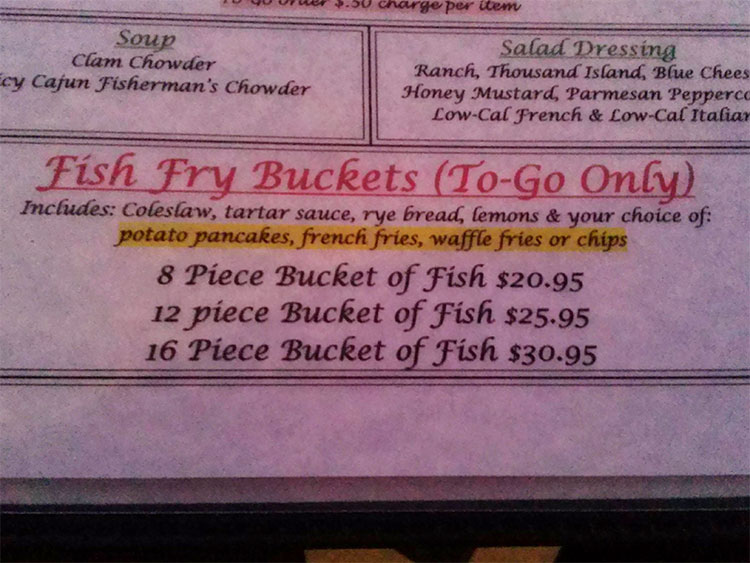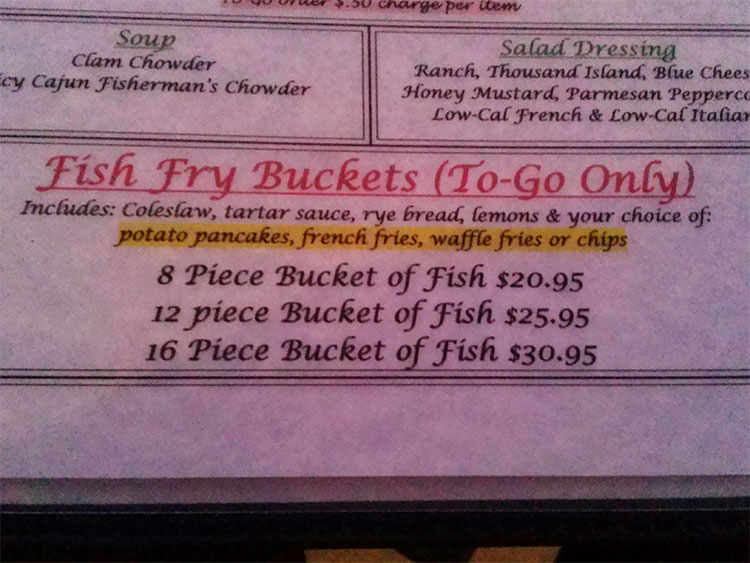 Coach's Pub 'N' Grill has eight fish and seafood options, most of which include a salad or soup—clam chowder and spicy cajun fisherman's chowder being the choices. And move over Colonel Sanders, this place has buckets of fish to go, which come with all the side items except soup or salad. I ordered the Fisherman's Platter, which came with three pieces of perch, three pieces of bluegill, one piece of cod, and two shrimp. Considering that a cup of chowder can be three or four dollars on its own at most places, $14.95 isn't that unreasonable of a price for a platter with various types of fish and chowder.
The chowder was thin its consistency, had a good amount of potatoes, and was still very enjoyable. The fish had a very light breading, which allowed the fillets to easily curl, and also seemed to bring out the inherent flavors of the fish. This was particularly apparent with the bluegill, a fish that already has quite a distinct flavor, and is a species that isn't too often found on Friday night fish fry menus. Overall the fish was satisfying. The homemade tartar sauce went well with the fish, but was not breathtaking. The potato pancakes were thick, and did not have much flavor beyond the potato. There wasn't anything particularly exciting about the creamy coleslaw and rye bread; they were pretty standard.
There are a handful of Friday night fish fry spots close to the airport. The Packing House usually ends up on every "best of" list for fish fry places in the Milwaukee, and Amelia's and Final Approach are also nearby. Just a stone's throw from there one can find Coach's Pub 'N' Grill. It may be a little less refined than its counterparts, but make no mistake, this neighborhood bar is worthy of standing beside its neighbors, and is worth a try.
Rating: Chowder included with meal; decent amount of fish options, including bluegill; buckets of fish!!!; cheap Old Fashioneds; my friend forgot his leftovers and a worker literally ran out the door of the place with them to catch us; they have a cribbage tournament on December 30. 3 out of 5 stars.