Growlers might be one of the best kept secrets of craft beer enthusiasts. Having only been made legal in Milwaukee in 2012 (thanks to Bryan Atinsky of the Riverwest Filling Station getting some wording on a city ordinance changed), growlers are truly one of the cheapest ways to try specialty beers.
Here's how it works: You find a beer you love on tap at a place that offers growlers. Buy a growler or bring your own to be filled. Get 64 ounces of goodness to take with you and enjoy at home. Done. All local breweries should fill your growler—and you likely know about those already—so this list focuses on places with multiple brews on tap. Bottoms up!
1. Cafe Centraal (and other Lowlands restaurants)
Perhaps better known for its Euro-influenced menu or its elegant patios, Bay View's Cafe Centraal (and all other Lowlands-operated establishments like Cafe Hollander and Cafe Benelux, for that matter) also takes its beer quite seriously. You simply won't find a better selection of Belgian brews in town. The restaurant group also has rotating collaborative offerings it executes with the help of breweries from Europe, stateside, and even right here in Wisconsin. Bring your growler in (or buy one there) to fill up with Centraal Quadder, which Lowlands makes in partnership with Amherst, Wisconsin's own Central Waters.
2. Camino
Camino has quickly become a Walker's Point's favorite by way of its great pub fare and its impressive beer list. If any points can be knocked off, it's in regards to the bar and restaurant's limited space. If fellow champions of Camino are cramping your style, get a growler of any of Camino's 20 tap options to go. They have their own growlers, or you're welcome to bring in your own.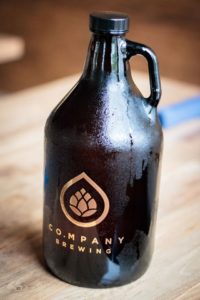 3. Company Brewing
On top of serving excellent food and being one of the best places to catch a show in Riverwest, Company Brewing—as the name would suggest—also brews its own beer, which is available on-site and in both growlers as well as the smaller "crowler" sizes.
Most growler fills run between $12 and $15 (not counting the vessel itself), with discounts offered every Thursday.
4. Draft & Vessel
The space is great, and the beer list is always changing. They have 16 draft lines you can sample before you decide what you want to take in your growler. Check their website for the list.
5. Fresh Thyme Farmers Market
Pick up some groceries and stop by the Growler Bar—a filling station and coffee house. They have about 10 beers on tap, and on Thursdays, you get $1 off a growler fill.
6. G. Groppi Food Market
This Bay View staple is a bakery, deli, caterer, and so much more. They have a lovely little bar in the back where you can eat, drink wine, and fill your growler with anything on tap.
7. Lost Valley Cider Co.
Even though it has a cider focus, this place is definitely worth a mention. They always have an impressive list of apple- and fruit-forward beverages on tap, and you can take home what they call "Howlers"—a.k.a. 32-ounce growlers.
8. Ray's Growler Gallery & Wine Bar
With "growler gallery" in the name, you know it has to deliver—and it does. It's a regular stop for craft beer fans. They update their website regularly, so you'll always know what's available.
9. Riverwest Filling Station
Pay them some love, especially since they helped get growlers legal in Milwaukee. They have 30 draft beers to choose from.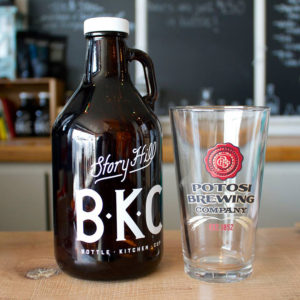 10. Story Hill BKC
They're one of the best picks for tasty food and great growler options. Come for their amazing brunch, and leave with 64 ounces of beer to enjoy at home.
11. Stubby's Gastropub
Stubby's has been a favorite among East Side beer enthusiasts for some time. They encourage tap diversity, so you can always find something new to fill your growler. You can check out their Stub Club for special beer discounts and VIP tappings.
12. Whole Foods
They might not have the largest selection, but they've had growlers for years. Whole Foods has a nice list of rotating beer on tap that you can fill. They always have at least one local beer available, too.