Crazy times, eh? With every venue, theater, and public space closed due to COVID-19 concerns, our normally bustling events calendar is pretty barren. So here's what we'll be watching, playing, reading, and listening to at home instead. Stay safe, Milwaukee.
MONDAY, MARCH 30
"Less Than Jack" on Instagram Live
Evidently, Telethon's Jack Sibilski is a huge Less Than Jake fan. As such, the band's lead guitarist and background vocalist will be playing an acoustic set on Instagram Live that's rife with covers of the seminal ska-punk band's material. Tune in at 8 p.m. and bring your Pez.
Perfectly Cut Screams on Twitter
Okay, so this isn't a show or movie or whatever, but if you're truly looking for a change of pace from the important-but-discouraging COVID-19 updates and a temporary distraction from all the other awfulness of the world on your Twitter feed, there's an account called "Perfectly Cut Screams" that can eat up hours of your life with amazing videos of pet reactions, cooking fails, miraculous happenings, and anything else that could ever result in a scream that's abruptly cut before the end of the video. It's fun and wholesome. Check it out if you're bored.
— Perfectly Cut Screams (@AAAAAGGHHHH) March 10, 2020
TUESDAY, MARCH 31
The Tool Shed's "Ask The Sexperts" Live on Zoom
"Do you have a question or three about sexual health or pleasure? Wanna get an honest answer and a couple of good laughs? Spend the evening in the virtual company of Tool Shed staffers Lucky and Hudson and anonymously ask your secret questions. We'll combine honesty and humor, while providing accurate, up-to-date information to anyone with questions. Please join us! For this event, we'll make a private room on Zoom and you're all invited! Questions can be sent privately to the event moderator via chat in the Zoom room. Sending us a question grants us permission to read the question aloud, but we will never reveal any personal details like your name, age, or location when reading the question."
WEDNESDAY, APRIL 1
Nailed It! (Season 4) on Netflix
You've probably seen this show already, BUT on the off chance you haven't, Nailed It! features amateur bakers trying to replicate amazing works of epicurean art with less-than-amazing results. The fourth season is available on Netflix starting April 1. Trust us: it's a great show. Plus, Nicole Byer is an undeniable national treasure.
Modern Family on ABC
Modern Family has seen better days, but even in its waning seasons, it's remained an above average comedy that has a few tricks left up its sleeve. Before the long-running sitcom officially says farewell with two episodes next week, get ready to say goodbye to Modern Family with its third-to-last episode on Wednesday.
LEGO Masters on FOX
LEGO Masters is a show where teams use LEGO (which is the plural of LEGO) to build amazing structures as they compete for the grand prize of $100,000 and the title of, you guessed it, LEGO Master. It sounds dumb—and, yeah, it is sometimes—but it's actually quite addicting, especially if you're looking for a break from all the prestige television you've felt the pressure to catch up on since your quarantine began.
THURSDAY, APRIL 2
Devs on FX
To be honest, we haven't seen this show yet, but between Devs being an FX series and Nick Offerman's involvement, there's very little chance this limited series is anything less than outstanding. Watch the first four episodes on Hulu before tuning in for the latest episode this Thursday.
FRIDAY, APRIL 3
Future Man (Final Season) on Hulu
In its first two seasons, Future Man took the commonplace trope of time travel to new, interesting, and extremely humorous territory. On Friday, the Hulu original series starring Josh Hutcherson (of The Hunger Games fame) and Eliza Coupe (Happy Endings) will release its third and final season. Catch up on what you missed, then send Future Man to the past on your Hulu queue.
Mertles Acres album release
With just a handful of shows and even fewer songs released to this point, you might not know Mertles Acres. Though the young project might not ring a bell with listeners quite yet, you've probably heard its members before. The duo is composed of Danny Walkowiak and Steve Maury, who were the rhythm section of Direct Hit! until last spring. After parting ways with the Fat Wreck Chords band, Walkowiak (a drummer) and Maury (who sings and plays guitar live, and plays everything except drums on recordings) shifted their focus to writing a Mertles Acres record. That self-titled record will officially be released on April 3.
SATURDAY, APRIL 4
Pretend Your Favorite Band Is Playing at X-Ray Arcade (online, of course)
From the fine folks at X-Ray Arcade:
"This is easy. On Saturday, April 4, we're all going to meet up in our respective quarantine areas, put our headphones on and jam our favorite band while staring at this photo. Tell us your favorite band and we'll add them as a host, it's on them if they want to join in our stupid game."
And while you're online, donate to X-Ray's GoFundMe campaign.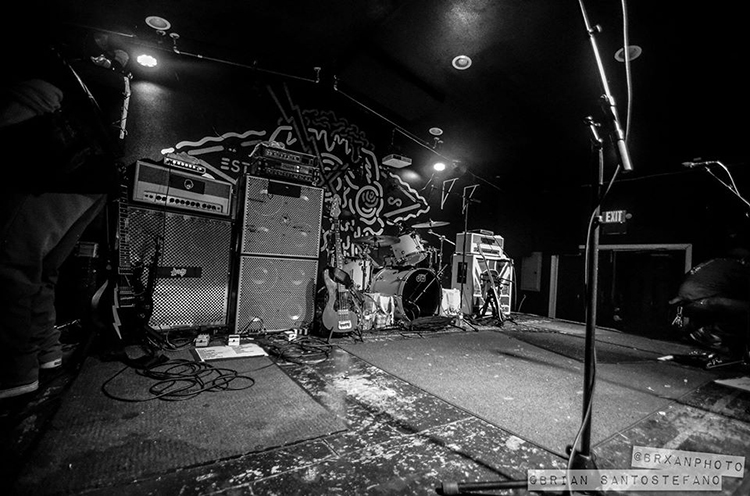 SUNDAY, APRIL 5
Every Lethal Weapon on Netflix
Starting April 1, all four films in the Lethal Weapon franchise will be available to stream on Netflix. Whether you're watching them for the first time or screening them again, there's no way you're getting too old for this shit.
Every Matrix on Netflix
Beginning April 1, all three films in The Matrix film series will be available to stream on Netflix. If Lethal Weapon isn't your thing or if you're seeking to add to your weekend movie marathon, take the blue pill and watch the trilogy. Still not good enough? Well, six seasons of Community will also be available starting April 1. Pop pop!