By his own estimation, Greg Gryskiewicz has put more than 12,000 hours of work into his home.
"I've averaged 30 hours a week, every week for nine years," Gryskiewicz says. "The weeks that I didn't work 30 hours a week or more on this, I took vacation and worked 12 hours a day for 10 days straight.
"I don't get much sleep," he adds.
Gryskiewicz's home isn't your typical fixer-upper, and Gryskiewicz himself isn't your typical homeowner. For the past nine years, he has worked on and lived in the nearly 100-year-old Lake School building in Cudahy, at 3744 E. Ramsey Ave. He completely remodeled some rooms and painstakingly restored others. He rescued pieces of history and beat back decades of neglect. He threw parties and invited friends to sign wooden attic beams previously signed by schoolchildren in the 1930s and '40s. He found a cat. He turned an unwieldy and dilapidated building into a unique and quirky home.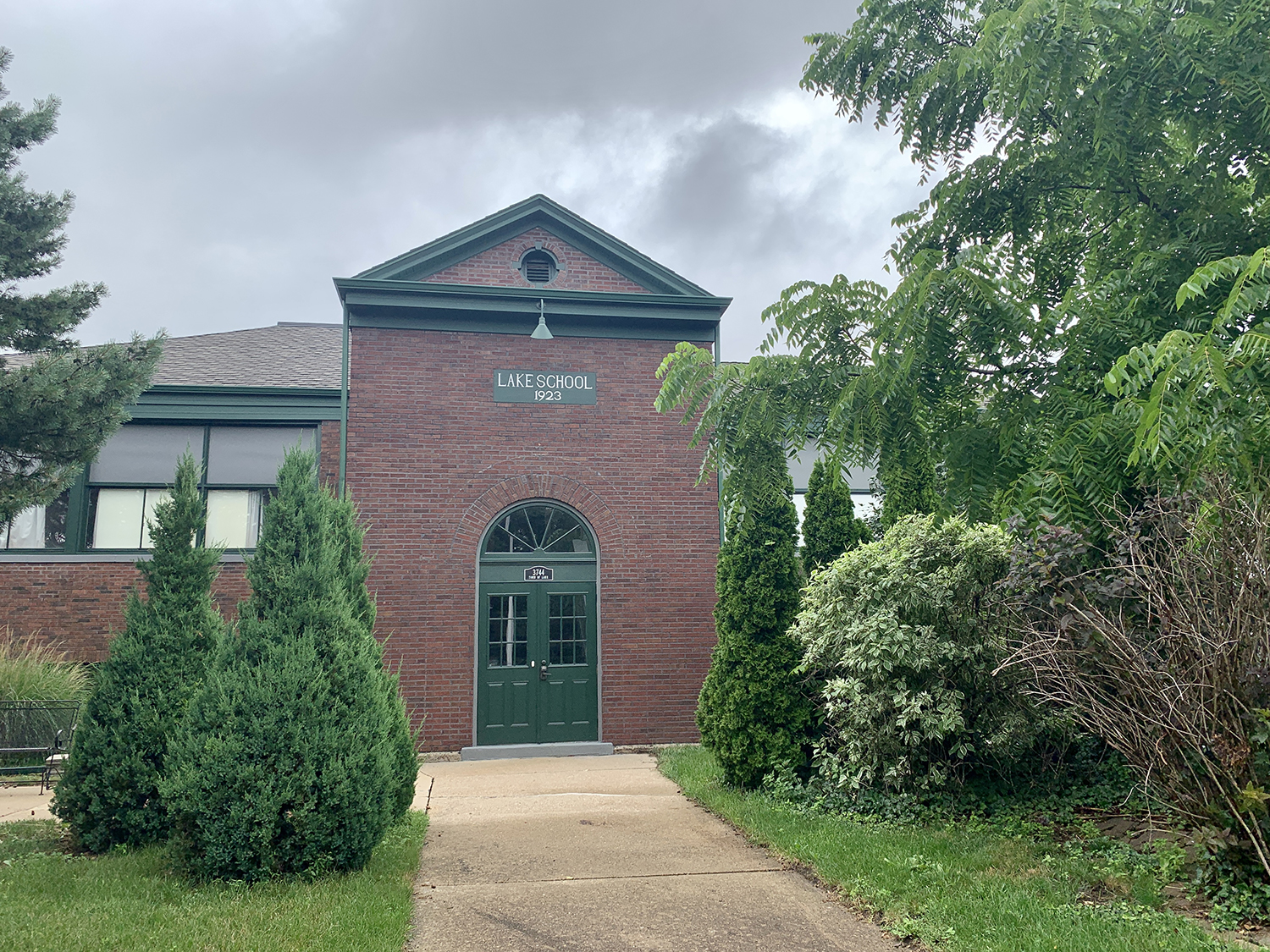 But now Gryskiewicz has put his home up for sale. An LLC called Cudahy Lake School Lofts plans to convert the interior of the building into eight loft-style apartments. It's the end of an era, but it's not without precedent: The impending renovation will represent just another phase in the life of a building that has long been a mix of old and new, of public and private, and of ancient history and dreams of the future. Lake School has persevered. Lake School will live on.
"This whole thing was a disaster, to say the least."
Gryskiewicz is giving a guided tour of his home, showing off his handiwork and pointing to still-standing signs of past-owner negligence. He's tall and gregarious, a natural at making anyone entering his radius feel instantly at ease. By day, he works at the wastewater treatment plant on Jones Island. Today, he's acting as both local history expert and amateur realtor. He's running on about three hours of sleep.
"I think it's awesome, a super fascinating story," he says. "People eat up stuff like this all day. It's so unusual, you know?"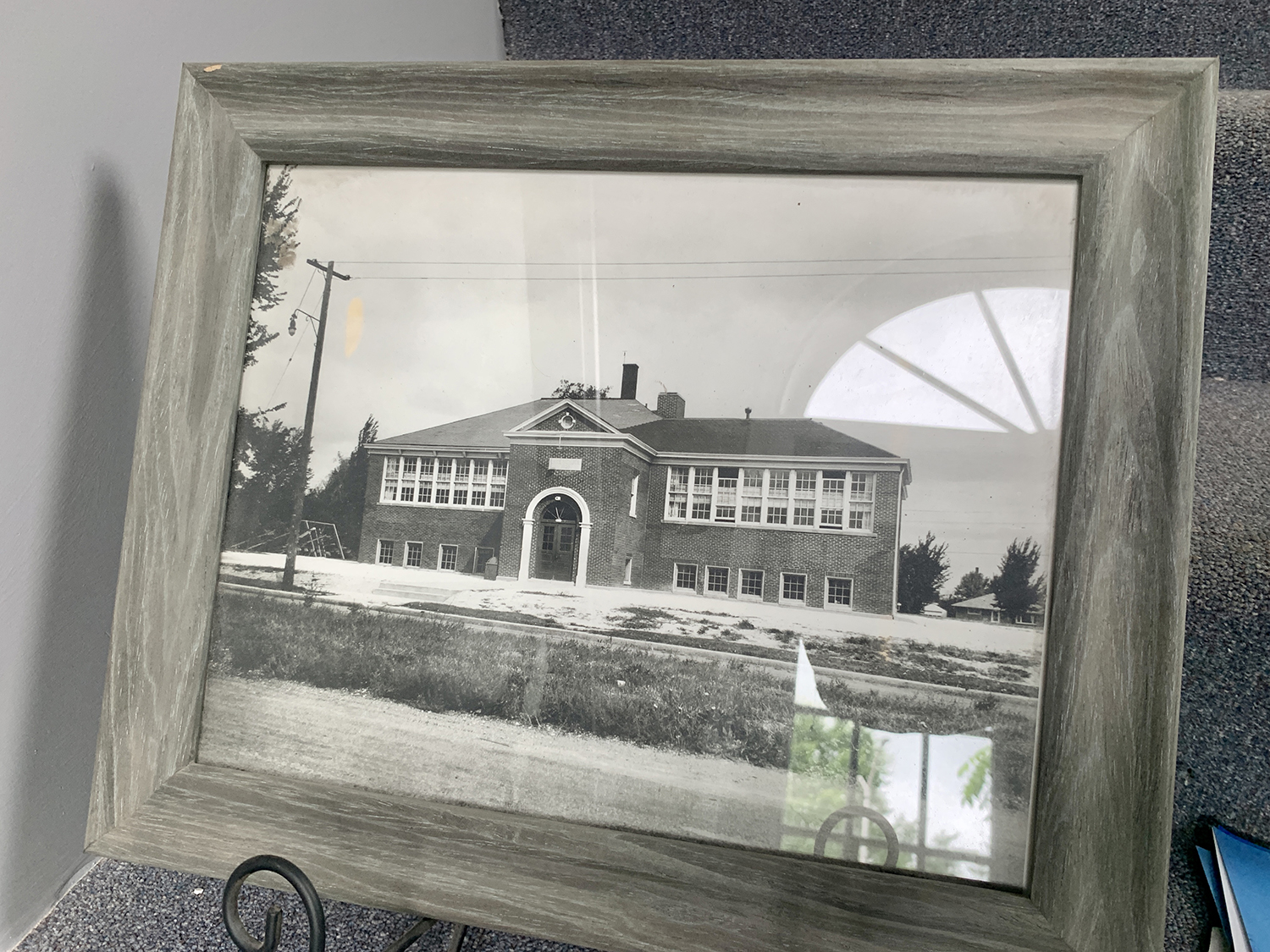 Lake School was originally built as a two-room schoolhouse in 1923, in what was then the Town of Lake. The building was used primarily as a school only until the mid '50s; in 1954, the growing city of Cudahy annexed a section of Lake and repurposed the building into school administration offices. The building remained in that state until the mid '80s, after which Cudahy built a new school administration facility down the street and sold off the former Lake School as—incredibly—a single-family home. A school principal lived there for 21 years. Another owner stuck around for nine. Gryskiewicz is the building's third owner.
"The first owner, the school principal, he was a guy where if the roof leaked in a room he was in, he'd just move to another room," Gryskiewicz says. "This place fell into ridiculously bad levels of disrepair. The previous owner did some work like replace the roof, but they didn't renovate anything. So when I bought this place, it was basically a 1950s office building in an old school with about 100 years of deferred maintenance."
Gryskiewicz's blow-by-blow account of that deferred maintenance is a harrowing tale of extensive water damage, faulty and dangerous wiring, heating and cooling nightmares, and a seemingly endless number of things teetering on the edge of disaster. "Add it to the list, right?" Gryskiewicz says while recounting the time he uncovered rotted load-bearing beams in the former boys bathroom. (Gryskiewicz eventually renovated the entire bathroom—plumbing and all—and decided to keep the old urinals hidden beneath a new sink countertop.)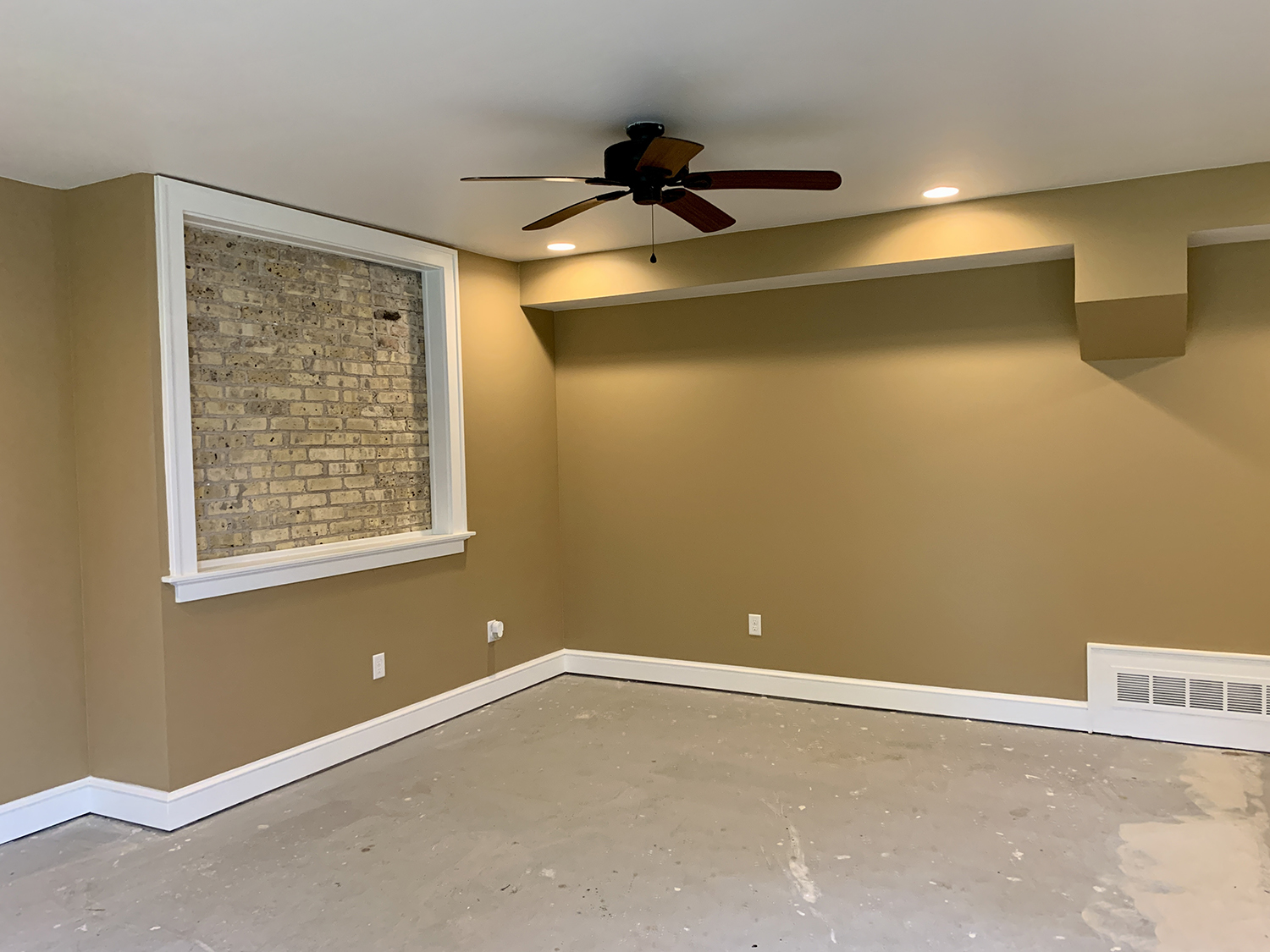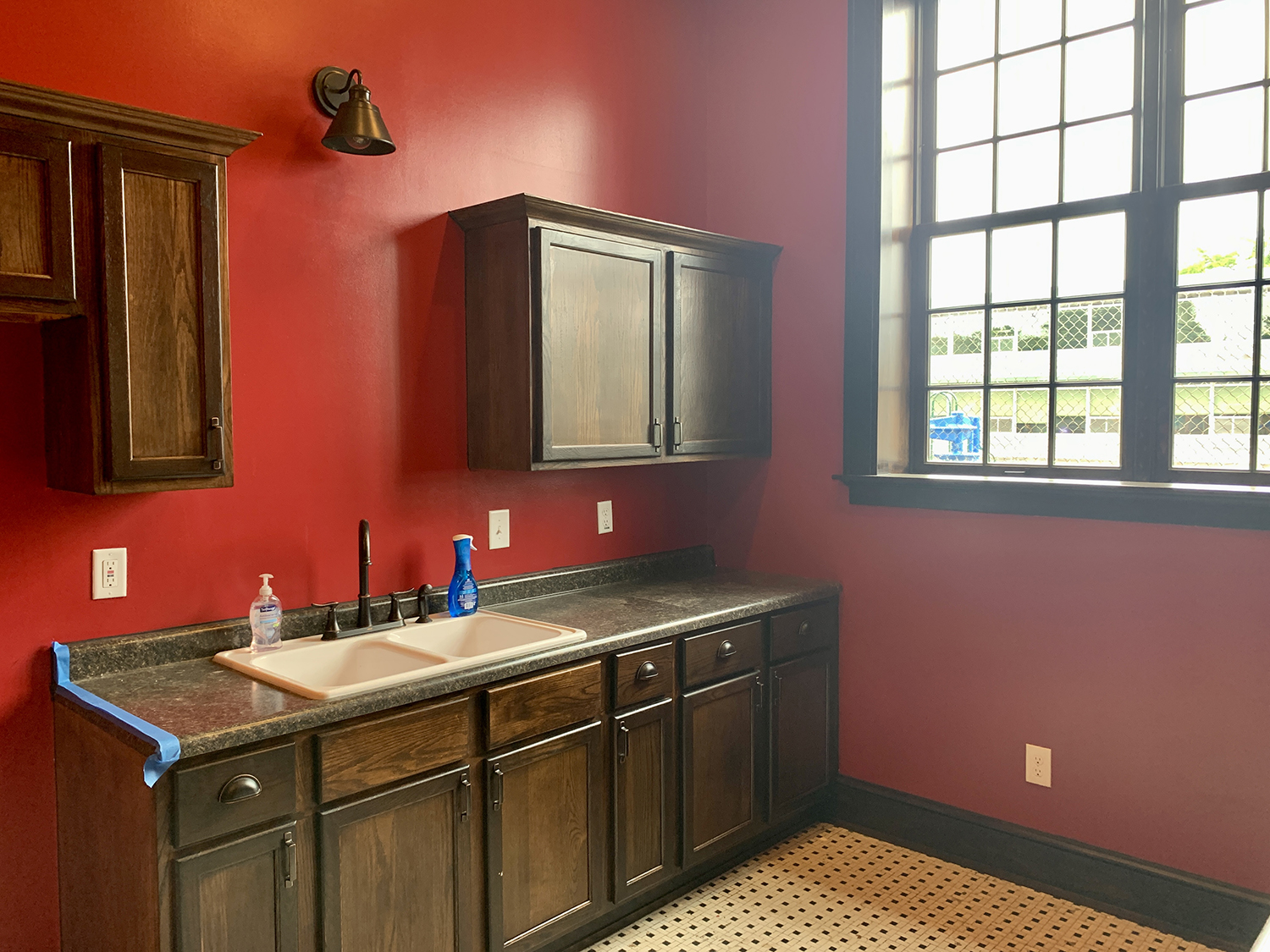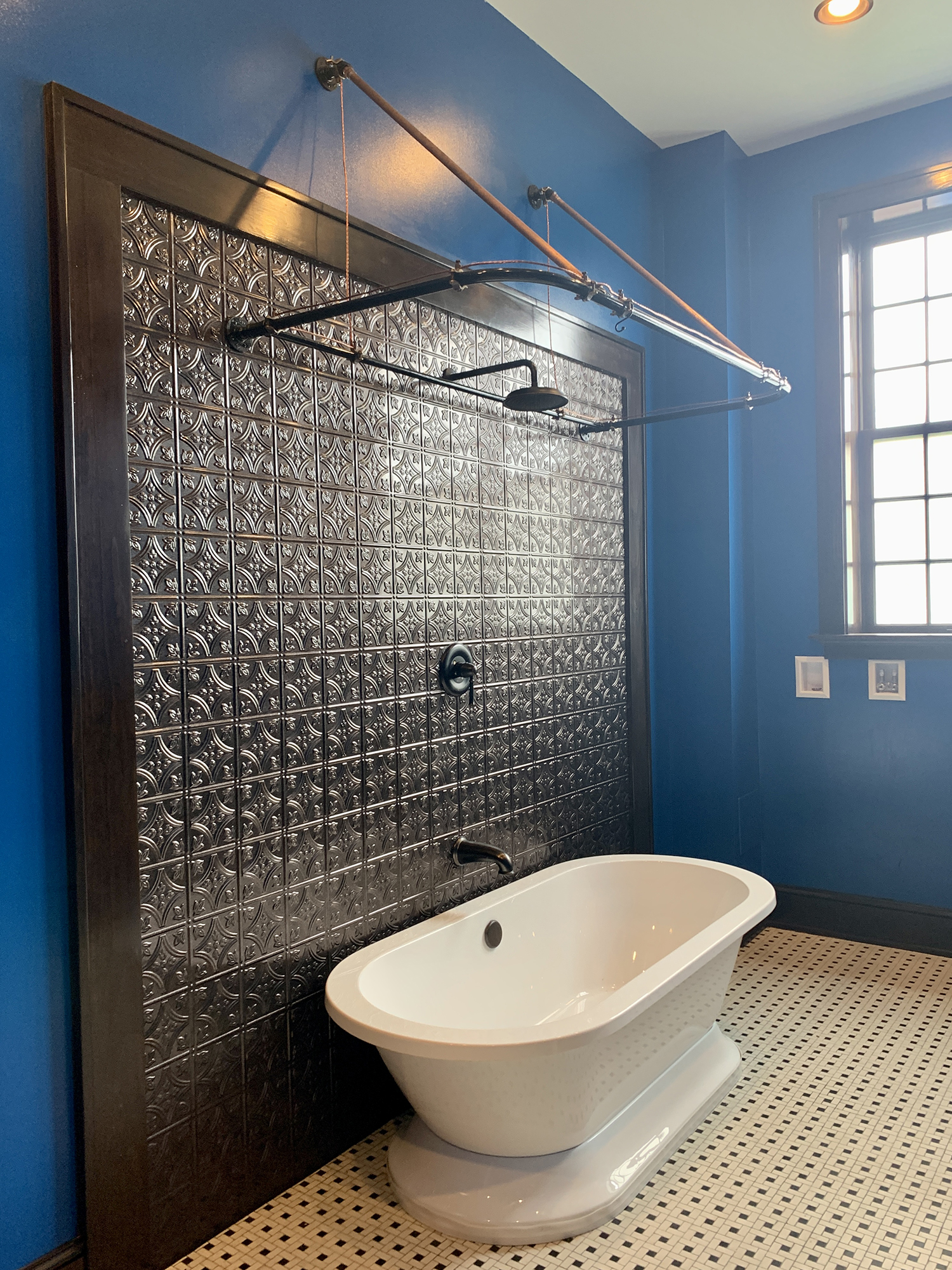 Gryskiewicz's renovation work is easy to spot throughout the rambling building. It's modern, meticulous, and impeccable. His work is evident on the outside of the building, too. The brickwork is all his (the previous brickwork was "a disaster"), and he estimates he spent 5,000 hours on the building's facade alone. All of this repair and renovation has been staged from an on-site workshop—a former school office now filled with tools, more tools, and Gryskiewicz's own welding art.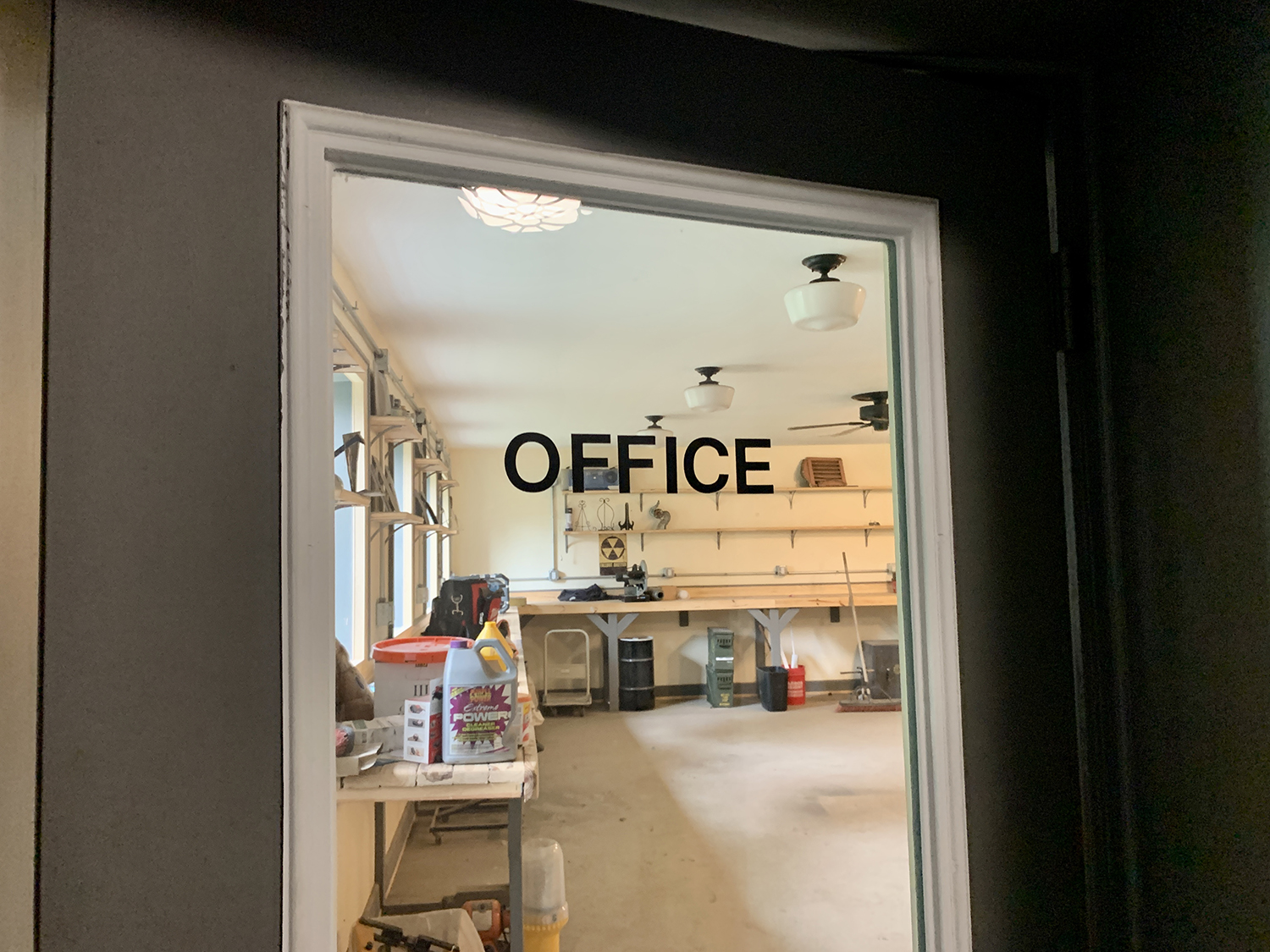 The decidedly 21st century accommodations stand in stark contrast to rooms and hallways that haven't been touched in decades. Many of them, dating back to Lake School's administration days, appear to be straight out of a Mad Men fever dream.
"Obviously the carpet is original to the '60s," Gryskiewicz deadpans as he pokes around a series of empty rooms covered in mustard-yellow carpeting. "They used these as offices. I put a bed in here that I never used. Someone commented on a post about this and said, 'Man, lovely carpets!' I kind of snickered at that. I don't know, it must have been the cheapest shit they could get back then, because every time I see this I'm like, 'Oh boy.'"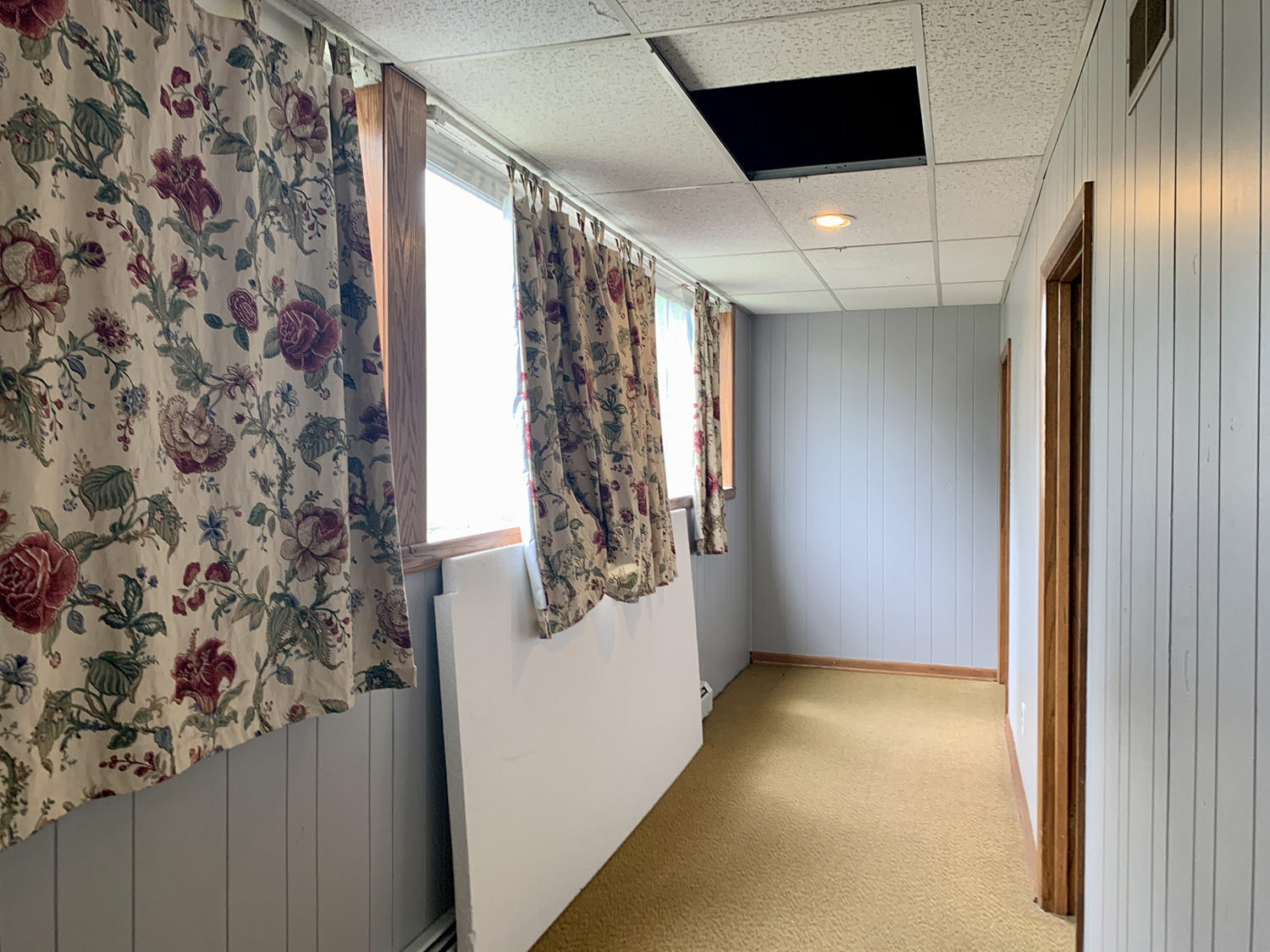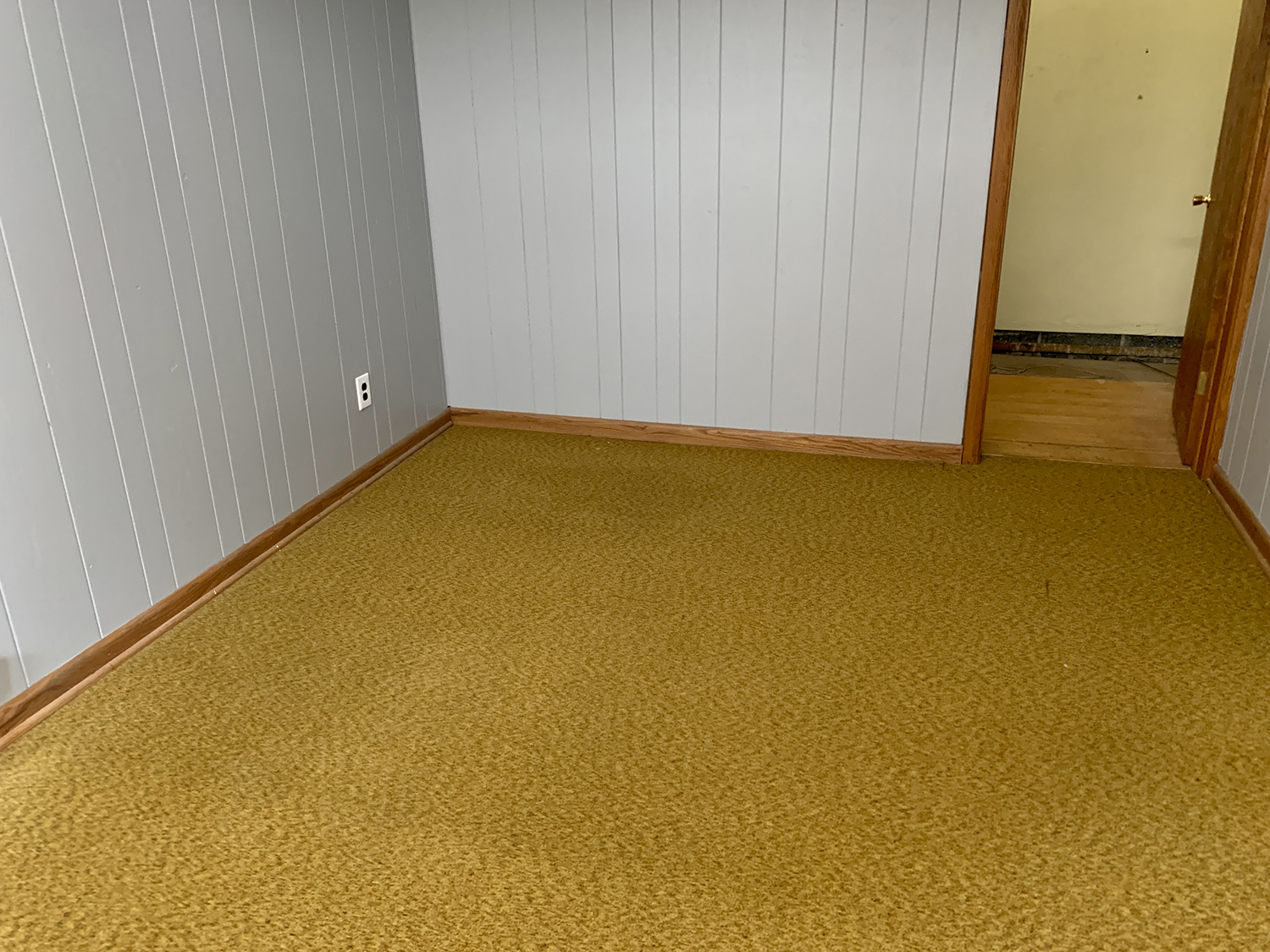 Gryskiewicz's actual bedroom is on the second floor, directly above a storage area. It's a spacious room with 12-foot ceilings and big windows, yet it's a mere blip in the building's maze-like interior. A living room, a small kitchen, and a bathroom round out his modest footprint. He shares it all with only one other soul: a random cat.
"Funny story about him," Gryskiewicz begins. "He was a stowaway in the basement when I bought this place. The previous owners weren't really living here. I bought it and after a week I found a dead mouse in a sink downstairs. It was flat, like a 100-year-old mouse, and I'm like, 'What? How did that get in there? That's bizarre.' A day later I found a fresh mouse with its guts hanging out, and I'm like, 'Well, clearly a mouse doesn't just cross a walkway and get its guts pulled out.' So then I looked all around. I thought I had a raccoon or something. I couldn't find anything. Two days later, I'm in the basement and I move some wood and a cat runs off and scares the hell out of me.
"I was able to coax him in a corner. He seemed nice," Gryskiewicz continues. "I took him to the vet and got him checked and he's been my cat ever since."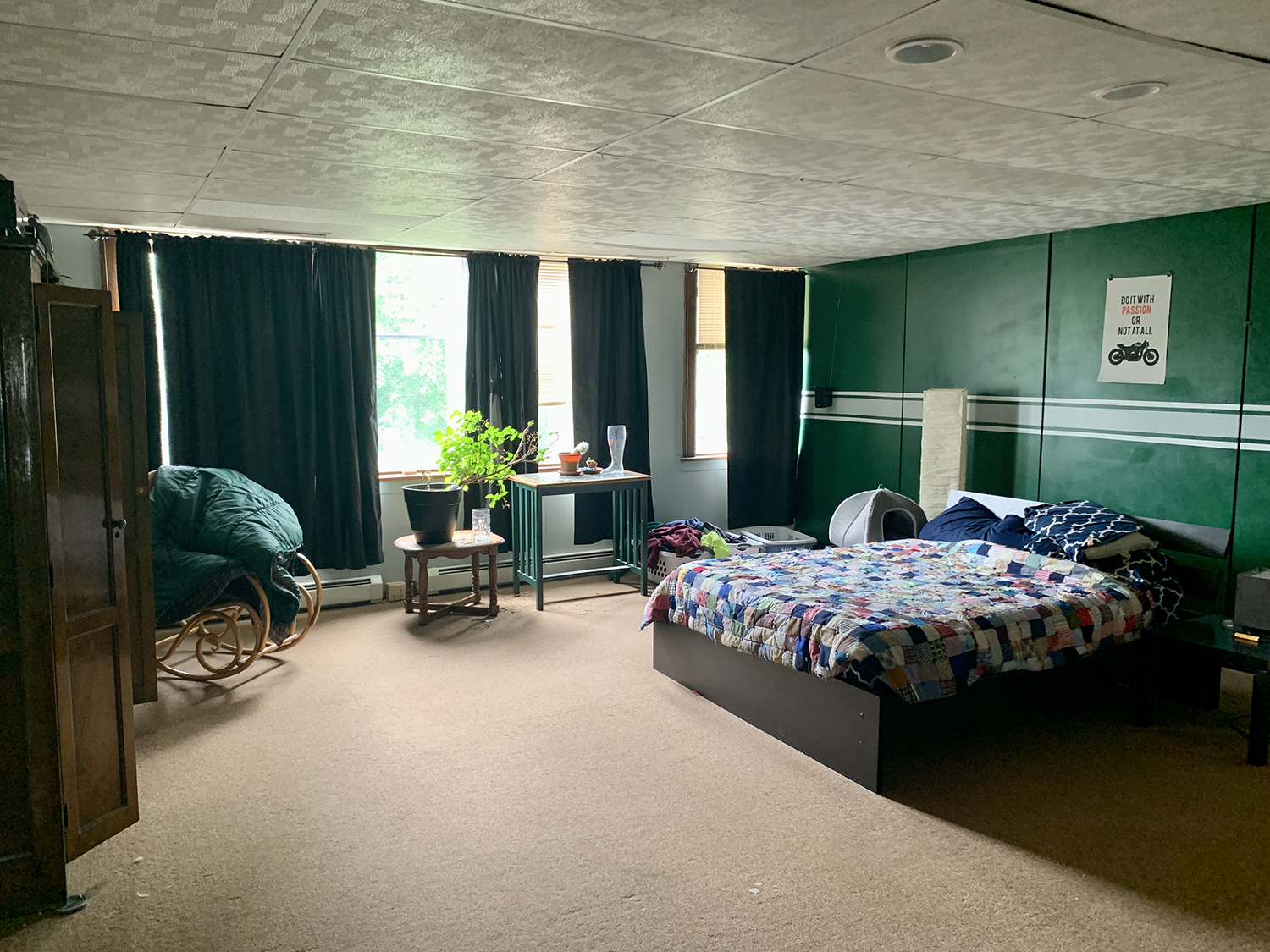 Traces of the building's early schoolhouse days are harder to find, though they do exist. Dusty desks of various vintages are scattered throughout the building's half-painted rooms and closets. A small chalkboard reads "Welcome to Lake School." The boiler room (Gryskiewicz's favorite) contains both the massive boiler and the school's original coal-burning furnace, though the latter is no longer functional.
"I've met two people who went here in the late '40s," he says. "One of them told me a story about how the guy that worked this furnace had a hunchback. I kind of laughed about that. I'm like, 'I could see that, shoveling coal all day.' Pretty wild."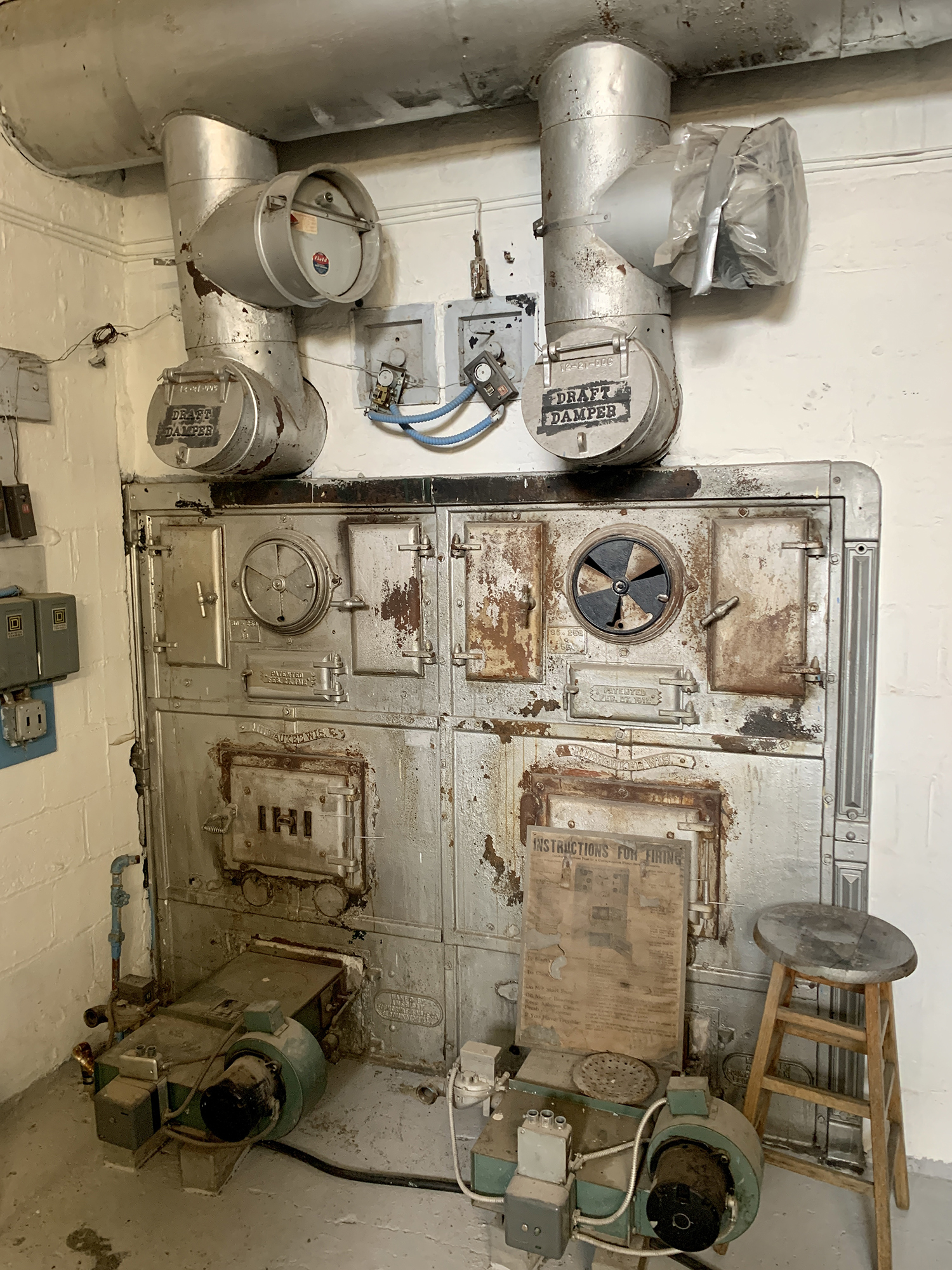 Gryskiewicz has dozens of stories like this—stories of brushes with the past, stories of unexpected discoveries, stories of living and working in an unlikely environment. "Show me a single-family home like this that exists," he says. "Show me someone willing to invest the money into it. This is so far from a normal household."
Oh, and then there's the attic. "I'll show you the attic. It's really cool up there," Gryskiewicz says.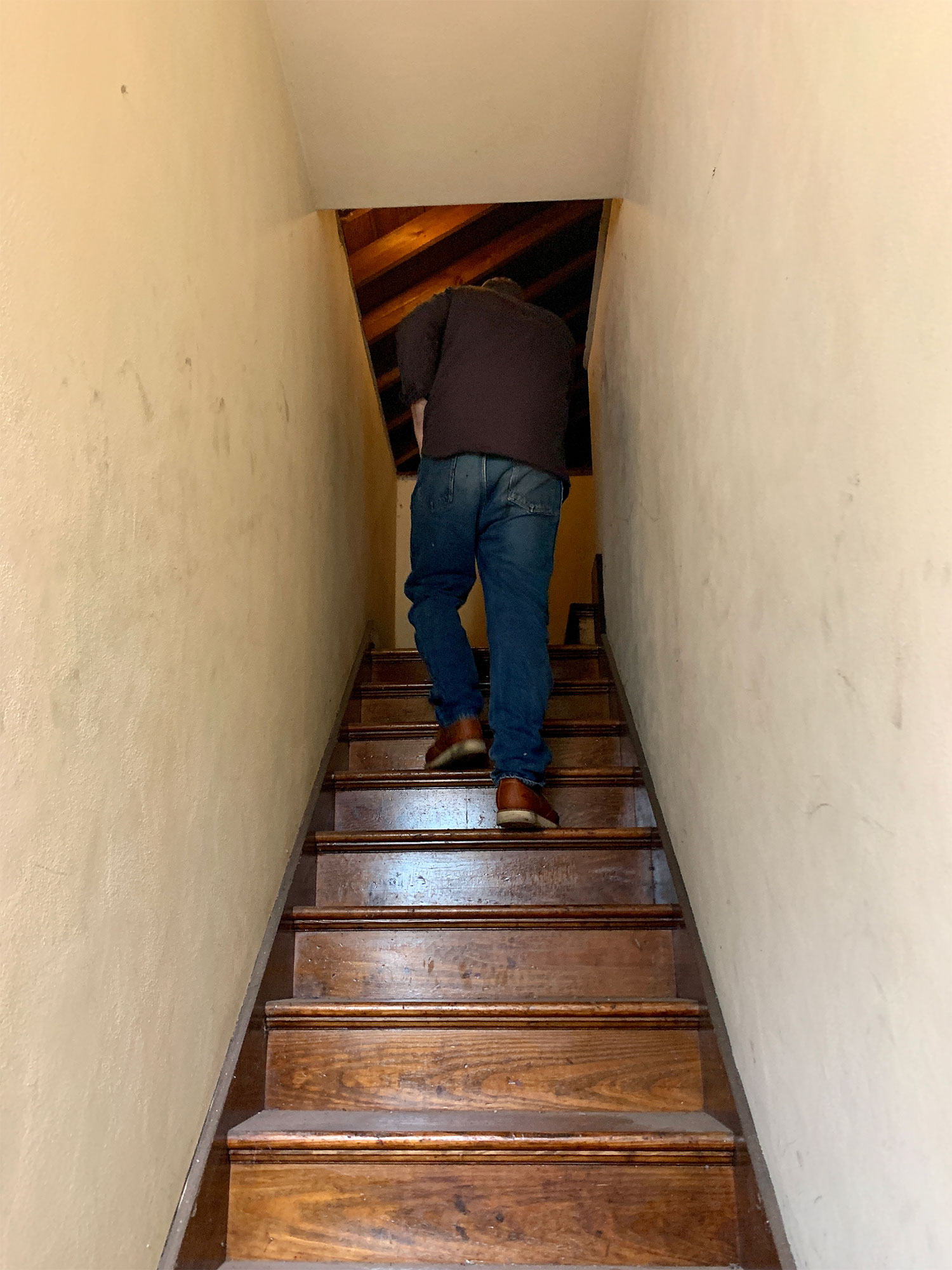 If the bulk of Lake School is a bewildering mix of styles, eras, and uses, the attic is a mostly original, mostly raw space. It's here where you'll find wooden beams scrawled with signatures dating back to the '30s and '40s. The meticulously penciled-in names are the work of some of Lake School's earliest students.
"When I was up here working, I saw that kids had signed all over the place. The oldest signature is from the late '30s," Gryskiewicz explains. "The more you look, the more there are."
He's right. Dozens upon dozens of signatures mark the wooden beams. Long-ago grade-schoolers like "Phyllis" and "Tommy" call out from the past. Names like "Donald" and "Dick" abound.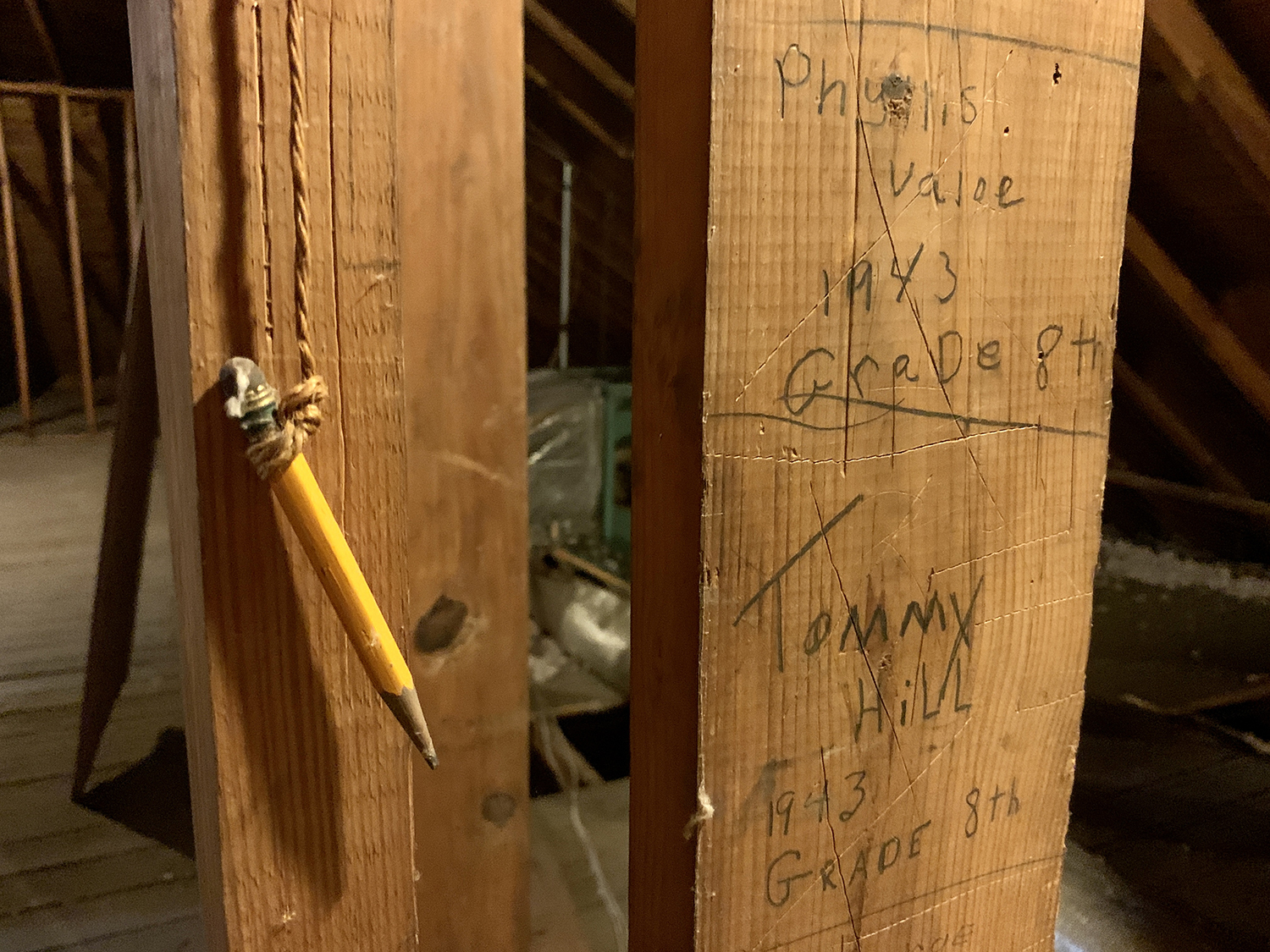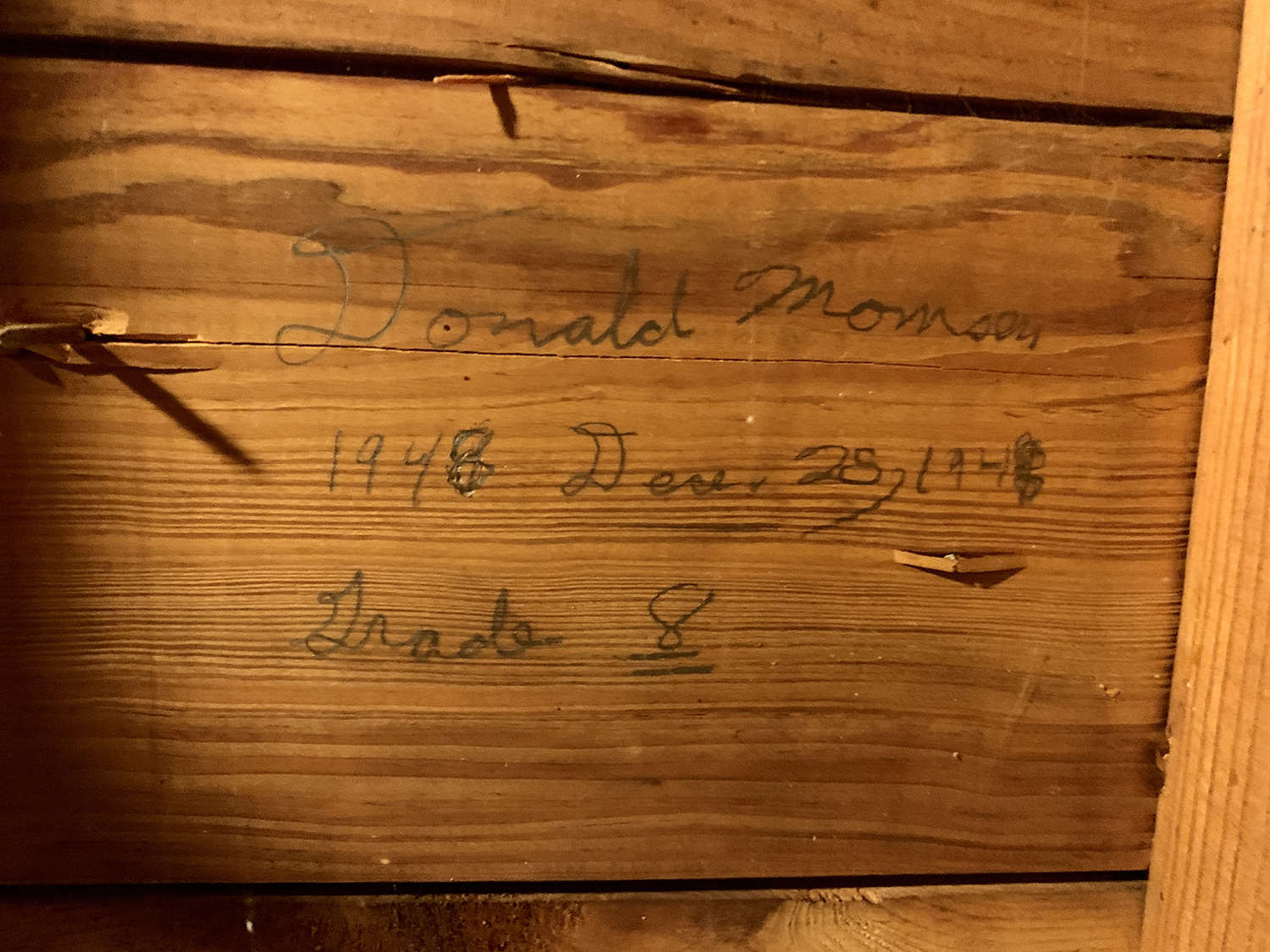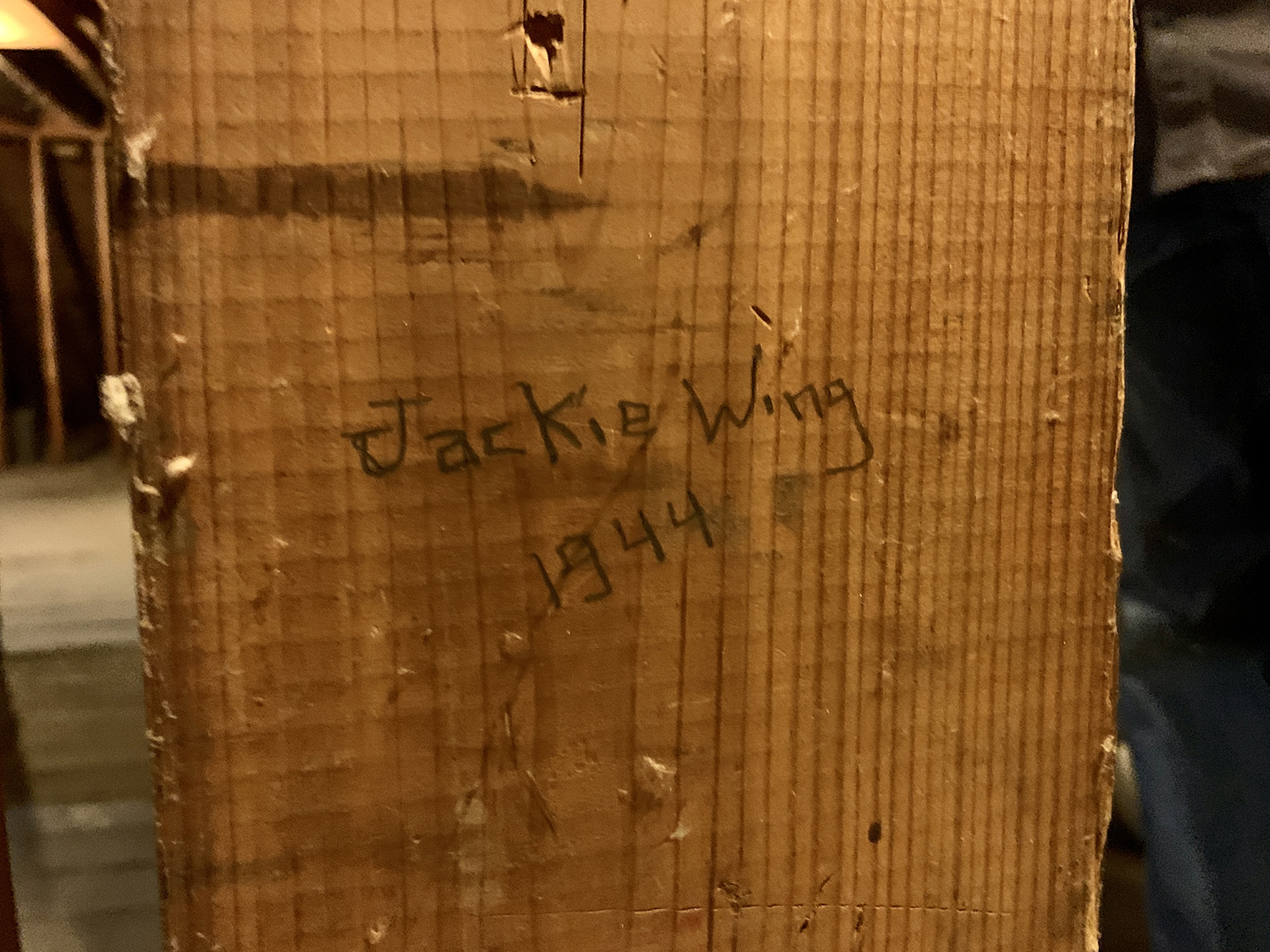 "This one right here," Gryskiewicz says, pointing to a name, "this is a guy that I met. He was here from '46 to '53. And in 2016 he came by and I met him. He was just looking at the building. I said, 'Oh, can I help you?' He said, 'I went here as a kid.' So I took him on a tour and he told me stories. He remembered everything: every teachers' name, where he sat, every room. He's still alive, too. He was the guy who told me the hunchback story."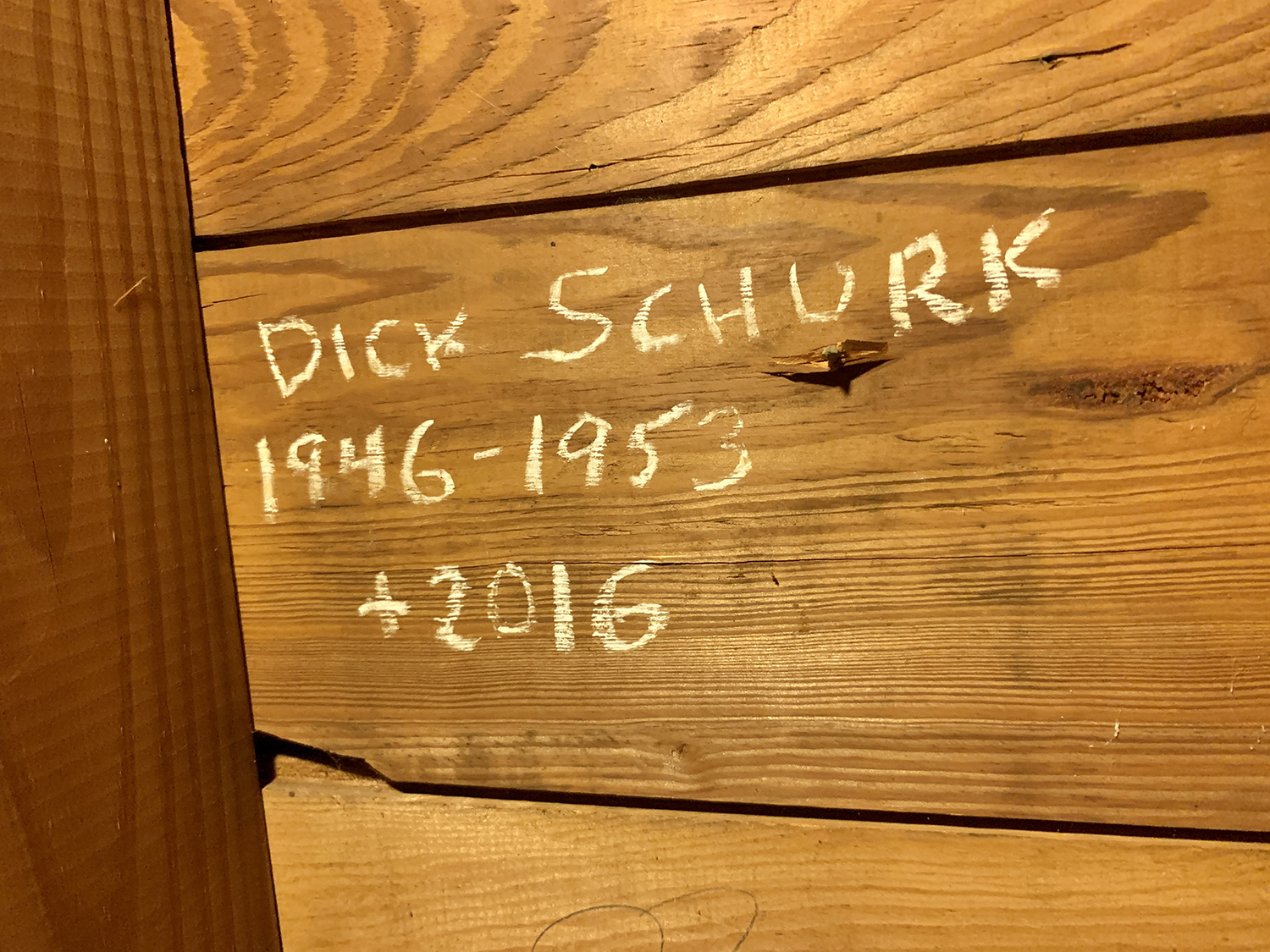 But Lake School's attic is also a place where old and new come together. In addition to the vintage signatures, newer names from the 2010s and '20s are chalked in on the attic's wooden beams. These newer additions are the work of Gryskiewicz's friends.
"So to keep the whole idea alive, when people come and visit I let them sign," he says. "Over the years, tons and tons of people have been through here. I used to do parties, though not so much anymore. One year I was up on the roof launching bottle rockets and one of them flew on the school next door and landed on the roof, still lit."
Gryskiewicz shakes his head. "I was like, 'Okay, that's it.'"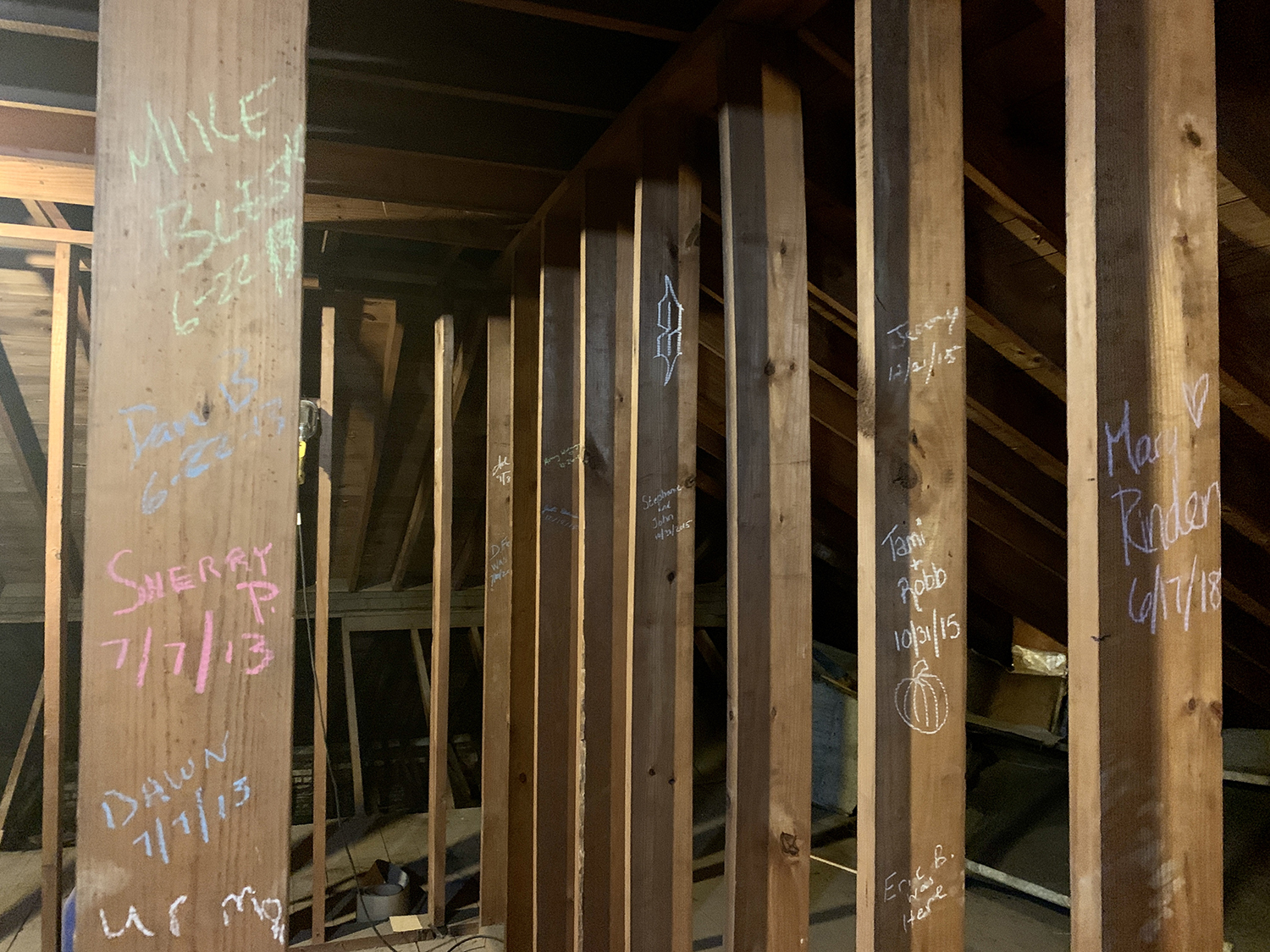 Which leads to the big question: Why is Gryskiewicz selling? Why is he saying goodbye to his home? Why is he walking away from a passion project that has consumed thousands of hours and nearly 10 years of his life? His reasons are both practical and bittersweet.
"I gotta move somewhere warmer. I can't handle the cold anymore," he says. "When winter comes I'm just miserable because I can't do anything outside. I love off-roading. And I'd rather go off-roading every weekend than work on my house. I'm kind of at the point where I'm like, 'Okay, maybe someone will buy this and make it into something cool,' like the prospective buyer who wants to turn it into an eight-family apartment, which I love. Then this place will stick around forever."
Outside on the lawn, Gryskiewicz grows more contemplative. "You've got to be a little crazy. That's the thing people always ask me: 'Why did you buy this in the first place?' Well, I was younger. I'm 38 now. I was 28 at the time. And it was cheap. I paid $182,000 for it, which is nothing. However, the amount of work, if I had paid someone, would have been three quarters of a million dollars. So it's like, yeah, it was cheap, but I had to do a lot of work.
"But I don't have any regrets," he says. "People ask me: 'How are you selling it after all that work?' Hey. It was my hobby. I got a lot of stuff done. It's cool. I'm happy with it. I don't regret it at all."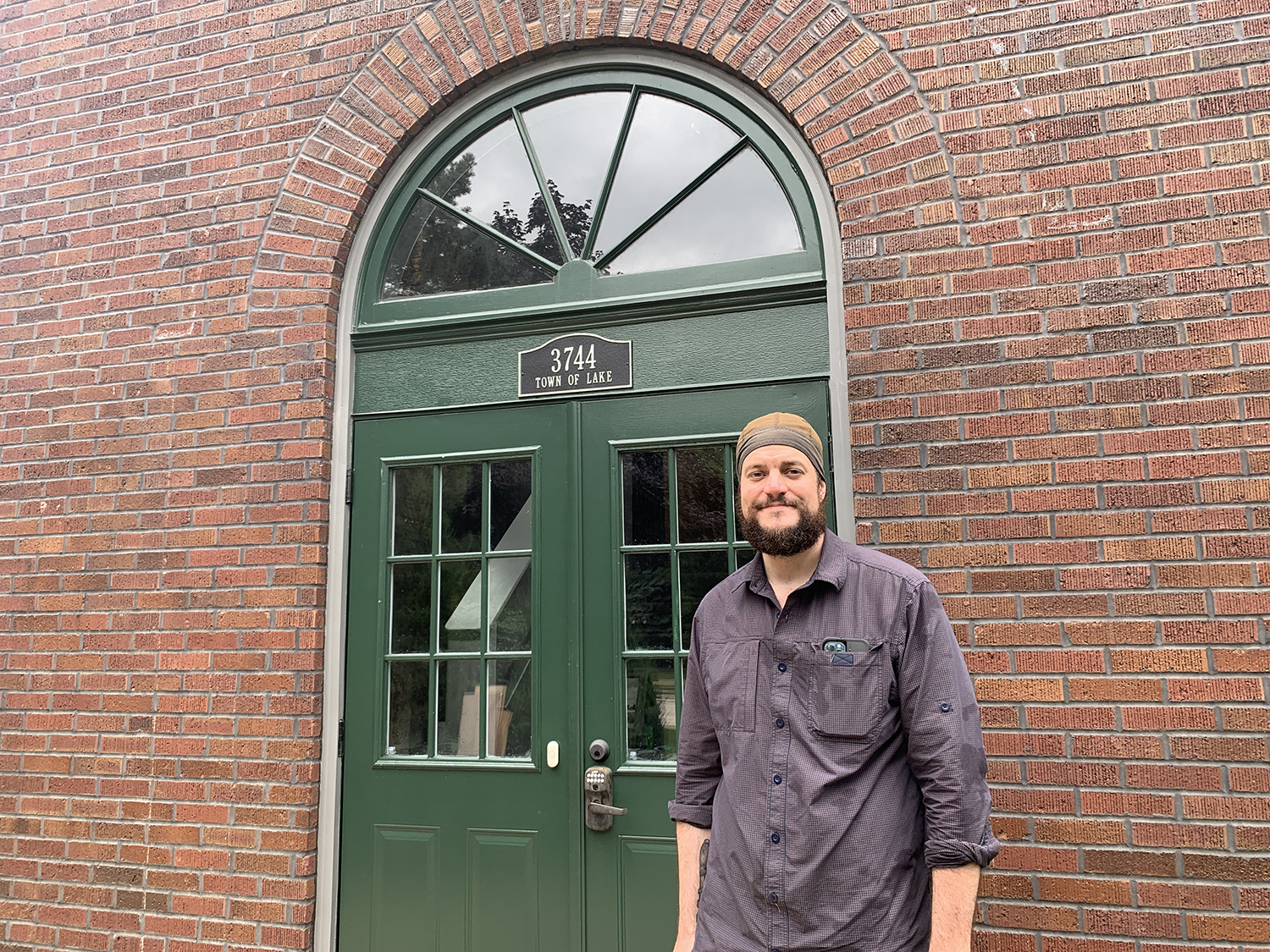 Exclusive articles, podcasts, and more. Support Milwaukee Record on Patreon.
---
RELATED ARTICLES
• Now is your chance to buy an old school building in Cudahy!