Depending on which news sources you follow, Milwaukee is going through either a "renaissance" or a "reinvention." Or maybe it's a "reboot" or a "reimagining." However you want to define it, it's safe to say that Milwaukee is currently building a lot of new and wonderful things!
• If you've ever driven up or down National Avenue, you know that traffic on the four-lane south side thoroughfare can get a little hairy. Lanes? What lanes! Speed limit? What speed limit! So while it may be difficult to imagine the "artery for autos" as a "biker's paradise," that's precisely what the City of Milwaukee and the Wisconsin Department of Transportation (WisDOT) are envisioning for their big National Avenue overhaul. Hey! Stranger things have happened!
"The preferred alternative for reconstructing W. National Avenue between S. 1st and S. 39th streets would see the four lanes reduced to two and raised, fully-separated bike lanes added," reports [Urban Milwaukee]. "The segment west of S. 33rd Street to the city limits would still have four travel lanes, but would also receive the protected bike lanes. Throughout the entire length of the street, the protected lanes would be separated by a grass terrace."
The plan to rebuild National Avenue dates back to 2020, when then-Mayor Tom Barrett announced "state funding for what was imagined as a $25 million project to rebuild 2.6 miles of a key east-west street." Bike lanes or no bike lanes, construction on the project is expected to begin in 2026.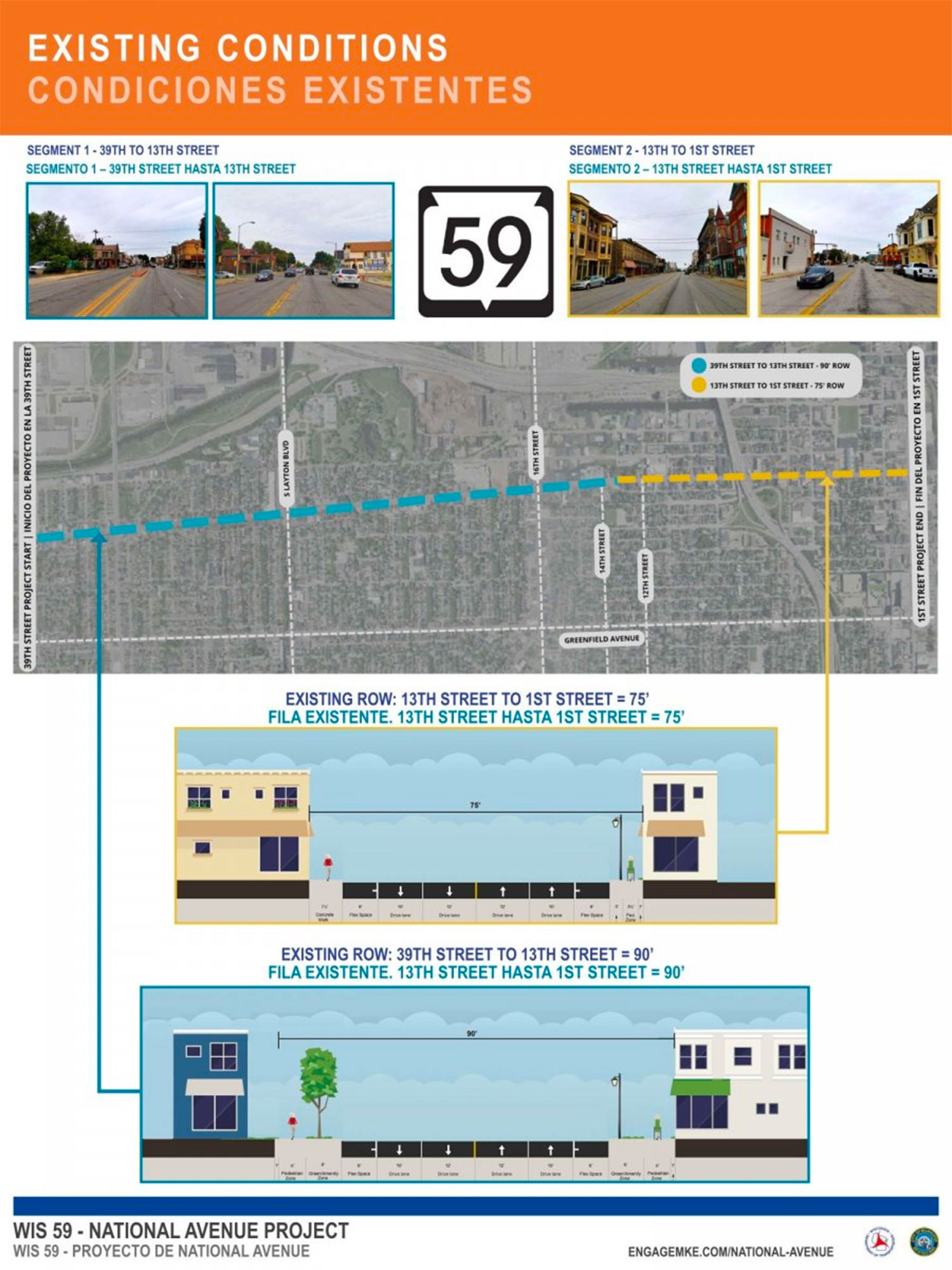 • Ever-developin' developer New Land Enterprises wants to build a six-story, 65-unit apartment building on the corner of 4th and Florida in Walker's Point. Pending city approvals (including one for a zoning variance), the $11 million project would take the place of a site that "currently includes a parking lot and two houses." [Urban Milwaukee]
• Ground has been broken on the Vel R. Phillips Plaza, a 30,000-square-foot public space on the north edge of that big empty parking lot across from the downtown convention center on Wisconsin Avenue. "The city envisions the plaza as a space for farmers markets, food trucks and other events, while honoring a revolutionary part of Milwaukee history," says [CBS58].
• Speaking of that big empty parking lot across from the downtown convention center on Wisconsin Avenue, the southern half of that lot is still up for grabs, and Milwaukee would still like someone—anyone!—to build something there. [Milwaukee Business Journal]
• And speaking of Milwaukee searching for someone—anyone!—to build something somewhere, the city is searching for someone—anyone!—to build something on a looooong-vacant lot at 16th and Forest Home. "The asking price is $29,000," says [Urban Milwaukee]. "Bids are due August 31."
• A five-story, 32-room boutique hotel known as The High Life may be coming to 614 S. 6th St. in Walker's Point. "The High Life will feature a restaurant and bar along with parking on its ground floor," reports the [Milwaukee Journal Sentinel].
• A vacant-for-a-few-years, five-story, 370,000-square-foot building at 551 N. 5th St. has been renovated into the new home of Milwaukee Tool (to the tune of $30 million), and [OnMilwaukee] has the pictures to prove it.
• Nearby, the developers of The Avenue would like to add a few floors—and about 160 apartments—to that old Gimbels parking structure on the corner of Michigan and Plankinton. "We want to get something built sooner rather than later, just because of the demand," Josh Krsnak tells the [Milwaukee Business Journal]. "We really want to add that to the market because we feel there's a hole in that part of downtown."
• And speaking of holes in downtown…
Exclusive articles, podcasts, and more. Support Milwaukee Record on Patreon.
---
RELATED ARTICLES
• Full "New And Wonderful Things" (formerly called "New Sh*t") archives