Depending on which news sources you follow, Milwaukee is going through either a "renaissance" or a "reinvention." Or maybe it's a "reboot" or a "reimagining." However you want to define it, it's safe to say that Milwaukee is currently building a lot of new and wonderful things.
• You know that empty lot on the north edge of downtown, at 1333-1339 N. Milwaukee St.? You know, that hilly chunk of land near MSOE's Viets Field? On the corner of Ogden and Broadway? The 1.3-acre site that wasn't technically part of the Park East freeway thing, but was close enough anyway? Yeah, that one. Guess what? It might be developed into a glistening new public park, complete with plenty of green space and a smattering of modern amenities! When completed, it will surely be one of Milwaukee's finest new public spaces, serving as a welcome sigh of relief from both the bustle of nearby Water Street and the monotony of all the surrounding apartment buildings that look like this: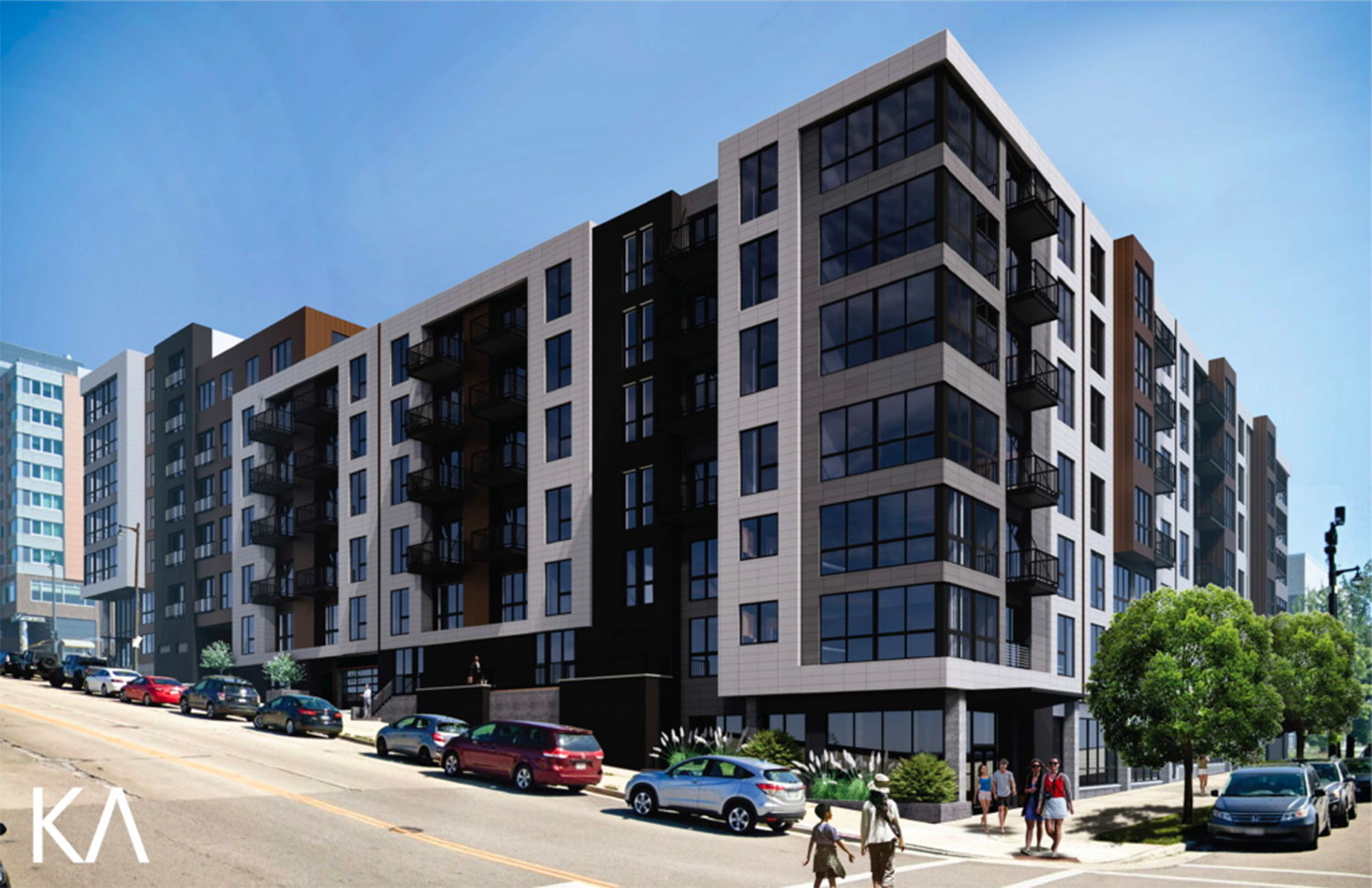 Nah, just kidding. It's probably just gonna be an apartment building. An apartment building that looks like this: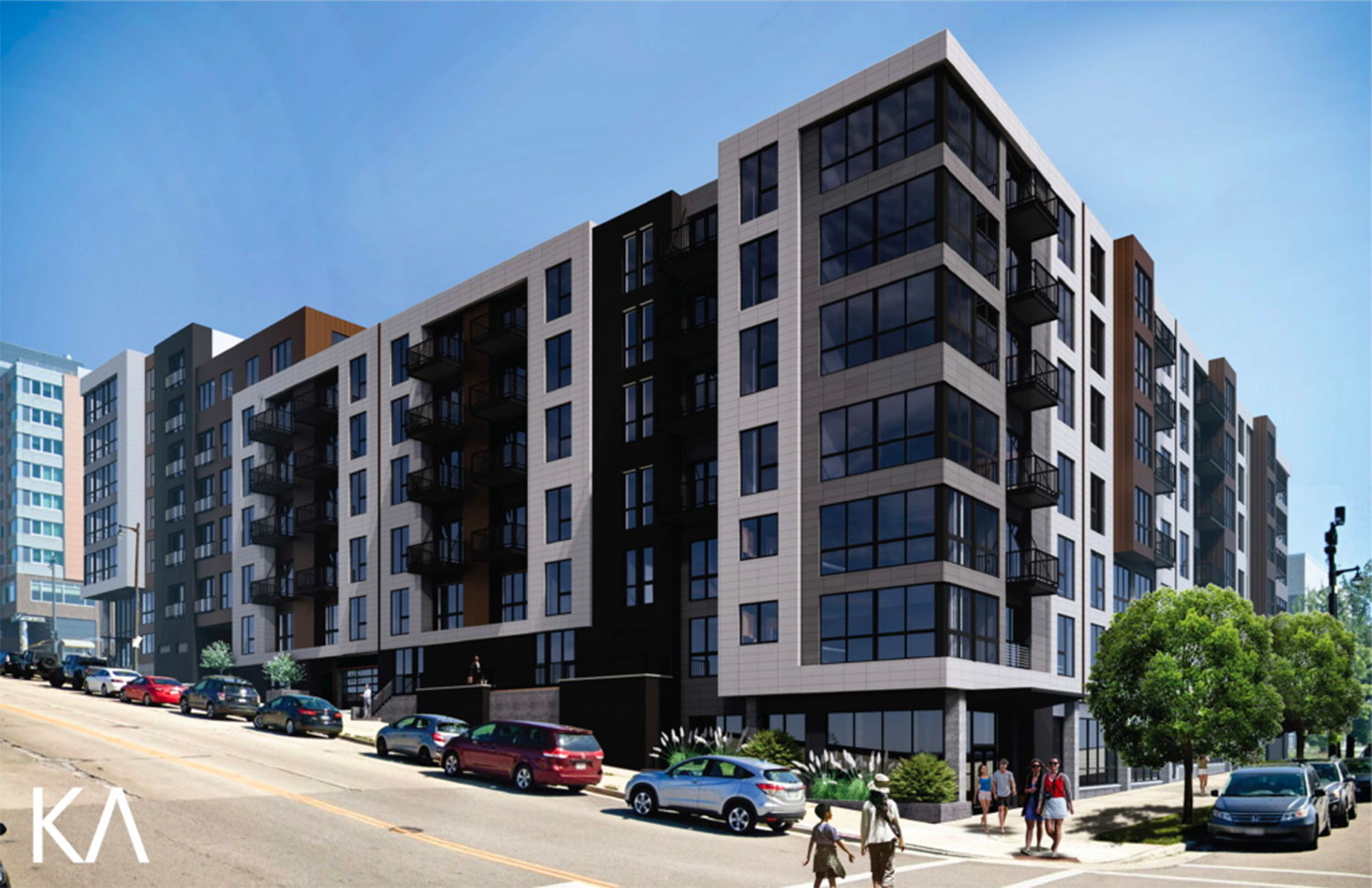 Yes, Chicago-based LG Group wants to build a $46 million, 197-unit, "U-shaped" apartment building on the site, complete with an outdoor pool, a fitness center, and more. The building would include retail space (natch) and would have no more than seven floors. Urban Milwaukee notes that "LG is the fourth developer to publicly pursue a new building at the property in the past two decades." The site has been empty since 2006. An LG affiliate bought it in 2022 for $5 million. [Urban Milwaukee]
• Developers want to knock down a former Miller tied house at 266 E. Erie St. and build a similarly sized "mixed-use development with retail, apartments and a commons space for MIAD students." There are opponents to the project, of course; as such, the fate of the two-story 1884 building—empty since 2013, and "one of very few structures to have survived the devastating 1892 Third Ward fire"—will likely be taken up by the city's Historic Preservation Commission on March 13. [OnMilwaukee]
• The big Juneau Village Towers apartment complex at 1029 N. Jackson St. is getting a big upgrade. A courtyard is set to be replaced by a "9,725-square-foot building that includes a community room, private dining room, new fitness center, yoga room, package delivery locker system and a new building management office." [Urban Milwaukee]
• New Land Enterprises' plans to build a 25-story, 310-unit apartment building at 1490 N. Farwell Ave. keep on truckin' along. The developer recently purchased the site (currently occupied by a dreaded surface parking lot) and the adjoining (and vacant) Renaissance Place event center for $3.4 million. [Milwaukee Business Journal]
• How's work on the huge $456 million expansion of the downtown Wisconsin Center going? It's going well! [OnMilwaukee]
• Speaking of the Wisconsin Center, see you at the 2023 Midwest Gaming Classic, March 31 – April 2 at—you guessed it!—the Wisconsin Center!
Exclusive articles, podcasts, and more. Support Milwaukee Record on Patreon.
---
RELATED ARTICLES
• Full "New And Wonderful Things" (formerly called "New Sh*t") archives