I'm climbing to the top of Milwaukee City Hall and there's only one thing on my mind: death. Death, death, death. Not "lose-my-balance-and-plummet-to-Earth" death, though there's that, too. Measuring 353 feet tall (393 if you count the flagpole on top), the downtown beacon may not look like much from the street, but try winding your way up it via a sparse spiral staircase on a hot summer day. My palms are sweating. One hand is white-knuckling the staircase while the other is death-gripping the iPhone I'm using to record the running commentary between my tour guide, Roger Davidson, and Doors Open Milwaukee program manager Amy Grau, who has arranged today's excursion. My knees are somewhere between "shaky" and "buckling." I'm thinking about calling it quits.
"Are you afraid of heights?" Amy asks, cheerily climbing on ahead of me. I've never really thought about it before, but, huh, I guess I am.
But no, that's not why death is on my mind. The death I'm currently brooding on is the surprising amount of death associated with City Hall itself. Standing in the closed-off 9th floor before the tour begins, Roger informs us that during the Great Depression seven people jumped to their deaths from the then-open atrium. An eighth casualty, a milkman, "wasn't involved in anything at all. He was walking past, delivering the milk. A guy fell down next to him, they rushed him to the hospital, and he died from shock." Later, on our climb to the City Hall bell, Roger points out a dead bird. "Birds fly up here and sometimes and they can't find their way out."
This is an awful lot of death for a family-friendly tour, I remark.
"It's a good icebreaker," Roger says.
Milwaukee City Hall was built in 1895 at a cost of just over $1 million. According to the city's website, the Flemish Renaissance Revival building "required eight million bricks, weighs approximately 41,000 tons, has more than 47,000 sq. feet of mosaic and marble flooring, and features approximately 107,000 sq. feet of office and meeting space." Its copper-and-tin bell—named after Milwaukee's first mayor, Solomon Juneau—weighs an impressive 22,500 pounds. Its 18-foot four-face clock was restored to its former glory in 2008 following a three-year, $70 million, lawsuit-riddled restoration. Its old "Welcome Milwaukee Visitors" sign was prominently featured in the opening credits of Laverne & Shirley, which was totally filmed here and was based on true Milwaukee events.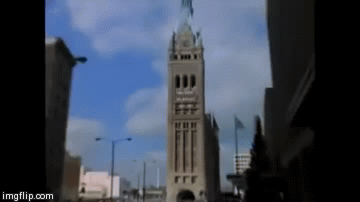 Roger rattles off all these historical nuggets and more during our half-hour tour. (Well, not the Laverne & Shirley one.) As promised by Amy, he's a hoot: funny, off-the-cuff, clearly in love with his city, knowledgeable but never dull. "I try to make all my tours different every year," he says. "I give you snippets. It's interactive. It's a self-guided tour with my help." The City Hall tour is Doors Open's most popular, Amy tells me later, with people lining up around the block hours ahead of time. It's easy to see why.
It's also a relief, because I wasn't expecting much. For me, Doors Open—an annual free-to-the-public event that lets folks explore hundreds of Milwaukee-area landmarks, businesses, and more—has always been one of those things that I'm glad exists but which I never bother to do. Top floor of the U.S. Bank Center? Been there, during my time as a courier for a downtown law firm. The inner sanctums of the Federal Courthouse? Ditto, complete with the time a security guard pulled a gun on me when I defiantly used the wrong door. (True story!) Images of dull tour guides rattling off even duller tidbits have always filled my head. ("This wing was completed in 1978." "Here's where we keep the mops.")
But yeah, there's none of that here. The City Hall tour isn't so much a tour as it is an adventure. We walk through an old caretaker living quarters that now houses the original giant clock hands (Roger: "If you can carry one out you can have it!"), make our way outside onto a scenic landing where we can get a good view of a rarely used lookout tower (there's an identical building in Germany, Roger tells us), and eventually reach the massive bell. It rings automatically these days, but there's still a rope attached to it that allows people to do it themselves.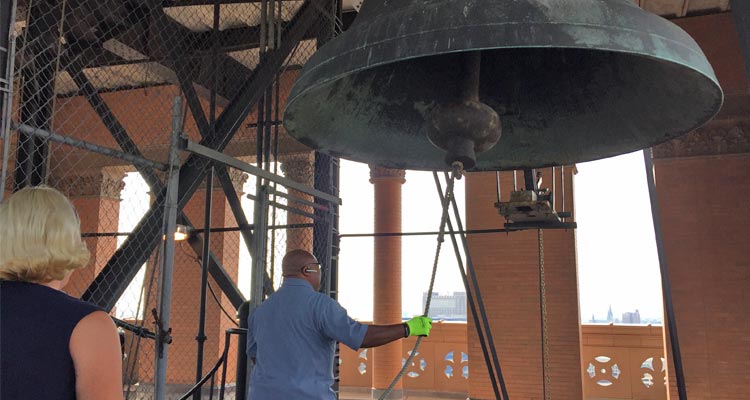 "You want a stab at it?" Roger asks. Yes. Of course I do.
I take the rope with both hands (Roger: "Grab it like you mean it! Grab it like you mean it!"), back up until it's taut, and find my footing. "Just rock it like a baby," Roger says. "Don't let it rock YOU. Rock it like a baby." I think about rocking my daughter to sleep in the weeks after she was born, decide I have no idea how to compare that experience to ringing an 11-ton bell, and give it a shot anyway. After a few tries—yeah, you totally have to rock it like a baby, and it totally tries to rock YOU—the giant clapper hits home and the bell rings out: huge, loud, historic. Roger and Amy cheer. I have a goofy grin on my face the size of Wisconsin Ave.
The City Hall bell was hoisted to its current place in 1896, and first rang out on New Year's Eve. When the bell was cast, the names of city officials and aldermen of the era were inscribed on it, along with this message:
"When I sound the hour of day
From this grand and lofty steeple,
Deem it a reminder, pray
To be honest with the people."
"Ha. 'Honest with the people' is good," Alderman Luther L. Caufy of the Seventh Ward was reported to say at the time. "We'll leave that in anyway. You know it's a good idea to give the public the impression that aldermen are honest."
"People had good hearts back then. You know, be honest," Roger tells me 119 years later.
We finally reach the top. Few people make it this far past the bell and the clock, I'm told, which makes sense: the spiral staircase is more precarious than ever, the air is stagnant and hot in the ever-shrinking enclosed space, and looking down triggers a serious case of Jimmy Stewart vertigo. Amy is having the time of her life ("This is so cool! ARGGGHHH! I can't stand it!") and Roger is chuckling to himself over my nervous muttering. Death, death, death.
Eventually Roger opens a small-ish window. We crawl through it. It takes a moment for my eyes to adjust to the light, but when they do, I'm overcome with a sense of relief. We've made it. "This is the top! You can see everything!" Roger says. "Take as many pictures as you can, Matt. That way people can't say, 'Man, you didn't go all the way up there!'"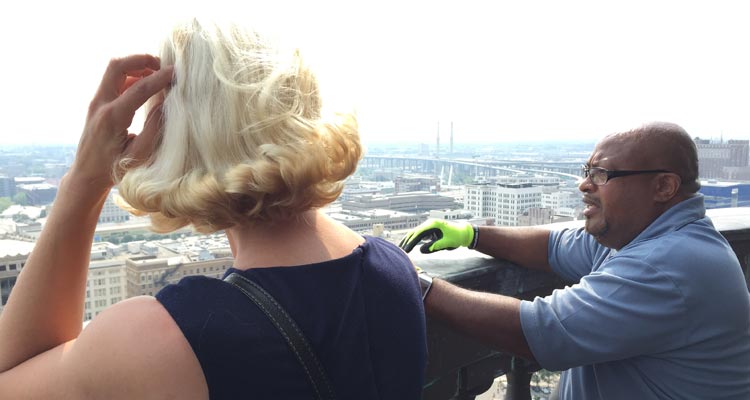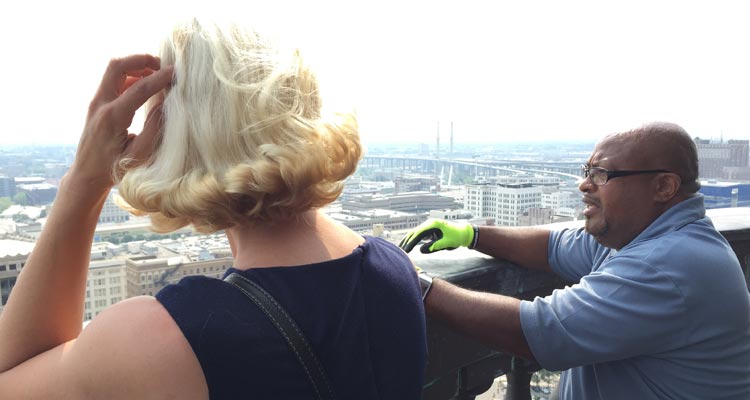 I do. And he's right: you can see everything from up here. And yet, as I'm grabbing pictures from all sides of our perch, I realize there's something charmingly humble about the view. City Hall may have been a monster in its day, but in 2015 it's only the sixth tallest building in the city. The vantage point it offers is lovely, yes, but also human and approachable. It reminds me of Milwaukee itself.
"You come up here and you see everything," Roger says. "I know we have crime, we have everything. But up here it takes you away from all that. It puts you in a safe haven where you can you say, 'You know what? This city isn't so bad.'"
And again, he's right. Death may be a prominent part of City Hall's past, but now, standing on its highest point, looking out over Milwaukee, all I see is life.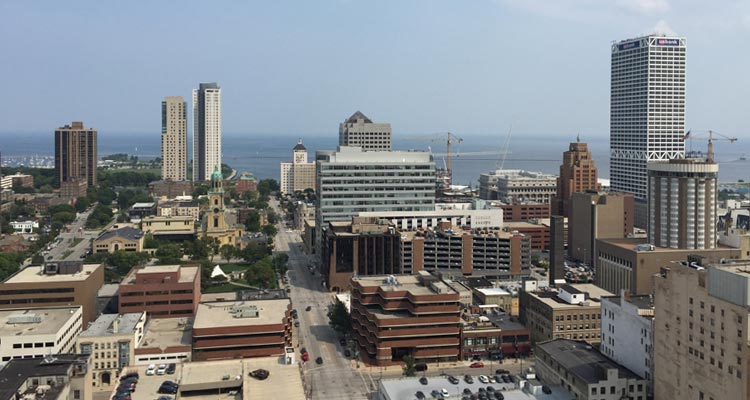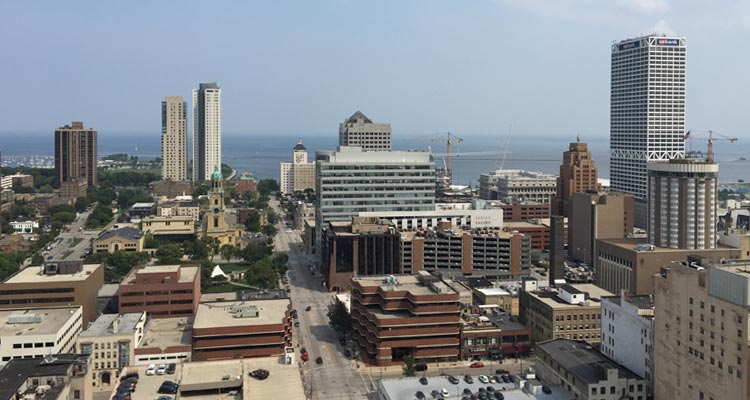 Doors Open Milwaukee 2015 is Saturday, September 19 and Sunday, September 20, 10 a.m.-5 p.m. both days. Visit the event's website for a complete list of participating locations. The City Hall bell tower tour comes highly recommended.