There's a lot of hate, ignorance, and stupidity floating around these days, which makes this day, Martin Luther King Jr. Day, all the more needed. Looking for something productive to do today, Milwaukee? Here are 8 (mostly virtual) ways the city is celebrating the life and legacy of Dr. King.
Milwaukee Public Library's annual MLK Day events have gone virtual this year. A few of them: Milwaukee-raised artist Charly Palmer will share his "powerful message about civil rights through art" on YouTube and Facebook Live beginning at noon. From 2-3 p.m., civil rights attorney Daphne Barbee-Wooten (daughter of civil rights leader Lloyd Barbee) and educator Terrence Roberts (one of the Little Rock Nine) will "engage in a conversation about the past, present and future of the Civil Rights Movement in America." Sign up for the free webinar HERE. Find even more MPL events HERE.
Beginning January 18, the YMCA of Metropolitan Milwaukee will host a week's worth of deliberate dialogue discussions. Here's the schedule:
• January 18, 3-4 p.m.
Family Engagement Volunteer Opportunities with panelists from United Way of Greater Milwaukee & Waukesha County. Register for this discussion HERE.
• January 19, 12-1 p.m.
Neighborhood & Community Engagement with panelists from the City of Milwaukee Office of Violence Prevention, Goodwill Industries, Public Allies, US Senator Baldwin's Office, and Parklawn Assembly of God church. Register for this discussion HERE.
• January 20, 5-6 p.m.
Equitable Education with panelists from City Year, MPS Foundation, former Brown Deer Schools Superintendent, and Milwaukee Succeeds. Register for this discussion HERE.
• January 21, 12-1p.m.
Economic Mobility with panelists from BMO Harris Bank, WHEDA, Walnut Way and WWBIC. Register for this discussion HERE.
• January 22, 12-1p.m.
Health Equity with panelists from the Medical College of Wisconsin, Rogers Memorial, Advocate Aurora, Milwaukee Health Care Partnership, 16th Street Clinic. Register for this discussion HERE.
The Milwaukee Urban League will partner with Light The Hoan to light the bridge red, green, and black from sunset on January 18, until 2 a.m. on January 19. "Red and black are not only representative colors for Milwaukee Urban League," explains a press release, "the three chosen colors are dedicated to the pan-African flag—symbolizing the African diaspora and celebrating Black liberation—a commemorative decision for civil rights activist Dr. King. Just last year, the Milwaukee Urban League celebrated 100 years of service. Our mission to lead and position African Americans in greater forms of education, employment and advocacy remain the same as we enter a new decade."
Two bus shelters—one across the street from Dr. Martin Luther King, Jr. Elementary School at MLK Drive and Concordia Avenue, the other alongside Golda Meir School Upper Campus at MLK Drive and Pleasant Street—are currently adorned with winning murals from the Marcus Performing Art Center's 2020 Martin Luther King, Jr. Art Contest, "which was open to K-12 students in Milwaukee, Wauwatosa, and West Bend."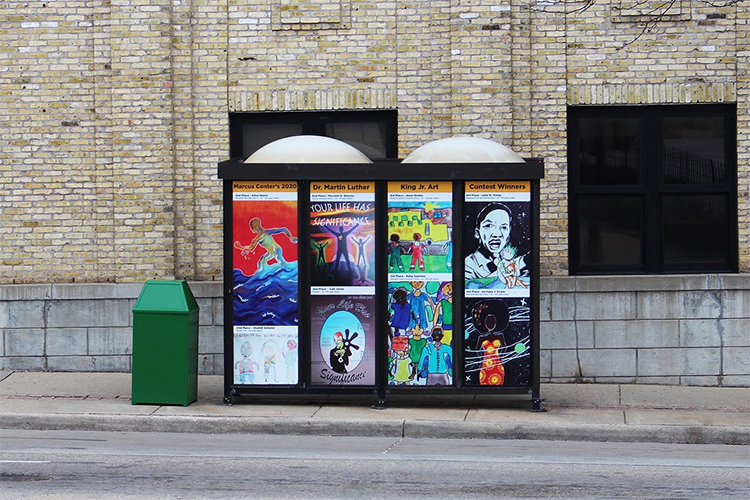 VIRTUAL DISCUSSION AND ACTIVITIES FOR KIDS
On January 18, beginning at 9:30 a.m., Kids Impact Community will host an hour of discussion, music, art, and virtual storytelling via Zoom. Also on tap is an "on-the-spot pantry raid following the reading of Maddie's Fridge and a thoughtful chat about food insecurity." (Drop off your pantry raid items at designated locations throughout the week to have them donated to Food is Free MKE.) "Celebrate the legacy of Martin Luther King, Jr. as we guide our children to share compassion and respect the dignity of one another," says a press release. "And, to provide our children with the opportunity to do what they were born to do: LOVE!" Click HERE to register.
MORE VIRTUAL STORYTELLING FOR KIDS
First Stage staff will read The Snowy Day by Ezra Jack Keats live on Youtube on January 18, beginning at 10 a.m. "This interactive storytelling will take families on Peter's journey through his neighborhood as he discovers the magic, wonder and joy that freshly fallen snow brings," reads a press release. "The Virtual Storytelling event is best suited for young people ages 3-7 and their families."
Technology workforce training and placement program i.c. stars will host a virtual "Declaration of Kids' Summit" on January 18  from 10 a.m.-12 p.m. "We'll be hosting interactive sessions for kids and parents around social justice, global climate, and racial equality," explains a press release, "with an emphasis on the power of technology as a tool for social change." Register HERE.
Remember: make it a day on, not a day off.