Almost one full year into the COVID-19 crisis, Valentine's Day is now one of the only holidays that hasn't been impacted by the pandemic yet. Emphasis on "yet" in that sentence. With the romantic occurrence coming up this weekend, many folks will be significantly changing the way the celebrate. Hopefully, you're planning to bypass the Valentine's Day traditions from the "before times" this year and are considering how to spend time with your significant other at home instead. If you're looking for some safe, responsible, and Milwaukee-specific ways to celebrate the first (and hopefully last) Valentine's Day in the COVID-19 era, here are some handy ideas.
Splash Studios Virtual Valentine's Painting Events
Who says you need to leave the house to do a fun activity? Not Splash Studio! The Milwaukee painting bar is selling kits so people can take part in Virtual Painting Events from the comfort of home. Painting kits range from $15-$60 and (once ordered) can be picked up at Beans & Barley, Merriment Social, Frannie's Market, and Crush Wine Bar so that you can grab some food or beverages to take home with you as well.
Marcus Center's Jim Brickman "Share The Love" Livestream Concert
Pandemic or not, Jim Brickman's V-Day tradition continues with a run of virtual performances this weekend. You can catch the musician's "Share The Love!" shows on Friday, Saturday, or Sunday. And be sure to use the "LOVETMC" coupon code at checkout so Marcus Center gets credit for the sale.
Laughing Tap Stand-Up Comedy Livestream
Though The Laughing Tap has implemented a bunch of procedures and protocols in an effort to make its in-person performances as safe as possible, the owners of "Milwaukee's Home For Comedy" are also aware that some stand-up fans aren't quite ready to return to on-site entertainment just yet. If you fall into that category, you can stream performances for $10 per household. This weekend's headliner is Reena Calm, who will perform on Friday and Saturday night.
Wisconsin State Fair Valentine's Cream Puffs
Whether you're seeking a sweet for your sweet or you're planning to eat your feelings at home alone during this corporately-crafted consumer holiday, Wisconsin State Fair has you covered. Following the success of the State Fair drive-thru last summer, people will have another chance to enjoy the seasonal staple…this time in some new ways. From February 11 through February 14, you can pre-order Cocoa Cream Puffs and the brand new Strawberry Cream Puffs for curbside pick up.
"Milwaukee's Greatest Love Stories" Virtual Tour (and Milwaukee Food Tours Gift Box)
From the Milwaukee Food Tours description of this event:
"We get lost in fictional love stories everyday. Put down the remote and get lost in real stories of love with a side of tragedy and inspiration. We deem these stories as Milwaukee's Greatest Love Stories and we can't wait to share them with you during this live 1.5 hour virtual tour!"
You can sweeten the deal by adding on a Breakfast In Bed Box to the historicial tour package, which features a ton of local breakfast goodies.
Mitchell Park Domes "Hearts Under Glass" Kit
While the "Hearts Under Glass" celebration will not be held under the aforementioned glass of the Mitchell Park Domes this year, you can still have some Valentine's Weekend fun while simultaneously supporting Milwaukee County Parks by purchasing a Hearts Under Glass Celebration Kit. Each kit comes with games, crafts, an ornament, two cookies, a terracotta pot, a seed packet, two lollipops, gummy worms, and some Domes-themed valentine cards. Kits can be picked up today and Friday, February 12.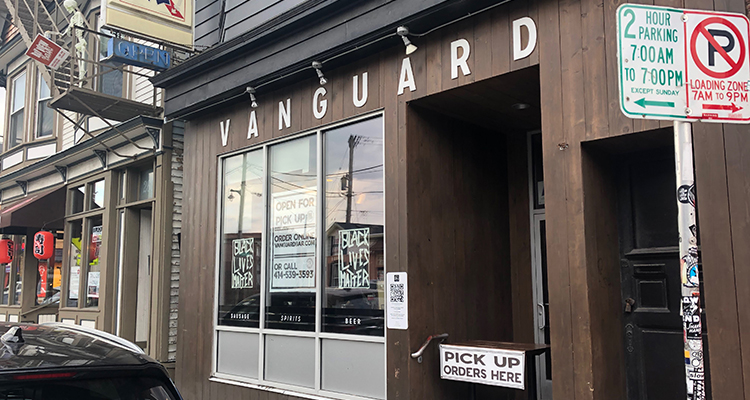 Get Carryout Meals and/or Drink Kits
We're not romantic experts by any means, but it's safe to say that risking the health of you, your significant other, and staff that's required to wear a hazmat suit in order to serve you a prix fixe meal inside of a restaurant that's trying its best to offer any sense of normalcy during a pandemic, um, isn't the best way to say "I love you." This Valentine's Day, we strongly suggest you get carryout from a local restaurant instead. And grab a drink kit from an area bar, brewery, or distillery while you're at it. In both cases, tip generously because it's nothing short of a nightmare in the hospitality industry right now.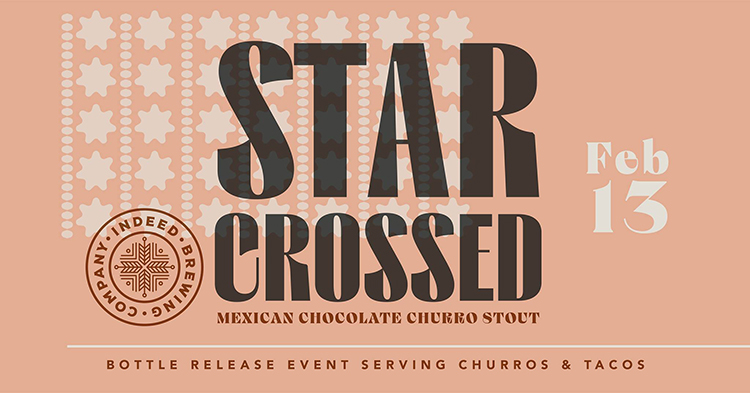 Indeed Brewing Company's Star-Crossed Mexican Chocolate Churro Stout Bottle Release
Speaking of local breweries, we urge you to make an extra effort to support Milwaukee-area brewing operations during this unprecedented point in time. When possible, buy directly from the breweries (as that benefits them most) or stop by your neighborhood liquor retailer instead of a big box grocer. Though you can't go wrong when buying from any local brewery, we want to highlight Indeed Brewing Company's Walker's Point taproom, which will be debuting its Star-Crossed Mexican Chocolate Churro Stout this weekend. The limited release bottles will be available for pick up on Saturday. They had us at "churro." There will also be tacos and churros available to enjoy on-site for those who care to have a beer in Indeed's socially distanced taproom.
Indulgence Chocolatiers "Red Wine, Cheese & Chocolate" Virtual Class
Another Walker's Point business offering up tasty treats in an interesting way this weekend is Indulgence Chocolatiers. The chocolate shop will be hosting a virtual "Red Wine, Cheese & Chocolate" class on February 12, which includes three bottles of wine, as well as cheese and confections for four people to have three pairings apiece. You can register by calling 414-223-0123 and pick up your provisions from the shop on Thursday.
Milwaukee Film's Sofa Cinema
There's no shortage of ways to stream films these days, but only one of them directly supports Milwaukee Film. Sofa Cinema allows film buffs to watch new titles, limited releases, Film Fest Favorites, and works with local relevance from the comfort and safety of home. On top of its already-impressive offerings, this month also brings a ton of Black Lens' expertly curated "Black History Month" titles to the platform.