Since 2009, Hover Craft has brought some of the most skilled local artists, crafters, retailers, and others residing beneath the broad "maker" umbrella together to bring Milwaukee-made goods to area consumers during the holiday season. The collection of crafters will return Sunday, December 9 between noon and 6 p.m. for another Hover Craft installment.
Though the event is one of the city's longest-running and largest Milwaukee marketplaces, it's possible some of you have never attended. Others might've missed the event in recent years. In case you have any questions about what to expect, here are nine useful things you should know about the 9th annual Hover Craft.
Hover Craft is at home in the Pritzlaff Building
After stays at the Bay View Brew Haus (RIP), Sweet Water Organics (RIP), and Turner Hall Ballroom in its formative years, Hover Craft has thrived in the Pritzlaff Building since 2015. The move from Turner Hall to Pritzlaff was done because organizers wanted more space for vendors and room to accommodate the hundreds of shoppers the event attracts. For those who aren't familiar, the versatile event space is located at 315 N. Plankinton Ave.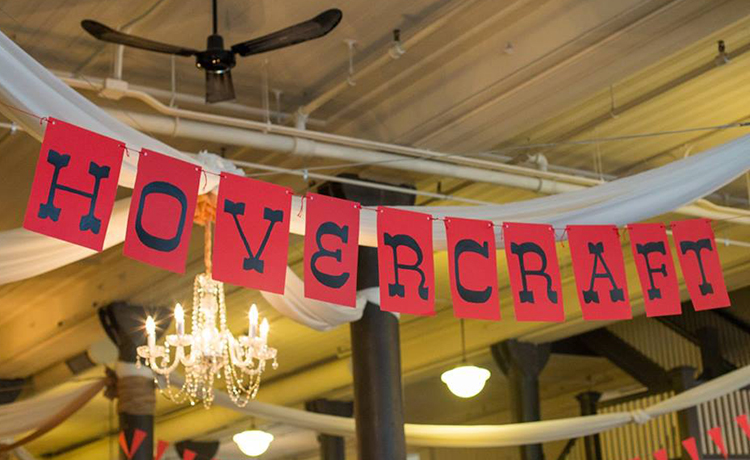 You can eat and drink as you browse
The sprawling venue also grants Hover Craft the opportunity to offer food and drinks to people looking to indulge as they shop. Honeypie will offer both sweet and savory hand pies. Pedro's South American Food will have empanadas available for purchase, too. Pritzlaff will have a full bar open with beer, bloody marys, mimosas, and other cocktails available. Colectivo will have coffee as well.
There are tons of new vendors
Hover Craft started with about 35 vendors in 2009. This year, there will be more than 100, so it's safe to say you can expect lots of new vendors this time around. And for the first time ever, organizers have opened things up to non-Milwaukee vendors. This year's lineup boasts newcomers like The Rugrat, Directive, and Elder Tree Goods. Additionally, All Shapes Co. will make its HC debut by selling wooden bowls and platters.
Co-founder/Co-organizer Ashley Smith says she's especially excited about rings Milwaukee artist Ellie Dwyer and her father make from melted down beach plastic they've collected. Smith says people can expect a ton of great ceramicists this year as well, including Ethan Kastner's mugs with exaggerated handles.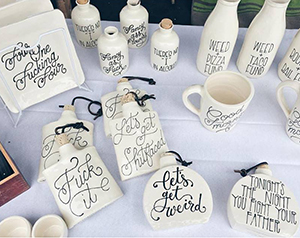 And there are some familiar guests
Joining the new crop are regulars like Tippecanoe Herbs, Bittercube, Nomad Knife & Tool, and Orchard Street Apparel. Among the familiar faces, Smith highlighted Dirty Dishes. The venture combines Kate Riley's ceramic dishes, mugs, flasks, and jugs with Sarah Linkus' lettering. Smith says Linkus (aka Filthy Freehand) puts "sassy phrases on [the ceramics], usually involving swear words."
There's something for everyone on your holiday list
On top of the jewelry, herbs, wooden items, and ceramics on hand, customers can find a wide range of products to suit almost any taste. Smith says there will be home goods, apothecary items, prints, fine art, clothing, handmade soap and candles, macrame, and even knives. Items start as low as $10, but if you want to knock out someone on your shopping list in one purchase, you'll also be able to get extremely rare, handmade, and high-quality items at a higher price point. No matter how much you spend, you can feel good knowing you're supporting a local maker. Most vendors take cards, but consider bringing some cash to be safe.
Where to park (or alternate transportation options)
With hundreds of people coming in and out of the Pritzlaff over the course of the day, parking might be tricky at times…but there are lots of options. There's street parking on Plankinton and you'll find a wealth of lots on or along St. Paul Ave. Otherwise, the Pritzlaff is right on the route for The Hop, so if you live on the route or you're looking for an excuse to finally try it out, consider that.
You can skip the line
Last year, Hover Craft decided to start offering customers the option to skip the line by buying advance tickets. Since that went well, they're selling advance tickets again. Jump online and jump the line. Cover (both advance and on-site) is $5 for adults. Smith says kids are free "so it can be a family affair."
The early bird gets the bag
Another reason to consider buying early and showing up promptly is the possibility of getting free stuff! The first 100 people to arrive will receive a limited edition tote bag designed by Hover Craft co-founder Vanessa Andrew (of Madam Chino notoriety).
Yes, the Packers will be on
For those of you who are still holding out hope for a STILL MATHEMATICALLY ALIVE Green Bay Packers playoff appearance, or if you just want to look on in morbid curiosity as the (likely very brief) Joe Philbin coaching era begins, we're told the Packers-Falcons game will be on somewhere in the Pritzlaff.