Next Wednesday marks the 25th anniversary of the Green Bay Packers winning Super Bowl XXXI. That upcoming quarter-century mark has me thinking about that team and about that time in my life more than ever before.
I wrote at length about my memories of Super Bowl XXXI (and other memorable playoff games) on our Patreon yesterday, but that trip down Memory Lane also reminded me of another story that's kinda-sorta about a member of the team that brought the Lombardi Trophy back home to Titletown on January 26, 1997 after a 30-year absence. And strangely enough, this story also happens to involve none other than Michael Bolton.
You might not believe this, but I swear it's true. In addition to being a soft rock legend who has won two Grammy Awards and sold more than 75 million albums, Bolton was one hell of a softball player. In the years between dominating the pop rock charts with emotional ballads like "How Am I Supposed To Live Without You" and "When A Man Loves A Woman" and later reentering the pop culture conversation by being referenced in Office Space and starring in self-aware/surprisingly funny commercials and comedy specials, Bolton was traveling the country and lending his celebrity to charity softball games.
For five years in the mid-to-late '90s, the singer and his band of slow-pitch ringers known as "Bolton's Bombers" made an annual summer pilgrimage to Appleton, Wisconsin to take on "Teague's League"—a team composed of Packers players and local media personalities—at Fox Cities Stadium. During one of these games, something unexpected and awesome happened to 12-year-old Tyler Maas…something that 37-year-old me still remembers fondly today.
Before the golden-haired and multi-platinum-selling crooner took the diamond against the likes of Teague, Bill Jartz, and Murphy from WIXX in the game that took place in the summer of 1997, some people taking part in the 4th annual charity softball exhibition took some time to sign some autographs.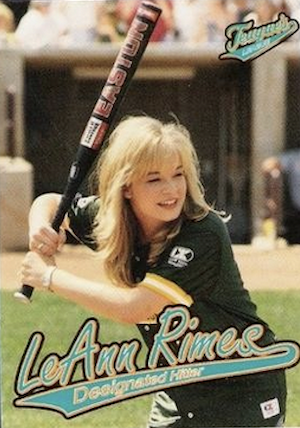 Prior to a young, up-and-coming performer named LeAnn Rimes singing the National Anthem and setting the penultimate battle between Teague (who was no longer a Packers player at that point) and Bolton into motion, I walked up to the netting near home plate with my sister and step brother in search of some signatures.
At some point, I saw one of my favorite Green Bay Packers from the Super Bowl XXXI squad in the vicinity. He came over to sign balls, programs, and pretty much anything else people could maneuver under or around the protective netting. My little sister got a Bolton's Bombers softball signed by the two-time Pro Bowler (who'd eventually add a third selection) before us. I got him to scrawl his signature on a garish Packers cap I was trying to get players and team personnel to fill up with autographs. And before he departed, I—a painfully shy and socially awkward kid who was afraid to even answer our home phone, let alone interact with one of the best defensive backs of the late 1900s—somehow mustered the courage to ask this man for one more thing.
Yes, readers, I asked Eugene Robinson if he'd let me wear his Super Bowl ring. After a moment of hesitation that you might expect would happen if some weird kid you'd never met asked you to hand him the most prized possession in your career, Robinson eventually said something along the lines of "sure." The All-Pro safety removed the treasured piece of jewelry and pushed it through a hole in the netting and placed it into my hand. I couldn't believe it. I kind of still can't believe it. There's no way in hell I'd let some dork-ass kid from Menasha put his Pixy Stix-dusted mitts on the diamond-encrusted relic that represented my most significant lifetime achievement, but Robinson did and that was extremely cool of him.
The far-too-big ring was only on my finger for a few seconds before I, probably sensing the importance and the gravity of what I was possessing, handed it back to him. At the time, I was still a few months from starting my football career (a terrible two-year stint as a backup offensive lineman on my middle school team that I hated every second of), so it was a good idea for me to ask to wear someone else's Super Bowl ring…just in case I never got one of my own.
I do feel bad using the term "disgraced" in the headline about this man who did something awesome for me that's stuck with me for two-thirds of my life, but it's simply impossible (and arguably irresponsible) to mention Robinson's career without also acknowledging his arrest the night before Super Bowl XXXIII when he, a member of the NFC Champion Atlanta Falcons at the time, was arrested by an undercover police officer for soliciting prostitution. The incident tarnished his reputation, which was sterling and has literally earned him awards prior to that night.
If you were unfamiliar with Eugene Robinson or that incident before this article, I'm sorry for pulling the rug out from under you. But honestly, I don't quite know how to end this article that started off sweet and innocent, but wound up addressing a rather public humiliation. I guess I'll end things by saying I'm just happy I had this unexpected moment when I had it: Before I was too old to seek autographs and athlete interactions. Before it could be complicated and diminished by an off-the-field action. And, yes, I'm also happy to know Michael Bolton was nearby when it happened, too.