And the summer music lineups keep on coming (and coming, and coming, and coming). Today, Washington Park Wednesdays revealed its 2022 lineup—its first full, in-person lineup since 2019. Here's who's playing the Washington Park Bandshell (4599 W. Lloyd St.) Wednesdays at 6 p.m. this summer. (Art, food, and other activities begin at 5 p.m.)
July 13
Venus Rising, a night to celebrate women artists, with bands Highball Holiday and Skannie. Artists Working in Education (AWE) will provide visual arts opportunities to children.
July 20
Farm To Park, sponsored by Rural Urban Flow. Live music performances by vocalist and classic guitarist Felix Sainz and percussionist Jahmes Finlayson, with special guests from the Milwaukee Ballet.
July 27
Cool School will feature the Kal Bergandahl Project, a six-piece instrumental jazz-funk band with special guests.
August 3
Viva! Washington Park, sponsored by Milwaukee County Parks. DJ Kenny Perez presents Reggaeton duo Gego y Nony, Latin Hip Hop duo Brown's Crew and dance troupe Salsabrositas.
August 10
Carnival at The Bandshell will welcome pop folk band Marielle Allschwang & the Visitations and will include appearances from members of Dead Man's Carnival.
August 17
Live! Art, curated by Community Art & Funk Festival, with music by reggae artists Kojo and JD Rankin.
August 24
Ride On, is a night of bicycles, blues and funk sponsored by Art Intersection and curated by Tobias Cainion Sr.
August 31
Back 2 School, sponsored by the Boys & Girls Club. DJ Dripsweat, School of Rock, the New State and multimedia performing artist Wes Tank, as curated by Tank Think.
"We are excited for the return of Washington Park Wednesdays because it's so much more than just a summer concert series," said Melissa Muller, Washington Park Neighbors Board President, in a press release. "It brings neighborhoods together at a time when community is more important than ever. We offer music, art, performances and even free meals to nourish the body and spirit."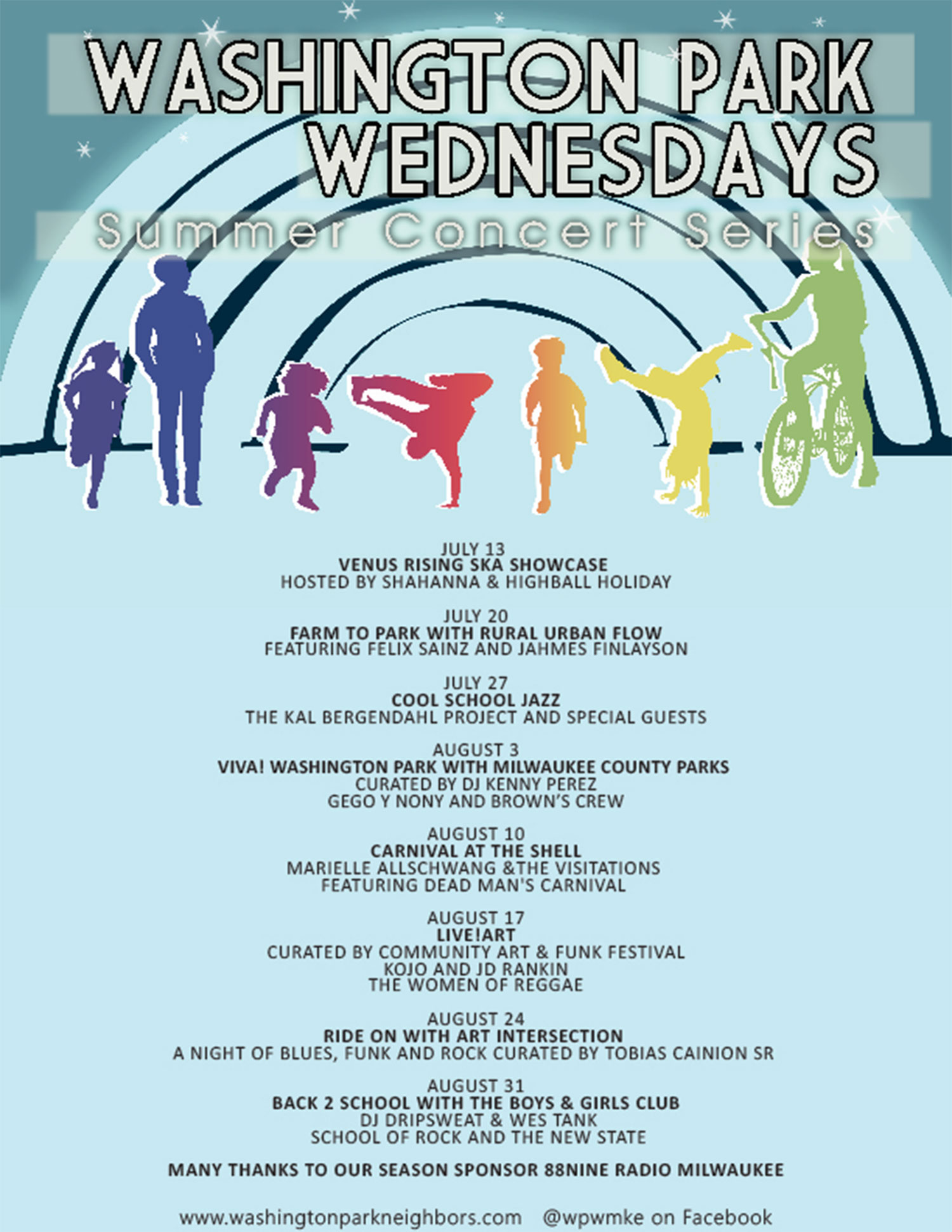 Exclusive articles, podcasts, and more. Support Milwaukee Record on Patreon.
---
RELATED ARTICLES
• Milwaukee Record's 2022 guide to summer festivals, fairs, music series, more