Yup! I did the thing again. Before I get into this year's review of Taped Music (formerly known as "Pre-Recorded Music"), though, I want to share an excerpt from my 2019 installment of this recurring Summerfest staple:
If you haven't noticed, the planet is literally dying as its inhabitants become more divided and less empathetic than any other point in my life. Factor in being confronted by at least 50 reminders of animal cruelty, child death, growing violence, unnecessary incarceration, and various other unspeakable atrocities on my Facebook and Twitter feeds before I somehow get out of bed each and every morning, and I'm spiritually paralyzed. All the time.

The world I knew and once had at least some semblance of hope for is ending and I'm utterly helpless to change that in any lasting or significant way. I have no desire to bring a life into this cursed mess that's changing much too quickly and far too discouragingly to ever be restored. It's sad, but it's true. And compared to so many others, I've had an easy go of it. To acknowledge that, by sheer chance, I'm one of the lucky ones—and I still feel this way!—is a thought too crushing to dare spend very much time with.
Can you believe that's the way I felt about modern existence BEFORE the year 2020? In the two-plus years since I crafted that depressing assessment of life, things have only gotten significantly worse. I have neither the time nor the desire to address the lingering pandemic, the unthinkable death toll, the abject selfishness shown by a significant portion of our population during the first true crisis most of us have ever faced, and the sicking atrocities that so-called "leaders" we've elected to serve us continue to perpetrate in broad daylight on a daily basis. I only wish that hell were a real place so that I could take some solace in knowing they'd one day suffer for their actions. Sadly, hell doesn't exist and we're living in its closest approximation.
It's too late to save the world. Civilization will struggle, the planet will die, resources will dwindle and will be solely possessed by the same monsters who soullessly accelerated this march to the end. Any faint hope of unity was squashed last year, when we couldn't even agree on whether it was worth the smallest of personal sacrifices to save the lives of millions. To put it bluntly and eloquently, shit's fucked.
I don't want to participate in society anymore, though I know I must. I have zero hope for the future, though I have no plans to go anywhere until I meet my natural end. I'll continue on—trying to savor the rare good moments that occur within the nightmare, striving to be kind to others, and attempting to appreciate those who are kind to me—even though I'm certain things will only get progressively worse with each passing year. What a curse to be born with awareness and empathy.
To quote singer-songwriter John K. Samson, "I don't mean to miss the good old days. The good old days were mostly bad." My childhood wasn't particularly good. Adolescence wasn't easy. Early adulthood wasn't all it was cracked up to be. Still, I look back at moments from those epochs of unenjoyed existence and find them favorable to today. I suspect that trend will continue with each passing decade, meaning I'll someday long for this period of my life, too. Every day is a one closer to the end, but also a 24-hour period with the possibility to be one we look on favorably when we step back and assess our stint on this irreparably damaged rock that's hurling through space without purpose. So I continue to wake up. I laugh. I hold babies and pet cats. I water my plants and brush my teeth. I recycle and hold doors for strangers. I seek connection with others. I love. I learn. I persist. Because even at its worst and most difficult, life can still be beautiful and almost worth it.
So with that in mind, I once again made my way to Summerfest yesterday to review a hour-long block of recorded music in a mostly empty pavilion during the festival's first hour. Like every year I've done this, I showed up early and walked around the grounds to get a lay of the land and to see if anything had changed since the last Big Gig. As the clock struck noon, I got the first Summerfest beer the Lakefront Brewery stand poured, I made my way to JoJo's Martini Bar (formerly known as JoJo's Martini Lounge), and I took a seat at one of the dozens of vacant tables before me.
As I settled in, the first song—"Take My Breath" by The Weeknd—was finishing up. Compared to some recent years, where music sometimes didn't even start until 12:30 or so, this already had the makings of one of the best years in Taped Music/Pre-Recorded Music history. That opener was followed by Dua Lipa's "Levitating," a song I had never heard before but also enjoyed.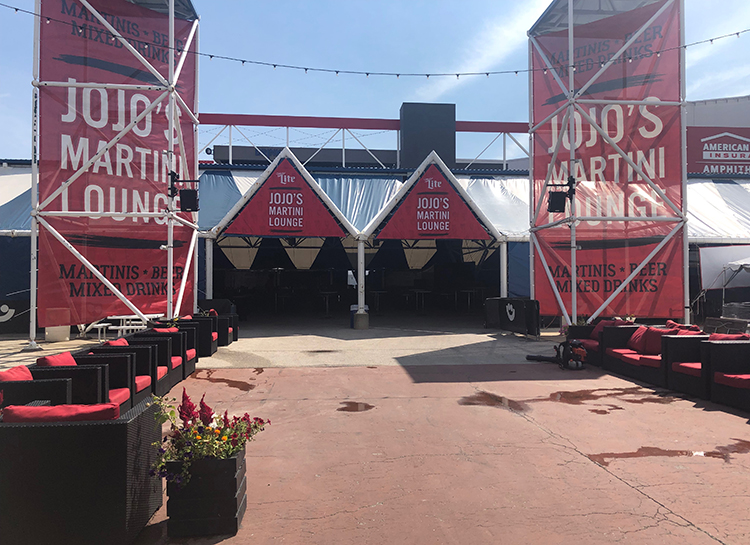 Partway through that song, I left the darkened tent full of empty tables and moved outside to soak up some sun while I chronicled the playlist. Minutes later, a Lizzo song called "Rumors" that features Cardi B played, making it clear I was in for, like, 50 more minutes of bangers. How was I going to manufacture the level of self-inflicted misery required to make this annual Summerfest tradition worthwhile? I wasn't miserable. In fact, after more than two years away from that once-torturous tent, I was actually happy to be back on the Summerfest grounds and writing about an in-person experience. So I left the tent.
Instead of working hard to find an angle to help hammer home what a bad time I was having, I decided I would take an active role in seeing how good of a time I could have during what remained of the hour. And I knew just how I was going to do it.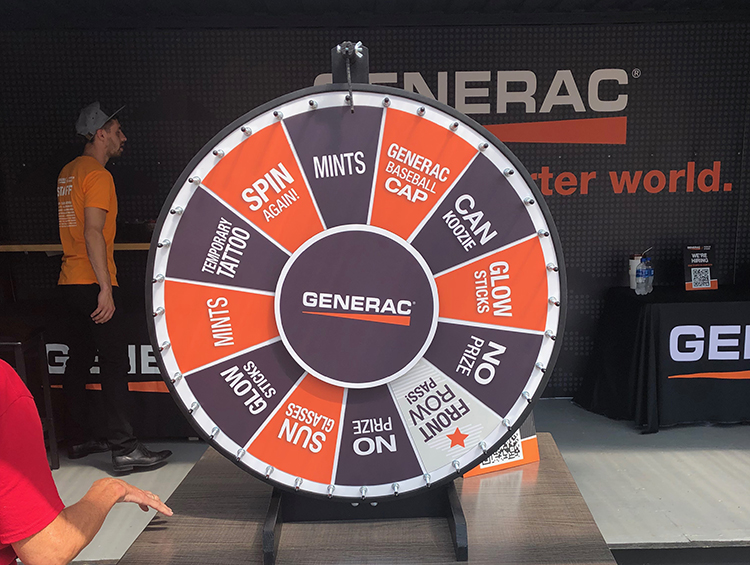 While taking my pre-review lap around the Summerfest grounds, I noticed a significant number of vendors had prize wheels. Not being a fan of promotional gimmicks or being actively marketed to, I typically avoid these things. However, I made the sudden decision to abandon my Taped Music review and a site that I associated with perennial disappointment and, instead, try to turn my luck around by spinning every one of these wheels to see what gifts the universe might offer.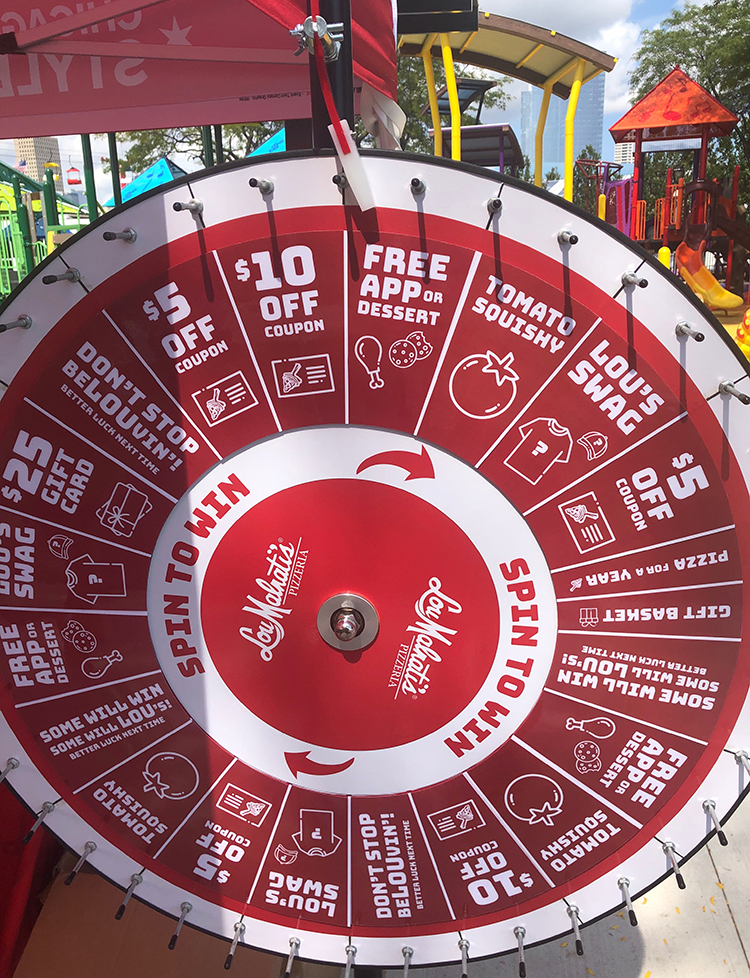 I started at the Lou Malnati's kiosk near the children's stage.
And I won a coupon for a free appetizer (many conditions apply). So far, so good!
I then encountered a wheel in front of a Power Of Humans tent. They asked if I would follow them on Instagram.
I'm not on Instagram, so I felt kind of guilty taking THIS GREEN RAIN PONCHO I WON.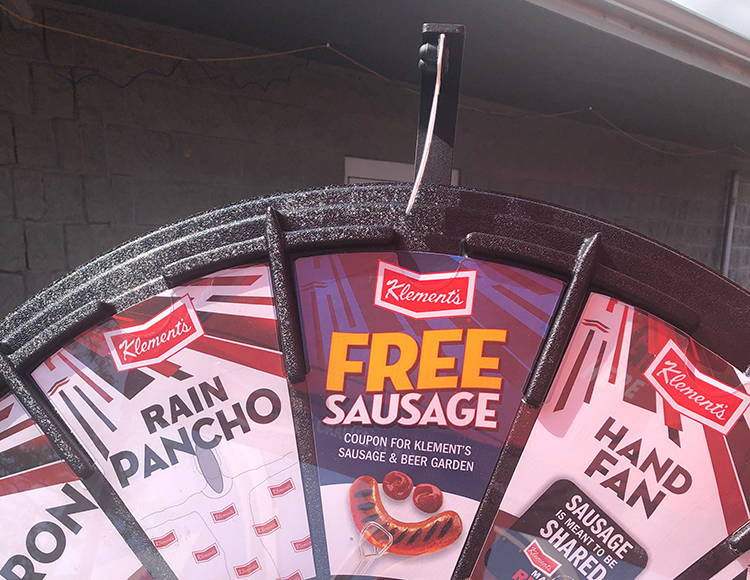 I was about to get something to eat quick, but I was lucky to pass the Klement's promotional area on my way to get food. I spun their prize wheel and…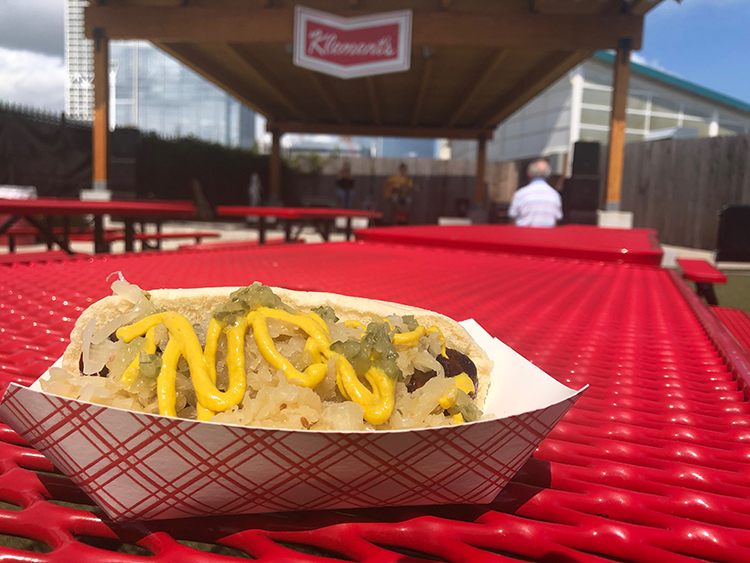 I won a free brat! I redeemed the voucher immediately and ate my loaded-up sausage while enjoying Barb Stephan & Peter Mac playing a nice cover of Peter Gabriel's "Solsbury Hill" on the Klement's Sausage & Beer Garden Stage. Hell yeah.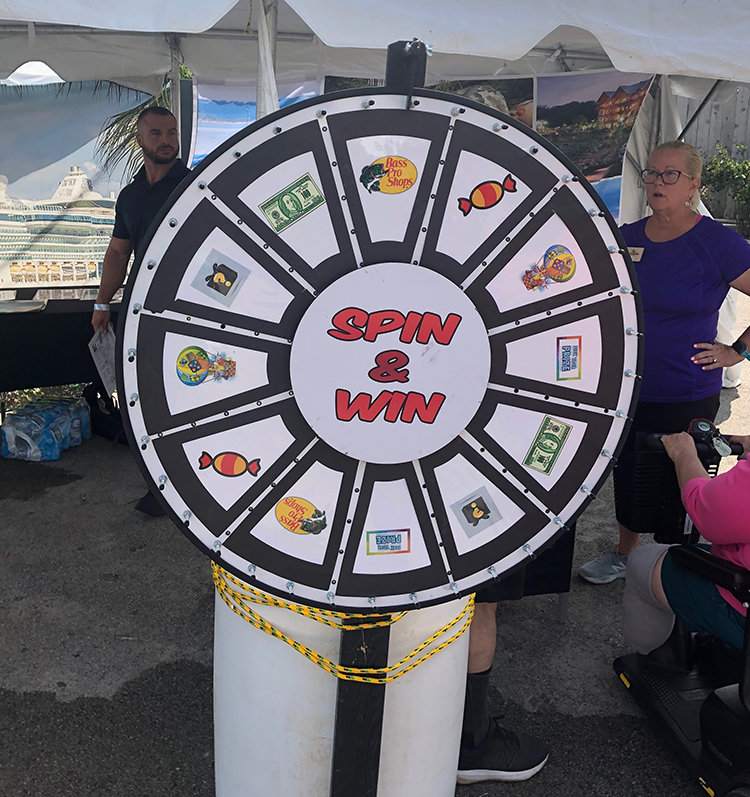 They can't all be winners, though. Over at the Travel Smarter tent near the Miller Lite Oasis Stage, I "won" a "Mystery Prize." That prize was having someone try to sell me a timeshare. Still, it felt good to be out and about at Summerfest and interacting with my fellow man again…even if it was just politely turning down a $400 discount on a Mexican vacation or some shit.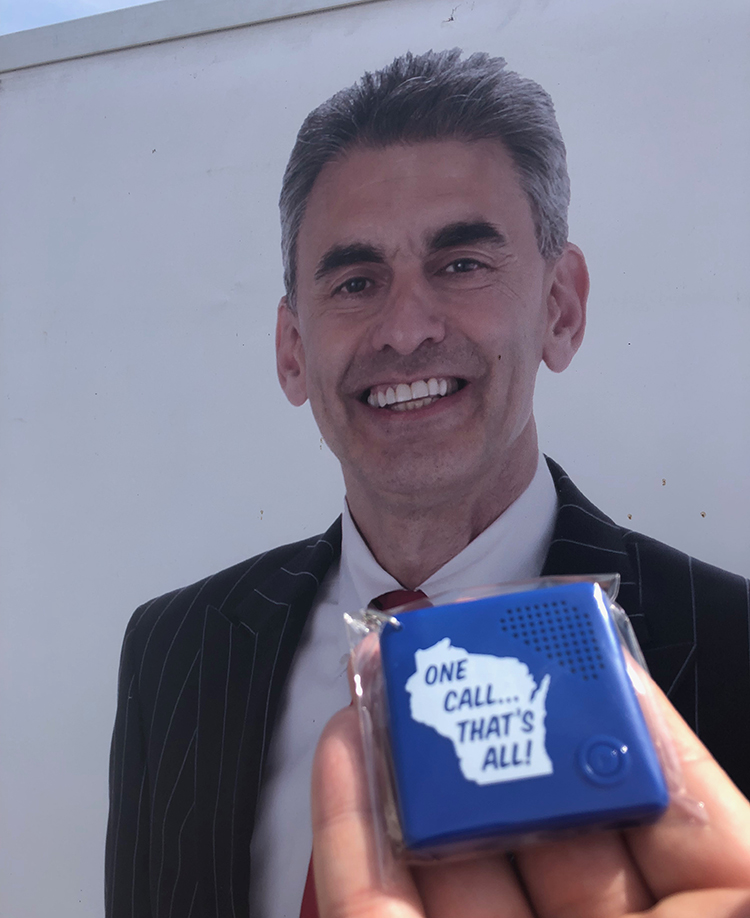 My fortune was far better at the Gruber Law Offices stand, where I scored this "One Call…That's All!" talking keychain.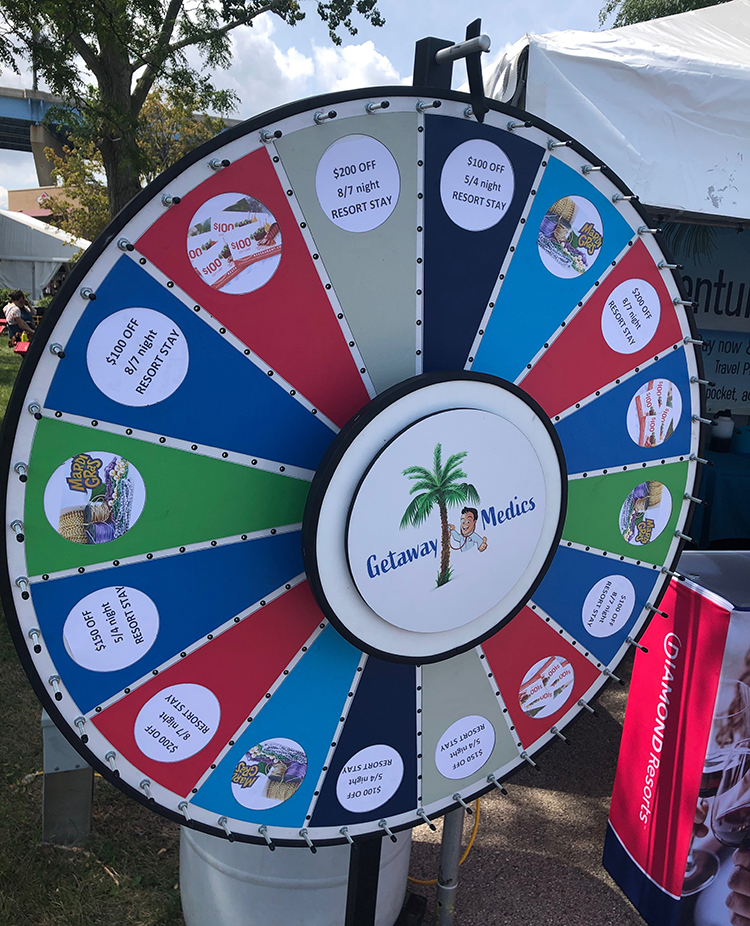 Then I did one of these travel agency prize wheels again. Before I made it apparent I wasn't interested, I let the woman working the stand (who told me it was her first time pitching to anyone) practice her spiel. And I got to spin another wheel for this fucking article. I see that as a win for both of us.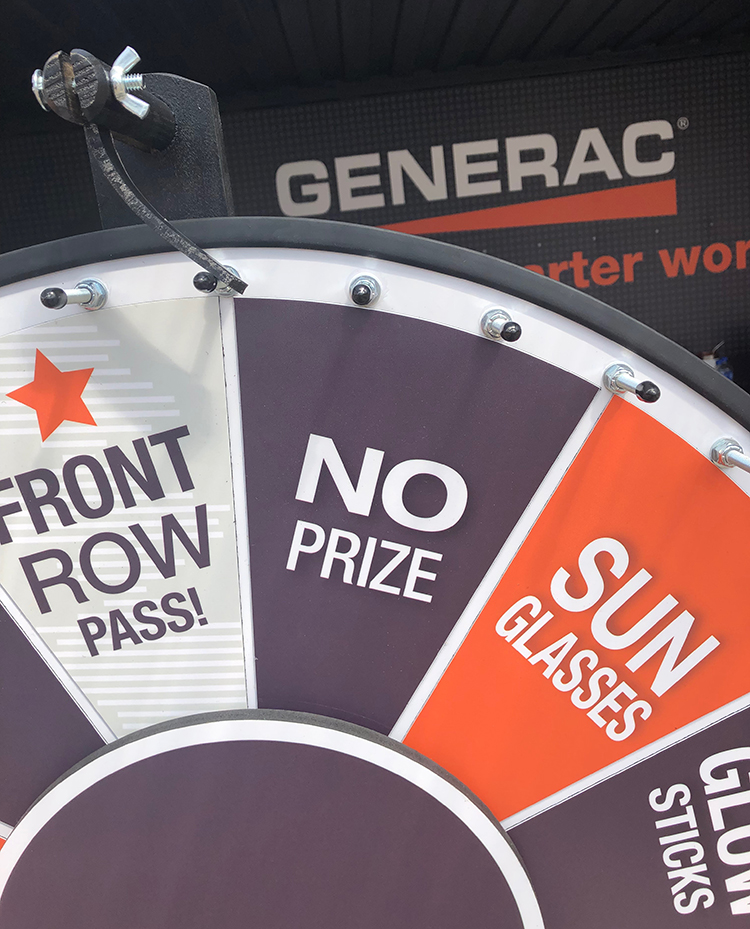 The last prize wheel I spotted was situated near the brand new Generac Power Stage. This one had the longest line, but arguably the best prize: a front row pass to that night's Generac Power Stage headliner. I came within millimeters of winning front row passes to last night's Cold War Kids show. Instead, I won "No Prize" and I had a laugh with the guy behind me. Like everyone else I saw, he probably won mints. I wouldn't know because I was in search of more freebies.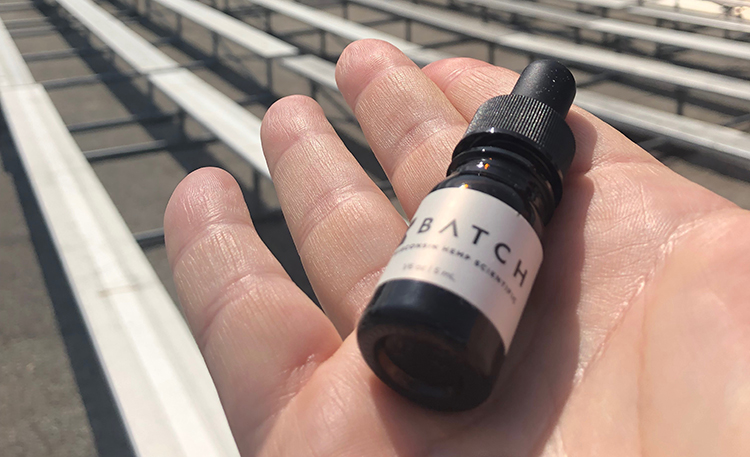 And freebies were found! I signed up for the mailing list at the Batch CBD stand and got some free CBD oil.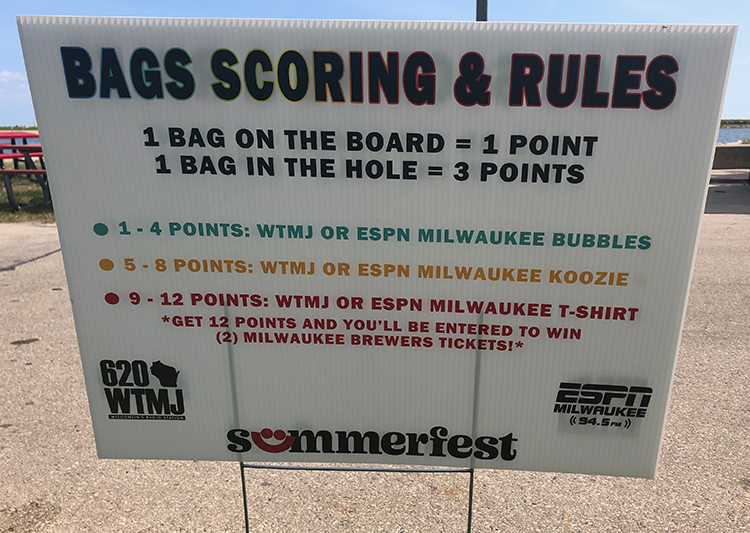 Then I played corn hole at the WTMJ/ESPN Milwaukee space. I failed to land any of the bags on the board (warning: it's very slick!), but a nice woman working the stand gave me some bubbles anyway. Score!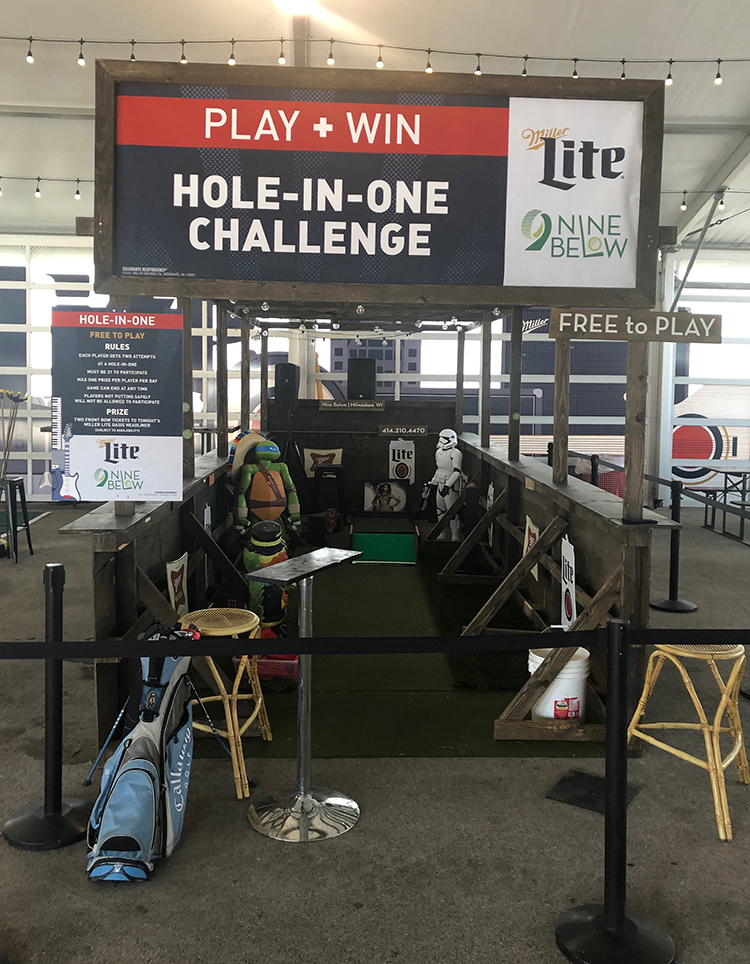 I also spotted this Nine Below putting challenge thing, but nobody was working it yet. You know I'll be trying that when I go back to see Yola today.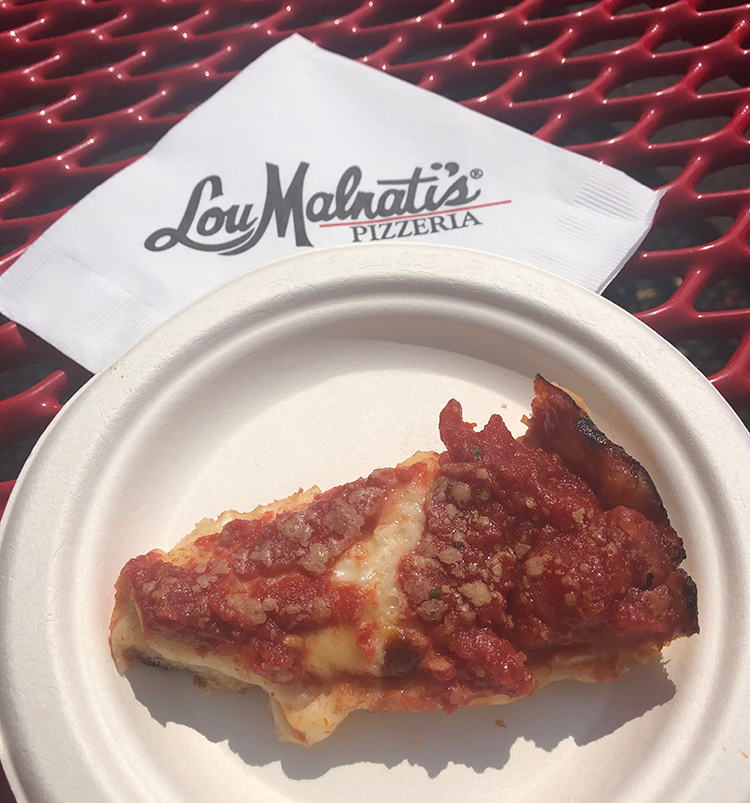 Finally, I returned to where it all started. The Lou Malnati's stand was now giving out free cheese pizza samples.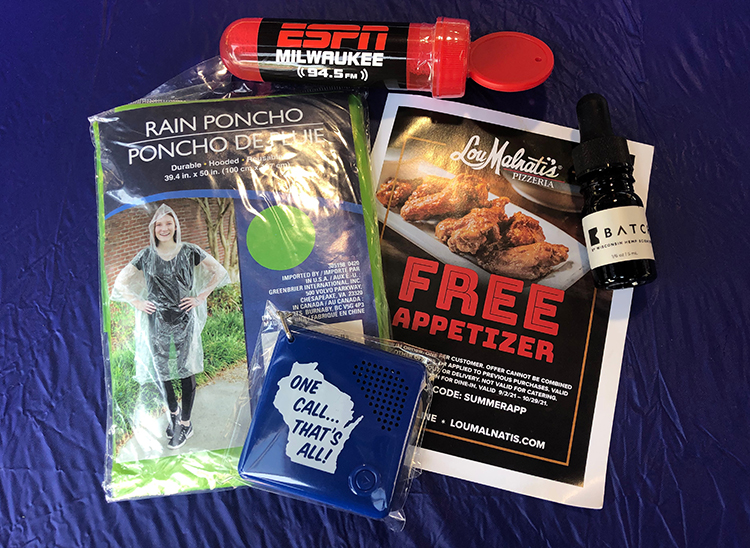 I got some free food, some CBD, a rain poncho, bubbles, a keychain, and a coupon. I'll probably never use the coupon, but whatever. Beyond the swag, I also got the opportunity to take an active role in trying to make my Summerfest experience fun, instead of reacting to how bad it could possibly get.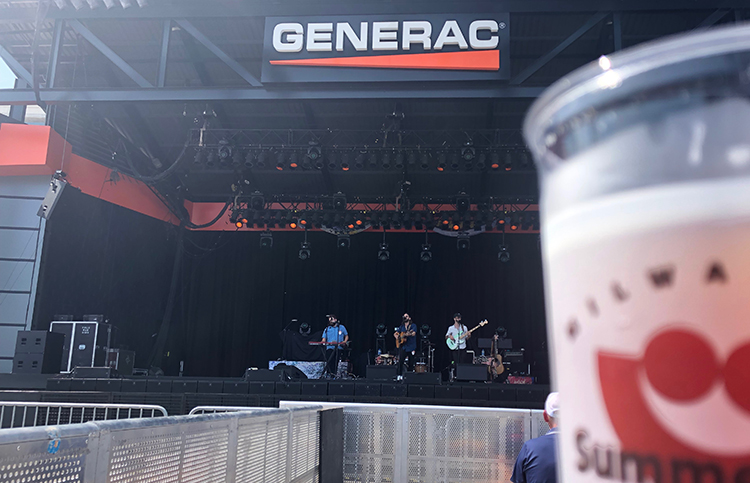 By the time I took advantage of all the prize wheels on the grounds, it wasn't even 1 p.m. Usually by this point, I'd be gearing up to rush home to start writing my review. This time, however, I got another Riverwest Stein and caught the end of Listening Party's set. I later ran into Ted Perry and chatted with him for a few minutes. Then I took a seat by the lake and (I think) I said goodbye to the Taped Music tradition once and for all.
There's no doubt that it's an extremely shitty time to be alive. But sometimes life can be pretty okay…like when you get to be at Summerfest on a gorgeous September day and you win a free bratwurst, for example. The odds of a truly happy life are against us, but as long as the world and the prize wheels are still spinning, good things are possible.