The pleasures of seeing Ringo Starr in concert are many, and they are weird. First, of course, is the fact that you're seeing a former Beatle, one of four men who, despite the internet's weekly required "The old rock canon is dead!" hate-click piece, played in the most influential rock and roll band on planet Earth. Then there's the fact that you're seeing that same former Beatle play drums on Toto's "Africa." And "Rosanna." And "Hold The Line." And Men At Work's "Who Can It Be Now?"
Yes, for to see Ringo Starr in concert is to actually see Ringo Starr & His All-Starr Band, an ever-evolving supergroup that has been touring nearly every year since 1989. Past iterations of the band—all headlined by Starr, natch—have included the likes of Levon Helm, Clarence Clemons, Peter Frampton, Todd Rundgren, and Sheila E. The band's 13th and current lineup features Steve Lukather (Toto), Colin Hay (Men At Work), Gregg Rolie (Santana and Journey), and Graham Gouldman (10cc). The gimmick? Starr plays some of his best-known Beatles and solo songs, and the other members ("Stars in their own right!") play two or three of their songs. In theory, it sounds a bit corny; in practice, it turns out to be a lot of fun.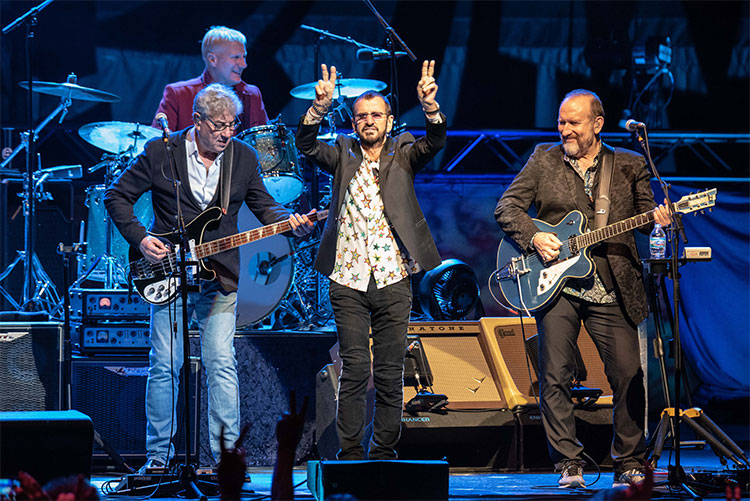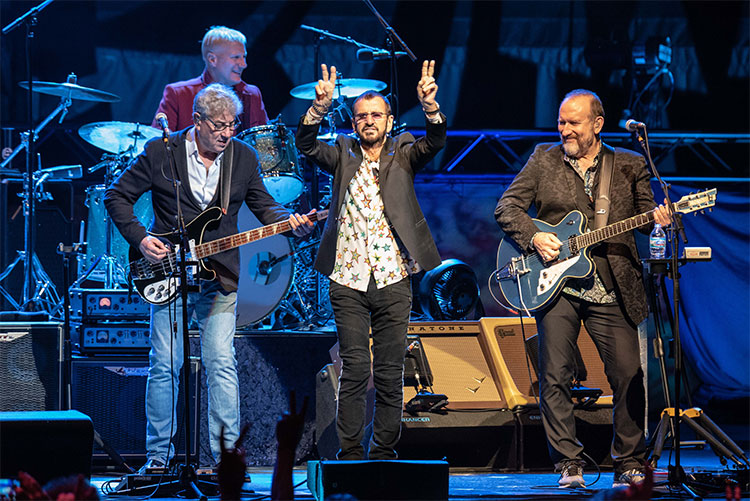 First, Starr. On a cool Saturday night at the BMO Harris Pavilion, the 78-year-old (!) bounded out on stage like a man one-half—no, make that one-quarter—his age. Peace signs were flashed. Peace sign poses were struck for the phones in the front rows. The phrase "Peace and love!" was uttered 8,000 times. Starr sang "Matchbox" and "It Don't Come Easy." He sounded as good as he ever has. "Yeah! Milwaukeeeee!" said one of the men who appeared on The Ed Sullivan Show in 1964 and changed the face of popular music as we know it. "It's not so cold! They were saying, 'Oh, it's freezing! The breeze from the lake! You'll diiiiiie!'"
That kind of goofball chatter was par for the course. Starr cracked wise throughout the two-hour set, and, incredibly, did a fair amount of good-natured crowd work. Even the between-song material that was clearly rehearsed was gold: Before playing "What Goes On," Starr noted that it was the only Beatles song credited to Lennon-McCartney-Starkey. "Those credits should be reversed!" he joked. Just imagine being able to make that joke.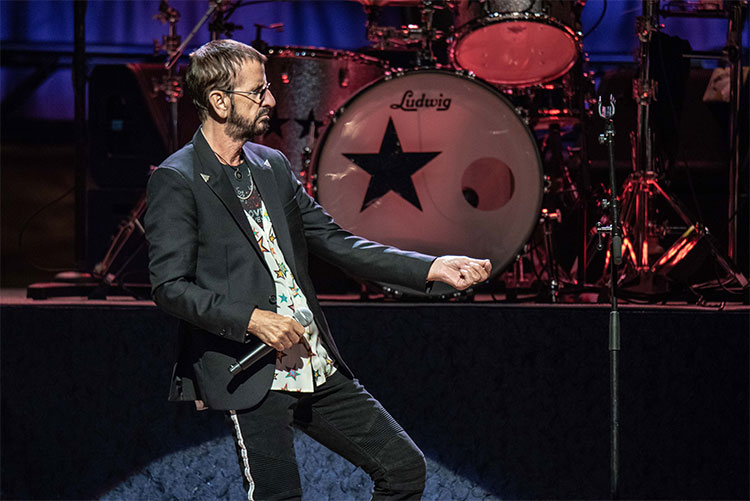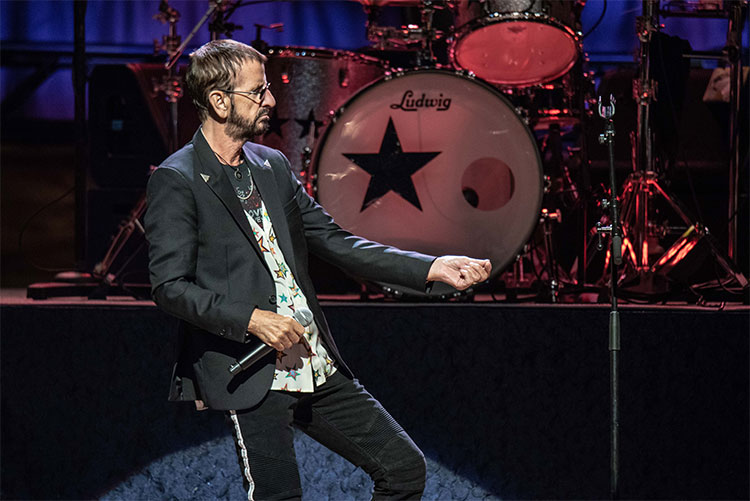 Now for the rest of the guys. Though none of them could claim one-tenth of Starr's name recognition, they did dust off some impressive hits and deep cuts from their respective catalogs. Hay, perhaps the most well-known of the bunch, dutifully played Men At Work's "Down Under," "Overkill," and "Who Can It Be Now?" Rolie rolled out Santana's "Evil Ways," "Black Magic Woman/Gypsy Queen," and "Oye Como Va." Gouldman gave the packed crowd a collective "Oh, that song!" moment when he played 10cc's "I'm Not In Love." Starr, ever the support man, cheerfully played drums on nearly all of the selections (though session dummer Gregg Bissonette did most of the heavy lifting). The former Beatle only sat out during a brief break he dubbed a "Magical Musical Moment."
Beyond Starr, Lukather seemed to serve as the All-Starr Band's unofficial bandleader, rock-star jamming alongside the rest of the group and occasionally gushing at the material they played. ("I love that song!" he enthused after Hay's "Overkill.") Lukather was also responsible for the most unintentionally funny moment of the night, grumbling under his breath about an "alternative band" that had made Toto's "Africa" and "Rosanna" popular again. Those songs, along with "Hold The Line," were well-received, because Toto rules.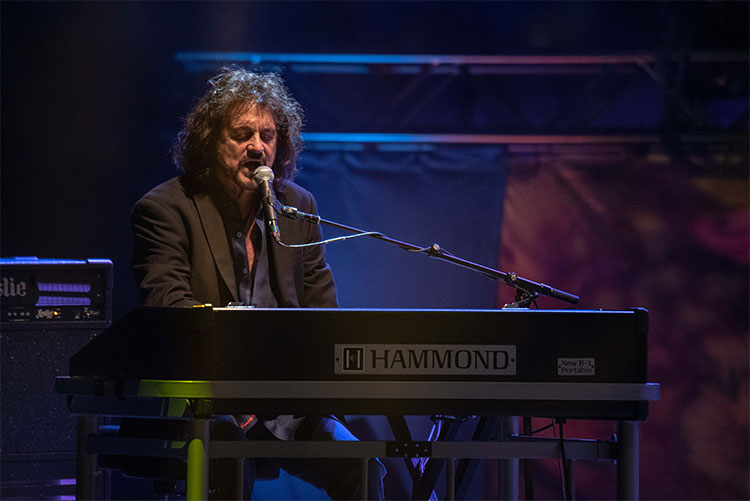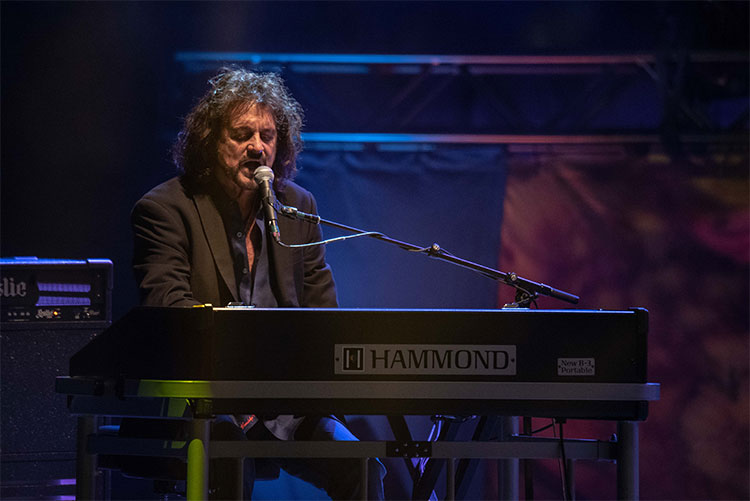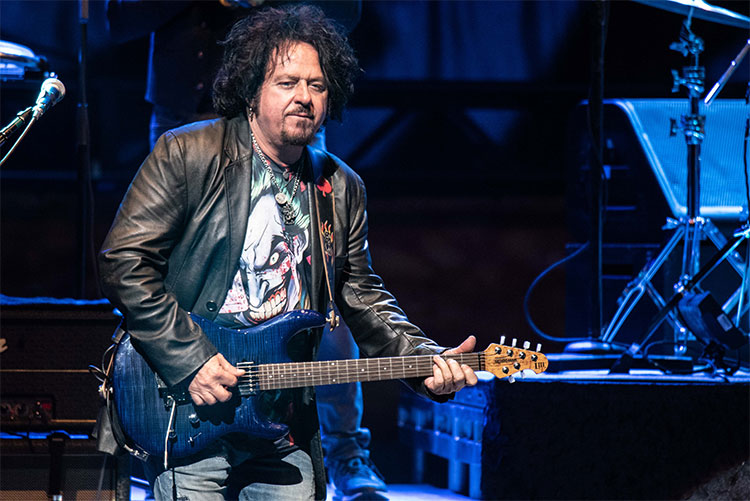 Did Starr play "Yellow Submarine"? Of course he did. Did he play "Photograph"? Yep. Did he play "Anthem," a song from his 2012 album Ringo 2012? Sure. Should he maybe not have played "You're Sixteen"? Yeah. And how did the night end? Exactly how you'd expect: with Starr getting a little help from his friends on a winning rendition of "With A Little Help From My Friends." Not a bad song to have in your back pocket for a closer. The crowd went nuts.
Last week, Starr's former bandmate, a fellow named Paul McCartney, released his umpteenth solo album, Egypt Station. Along with that album came the umpteenth wave of think pieces wondering what McCartney has left to prove, and why he continues to tour. (The answers, it turns out, are "nothing" and "he's a born entertainer.") The same could be asked of Starr: What does he have left to prove? Why does he keep doing this? The answers may be less clear, but maybe they have something to do with Starr's forever-repeated, forever-needed message of "peace and love." The latter, some band once said, is all you need.
At one point during Saturday's show, Starr noted how he often received just as many "I love you!" shouts from male audience members as female audience members "Hey," he said, "love is love!" Maybe it is that simple.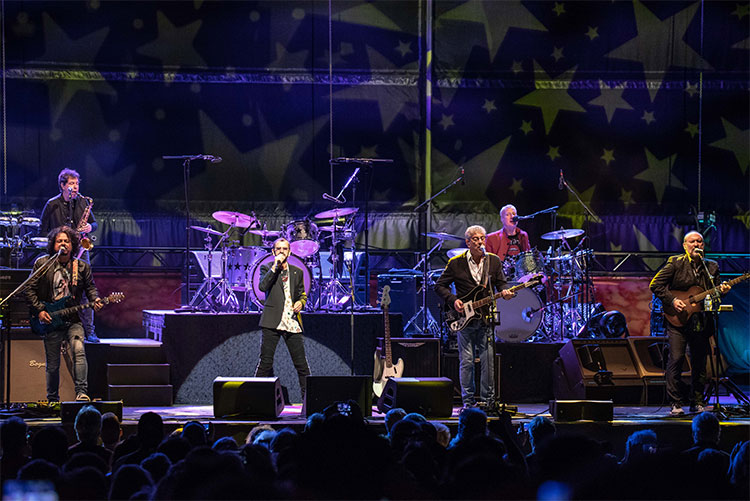 SETLIST
(All songs by Starr/The Beatles/popularized by The Beatles, unless otherwise noted)
Matchbox
It Don't Come Easy
What Goes On
Dreadlock Holiday (10cc)
Evil Ways (Santana)
Rosanna (Toto)
Down Under (Men At Work)
Boys
Don't Pass Me By
Yellow Submarine
I'm Not In Love (10cc)
Black Magic Woman/Gypsy Queen (Santana)
You're Sixteen
Anthem
Overkill (Men At Work)
Africa (Toto)
Oye Como Va (Santana)
I Wanna Be Your Man
The Things We Do For Love (10cc)
Who Can It Be Now? (Men At Work)
Hold The Line (Toto)
Photograph
Act Naturally
With A Little Help From My Friends / Give Peace A Chance
And here's a video of two guys in cargo shorts absolutely crushing "Africa," long before Weezer got a hold of it: