Milwaukee's music scene can be somewhat insular at times. Think about how many times you see the same three to four bands or rappers booking shows at that one venue in their own neighborhood. Conversely, how often does the average local music enthusiast wait to see a band until they play a show in his or her preferred venue? Yes, artists are breaking the genre-, age-, and neighborhood-specific format on occasion—last weekend Altos/Scrimshaw bill is a good example, as is the regular collaboration between Soul Low and WebsterX—but it's easy for bands and listeners alike to get caught up in the familiar.
Instead of hosting some bullshit "State of the Scene"-type town hall meeting that will ultimately accomplish nothing, Milwaukee Record wants to nudge unfamiliar collaborators to interact, and urge listeners to experience the unfamiliar with our inaugural "Local Coverage" event. Friday, January 16 at Club Garibaldi, eight Milwaukee bands/rappers will perform 15 to 20-minute sets in which they'll cover another local artist in an effort to bring the scene closer together. Even if the event doesn't breed significant change in band and showgoer tendencies, something will be accomplished. All proceeds from the event will go to benefit Girls Rock Milwaukee.
Milwaukee Record hand-picked eight acts, then held a draft meeting at Riverwest Public House Monday night. Here are the results:
1. Temple will cover Maritime
2. The Fatty Acids will cover WC Tank
3. Maritime will cover Whips
4. Whips will cover The Fatty Acids
5. Bright Kind will cover Ugly Brothers
6. The Olives will cover Bright Kind
7. WC Tank (with Riley Lake) will cover The Olives
8. Ugly Brothers will cover Temple
We tried to pull artists of various ages, styles, gender, and location. Sure, there are some genres and neighborhoods absent. We swear we asked a bunch of metal bands! That said, we are absolutely thrilled that these eight acts are willing to throw themselves into a strange, difficult, and uncompensated experiment to participate in the first of hopefully many Local Coverage shows. Once an order is established, we'll post an official show listing.
If you can't attend, we're also going to put some songs from the show on the Milwaukee Record Bandcamp as pay-what-you-want downloads, with all proceeds going to Girls Rock Milwaukee. So let's all be part of something strange, unique, unfamiliar, and altogether beneficial during the usually show-less hellscape of mid-January. We hope to see you there.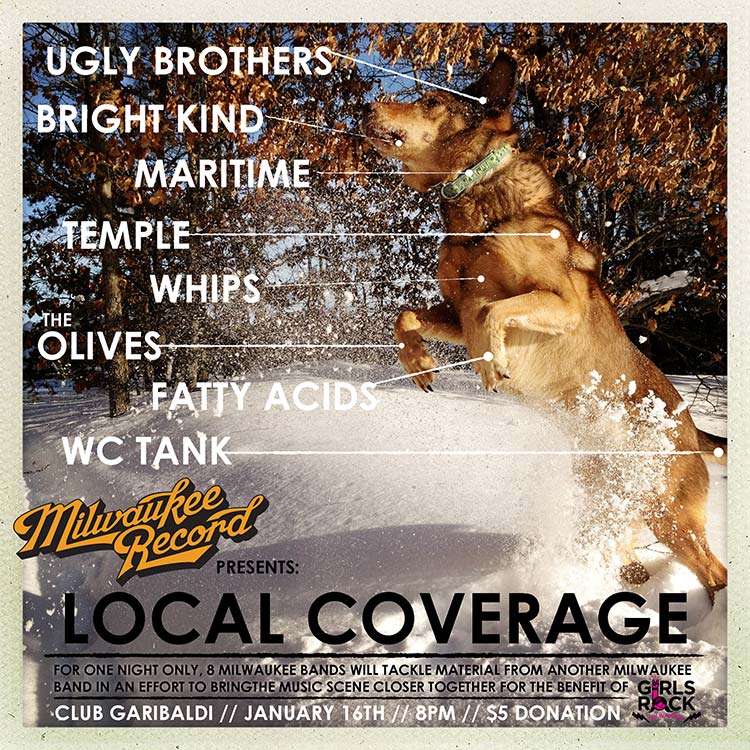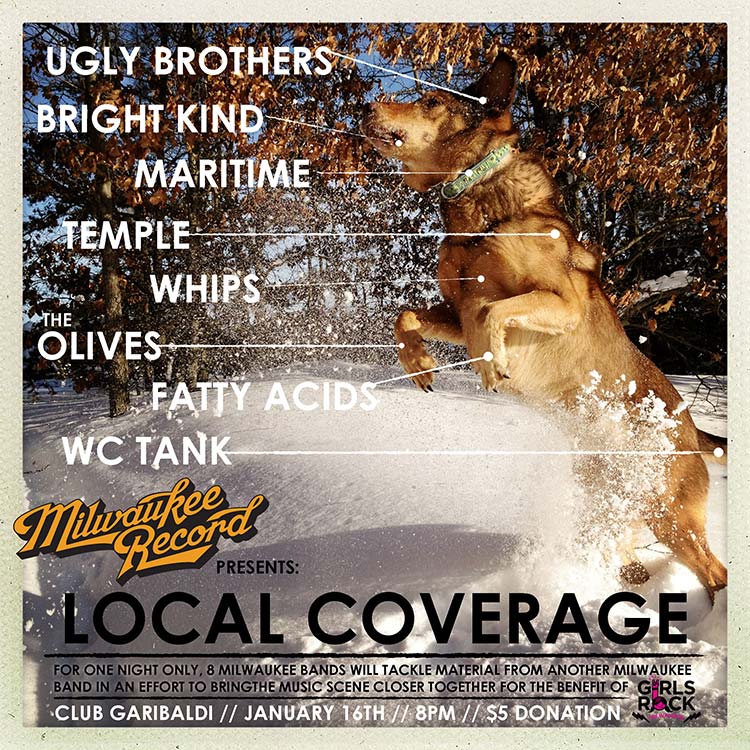 [Flyer by Travis Whitty]