It's been more than one year since COVID-19. It's been over a year since "pandemic" became an everyday word. And for countless Milwaukee musicians, it's been roughly a year since everything changed. We checked in with some of them and asked two simple questions: What were the biggest challenges you faced over the past year, and what are you looking forward to as things finally begin to improve?
I think the biggest challenge also came in the form of the biggest blessing, which was a full migration to virtual platforms. Being able to livestream shows and endeavors has been a great way to stay active and help with general accessibility. The loss of all of my in-person shows for the full year was initially devastating, but I found many great opportunities to work, create, and perform within the confines and safety of my home.
But with that, there also came downfalls. Technological issues are a category within itself, but the human connection that we normally experience from being face-to-face with a student, audience or fellow band member was definitely something that we lost. You never realize how much you take simple things like that for granted until it's right in your face. Ironically, being in "cave" mode isn't necessarily a bad thing for all artists—especially those who create better this way. But not having a choice in the matter definitely had an affect on us all, no matter we sit on that spectrum.
I honestly plan on staying put until it's officially declared safe to re-emerge into society, and not just because everyone's bored of it. I've never been one to jump the gun, and while I'm hopeful that we're moving in the direction of progress, it's gonna take a lot of cooperation, strategic thought and patience before we can go back to how things were. 2022 feels more like the year of the re-up, and by then, there won't be a gig, brunch or endeavor you'll likely be able to tear me away from.
I think the biggest challenge was adjusting to the first few weeks, maybe few months, of the pandemic and the new realities it brought. I remember feeling completely demoralized, and could barely bring myself to look at my guitar or recording equipment. Nothing like the shock of losing all your gigs to make you feel like what you do creatively is completely useless! This leveled out after a while, and over the past year, I've come to realize that I need to build more resiliency around my creative practice. I now see that, even before the pandemic, I was allowing external circumstances to dictate when and how I did or didn't work on my project. Truthfully, I don't miss shows all that much, at least not consciously. But I've been wondering lately whether there's some aspect of my personality that is fueled and fed by receiving applause, whether I perhaps impulsively seek it out, and what the subtle ramifications could be on my daily emotional state for not having that intense, direct type of social approval to '"feed" from. It's all speculative at this point. We'll see.
My strongest hope is that I'll be able to protect the boundaries that I've come to realize are necessary to keep pushing forward with my music, once "normal life'" resumes. I was doing too much before. I really, really struggle to say no. My brain is uncomfortable with unobligated time, and prefers to just be of service to others. I've learned, however, over this quarantined lifestyle, just how very few things I'm actually capable of doing with my time. So if I'm going to keep pushing forward with my writing and recording projects, I need to make it my top priority, and protect that priority from the outside world and my own impulsive inclinations. Booking and playing out all the time were taking up way too much of my attention and creative energy. In the absence of it, I've been able to make a lot of progress at habit-building in a way better that serves my growth as a musician. That said, I am planning to release two EPs this year, produce a full-length record, grow my Patreon, launch some merch, and get my "branding" a little more dialed in.
I've spent the last 15-plus years on the road making my living as a touring musician. Being on tour for eight or nine months out of the year, I would always have some kind of gig work waiting for me at home. For many years, these jobs were bartending gigs and the occasional contractor or labor gig. When the pandemic hit, it was devastating to me on a financial level. The entire year was canceled, and any bars that eventually opened up were forced to severely limit the amount of employees they could use. I had no idea what to do. Fortunately, I do have some trade skills. So when a friend needed to replace a walkway at their house, I was able to make a little scratch from that. I posted my work on the Facespace and that led to another contract, which led to another and another. Next thing I know, I have a full-blown concrete business.
Well, the pandemic money didn't kick in for nearly five months for me. Even though some money was coming in, I was limited in what I could do as a contractor. I was making enough to keep the lights on, but not enough to buy decent tools. Eventually, it did come. So instead of using the money on music and studio gear, like I naturally would have, I decided to invest in my business. That helped a lot, but then winter hit. This is the same time all the relief money ran out and I was on my ass again. This winter has been the longest and coldest one yet for me. I still haven't received any relief. I've had to borrow and beg for every little dime and it's a major shot to my pride. Fortunately though, it's starting to warm up and the concrete work is slowly coming back.
As far as touring goes, we're are starting to see opportunities again and we are planning on hitting the road with some very exciting bands later this year. All I can do is remain hopeful, but I'm also a realist. So in the meantime, hire Killer Concrete and get a new driveway, people!
The biggest challenge for me, and I would think for so many artists, is the disappointment. In March 2020, I supposed to be touring internationally to Australia and New Zealand with Violent Femmes in the spring, followed by a North American tour in the summer. I'm looking forward to going back out there as soon as we're able, but I do feel the initial disappointment was the toughest. However, one of the most positive parts of this pandemic has been really taking stock of what's important. I was able to be home with my kids over the summer when they're off of school, when normally I'm gone all summer. I was able to really dive into my community with other artists here who I love to play with and get creative on how to make socially distanced outdoor gigs and bring joy to the community.
As we're starting to see a light at the end of this tunnel and we are starting to feel truly optimistic, I feel we still have to respect the process of coming back. As much as I would love to plan gigs and shows, I understand the importance of doing so safely. So what are my hopes and plans for the rest of 2021? I plan to keep enjoying all the moments of being at home with my family and I hope to see my Violent Femmes family as soon as it's safe.
Trying to sum up 2020 feels like trying to sum up 20 years. In a year when the world sort of came to a standstill in one way, in another way it made other segments of life—from the inner world to the social and political worlds—go completely haywire. I suppose they are not unrelated.
For me personally, I feel fortunate to have stayed healthy—on a level of never getting "virus" sick—while having enough certain dilemmas that were enough of a struggle. Last year was my first year of living alone since I was 21, I suppose, after a separation and divorce. Because of lockdown and the general atmosphere of anxiety, let me tell you, it wasn't like being 21 again. The need to fill that new void with the friends and community members around you was also stripped away at just the "right" time, which made the sense of aloneness go from a social one to more of an almost otherworldly essential category. It's strange how exactly a year later, there are tiny glimpses and moments of those feelings that instantaneously hit as certain moments and you can feel yourself go, "Ahh!!! That feeling!" and try to shake it away as quickly as possible.
There's always the financial hardships for all of us. My meager musician money, which is already riding the precipice of "getting by," was cut in half. I suppose it could've been worse than "cut in half" had it not been for the rather generous considerations of fans and friends who knew and understood the dilemma and were very giving in either their donations to streams, or "just because" or merch purchases to support me. I would hate to be flippant about it and say something like, "Hey, money doesn't matter and we all get by somehow." Frankly, it makes things easier and also, not all of us "get by" in any fashion that is just or humane. And some of us straight up don't get by; 2020 showed us that. But yes, it hit very hard financially, which leads to enough added stress to other things that were and are still happening. So in order to make up for that lack of touring, I mostly—after a significant period of stagnant inactivity—tried to double-down on woodworking jobs. It was difficult at first, but soon felt good to be moving again.
Another creative way I addressed them was to start writing poetry. It's strange to look back on that period from June to September, where I suddenly started pouring out these poems in a way that has since diminished. That must've been the key period where I simply needed it. In one way, I hope to be able to slip into that level of prolific writing again, and in another way, maybe not. I just watched a Kerouac documentary the other day, and one commentator said the phrase, "Poetry is the language of a state of crisis." In hindsight, I can now see how that makes sense. At the moment, I thought I just wanted to add some beauty to a world revealing—hemorrhaging—its true ugliness right in our faces. I think that was my way as a writer of meeting the state of both personal and social crisis and attempting to healthfully address it. So maybe I don't want to enter crisis-mode again.
I've been able to finish up the next album also, and I hopefully will be releasing that as well as the collections of poems from that period sometime in late summer 2021. Along with that, we have been starting to book a handful of shows starting around Memorial Day that we hope will come to fruition. We don't know for sure yet, but it seems due to the nature of vaccines, and the fact that they are either outdoor fests/socially-distance circumstances or private events that they will actually happen. Fingers crossed. I'm not sure if things will completely go back to normal for my musical world, though. We toured pretty hard in the past, and I still don't see that coming around again quite yet. So other alternate ways of living will have to continue through this year also. I'm trying to embrace it wholeheartedly, but any lifestyle change on that level is quite difficult and takes plenty of time. So I still expect this year to be a slow healing process that still resides in some liminal state, and hopefully gets back to some momentum the next year where the blood flows a little more freely. But regardless, we'll have some new tunes for the folks.
The biggest challenge for me as a performing artist wasn't losing opportunities, actually. It was quite the opposite in that regard. There were a good handful of virtual performances that benefited great causes that I was fortunate enough to be able to be involved with and keep at least some sort of additional income coming in, albeit significantly less still than pre-Covid. However, I definitely could have had it worse. The most difficult part became apparent after the second or third virtual performance, when the absence of a real crowd or human interaction became uncomfortably and glaringly clear. For me, the live show is always about the human connection and exchange of energy between artist and audience; it's a large part of what makes performing, for me, such a spiritual and enriching experience. Losing that aspect was and is the most mentally-taxing and depressing part of all of this.
As far as looking ahead and being hopeful, that's all I feel like I have been doing. It kept me sane. The thought that, once the coast was clear, I would be able to connect with folks and share that energy kept me going. With the events of the past year, there was definitely no lack of motivation and inspiration to create and speak to the times, so I kept myself busy finding more and more ways to be intentional and impactful with my art. Truthfully, it is the most inspired I have ever been. My main goal is to begin releasing some of this music this year and really executing my vision in a way that I have yet to do thus far in my career. The pandemic immediately highlighted the importance of art and its ability to heal, connect, and give light to the ugliness we've been trying to hide. My hope for 2021 and beyond is to stay the course and continue to align myself with topics and causes that speak and move people to be better, be more aware, be more compassionate—everything that we've watched deteriorate is a result of the loss of those concepts. My goal, as always, is to retain my ambition and continue to create lasting, impactful art. Everything else, as we've seen, is really out of our hands.
For me personally, it was an identity crisis. Here I am, bags packed with 17 costumes, album release show in a week, new booking agent getting us ready for summer tours, new songs ready to finalize and put out into the universe and then bam—I'm a middle aged, broke bartender living with her dad in her hometown.
This was not my plan, this was not how it was supposed to go. I was too far gone emotionally to remember that I was a musician, much less write music. I had just gotten my angsty, politically-driven album out of my system, this was my time to get back into the feel good dance songs that I so desperately wanted to make now but…nothing.
Finally, I got out of my own head and came up with a plan. The world is going to open back up and we gotta be ready for it. Nick and I worked harder than we've ever worked the past year, bought a fixer upper duplex and started on a food truck. We're setting ourselves up for another pandemic in theory. A place of our own and a job of our own so that no matter what, we have the freedom to do what we want, when we want. A situation where music can come first and we don't have to compromise. That's what touring always was for us. Absolute freedom. That's what was taken away from us. We're doing everything we can to get that back. And when it does come back, we are fucking ready!
Our full band tour of Europe was canceled. It was 25 dates across some of my favorite stops in Sweden, Italy, Belgium, and Germany. A significant amount of legwork goes into planning a tour like that, so it was, of course, a disappointment. But once you start looking at the bigger picture and the seriousness of the pandemic, your own plans seem much less important.
We spent the time we would have been on tour writing a new album and doing livestreams for companies, like Red Wing Shoes and Hard Rock Hotels. More importantly, we did some shows and fundraisers for socially conscious organizations, like Guitars 4 Vets, Rock The Green, Harmony 4 Hope, and RAINN. Locally, we did an acoustic tribute to Bob Dylan from the Jewish Museum's exhibit centered on his lyrics. We also started doing private Zoom shows, which was a great way to connect with friends and fans from around the world.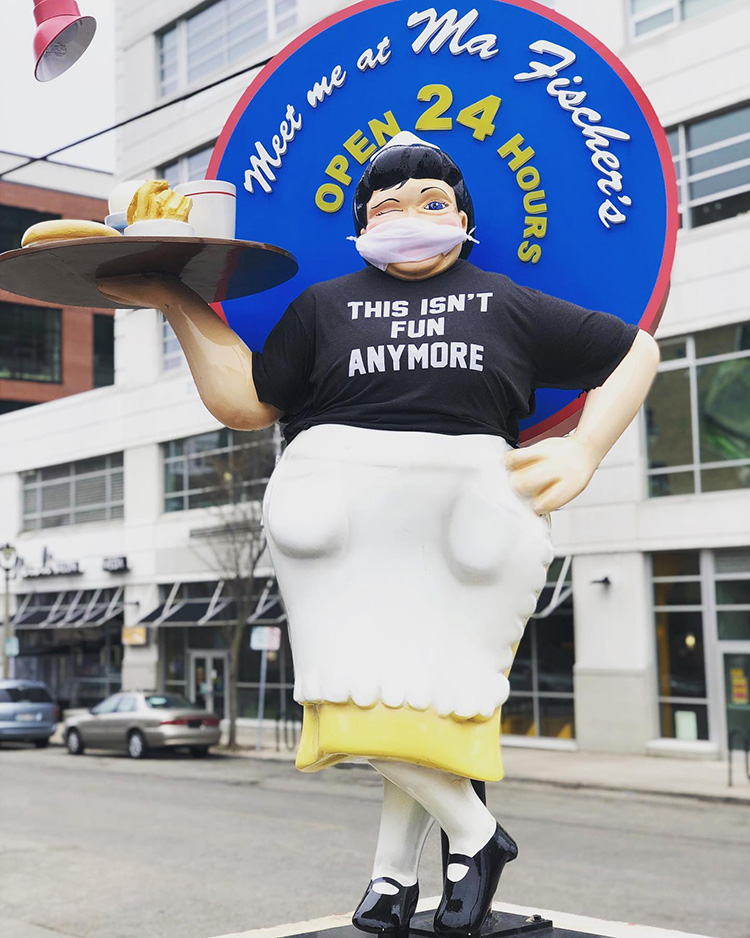 One of my saving graces in this period was a t-shirt I made years back, that simply says "This Isn't Fun Anymore." I overheard a boy cry out the phrase at Bay Beach Amusement Park, on a ride called The Scat, which inspired the sentiment for a lyric and later the shirt. I started selling a bunch of these shirts and a few businesses bought them for all their employees. The Ma Fischer's statue even started wearing it! To be clear, there was nothing "fun" about any part of this pandemic, but I think the pessimistic phrase just resonated with people. The song "The Scat" was also used last summer as the theme song in a trailer for the HBO series, Perry Mason.
I was also inspired to participate in the Bandcamp Friday series with four covers that felt especially of the moment—"Mr. President (Have Pity on the Working Man)" by Randy Newman, "Walls" by Tom Petty, "Keep Me In Your Heart" by Warren Zevon and "If It Makes You Happy" by Sheryl Crow.
With the support of our fans and a small indie label called Grand Phony, we were able to safely record an album in Wauwatosa at Wire & Vice. We followed the Recording Academy guidelines and wore masks at all times, except when I was tracking vocals in the live room. It was definitely surreal to record amidst the pandemic, but also the citywide protests for racial equity. In between vocal takes, I stepped outside in my surgical mask and saw a fleet of military Humvees driving by the studio to a protest. Helicopters overhead. A scary time for the people taking to the streets to stand up against police brutality.
We just released our first single for that record, "River Called Disaster." The music video sees me lighting a piano on a fire in a river, which felt cathartic and symbolic of the last year we have all endured. Our agent is starting to book shows around the release of the record, May Day, so fingers crossed that they can happen in a safe and distanced fashion.
In an odd way, I found that the restrictions gave me a look into myself that I never felt possible. Almost a surreal form of freedom that made use of unreal news and proven science that was discarded for cheap politics. We are living in a play that Eugene Ionesco would have been proud to have written. But I'm a loner who can believe in the future and future ways of thought. Love & Drums for 2021.
Before Covid, I made my money touring, performing and running live sound. So yeah, the pandemic has definitely left me broke, and although unemployment is a hot mess, they did get me some help at times. I consider myself lucky in all of this though. I have what I need and am healthy.
I did feel extra canceled at first because my main project broke up right before the pandemic. I was already kind of grieving the loss of a creative project/partnership and identity I had held for myself. But you know, when God closes a door, take a sledgehammer to the nearest wall.
So I built a treehouse in Vermont and lived in it for a bit. I'm so incredibly grateful I traveled so much, played music in so many places, and met so many great people touring before Covid, but I felt like a lot of touring life was looking out car windows while I was missing birthdays, weddings, and holidays back home. This past summer, I spent a lot of time with my immediate family and extended Vermont family and it was really incredible. I also spent the most time alone I probably have in a decade, which was terrifying at first, but ultimately also incredible. Living at the treehouse was pretty much like living outside. I spent my time walking up the mountain, building things, painting stuff, planting stuff, cooking, fishing, reading, swimming, playing guitar by the fire, randomly weeping, contemplating my existence, pondering the mysterious whims of the universe, facing my most profound fears and insecurities, acknowledging the natural world and all its beautiful gifts. It was really nice.
Pre-Covid, being a musician for me was all consuming. It has to be. It's a difficult way to make a living. Unfortunately, I think I had started equating the value of my music with the money I was making from it. Of course, I would never ever assign value to anyone else's art like that, but I'm not always nice to myself and it's one of the many dangers of late capitalism. With Covid, making money with music wasn't really an option for me and it was kind of a relief. I found a new freedom in writing songs I hadn't felt in awhile. Music served as a lifeline through the hardest parts of the year. So yeah, I hope to make money playing music again, but I want to keep the headspace I've got about it now.
I will be taking baby steps when re-entering the performance world. I love performing, I love people, and I miss live shows, but I don't know how it will feel now. My heart breaks for the world, I think we will have a lot of grieving to do when things return to "normal," and personally, I don't think I will ever return to what was my "normal" before this. I am playing everyday though. I've been recording, re-recording, and mixing songs I wrote during treehouse life at my home studio. I think I'll put it out this year. I'm hoping this summer to connect with the friends and family I have so dearly missed, plant a big garden by the treehouse, maybe try and get work on a farm, play music round the fire, and go fishing.