The Green Bay Packers and Dallas Cowboys rivalry has been raging since 1967's unforgettable Ice Bowl. Things went Green Bay's way in the '60s and Dallas' in the '70s. Both teams kind of sucked ass in the 1980s. Dallas had the Pack's number through most of the '90s, until Green Bay broke the eight-game drought against the Cowboys in 1997. After pretty much splitting wins between then and 2008, Green Bay has won the last five regular season and playoff contests in the series. However, rookie quarterback Dak Prescott and first-year feature back Ezekiel Elliott have Dallas off to a surprisingly strong start this season, and could give Green Bay a tough time at Lambeau Field this weekend.
Instead of looking ahead to Sunday's Packers-Cowboys meeting, let's look 13 years in the past at an event that could serve to show exactly how heated this NFC rivalry can get. On July 20, 2003, on the side of a highway about 35 miles outside of Houston, the van belonging to The Mistreaters caught fire. Exactly what happened to the seminal Milwaukee garage rock outfit after is up for debate, but some band members believe firefighters might have spared the van from being consumed by flames if not for the gigantic Packers Gs painted on each side of the vehicle.
The Mistreaters left the charred remnants of their van, gear, records, and personal belongings in Texas, and returned to Milwaukee with some new perspective, a realization their band would soon end, and one hell of a story. To help stoke the flames of a rivalry that's been extinguished of late, Milwaukee Record asked The Mistreaters to tell that story before the Cowboys come to Green Bay.
David Gregorski, bass:
"We were on tour, on our way to Houston. We were maybe 45 minutes away. Almost there. I was driving, and I seem to remember there had been other problems with the van on this trip, but I'm not sure specifically what. That van was sort of always fucking us one way or another. I remember driving along thinking how glad I was that we had gotten it fixed and that everything seemed to be fine. I patted the dashboard and said 'You're a good girl, Vanny,' and like 10 seconds later, the steering wasn't working, and the gas pedal didn't seem to either. I coasted it off to the side of the road and told the guys we might have a problem."
Chris Schulist, vocals:
"This van broke down all the time, so it didn't seem like a big deal. We pulled off and checked it out and it was smoking bad. Then we saw the fire. I just remember grabbing all the bottled water we had in the van and trying to pour it all over the engine. Then it started getting really bad. I swear, all we knew about car fires is what happens in movies: Car is on fire. You have two minutes before it blows up. So we grabbed everything we could and took it out of the van and got the hell away from it. Then we were just sitting there watching all of our shit burn in the middle of freaking nowhere in freaking Texas."
David Gregorski
"We kind of panicked and started pulling shit out the van. Within 10 or 15 minutes, the whole thing was completely engulfed in flames, claiming all of our gear and most if not all of our merch. I lost my extensive collection of cowboy shirts, my phone, and like 100 CDs. We were a safe-ish distance away from it, watching it go up. You could tell when it got to the gas tank; there was a giant fireball. So a while later, the emergency vehicles finally arrived and they started to put it out. I remember thinking they took their time getting there because of the giant Packer logos crudely painted on either side.
"The cops told us they wouldn't give us a ride anywhere and that we were obligated to call a tow truck to haul the burned-out husk of our vehicle away, and I just laughed out loud at the very idea. Eat a dick, Texas cops."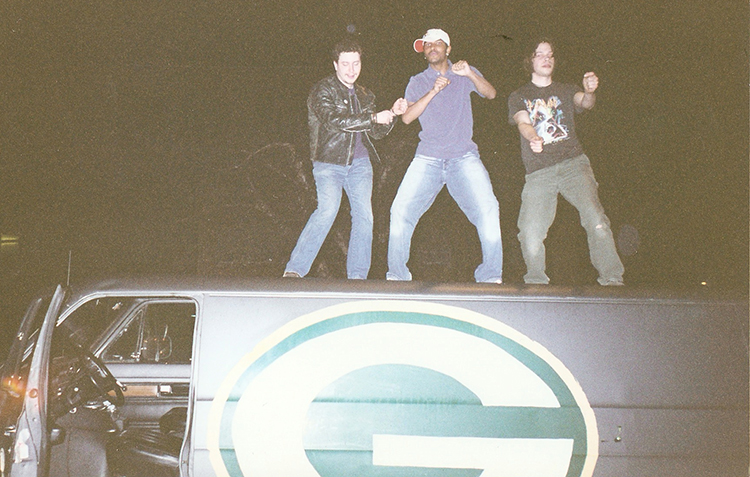 Christian Houtman, drums:
"All I got to say is all my clothes and shoes were burnt up. We had to stand in a weird side marsh with nothing and walk miles to a gas station, where they let us use the phone. Traffic was backed up for miles. Helicopters were out and cops were laughing. I don't think they actually wanted to put the fire out. 'Take that, Green Bay Packers.'"
Chris Schulist:
"At that point what can you do but yell 'Fuck!' and laugh? I mean, don't get me wrong, it really sucked, but after we were picked up from our friends in Sugar Shack, we were fine. We just had to figure out how to get home from Texas since our tour was now cancelled because our equipment was burned. I will never forget seeing a block of Mistreaters Playa Hated To Tha Fullest records falling out of the back of the van in a melt-y smoldering lump. I feel like that's a good summation of our 'career.'"
Dave Gregorski:
"We got to our hotel room, and sometime that night we heard about The Exploding Hearts van accident in which a bunch of those guys got killed, which simultaneously further ruined our morale and reminded us how much worse off we could be."
Chris Schulist:
"When we got to a place to stay, we called our friend Matt Williams of the Baseball Furies, and he was like, 'Could've been worse. The Exploding Hearts died last night.' That put it in perspective for me at least."
Dave Gregorski:
"The drive home to Milwaukee was pretty uneventful, which is good because that was basically the end of the band, and I think everyone kind of realized it. It really killed whatever momentum we had. The idea of having to scrape together enough money for a van to tour in for the third time seemed like it was going to be impossible. A week after we got back, [guitarist] Kevin [Meyer] showed me some posts on our webpage's message board in which people were telling us they wished we had died in the fire. That was pretty cool."