Welcome to Food/Drink Week at Milwaukee Record, brought to you by Milwaukee's new favorite import, Bofferding. From May 31 through June 7, belly up and enjoy a fresh smattering of restaurant visits, beer articles, booze videos, and some good old fashioned adventure food journalism. 
Somewhere between a Sam's Club and a garage sale, between a convenience store and a Goodwill, between a corner grocer and a campground flea market, lies Jones's Discount Groceries (2093 S. 55th St., 414-688-7553). Located in an unassuming stretch of West Allis, Jones's is the kind of place that doesn't exist anymore because it never really existed in the first place. It's the kind of place that short-circuits your brain with competing impulses of kitschy fun and hard reality. It's weird. It's wonderful. It's uniquely out of time. It's in West Allis.
"A warehouse of 1,000's of items BELOW WHOLESALE PRICES," proclaims Jones's oft-updated Facebook page. "Groceries, bath & beauty, gifts, holiday, and much more! Free items just for spending $5!" It's an apt description but ultimately an inadequate one. Sure, there are oodles of cheap groceries and cheap gifts, but nothing prepares you for the sight of refrigerators stuffed with frozen baloney, and Smuckers-branded shelves stuffed with Frozen Easter baskets. Also: lots of soy sauce.
But we're getting ahead of ourselves. First of all, Jones's is indeed a warehouse. (The Facebook page uses the store's full Christian name: Jones Outlet Discount Grocery Warehouse.) This unlikely grocery gem can be found in one of those nondescript, block-long industrial/commercial buildings that usually house shipping and receiving businesses and maybe a brake shop. Inside, a small entryway/checkout area with a vague pawnshop feel opens up to a medium-sized, tightly packed warehouse. Therein lies the magic, the mirth, and the Mrs. Paul's fish sticks for $2.50.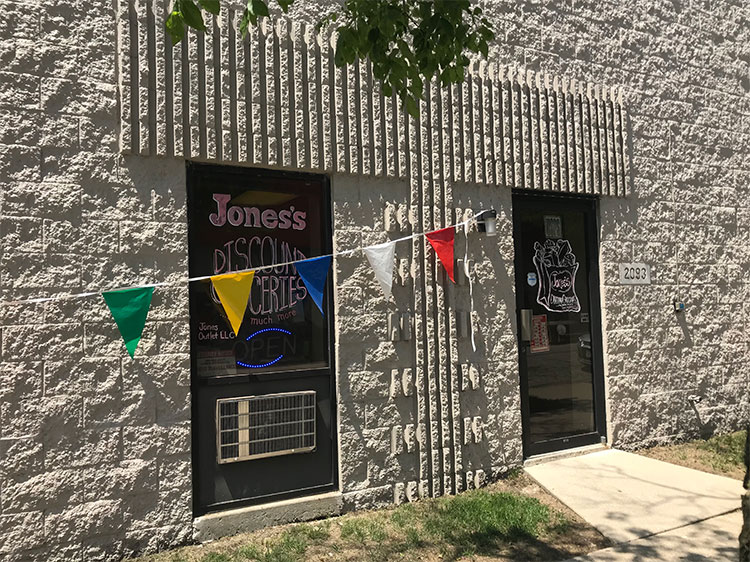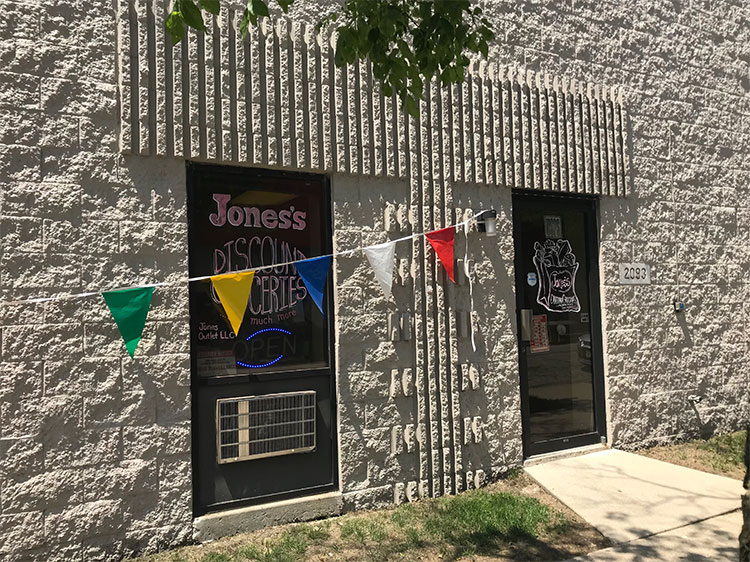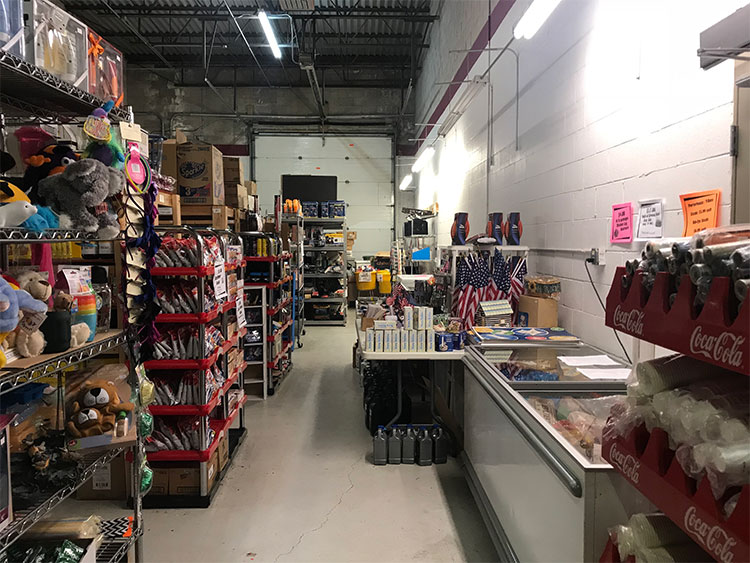 Jones's has been around for five years, but has only been open to the public for three. Its past life as a service industry wholesaler is immediately evident from the shelves stocked with gallons of olives, chili peppers, vinegar, sliced water chestnuts, Bloody Mary mix, hot sauce, and gluten free soy sauce. Other shelves packed with industrial cleaning products nestle up against folding tables littered with needle nose pliers and assorted cable ties. Discount bleach, vinyl leather restorer, and bottles of carburetor cleaner abound. It's all one cleverly labeled bag of ball bearings away from being an American Science Surplus satellite store.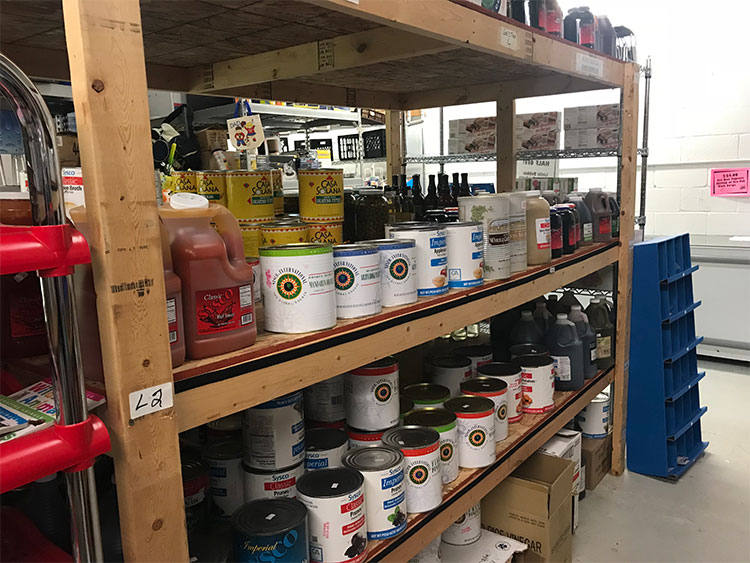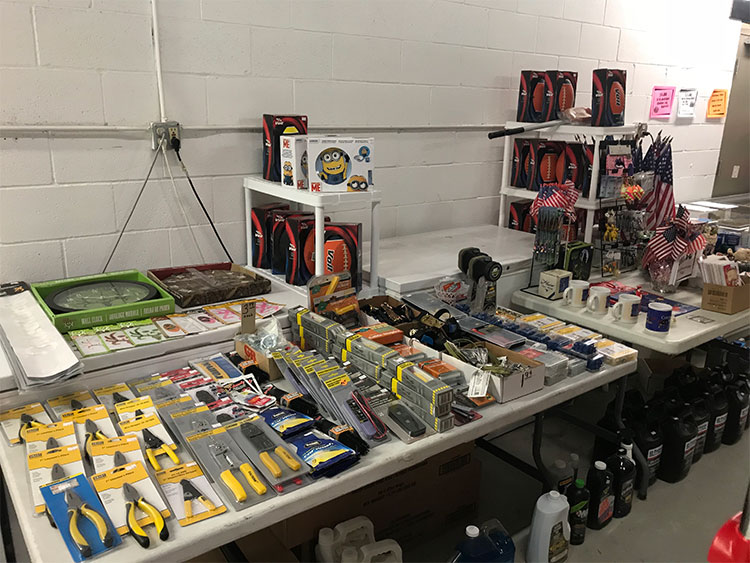 Also in the mix: toys, games, and other crap. Jones's isn't exactly a retro-goldmine thrift store, but it tries its best. Generic coloring books and sidewalk chalk share space with imitation Beanie Babies and Minion breakfast sets. Need some "World's Best Dad" mugs or some mini flags for your hometown Memorial Day parade? How about a jumbo calculator, a pack of radical fingerboards, a three-pack of comic books, and a bunch of those old plastic dime store games where you shake around a bunch of BBs? Jones's has it all, and then some.
Also, the store was in full Easter mode during our visit, nearly two months after the holiday.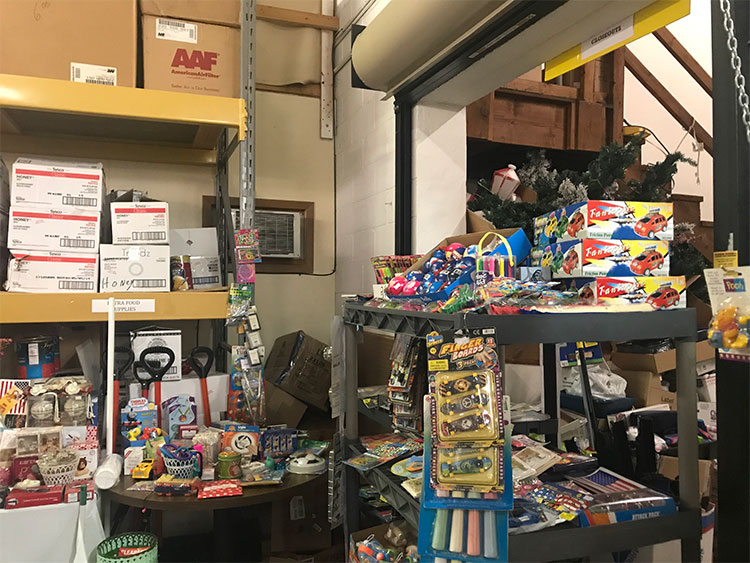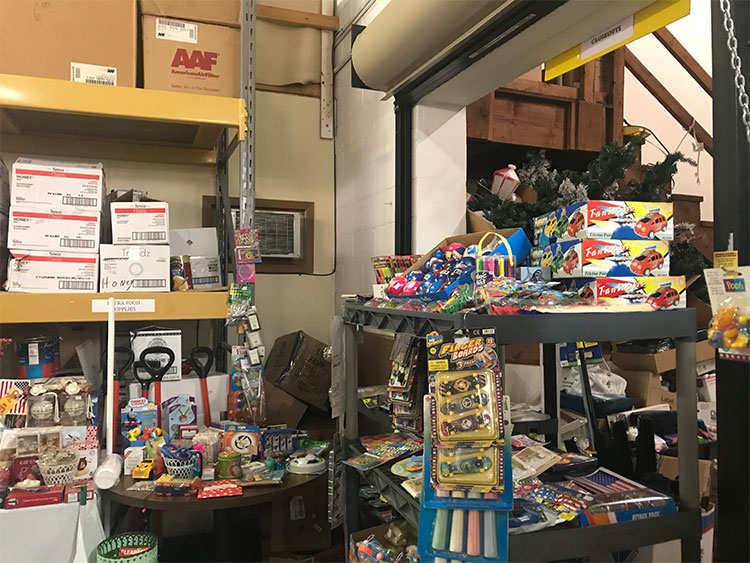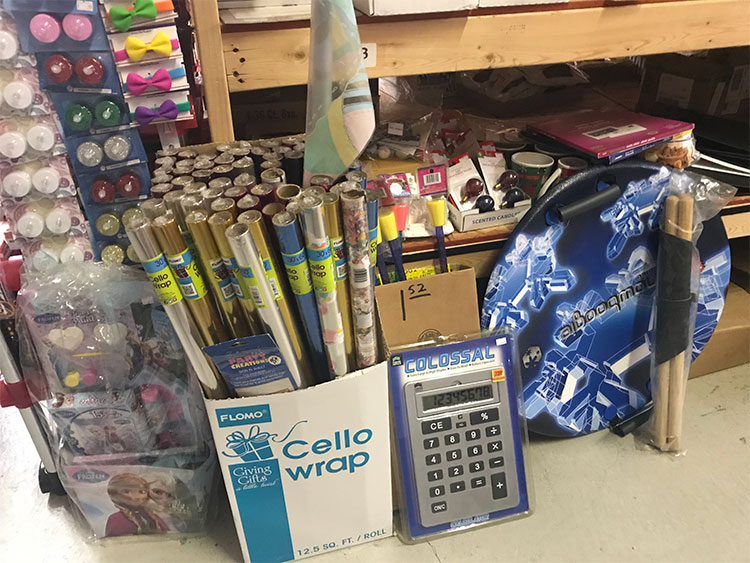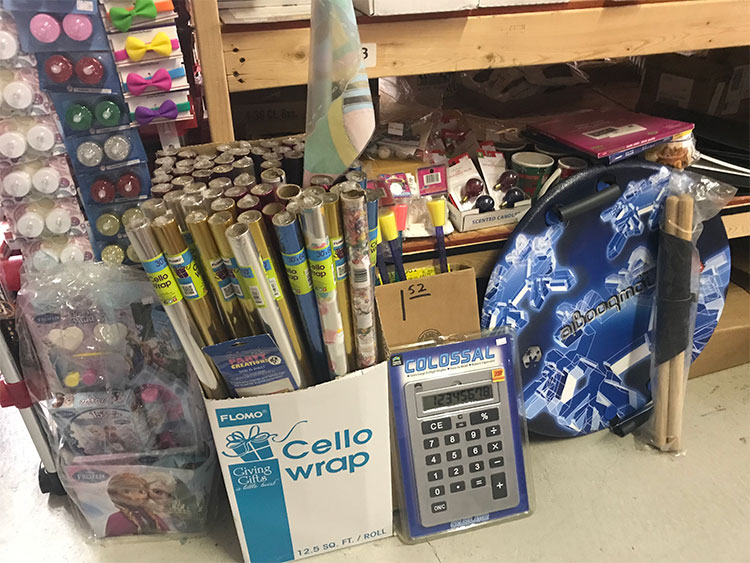 So yeah, there are plenty of ironic pleasures to be mined at Jones's. (Off-brand Snuggies! Victoria's Secret "Very Sexy" perfume for $1.99!) But the true appeal of the store is its vast collection of heavily discounted groceries that are either skidding dangerously close to their sell-by dates, or already watching those sell-by dates disappear in the rearview mirror. The jury's out on whether there's any rhyme or reason behind those dates, so if you're on a tight budget and willing to shake some dice, Jones's is for you.
Maybe you need some dairy. Why pay $1.99 for a dozen eggs when you can get them for $0.79? A 16-ounce tub of sour cream for $2.49? Try $1. And that $3.99 carton of orange juice? Pick up two cartons for only $3. Who's afraid of a May 3 sell-by date on May 29, anyway?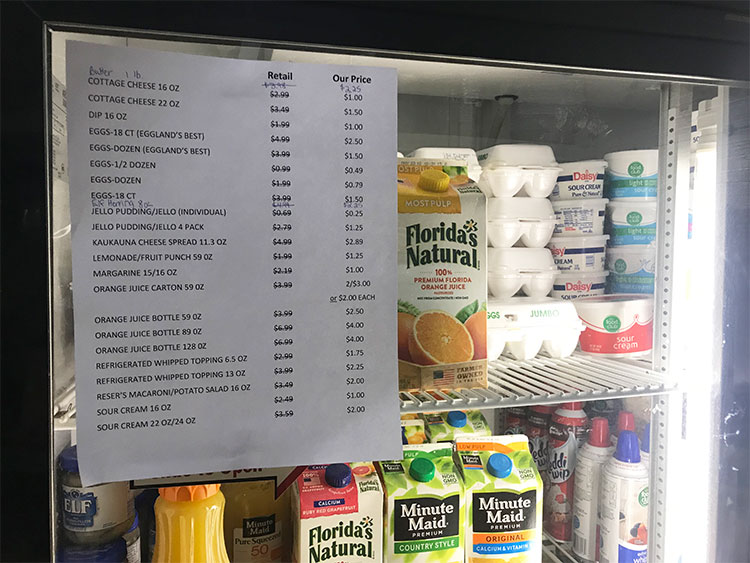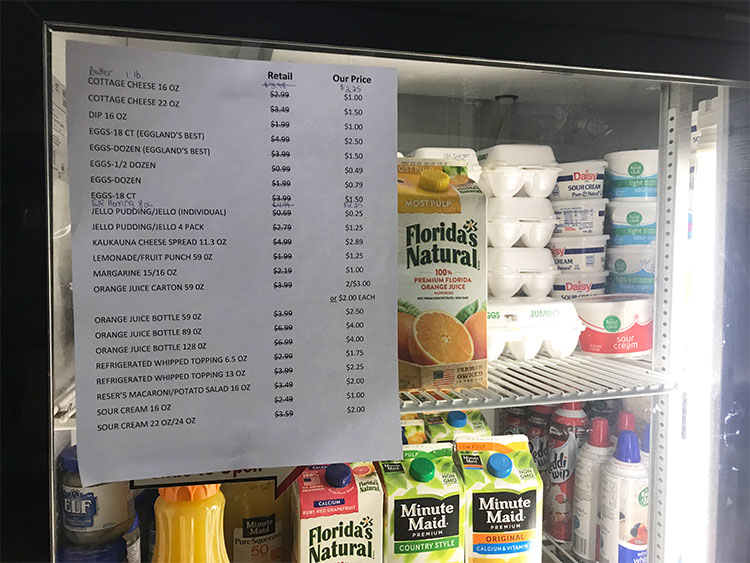 How about Glenmark burgers for $6? Sea Best popcorn shrimp for $3? State Fair corn dogs for $2.50? How about that fridge full of frozen baloney?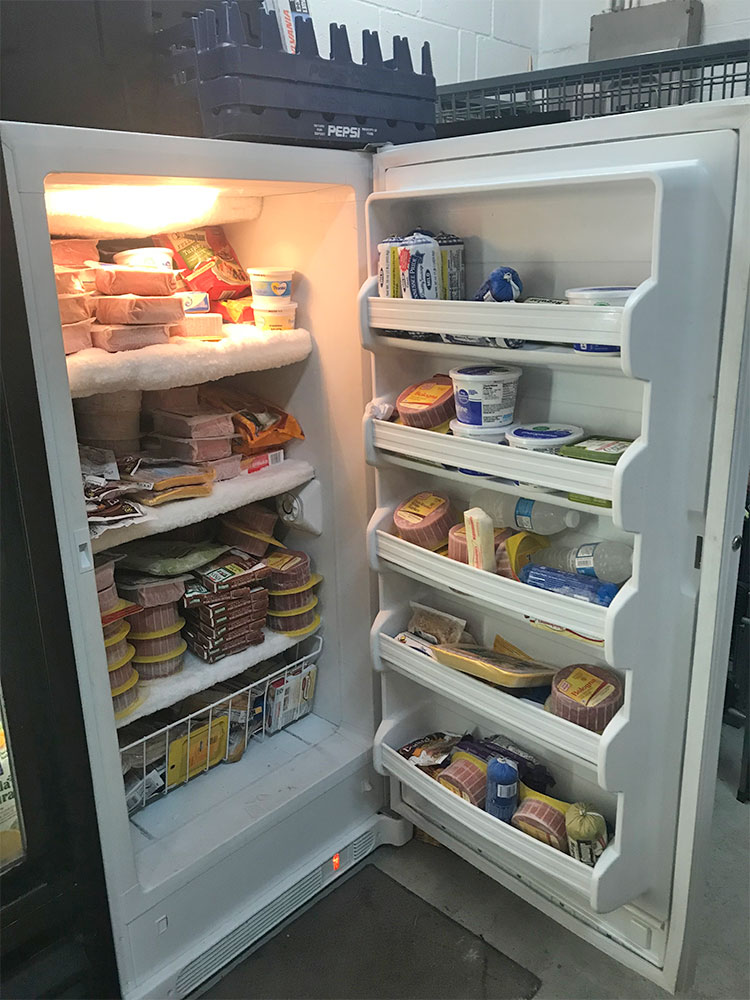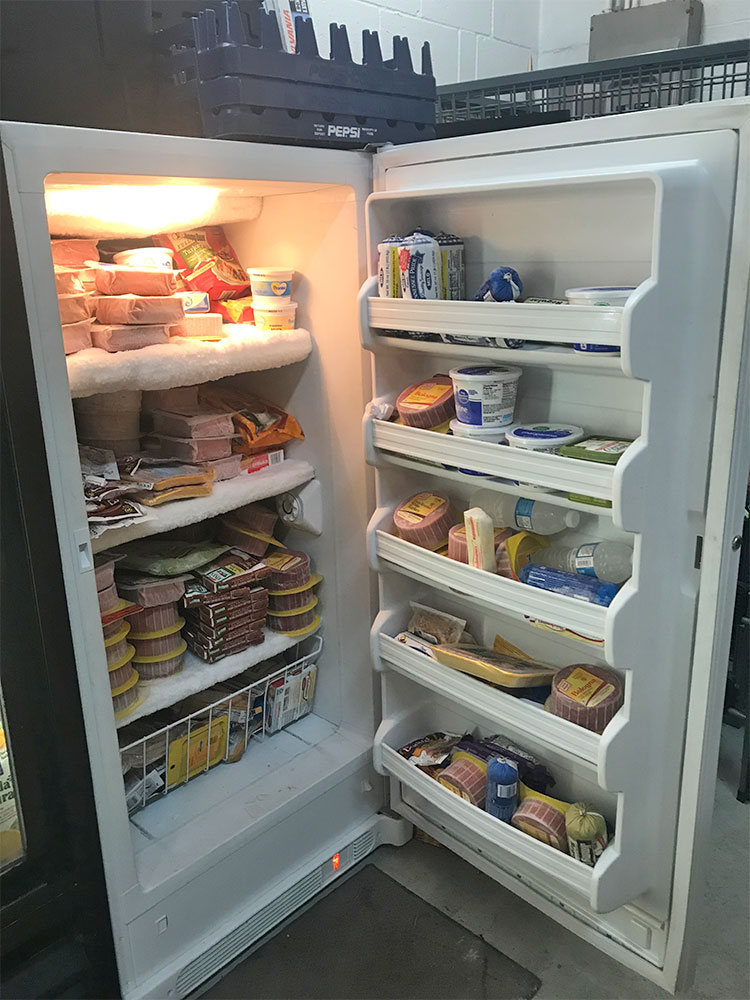 And here's that old commercial for Jones' Big Ass Truck Rental & Storage, which has more than a passing resemblance to the vibe of Jones's Discount Groceries:
In a word (and to borrow from Mad magazine) Jones's is cheap! And kind of great! Some positive Facebook reviews agree:
It definitely is a odd location and I was nervous to go in, but once I did, I'm glad I was! I picked up Organic milk ($2 a half gallon), half and half, butter, sour cream, cottage cheese, chicken (none of these were expired) as well as some granola bars, pita chips, and crackers (that were expired or close to-but this doesn't bother me as they are still consumable).

Cheapest groceries in town! We went recently for the first time and will def be back. My boyfriend and I can't stop talking about this place. $66 for a full cart o groceries. But it is like the twilight zone… Just talk to the nice owner and will explain everythng. Check hours before u go.
As for our visit, we walked away with a pound of Oscar Mayer baloney (sell-by date: June 12, 2018), two packages of shredded quesadilla cheese, and a coloring book. It was random as hell, but so was Jones's. It all came to a cool $4.89.
We'll be back, Jones's, we'll be back. After all, we want to see what kind of free items we get when we hit that mythic $5 mark.