Another day, another misguided and lazy piece of corporate marketing that's haphazardly cast out to consumers that are desperate for an unconventional and artificial distraction from a world that's quite literally falling apart around them. Lately, fast food companies have been preying on the morbid curiosity of its customers by throwing a ton of random shit onto their menu for "a limited time." The rate this is happening would be impressive if it wasn't so alarming. Unfortunate as it is, if we stumble on a new, stupid, and likely very bad promotion, you know we're not above trying it.
When Milwaukee was among a select few U.S. cities that were able to try Taco Bell's "Chocoladilla" before it was phased out (because it's very, very bad), we were there. When Arby's released its surprisingly good Venison Sandwich for one day only last fall, we were there. When Starbucks mixed a bunch of sugary substances together for its gut-busting Zombie Frappuccino, we were also there. And when White Castle became the first fast food chain to offer the Impossible Burger, you know were drove down to Kenosha to try it.
Despite our apprehension, we made history by being the first people in Milwaukee to try Sonic Drive-In's strange Pickle Juice Slush when it was released last month. Keeping with the summer theme of forgotten franchises unleashing random frozen drinks upon an unsuspecting populace, 7-Eleven just started offering—oh no!—a co-branded beverage we couldn't help but try. The convenience store released its limited time Cap'n Crunch's Crunch Berries Slurpee in select markets this month, just in time for today's Seven-Eleven Day (7/11, get it?) celebration.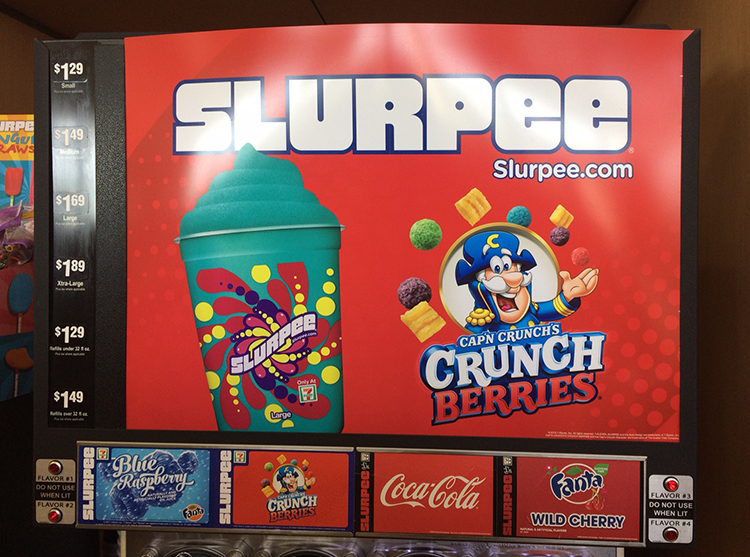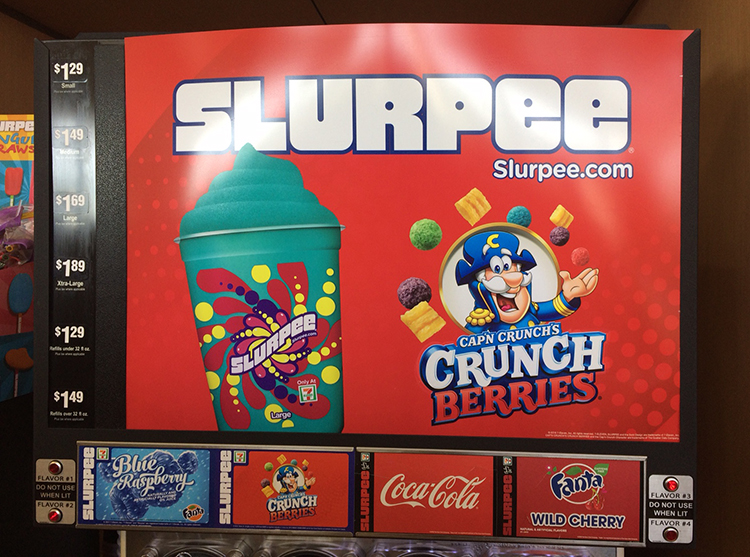 Gluttons for punishment (and for calories) that we are, we ventured out to the Oak Creek location this morning in hopes of sampling this unholy union between 7-Eleven and a Quaker Oats (a division of PepsiCo!) sugar cereal. Fortunately—or sadly, depending on how you look at it—for us, the small suburban 7-Eleven was one of the locations that actually offered it. Unfortunately for us, the flavor ran out and needed to be replaced.
After waiting a few minutes while it was reloaded, we impatiently poured a partially frozen cup of powder blue froth. Who gives a shit if it's frozen if we're only reviewing the flavor, right? In fact, who gives a shit about anything? So did 7-Eleven successfully manage to blend its beloved and iconic Slushee with the essence of a dry cereal you'd never want to drink? Yes. Somehow, some way, the chemicals and artificial berry tastes in the cereal could be transferred into syrup form. Science…right?!
Anyway, it tasted like Crunch Berries in drink form, it stained our tongue and made out teeth blue, and it gave us a stomach ache a few sips in. But if you're reading an article about a new fucking Slurpee flavor and you've made it this far, you're trying this thing anyway. Hope you like it!