Hunger is an issue many Americans face on a daily basis. With staggering unemployment and mass evictions being faced by an unprecedented number of people as the country continues to feel the effects of the ongoing COVID-19 crisis, food insecurity is more prevalent than ever in Milwaukee. Though there's dire need for the government to properly address this crucial issue immediately, some organizations and selfless members of the community have taken steps to help those in need right now.
One of the newest endeavors aimed at combating food scarcity in the city is MKE Community Fridge, which formally launched on Saturday, August 15. The service, which was co-founded by Taste Of Home Associate Culinary Producer Sarah Tramonte and UW-Madison Division Of Extension nutrition educator Hataya Johnson, operates under a simple concept: Give if you can and take what you need.
"In a country that does have enough to go around, and simultaneously produces so much food waste annually, I felt compelled to investigate our options for change in Milwaukee," Tramonte says.
That change started by getting a refrigerator from someone on Facebook. After cleaning the appliance extensively, giving it a brand new paint job, and conducting meetings through Zoom, the duo was ready to bring MKE Community Fridge to the public. The only question was where to put it. They mapped out the city by poverty rates—in an effort to be intentional about the fridge's location—and solicited suggestions from friends. Ultimately, The Tandem (1848 W. Fond du Lac Ave.) was selected as the site. With The Tandem owner Caitlin Cullen's blessing, the refrigerator (and a pantry shelf) was hauled to the restaurant and plugged in. MKE Community Fridge was officially open to the masses.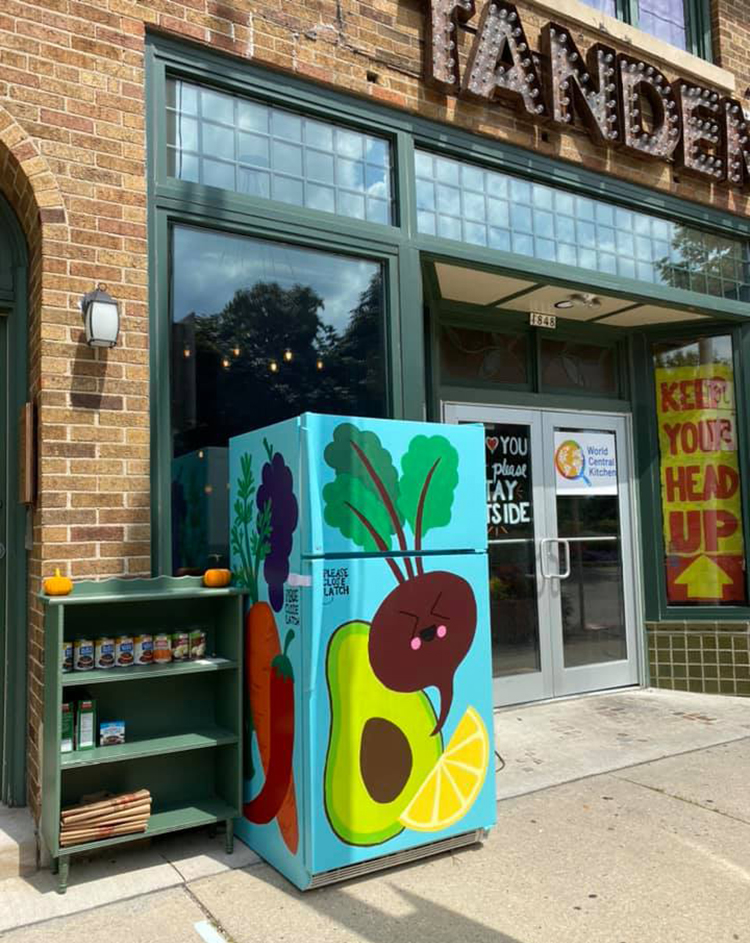 Meg Kilkenny with Extension and Glean MKE helped Johnson and Tramonte get connected with organizations, businesses, and individuals who have helped them fill and maintain the stock of the community fridge on a daily basis. A variety of area businesses and donors have stepped up in the early going to provide items or funds to allow the founders to buy fresh produce.
The organizers stress that MKE Community Fridge is for all to use as they wish. Those who wish to donate can stop by to drop off items any time. Those in need of food can come get some with no appointment needed and no questions asked. Just make sure to close the door when you're done! There are also opportunities to be on the schedule for fridge checks, which consists of stopping by the fridge to organize and disinfect, as well as throwing out any food that has gone bad. Those interested in donating or being a volunteer can contact MKE Community Fridge at [email protected], or you can just stop by the drop off items, take items, or make sure the appliance is clean.