On our various sojourns to our friendly neighbor to the south, Cudahy, we're always keen to explore the dining options on offer. We're especially interested in the many strip mall eateries—those clearly niche joints that do things the way they want to do them. Enter Pizza Pete's (2914 E. Grange Ave., 414-488-8007 ). The location is nestled comfortably on a short, quiet stretch of road, between a laundromat and a convenience store in a diminutive strip mall.
Our interest in this particular spot goes back about 20 years. As youngsters, visits to a family friend in Cudahy occasionally ended at a place called Vinnie's. It was known as a pizzeria, but we always went for the bacon cheeseburger the size of a cantaloupe. We have always had a keen palette for fine comfort food and this was something special. Alas, Vinnie's closed a decade or so ago.
Fast forward to January 2019, and some new signs of life! The "For Sale" sign that had adorned the front window was now gone and renovations were in motion. "Pizza Pete's Coming Soon!" was the new proclamation from this sedate backroad oasis. The first week of March, we drove past and saw that the lights were on and there was a sandwich board out front. It was time to eat!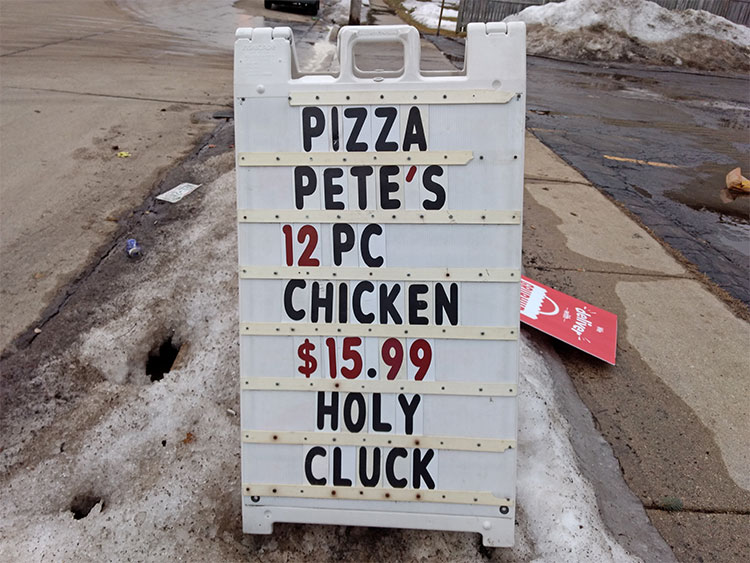 The space: A far cry from the counter-only Vinnie's of our youth, Pizza Pete's has really opened up the space. The front door opens into a nice, bright room with a few small dining tables, a few coolers, and the cashier station. The coolers are filled with beverages, as well as pre-made salads and sandwiches. A half-wall separates the dining/ordering area from the adjacent kitchen, making all food prep and cooking processes fully visible to visiting customers.
The Grateful Dead's "The Golden Road (To Unlimited Devotion)" played as we entered, matching some Dead-themed décor and tie-dyed shirts on everyone working. A poster near the door explained both the theme of the place and the name. The restaurant is dedicated to the memory of the owners' father, a Vietnam War veteran and Deadhead, who was known around Cudahy for his tie-dyed shirts and year-round shorts.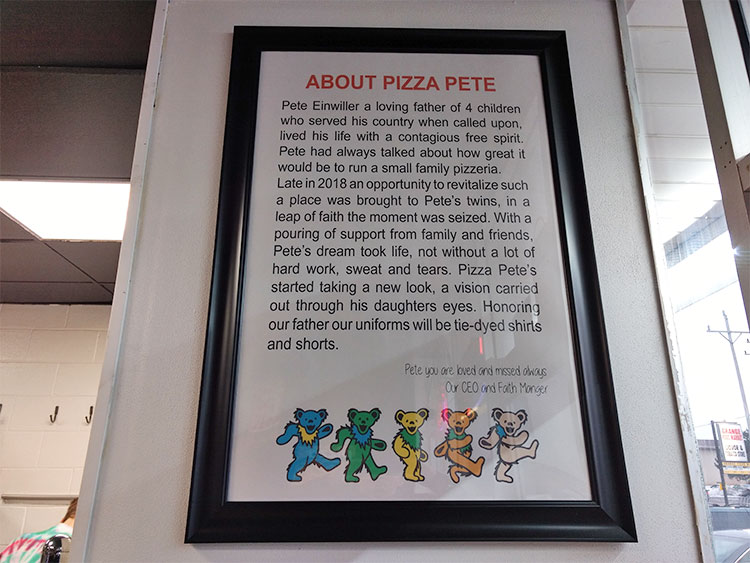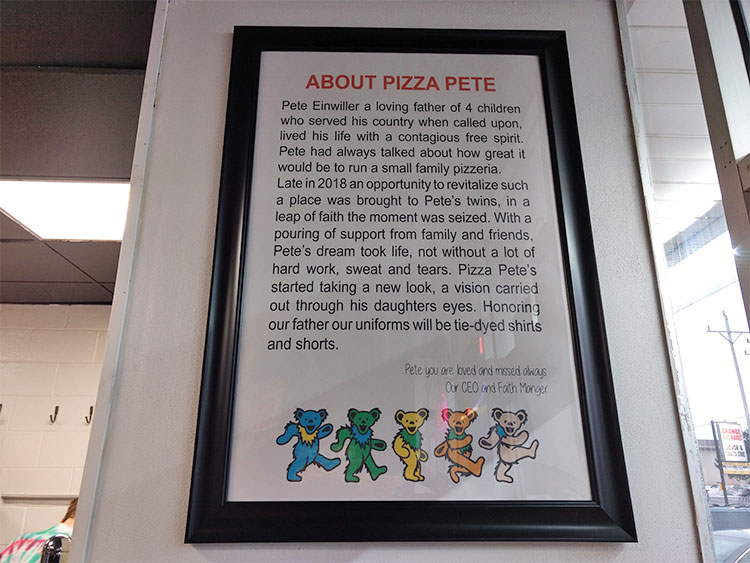 Milwaukee Record's food: During the first week of March, we made three trips to Pizza Pete's, starting with a pizza. A 12″ Chicago Style with pepperoni and sausage works out to about $20. The pizza was a solid iteration of Chicago Style pie, with toppings between two crusts, the top one covered with pizza sauce. The crust was clearly fresh made and hand tossed and had just enough buttery flavor to make it undeniably authentic. The texture was also just right, crunchy on the outside and slightly flaky on the inside. There were no burnt edges or hidden doughy patches. Very consistent. There was an adequate amount of pepperoni and sausage, though we would have liked more cheese. Still, for the quality of the product and the price, there was not too much about which to be upset.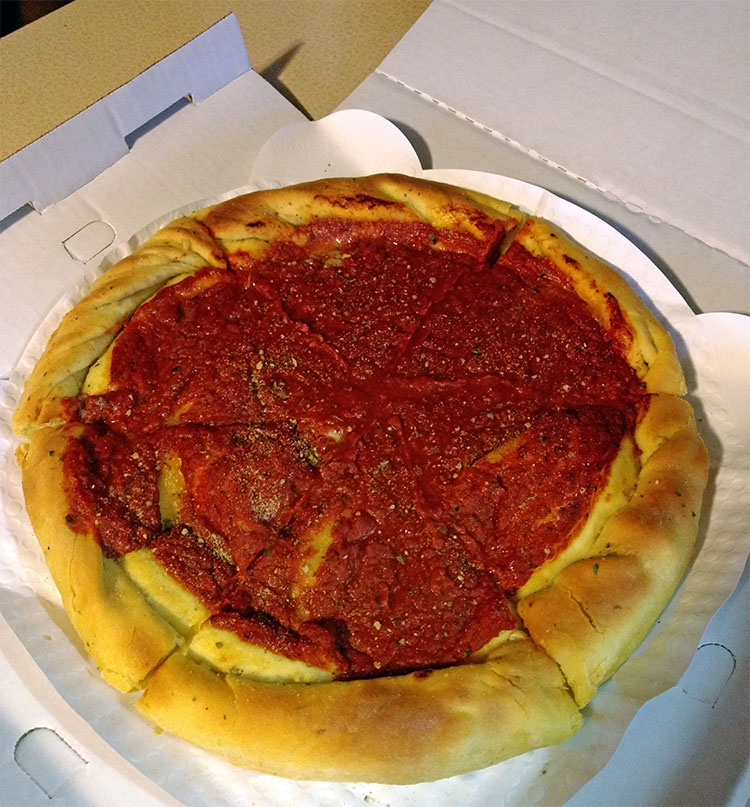 Two days later, having taken home a menu, we phoned in an order to pick up: the four-piece fried chicken dinner ($9). This dinner comes with one breast, thigh, leg, and wing; fries, bread, and a coleslaw cup. Upon arriving we were quite heartened to see that there was a bowl of flour and spices sitting next to the fryer. "Yes," the woman behind the counter said to our query, "we bread the chicken fresh."
We learned that our four-piece dinner would be minus the wing and plus a leg, as they ran out of wings. There was just enough breading on this bird. Evenly coated and relatively mildly seasoned, it was the actual meat that stood out. The pieces were all of a good size and everything was VERY juicy all the way through. Truly, this was a standout take on classic, homemade style fried chicken. The fries were, sadly, less than stellar. They were chopped fresh from whole potatoes and there was a fry press on the wall in plain view of guests. They were a perfect size, square-cut fry. The flavor was good but they were decidedly limp. The bread on the side was a nicely thick slice of marble rye, cut in half, buttered and stuck together. The bread was fresh and added a nice contrasting flavor. The coleslaw cup was small, but again, it too was rendered well, very straightforward Midwestern-typical.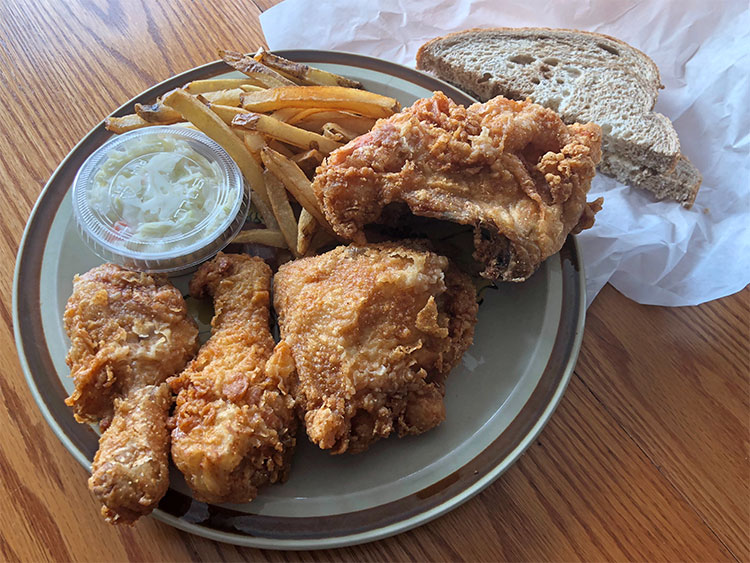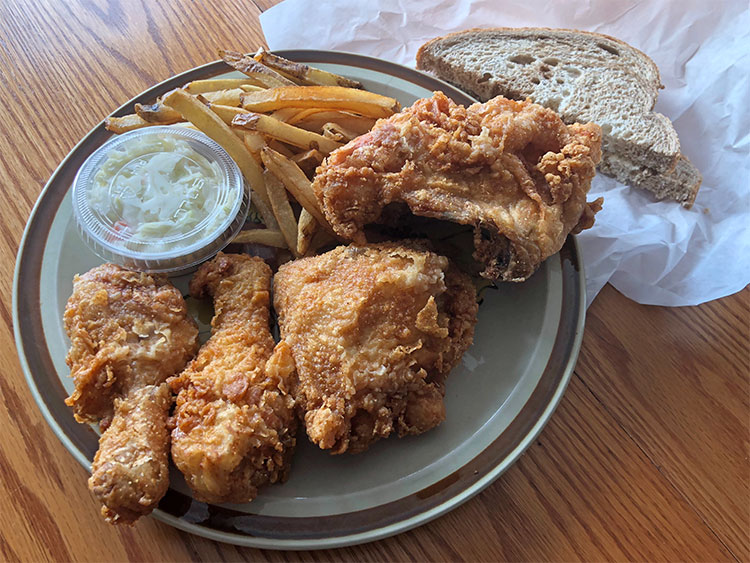 Pizza Pete's offers an Italian sub to the tune of $8, and we gave it a go on our third visit. On board, there was ham, pepperoni, salami, pepper jack, lettuce, tomato, red onion (YES!), Italian dressing, pepper, salt, and dried oregano. We requested to add mayonnaise to this vessel, as well, because it's great. We ordered a side of cheese garlic bread to compliment for $5. We noticed immediately that the sub had a nice heft to it. There was a very good ratio of toppings to bread, which is to say this sandwich was stacked. Everything was in equal proportion, though there was maybe a touch too much lettuce. This could be easily forgiven, however, as there was plenty of meat and cheese, and the tomato, roughly diced, is perfectly ripe. The sub roll, like the marble rye, was very soft and fresh. It had enough "give" to accommodate the profusion of filling, making the eating process enjoyably manageable. The roll did split down the seam about halfway through the sandwich, but we didn't consider this a shortcoming due to the solid filling-to-bread ratio.
The cheese garlic bread was presented on the identical bread as the sub roll. It was nicely warmed through and the adequate amount of cheese was melted just enough. It could have used more garlic and butter to really make the flavor pop, and the $5 price tag here seemed a bit steep.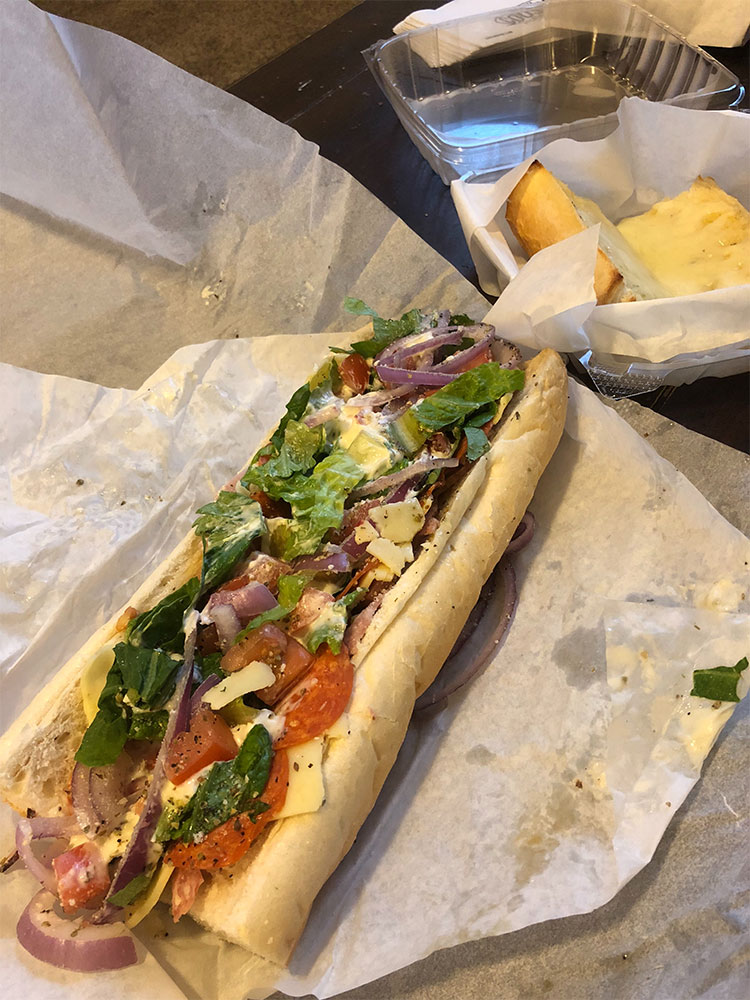 The verdict: The work being done by the family-owned operation at Pizza Pete's is excellent. Considering the short time that they've been open, they are delivering some excellent comfort food at what we consider (mostly) fair prices. While there are no doubt operational kinks to work out with a newly minted eatery, they have made a strong first impression.