For every drinking and dining establishment that has stood the test of time near the corners of Locust Street and Oakland Avenue, there's an ill-fated endeavor that comes and goes with little fanfare. While Shahrazad, Lisa's Pizza, and Oakland Gyros have held down the neighborhood, recent years have found a number of local businesses (and even a few national chains) unable to keep their footing on the high-traffic and university-adjacent East Side intersection.
While it seems to be either sink or swim in that competitive culinary causeway, RC Schmidt has found a way to stay afloat by periodically coming up for air with a slightly new concept. In 2010, his semi-upscale Oakland Trattoria changed its name and scaled back its focus to become SoLo Pizza. Earlier this month, the space underwent another metamorphosis to become Monster Pizza MKE (2856 N. Oakland Ave., 414-964-2850), a fast and affordable late night option that focuses on huge pizzas and by-the-slice specialties.
The space: Admittedly, our SoLo Pizza experience—not counting The Original Pizza Cone and Bacon Bottom Pizza slices we've taken down at Summerfest—can be boiled down to a single visit shortly after it replaced Trattoria. Outside of the extensive exterior rebranding in all its olive green glory, the restaurant seems very similar to the old space. Furnishings and flooring remain just as they were, and the distinct fiery tile mosaic oven still greets customers at the top of the entryway.
There are limited and minor modifications, such as using comic book pages for wallpaper, which serves the unrefined establishment's easygoing motif. If 2856 N. Oakland was ever a date spot, those days are clearly over, but there's enough decorative attention to make diners feel comfortable to stay and eat on a lunch break or between bar stops.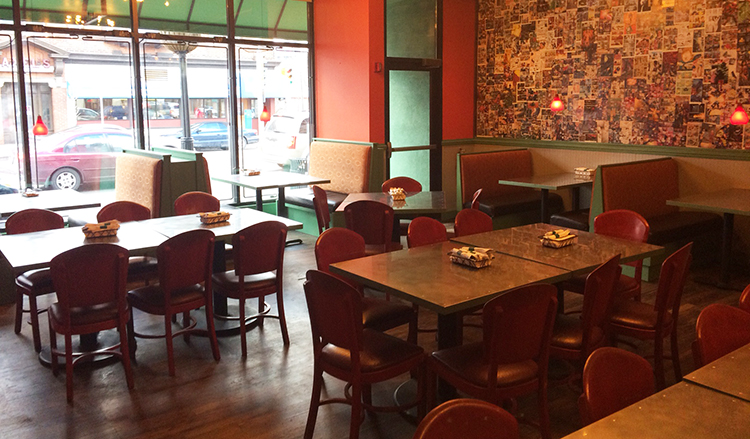 Milwaukee Record's food: While the property itself lacks significant change, the pizza has undergone a noticeable revamp. True to the name, Monster Pizza makes some massive pies. Traditional pizzas range from the expected 12-inch ($12) and 16-inch ($19) sizes, all the way to 28 inches ($32). The 18 specialty pizzas include standards like the Milwaukee "Traditional" (sausage, mushroom, onion), supreme, Margherita, and Hawaiian; slight departures like Mac 'N Cheese, BBQ Chicken, Buffalo Chicken, and Philly Cheesesteak; and off-the-wall items like Fried Chicken 'N Waffle, Greek, and the BBQ Pork Tot. However, Monster Pizza's business plan seems squarely focused on its by-the-slice offerings, which run $3 for cheese and pepperoni and $4 for specialties.
The restaurant claims slices measure 12 inches from crust to tip, and that estimate seemed low once we were faced with the eclectic lineup of 'zas. Honestly, a Classic Slice piece seems cute by comparison. Of the murder's row of toppings, we took quick notice of the Taco ($4), which was carried by a chipotle tomato sauce and ground beef, and accented with pico de gallo and cilantro crema. The swirl of cilantro sauce brought a fresh kick to almost every bite, and the seasoned beef along with the zesty sauce countered the fresh red onion nicely atop a staggering bed of melted mozzarella. Unlike SoLo's typically thin crust, Monster's woodfire crust was thick, but retained its crispiness throughout.


Despite knowing we'd be hard-pressed to finish even one slice, we also took a stab at a traditional. The pepperoni ($3) was pretty much a down-the-middle iteration of a by-the-slice favorite. The sauce was nothing to write home about and the pepperoni and (somehow even larger pile of) cheese was more greasy than flavorful, but it did the job as something we could—and yeah, probably will—easily take down after midnight. Still, almost any of the specialty pizzas seem well worth the extra dollar. There's also Monster Sticks, cookies, and salads (including a $30 "Monster Salad" that feeds 10), but you aren't going to Monster Pizza MKE for a salad. A cooler also has limited canned domestics (and Founders' All Day IPA) for $4.
The verdict: Though Oakland Gyros isn't at risk of abdicating its throne of after-bar dining in the neighborhood, and nearby Sal's Pizza is likely to retain its standing as go-to among college students on foot, Monster Pizza isn't leaving the corner of Oakland and Locust any worse for wear. It's not be the best, but it's absolutely the biggest. And when it comes to pizza by-the-slice, that isn't half bad.