Whether you believe Milwaukee's East Side is growing up, in the midst of being whitewashed by developers, or simply changing, you're correct. Rising rent has resulted in the closure (or in the impending rebranding) of too many establishments to bother naming right now. The various gaps on and around North Avenue are being filled with pricier and more upscale bars and restaurants that seem to be tailored to the tastes of elder East Siders more so than those of the college-age kids who made the area so hip, bustling, and lucrative in the first place.
While newcomers like Yokohama and Kawa suggest the upper East Side's is slowly becoming one big bowl of ramen, stalwarts like Landmark, Beans & Barley, and Hooligan's remain to help anchor North Avenue's dining and nightlife scenes while the neighborhood reshapes and bolsters its identity with each new place that rises from the ashes of a shuttered business. Late last month, the former site of Rascal's—an unabashed college bar known for its $1 shot night and all-you-can-drink specials—became the new home of Izzy Hops (2311 N. Murray Ave., 414-249-4489). The self-described "swing and nosh" went to great pains to scrub away the stale beer and terrible reputation of its predecessor, eradicate the ghosts of innumerable bomb shots, and continue the revitalization of the East Side. Did it work? We stopped by Izzy Hops during the Milwaukee Film Festival, then another time a week later to find out.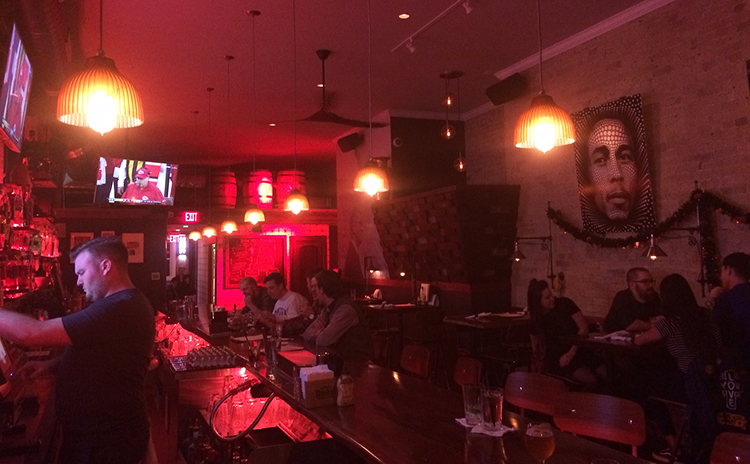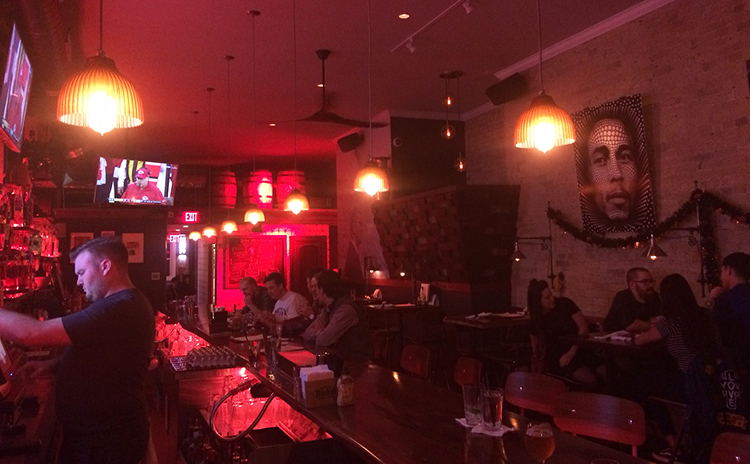 The space: We'll admit we weren't exactly Rascal's regulars (does that qualify as a humblebrag?), but the interior alterations are obvious, even to the first-time visitor. The bar itself has moved from the north end of the long, thin space to the south wall. It runs almost the entirety of Izzy Hops' main dining area and provides about a third of the restaurant's total seating. The rest comes in the form of two- and four-top pub tables arranged in a single row along the wall, with two larger tables placed beside the garage door entrance to accommodate larger parties. There's also a secluded rear dining area that equipped for small private functions or overflow seating.
The dim dining room is basked in red light and the glow of televisions that were showing sports during both of our visits. The TVs were muted to give way to a soundtrack rife with aged cuts from the likes of All-American Rejects, Fall Out Boy, OAR, and Panic! At The Disco. Other than decorative barrels, a brick installation (which we took to be an addition to the brick oven at the neighboring Divino…more on that later), and an out-of-place piece of trippy Bob Marley "art," Izzy Hops is a fairly minimalist establishment that appears to hinge on offering a relaxing atmosphere to go with its accessible menu and subtly-impressive beer program.
Milwaukee Record's food/drinks: We were shocked to find 30 draft options. "We're not in Rascal's anymore," we thought, as we navigated the voluminous and well-curated list that featured brews from Central Waters, Lakefront, Bells, New Glarus, Founders, and Ballast Point in addition to tamer macro taps from Miller, Blue Moon, and Crispin. The beer prices were right in line with most local bars and restaurants, if not a even touch cheaper. That's not even factoring in the happy hour, in which pint prices were reduced by $2. We started with a happy hour-discounted $4 pint of Dorothy from Toppling Goliath, then chased it with a $5 Central Waters Mudpuppy Porter once prices returned to normalcy. There's also a full bar (with a rotating selection of specialty bourbon touted) and bottled options on hand, but why bother when there's no shortage of excellent drafts?
The variety extends to the food menu, with an array of items like burgers, sandwiches, soups, salads, and appetizers (nachos, shrimp wontons, chicken wings). Both the bartender and server mentioned the pizzas were made by Divino as part of their collaboration (thus explaining the bricks protruding from the north wall). There's even a limited brunch selection served Saturdays and Sundays. Since there didn't appear to be any type of in-house specialty flaunted, we pulled from a few places during our two visits. On the first pilgrimage, we shared pizza pan-sized platter of nachos and a vegetarian pizza (one of four pizza options) with sausage added. We went with a burger the second time around.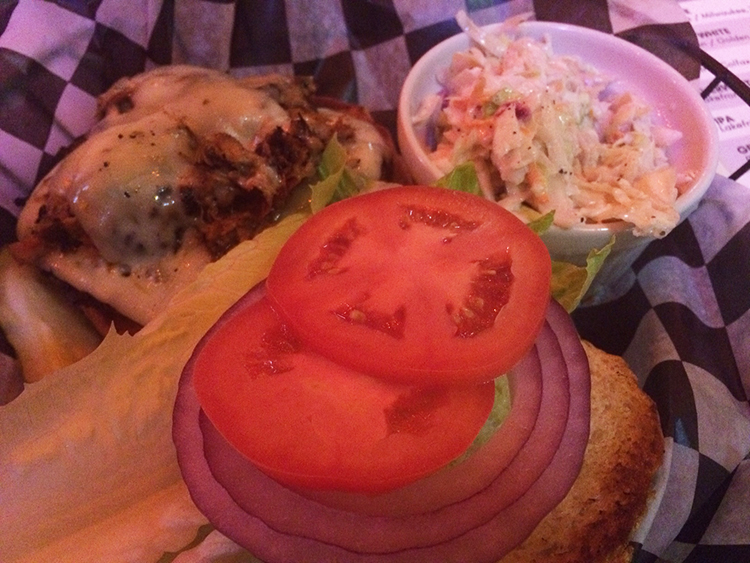 The nachos ($7.95) weren't hurting in the portion department, but the toppings—sour cream, black olives, jalapenos, and mild salsa—and some overcooked shredded cheese caked on store-bought tortilla chips didn't exactly set the disappointing starter apart. Beef or shredded pork can be added for an additional $5, but we'd recommended allocating your appetizer budget elsewhere on the menu. The pizza ($17) proved to be much better, as a mountain of gooey mozzarella held together a generous splotch of tangy sauce and garden of mushroom, green pepper, onion, tomato, as well as pieces of seasoned sausage on a fluffy large woodfire-baked crust. As far as bar pizzas go, it was excellent. Yes, $17 might seem a tad steep, but it was packed with enough cheese and topping to be a full-blown meal for two or three people, or something a group could share along with a (preferably non-nacho) appetizer.
A week later, we returned to see how an Izzy Hops burger stacked up to the pizza Divino made. Of the five burgers created by chef Tyler Cutsforth, the Smokehouse ($10.95) seemed the most enticing. The third-pound beef patty was topped with sweet BBQ pulled pork, pepper jack cheese, onion, tomatoes, and a gigantic piece of lettuce situated between a lightly toasted bun. The pork somewhat elevated the thin and lightly-seasoned patty, but it took us repurposing our side crunchy and savory coleslaw into a burger topping to bring the Smokehouse home. Fans of BBC's burgers and/or eating BBC-like burgers near the BBC will enjoy Izzy Hop's semi-formal take on a satisfactory bar burger.
The verdict: It's no Rascal's (thank God), but with a great beer selection, a comfy low-key feel, and good—albeit outsourced—pizza, Izzy Hops is a net gain for the East Side. No the bar's, burgers, beer, and brunch food aren't exactly advancing the reputation of North Avenue and its surrounding area, but the "Swig & Nosh" is helping to fill a necessary hole in a section of town that's going through some changes. There's something to be said for that. Plus, it's not a ramen place.