Caleb Westphal hasn't missed a Friday fish fry since 2013. Follow along with his never-ending adventures here.
In most circumstances, a sign that says "NOT A THROUGH STREET" is a deterrent. Upon turning onto a street with such a sign, you usually take another look at your GPS or a map, and awkwardly turn around in someone's driveway. That is, unless you are trying to get a fish fry in Muskego. Then there's a chance you are headed in the right direction, and you keep on driving.
Such was the case this past Friday, when I made my way past two of these signs in a sleepy residential area. It was dark and I didn't really know where I was, but I figured the signs would lead me to the lake, and thus to the restaurant I was looking for. Sure enough, I came upon a giant parking lot, and an even more imposing building, which houses the Bass Bay Brewhouse and the Aud Mar Banquet Hall (S79W15851 Aud Mar Dr., 414-377-9449).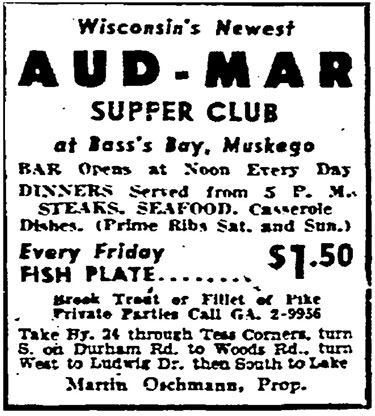 The businesses are owned in part by Ryan Oschmann and his mother, Laurie. In 1958, Ryan's grandparents Audrey and Marty Oschmann opened the Aud-Mar Supper Club on Bass Bay, which is connected to Muskego Lake. At the time, the Aud-Mar served a Friday "fish plate" for $1.50. In the mid-1980s, Ryan's parents took over the supper club; it closed in 2006. Ryan and his mom ran the Eatery on Farwell from 2010 to 2014. (I got one of my first Milwaukee fish frys there after moving to the city in January 2012.) After a proposed condominium deal at the Aud-Mar property didn't come through, they had the opportunity to open a business on that property again. A good amount of remodeling was done, and the Bass Bay Brewhouse house born.
After putting a name in and being told it would be about 30 to 40 minutes for a table, my friend and I ordered some drinks and waited next to the large, square bar at the center of the restaurant. Three main dining areas surround the bar, and the whole place has a rustic look to it, which can largely be attributed to the repurposed barnwood that is everywhere. One of the dining rooms has a real fireplace in it, which employees were stoking and adding wood to. The overall vibe of the restaurant is refined meets casual, and somewhere between supper club and sports bar. In short, it's easy to feel at home no matter what dining atmosphere your prefer. In about a half hour, or maybe a little less, we were shown our seats.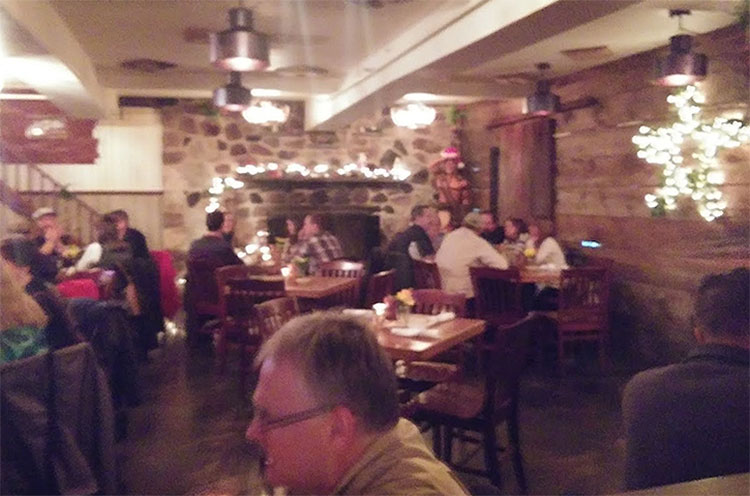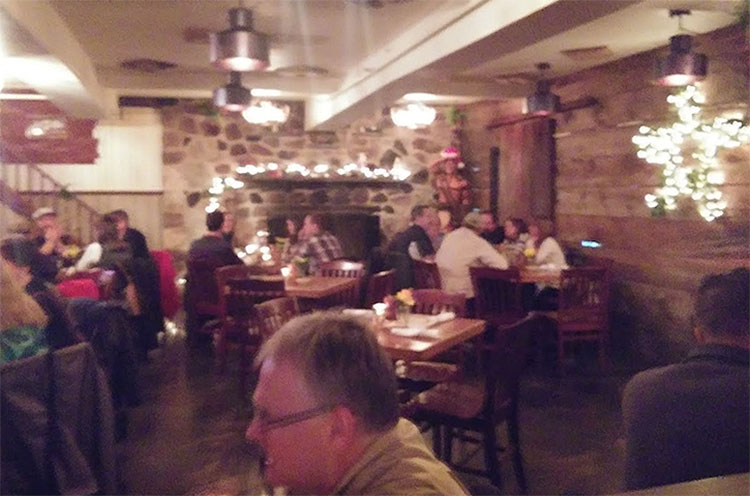 "Can I start you off with any appetizers?" the server asked, after a meticulously professional introduction. "Does clam chowder count as an appetizer?" I questioned back. "Well, I guess it does," he answered. He brought us some beers, confirmed that I indeed was serious about a cup of chowder ($4.50 cup/$6.50 bowl), and then took the rest of our orders. I ordered the hand breaded cod ($14.95) and paid the extra dollar to turn the french fries into homemade potato pancakes. Other options on the Friday menu include poor man's lobster ($14.95), cod oscar ($18.95), rye bread crusted Lake Superior walleye ($18.95), and fried shrimp ($16.95). Crab cakes ($12.95) are listed next to the clam chowder.
The chowder tasted fresh and had an ample amount of clam and potatoes. The meal came with three pieces of cod, and it was apparent they were prepared with care. The breading didn't have much flavor to it, but it adhered well to the fish, had the right amount of crispiness, wasn't greasy, and had a fine texture. High quality flaky white cod could be found inside. Overall, the fried fish could be described as clean. The tartar was tangy but sweet, and had a distinct flavor but was reminiscent of a tartar I've had before.
The potato pancakes were mild in flavor, but did have some slices of green onion. They were well browned on the outside, had a good chew to them, and had an interior texture unlike hash browns, being much more compact. Two pieces of excellent, soft rye bread were included. The small cup of coleslaw was pretty standard.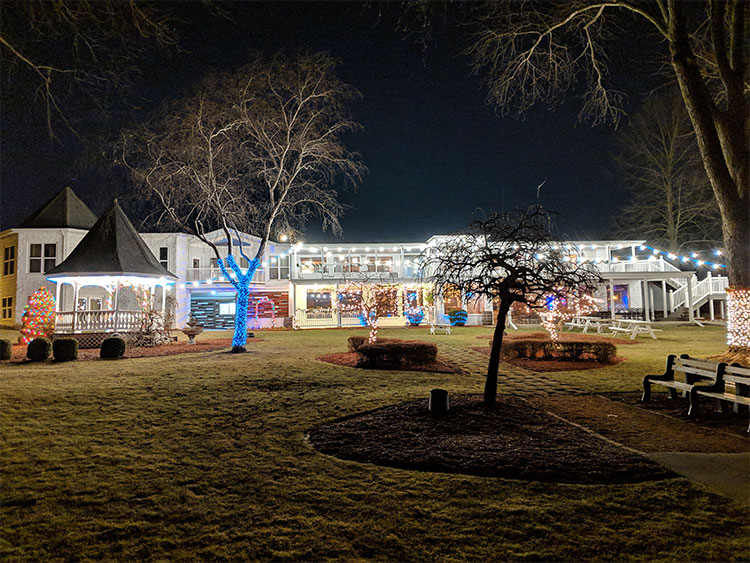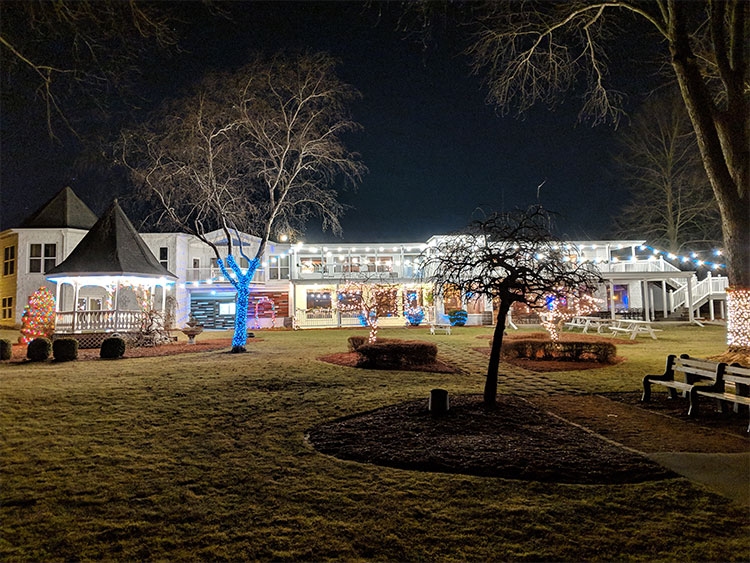 After the meal, there was one thing yet to be done. I walked out the doors and headed straight for the lake. Sure, going to a lakefront restaurant is probably best done on a bright summer day, not on a cold, dark night in January, but I was going to try to enjoy the surroundings anyway. I looked out over the frozen expanse and saw nothingness, except for the lights emanating from a few houses across the bay. But then I turned around and saw the most immaculate looking building, glowing in its full beauty, which no amount of cold or darkness could overtake. And did I mention the place serves a Friday night fish fry?
Takeaways: clam chowder is an appetizer, and no other appetizers are needed; the fish had a pretty mild flavor, but was of high quality all around; solid pancakes and rye bread, standard coleslaw; versatile ambiance; impressive building; always drive down dead end streets.