Caleb Westphal hasn't missed a Friday night fish fry since 2013. Follow along with his never-ending adventures here.
Have you ever gotten a fish fry in Brookfield? I hadn't. Hell, I've barely ever done anything in Brookfield. After recently plotting out all the places I've gone to for fish since beginning this column, in order to see which areas in and around Milwaukee I've been going to more than others, it was evident to me that I've been to a decent amount places to the south and southwest of the city, a healthy amount of places in the nearer west suburbs of Wauwatosa and West Allis, but never to anywhere in a few cities a little farther west, such as Brookfield and Waukesha. So, I decided to fill in a dot in a new area, and chose Brookfield.
Butch's Red Mill (1005 S. Elm Grove Rd., 262-787-0622) has a scant online presence, with no website and almost no information on their Facebook page. Although a few other places in Brookfield looked like they might have a good fish fry, it was ultimately a picture of Butch's that drew me there. The building looked like it had the potential to serve a good fish fry, or at least to provide an environment that wasn't stale.
The first building on the land where Butch's Red Mill now stands was put up in 1847, originally as a farmhouse. The structure has gone through many changes over the years. In 1937, the first floor was turned into a tavern, and it opened as the Garvendale Inn the following year. When some new owners took over in 1954, they added a restaurant and gave it the name The Red Mill Inn. It went through various owners over the years, until Butch Schettle opened it as Butch's Red Mill in July of 2014. Butch has been the owner of a few other Milwaukee-area restaurants, including Butch's Old Casino Steak House, which was located at the southwest corner of James Lovell and Michigan Street until closing in 2015, after more than two decades in business. Currently, he also has Butch's Pub & Eatery in West Allis, which I just realized I had a fish fry at in March of 2016.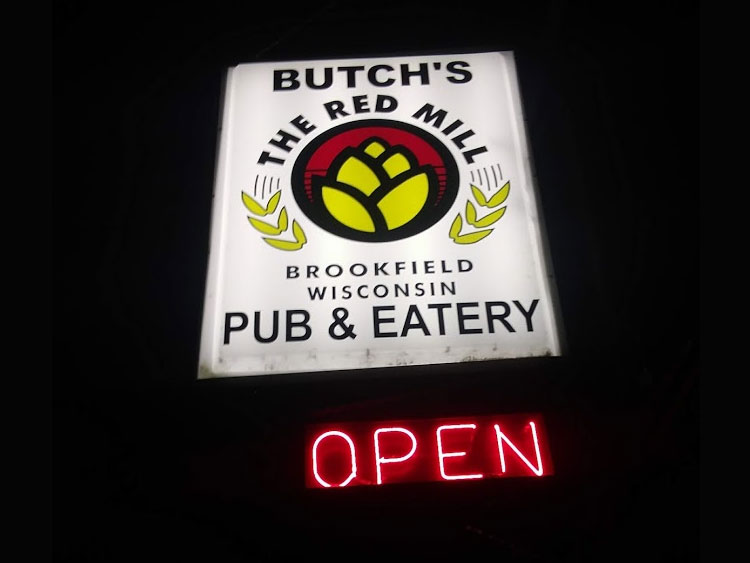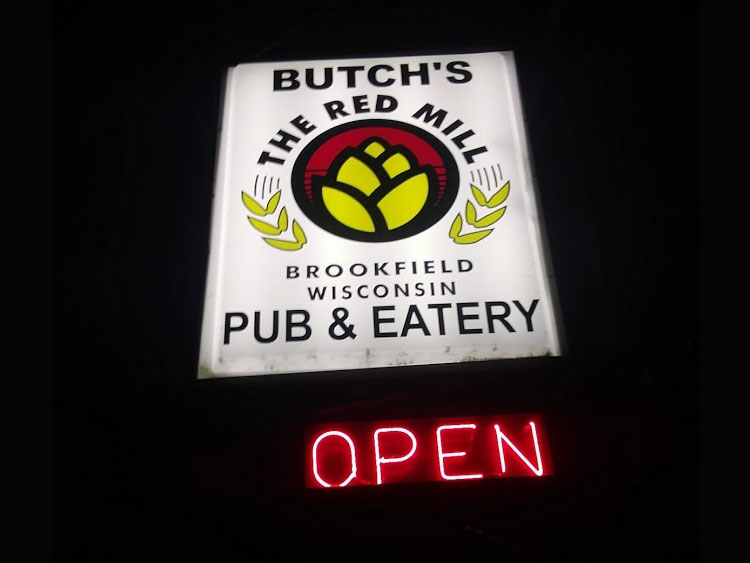 It was already dark, and a flashing neon windmill beckoned me off the road to the red building. Inside I found what felt like a casual supper club with eccentricities. A square bar was in the main room. On one side it was flanked by a dining area, and on the other side by an entryway to a dining room, which itself had another dining room connected to it. There was no central light source, and yet, light seemed to be emanating from everywhere. Various distinctive lamps were placed about, their shades giving off a cornucopia of colors to the rooms. White lights hung above the perimeter of the bar, multicolored Christmas lights hung on the front windows, and Schlitz globes and beer signs added even more glow.
Booths and high and low top tables were interspersed with no apparent uniformity. Pictures of movie stars such as Clark Gable, John Wayne, and Marilyn Monroe hung on the walls, as did a large, old painting of a scantily clad woman. A life-size statue of a Native American man in traditional clothing stood along a wall, and so did a Rowe AMI Laserstar jukebox from the 1990s. A statue of an eagle was perched on an unused bar in the second dining area, and a model of a boat sat next to it. It seemed that every ledge held knick-knacks, trinkets, and antiques. Many things seemed to contradict each other, but somehow they fit perfectly at the same time.
I soaked this all in while slowly sipping a Brandy Old Fashioned Sweet, first while sitting at a stool at the bar, and then while meandering around. The Old Fashioned was made with a few cherries and orange slices at its bottom, but was not muddled. I had at first considered eating at the bar, but decided it was worth the wait for a table, in order to get the whole experience.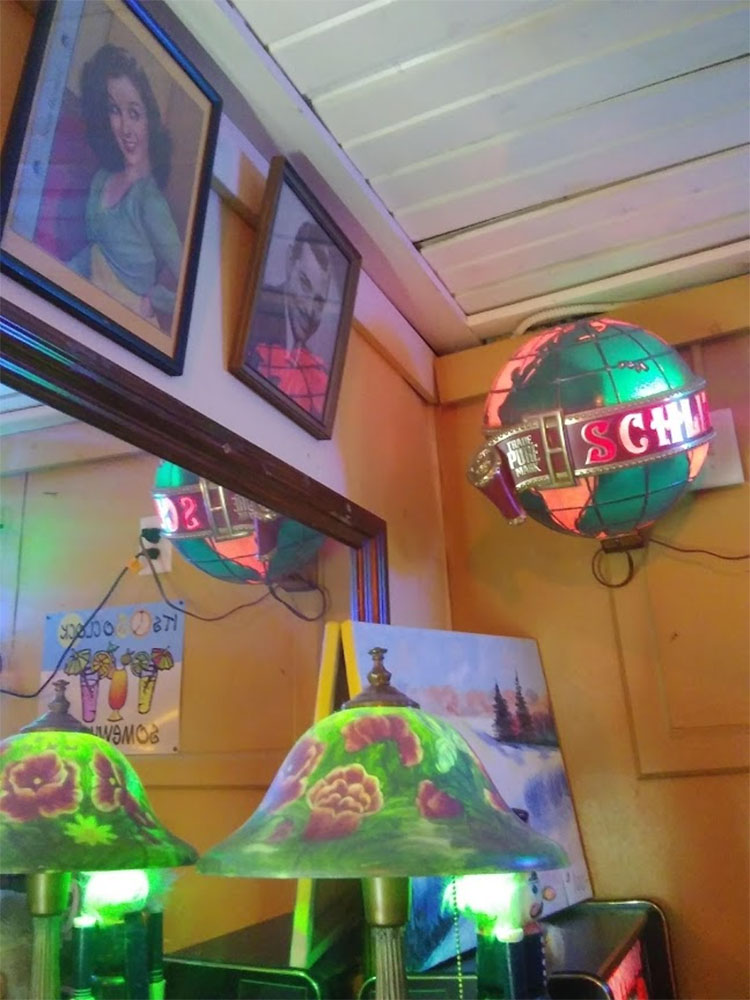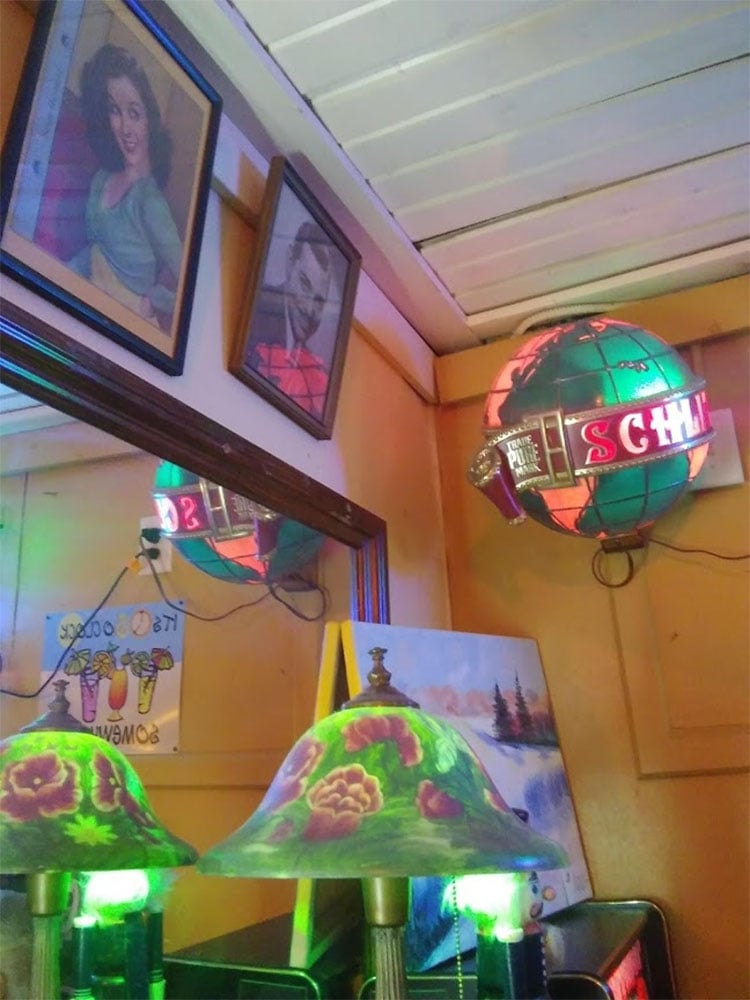 I was eventually seated in the second dining area. The fish specials were beer battered cod ($11.95), baked cod ($13.95), and lake perch ($13.95). Potato pancakes were an option for a dollar more, but as they weren't homemade, I decided against them. I ended up ordering the beer battered cod with fries, and a cup of clam chowder.
The chowder was served in a vintage cup and saucer set. It had healthy portions of fresh celery and potatoes, and a respectable taste. The fish fry, on the other hand, was served in one of those baskets you sometimes accidentally throw away at fast food restaurants. When it came to the fish, the gold tinted batter was a little on the greasy side, while the meat was a little too moist and a bit rubbery. The taste was fine, but nothing too exciting. There also was nothing particularly exciting about the tartar sauce. The fries had a satisfying texture, but I was not impressed with their flavor. The rye bread was soft, well buttered, and tasty.
Now, I probably haven't had a Big Mac in a decade (my apologies to fellow Fond du Lac native Don Gorske), but as soon as I took a bite of the coleslaw, it tasted like I was eating one. I put it down and came back to it. Yep, it tasted like a mix of special sauce and lettuce. I'm not saying this was a bad thing, but it was a thing.
Butch's Red Mill has an ambiance that will put you in a dreamlike state before you imbibe or ingest anything. It was this atmosphere, along with a solid cup of chowder, that had my hopes high before my fish fry arrived. While the fry wasn't bad, it did not quite reach the standard of these other elements of the evening, and was a bit of a letdown. Still, I had an all-around enjoyable time. How can you not enjoy yourself on a Friday night in Wisconsin?
Takeaways: There were random antiques and lamps everywhere; my server was really nice; the chowder was of high quality; the fish and french fries could have been better; the coleslaw tasted like a Big Mac; do people even give a shit what I write about rye bread?; hey Don Gorske, I'll eat a Big Mac if you eat a fish fry.