If you're reading this, there's a good chance you know and love The Goonies. The 1985 film was, is, and will always be an all-time classic that's beloved by generations of children and adults alike. Even if you count yourself among the millions upon millions who enjoy The Goonies, there's a chance you weren't aware of a strong local connection the movie has with southeast Wisconsin.
The role of Sloth Fratelli was played by none other than John Matuszak, a Milwaukee native who grew up in Oak Creek, Wisconsin. For those unfamiliar, Matuszak was the first overall pick in the 1973 NFL Draft. He played until 1982, winning two Super Bowl titles as a member of the Raiders before finally calling it a career. Along the way, he dabbled in acting. Between the late 1970s and throughout the '80s, the defensive end-turned-thespian amassed an impressive list of television and film credits that included parts on M*A*S*H, The Dukes Of Hazard, Silver Spoons, Miami Vice, The A-Team, Perfect Strangers, and One Crazy Summer. However, he's best remembered as Sloth, a role that put him on the map just four years before his untimely death in 1989.
For more than 10 years, a group of nostalgic Milwaukee bicyclists have been honoring an important movie from their youth and, in the process, acknowledging Matuszak's significance to the film with an annual "Goonies Night" bike ride. Milwaukee bartender Matthew Roy co-founded the now-well-established ride with a couple of his friends back in 2012. Sadly, following over a decade of grassroots rides in Sloth's honor, the informal group outing will be coming to an end in 2023. "The Last Goonies Night Ride Ever!" will take place on Saturday, September 2.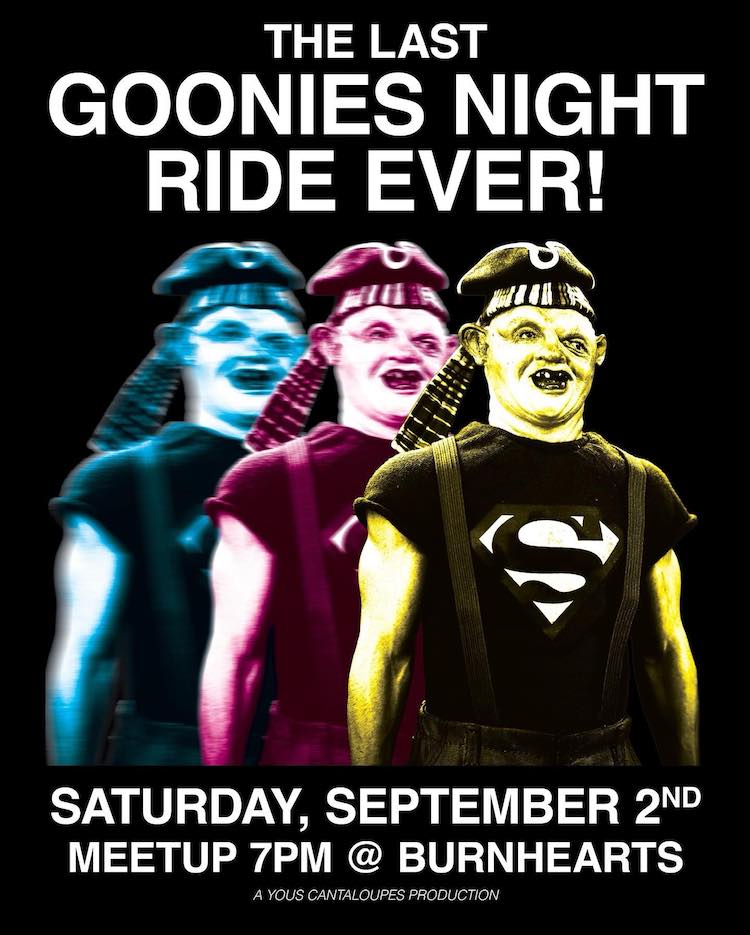 Some more background on what to expect: Basically, people meet up at a designated time and location to get their route/itinerary—this year's meeting point is Burnhearts at 7 p.m. sharp—and embark on a group bike ride that begins in Milwaukee and includes a few stops at bars before it ultimately culminates with the group paying their respects by eating Baby Ruth candy bars (a favorite of Sloth) at Matuszak's grave site in Cudahy.
When we spoke with Roy about the ride in 2019, he told us all (ages 21 or older, since there will be bar stops along the way) are welcome to take part in the Goonies Night ride, but he emphasized that it is not a race and that safety and respect are paramount. Since starting with three friends in 2012, the Goonies Night ride has grown immensely and has taken on a life of its own. Whether you've taken part regularly or you want to experience it once before it goes away, you should probably tune up your bike and stock up on Baby Ruth bars before Milwaukee takes one last ride in Matuszak/Sloth's honor.