Perhaps you've heard that a certain professional football team in Washington D.C. is finally going to change its outdated and racist name. Perhaps the news has you wracking your brain for Milwaukee (and Milwaukee-area) examples of controversial name changes. Well, here are six of them, followed by two that may or may not happen soon.
1. Marquette Warriors becomes…Marquette Golden Eagles…then Marquette Gold…then Marquette Golden Eagles (again)
The decades-spanning drama surrounding the mascot and nickname of Marquette University's athletic teams is so convoluted that only Charlie from It's Always Sunny In Philadelphia could possibly untangle it. But we'll try: In 1954, citing the relationship between Native Americans and Father Jacques Marquette, MU chose "The Warriors" as its nickname. A cartoonish and wildly racist "Willie Wampum" mascot was added in 1961, only to be dropped 10 years later. Then, in 1981, a new mascot appeared in the form of the "First Warrior." That mascot was portrayed by a real person: Marquette student and Oneida tribe member Mark Denning. "But the racial stereotypes followed him, onto the basketball court and into the classroom," explains a recent Milwaukee Journal Sentinel article. "Worn down, he eventually stopped going to classes as a senior at the school in 1983 and then left entirely, even though he was so close to graduation."
Fast forward to 1994, when the university changed its nickname to the oft-used Golden Eagles—much to the anger of some students and alumni. ("If the Indians don't like ['The Warriors'], tell them to open another casino," said former coach Al McGuire.) In 2005, amidst rumblings of another name change, MU's Board of Trustees just went ahead and decided that the Marquette Golden Eagles would be known as the Marquette Gold. Everyone flipped out (again). A university-wide vote soon followed, and MU's nickname was quickly changed back to the Golden Eagles. "Pepe Silvia" may or may not be next.
2. Gypsy Taco becomes…Taco Moto
Back in 2018, Gypsy Taco owner Mitch Ciohon announced he was changing the name of his two-year-old food truck, which was located behind Boone & Crocket in Bay View. "It has come to my attention that the name around which I have created a brand is offensive to the people from which it stems," Ciohon explained. "While not my intent, the name I chose to represent me as a chef was founded upon an inaccurate definition that disregarded the long history and plight of the Romani people. The local community has spoken and I have made it my mission to listen." Less than a month later, Ciohon unveiled a new name: Taco Moto. The business made the move to 818 S. Water St. with Boone & Crockett that same year.
3. Columbus Park becomes…Indigenous People's Park
Way back in 1956, a small county park located at 7301 W. Courtland Ave. was named after explorer Christopher Columbus. In 2019, however, with Columbus' name and reputation in (deserved) tatters, the Milwaukee County Board of Supervisors voted 13-3 to change the name of the park to Indigenous People's Park. "Renaming this park is one small thing we can do to acknowledge and show respect to the indigenous people," said Supervisor Martin, who led the effort. "Several indigenous groups called Milwaukee County home long before Europeans colonized this area, including the Menominee, Fox, Mascouten, Sauk, Potawatomi, Ojibwe, and Ho-Chunk tribes. By naming this public park 'Indigenous Peoples' Park,' we are honoring all Native American People, because we want to uphold our community value that all people should be equally respected."
4. Menomonee Falls High School Indians becomes…Menomonee Falls High School Phoenix
Beginning with its establishment in 1892, Menomonee Falls High School came complete with an "Indians" mascot. That changed in late 2019 when the Menomonee Falls School Board voted 5-2 to retire the name and come up with something else. The decision followed the usual controversy of some folks decrying the outdated and racist nickname, and others lamenting the nickname's "proud history" and simultaneously revealing that they had peaked in high school. In 2020, students in grades 6 through 11 voted to adopt a new name: the Phoenix. (Other candidates were Titans, Falcons, and Ravens.)
5. Kickapoo Coffee becomes…Wonderstate Coffee
The organic coffee roaster formerly known as Kickapoo Coffee isn't really a Milwaukee company (it's based in Viroqua), but it does have a location in Milwaukee's Third Ward, so close enough. Anyway, in 2019, the company made an announcement:
When we founded Kickapoo Coffee in 2005, we chose our name with the intention of honoring the place where our business has its roots: the Kickapoo River Valley. But Kickapoo is not simply the name given to a river. The Kickapoo are a People.

The Kickapoo Nation is composed of the Kickapoo Traditional Tribe of Texas, the Kickapoo Tribe of Oklahoma, the Kickapoo Tribe in Kansas, and the Mexican-Kickapoos. By using "Kickapoo," we claimed a name that was never ours to take. The decision to use their name, and to continue to roast under it, was an act of appropriation. In an effort to right that wrong, we have decided to change our name.

We have apologized directly to the Kickapoo Nation and have shared our decision to change our name with their leadership.
The change didn't happen overnight. Following criticism and pressure from the growing Black Lives Matter movement, the new Wonderstate name was finally announced in June 2020. (Owners cited the COVID-19 crisis as one of the reasons for the delay.) "As soon as we recognized the stagnation of our process, we should have fully decoupled our name change from our larger rebrand. But we didn't," the owners explained. "We made a professional choice, instead of a human decision in line with our values. Once again we would like to commit to righting this wrong, starting with taking action tomorrow to do everything we can to stop perpetuating our use of the Kickapoo name."
6. Phở King becomes…Phở Cali
When pronounced correctly, the name of Milwaukee- and West Allis-based Vietnamese restaurant Phở King used to sound like, well, "fucking." Sadly, in 2016, an ownership change resulted in a new name for the restaurant's two locations: Phở Cali. "Even if the Phở Kingdom has crumbled, some things haven't changed," we wrote that year. "We're proud to report the Bánh Mì Gà Nướng ($4.95) at Phở King—sorry, Phở Cali—remains outstanding."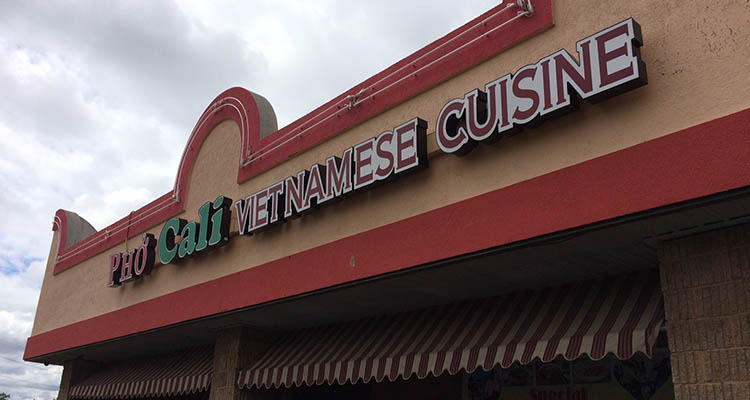 TWO THAT MAY CHANGE SOON
1. Wahl Park to become…Harriet Tubman Park?
On July 2, Milwaukee County Supervisor Sequanna Taylor made an announcement on Facebook:
Attention Wahl Park Neighborhood residents. I am introducing a resolution to rename Wahl Park to Harriet Tubman Park. Harriet Tubman was an abolitionist and was instrumental in the Underground Railroad. Postcards were mailed out to Residents around Wahl Park. Please let me know your thoughts via email or phone.
Wahl Park, located at 4750 N. 48 St., is named for Christian Wahl. The German immigrant was an early supporter of Milwaukee's parks system, and was a key figure in hiring Frederick Law Olmsted to design Lake Park. As of this writing, no update has been given on Taylor's renaming effort.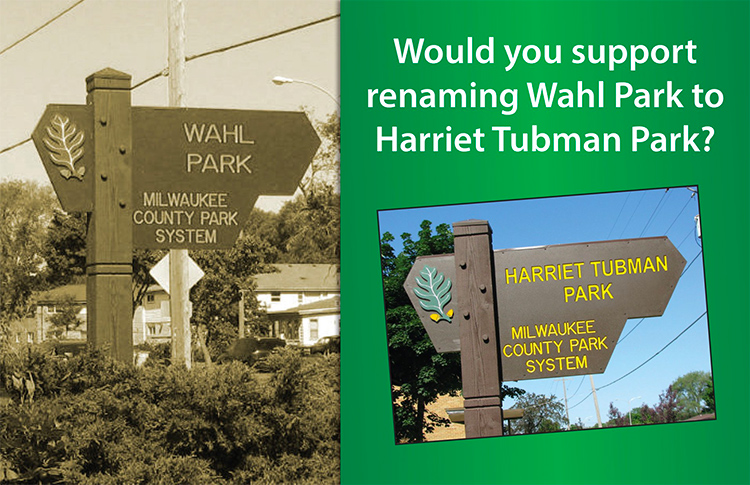 2. Ronald Reagan High School to become…something else?
Just last week, Milwaukee teacher and writer (and Milwaukee Record contributor) Joey Grihalva called for the renaming of Ronald Wilson Reagan College Preparatory High School. Here's a short excerpt from his terrific op-ed, published by the Milwaukee Neighborhood News Service:
The time is ripe to be on the right side of history. Symbols of oppression are falling all around us. Statues of slaveholders, segregationists and Confederate soldiers are being torn down. Princeton is renaming the Woodrow Wilson School of Public and International Affairs. Mississippi is changing its flag. The Washington D.C. NFL franchise is getting rid of its name and logo. Congressional bills are calling for the renaming of federal facilities. There is real momentum for change.

By no means am I asserting that simply changing a school's name will ensure equity and an educational experience free of oppression. Nor am I claiming that Reagan is the only MPS school that should be renamed. However, there are specific, instructive reasons why I believe the district should rename Reagan High School in this post-George Floyd era of American history.