Ahh, late June in Milwaukee, where we see the return of sunny days, lakefront festivals, the Summer Soulstice, and summer solstice. Oh, and of course, the NBA Finals. I almost forgot that last one, since the Bucks bowed out two rounds ago. What I miss most about the Bucks' absence this year (other than the opportunity for unlikely back-to-back championship titles) is our city getting some amazing footage from a perspective we rarely get to see on national television: from a telephoto lens 8,000 feet in the air. While the Bucks were bringing it on the court in 2021, our city was bringing it on mid-game bumpers. Rarely had our city looked so good for so large an audience.
The national coverage reminded me of two things:
1.) It had been so long since a Milwaukee team had been in a national championship that I didn't realize that broadcasts use planes instead of blimps now.
and
2.) For the price of a Southwest Wanna Get Away fare, we all have the opportunity to see the same sights (well, virtually anyway) through the aptly named Microsoft Flight Simulator.
Twenty-twenty's Game of the Year came at the best possible time in the worst year. After months of quarantining, this game allowed me to travel anywhere in the world at any time. Like many others, I flew over my house, under the Golden Gate Bridge, and through a hurricane.
When last I took to the skies, the illusion was a little, shall we say, uneven. While flying 30,000 feet over foreign cities felt like actually being there, when I flew over Milwaukee I could see where some shortcuts had been taken. Looking closely, many buildings in the city center were anonymous blocks, placeholders for what Microsoft didn't have ready-made models for. And a lot of the new shit new and wonderful things that had been built recently were missing completely.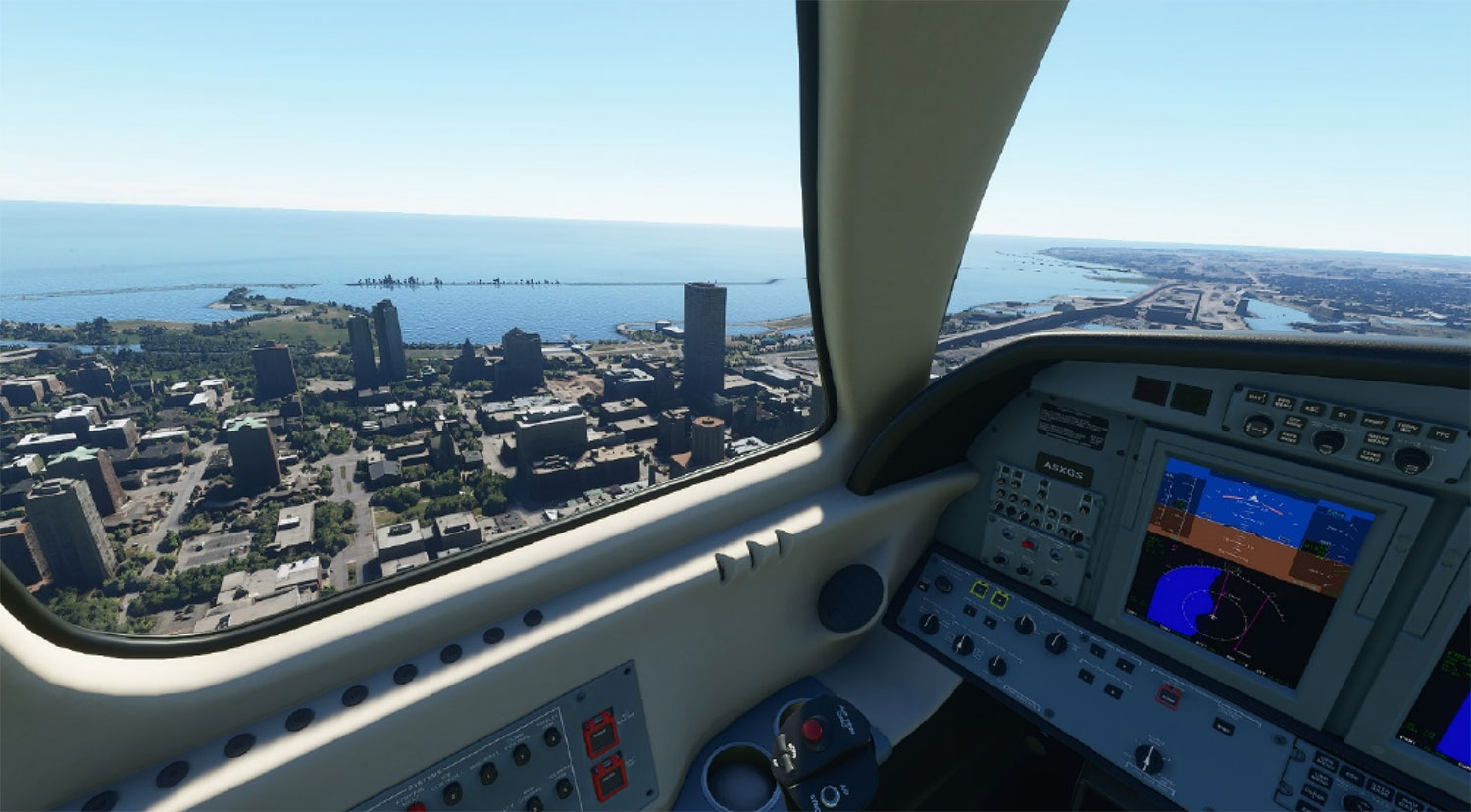 Don't get me wrong, the tech behind Flight Simulator is amazing, and I suppose one can't expect a team based in Paris to prioritize the modeling of the 15th-tallest building in the 31st-largest city in the U.S. (let alone other, newer buildings). The genius part about the game's engine is that the simulation is pegged to Bing Maps (yeah, I know, stay with me), so any updates to its database will eventually be represented in the game. This means that the game features a completely accurate (if a little lagging-behind) 1:1 scale model of the entire planet. So even if Bing Maps isn't your main navigation tool (and your friends might judge you harshly if it were), it certainly makes for a compelling virtual twin.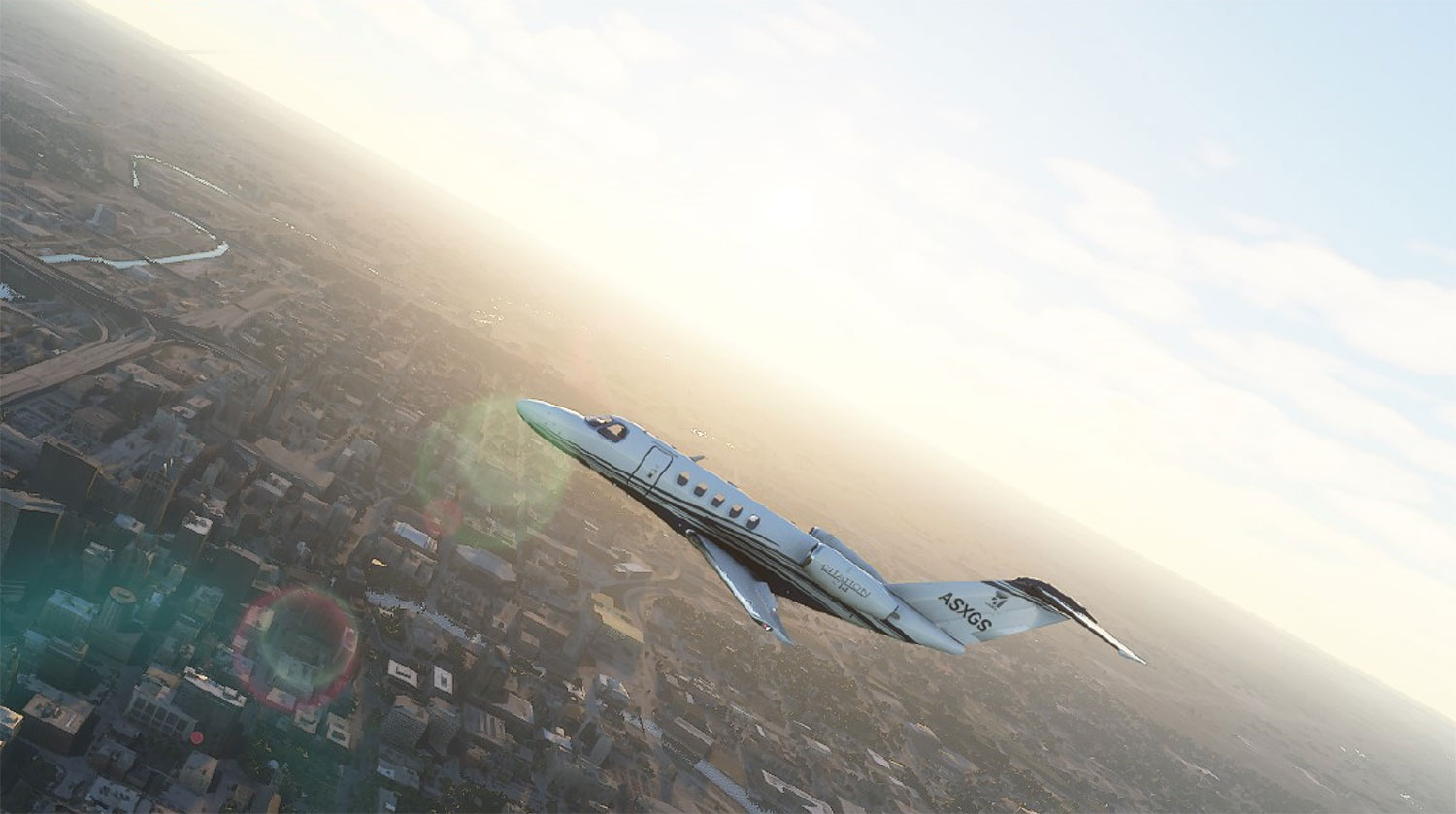 In addition to the general photogrammetry updates that occur fairly regularly, the most recent content update includes a wide array of "hand-crafted points of interest," a.k.a. several Midwest landmarks such as the St. Louis Arch, Cahokia Mounds Historic Site in Illinois, the Longaberger Company Headquarters (also known as the Big Basket), and more.
Are there any Milwaukee-based updates included in that postscript? Thanks to the recent heatwave and the long-awaited end of the Graphics Card Apocalypse, I decided to hop into the cockpit of my trusty Cessna to find out.
Then, 50 gigabytes worth of content updates later, I got my chance.
Taking off to the west and turning towards the east, I fly over Oak Creek, Franklin, and of course, West Allis. State Fair Park and the Milwaukee Mile look great from 5,000 feet up, but it doesn't appear to be either a race day or the State Fair. Still, it's easy to identify the grounds.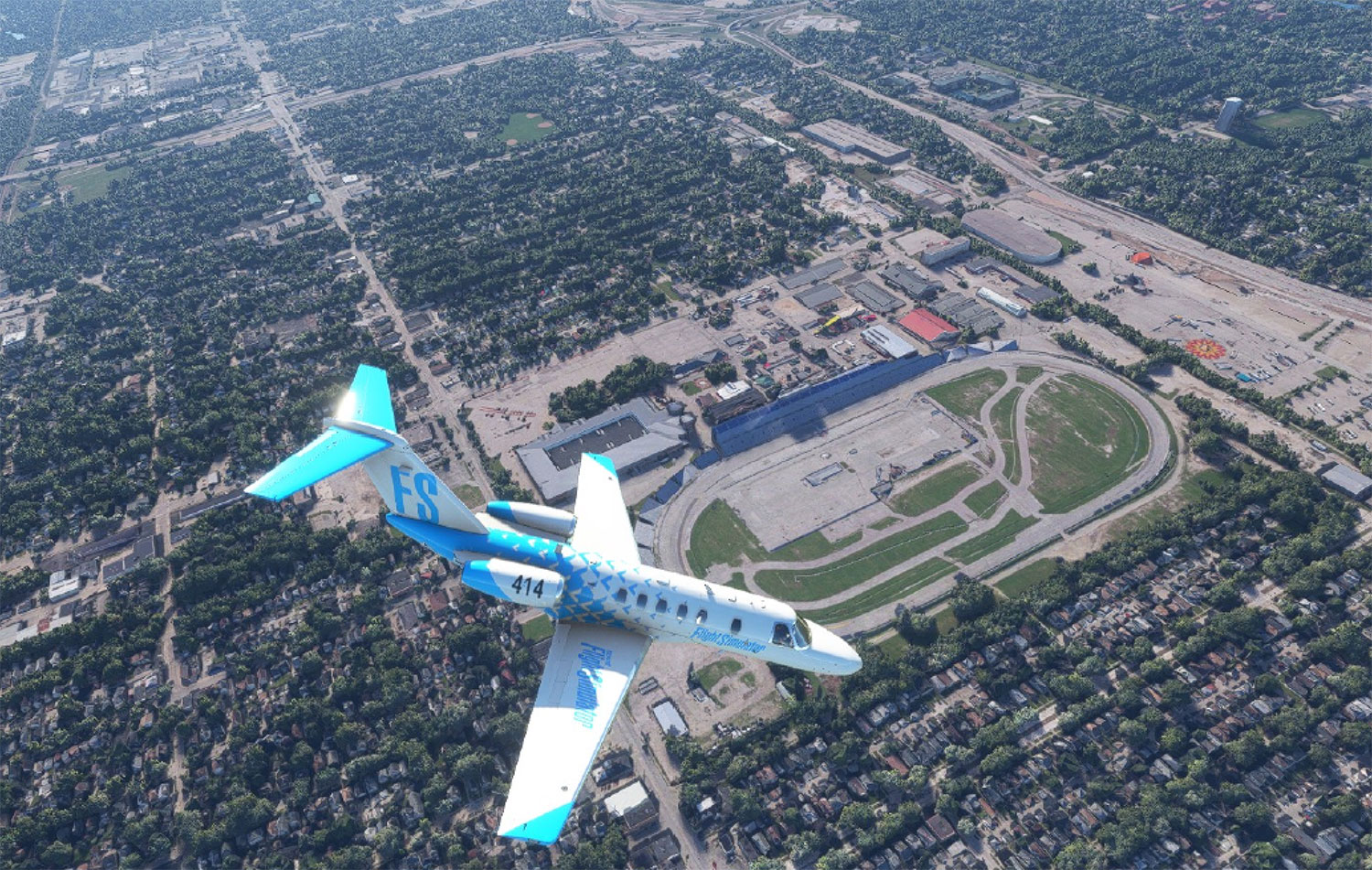 Just a mile to the east, there appears to be a small gathering at Miller Park; it's a nice enough day that the roof is open, but it's definitely not a game day. Yes, I said Miller Park. The latest update has not, apparently, prioritized updating the branding on the building. As far as I'm concerned, they can take their time with it. Nothing against AmFam Field, but after 20 years, it's harder to make the change in our minds (and games, apparently) than it is in reality.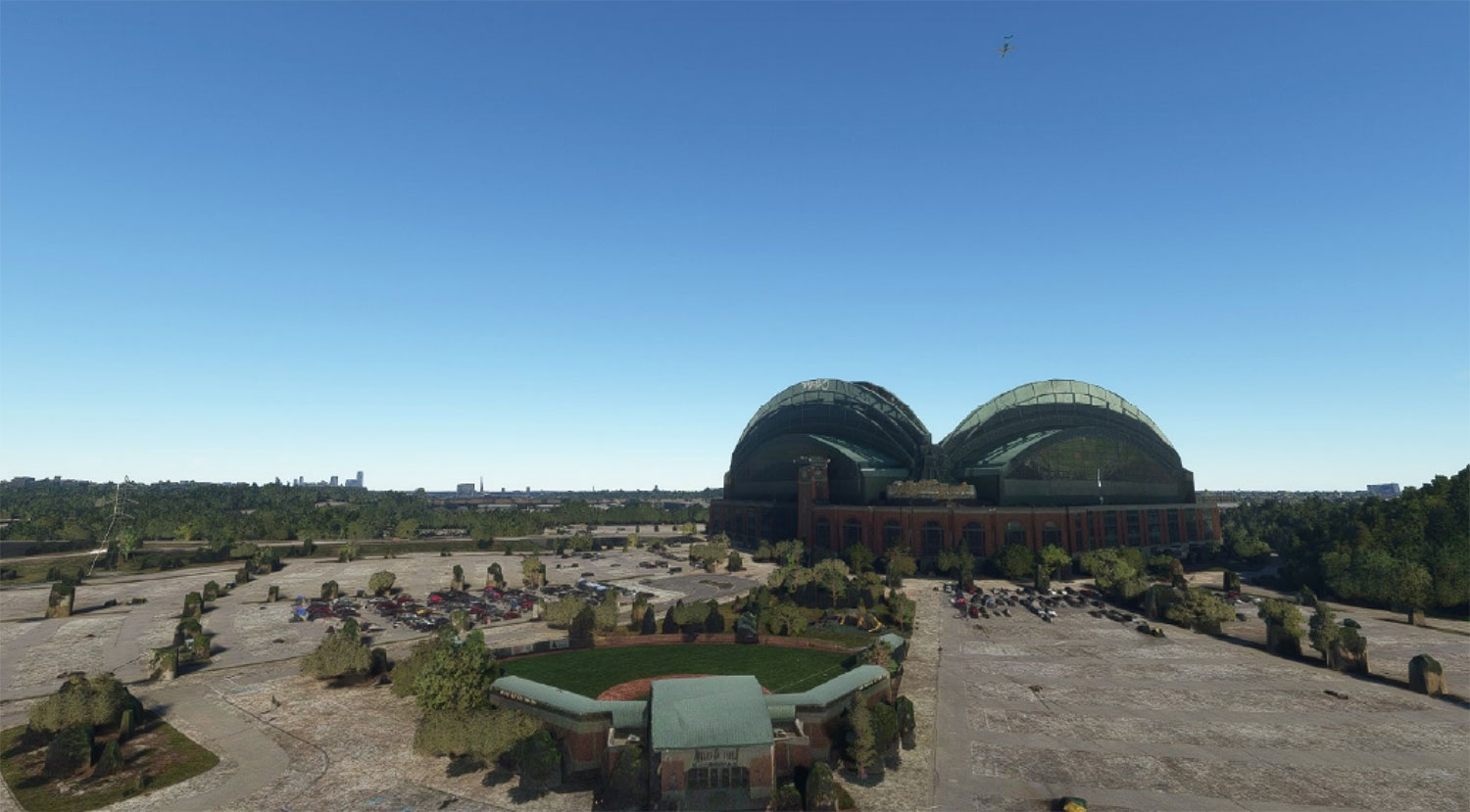 The Mitchell Park Domes look nearly as good virtually as they do in real life. As do the rest of the Milwaukee County Parks. By the way, if the parks gave you a small escape from the pandemic, if only for the afternoon, please consider making a plan to give of your gifts to support the parks in the future. They could use your help.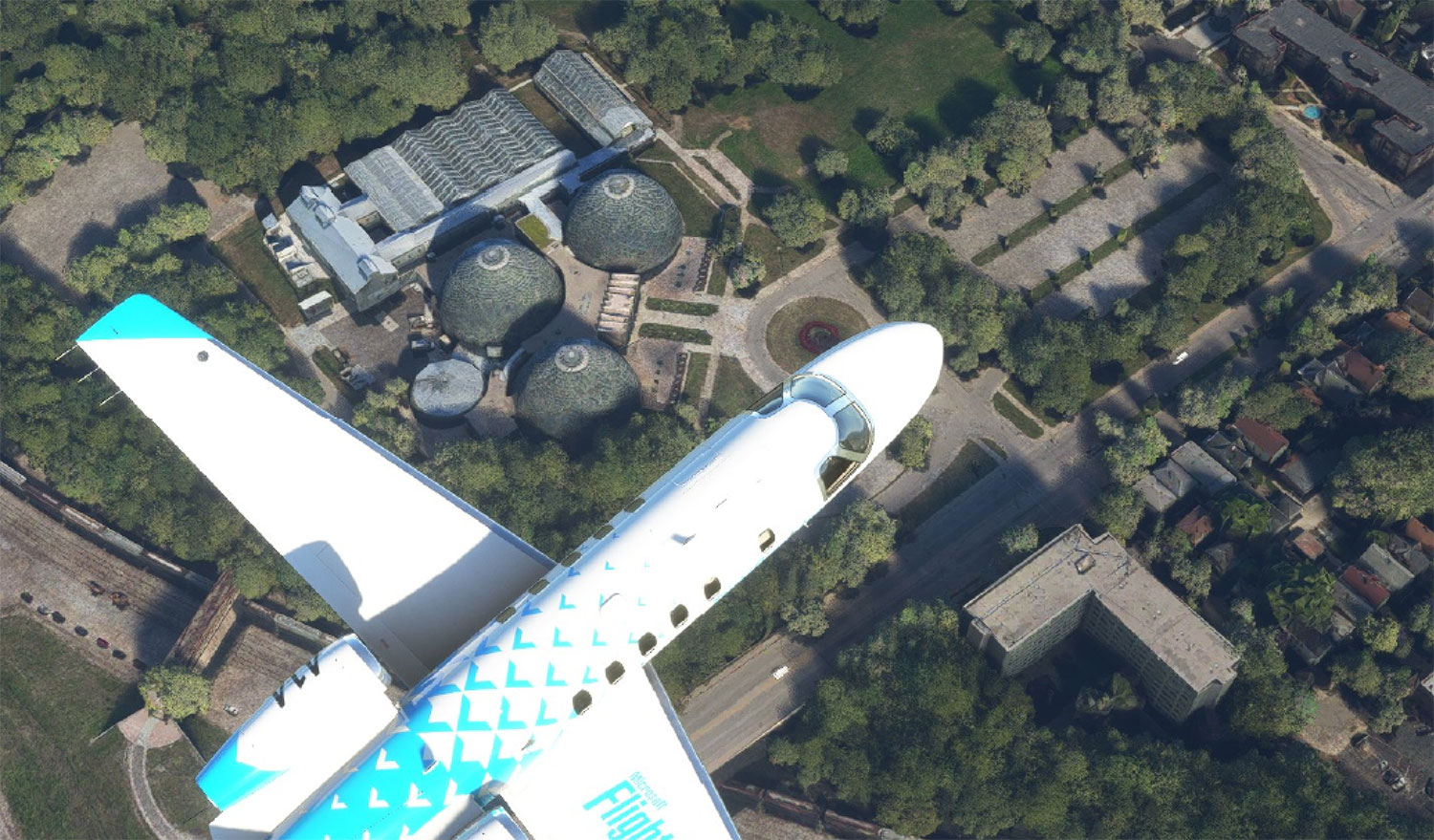 Remember when the Packers lent their graphics to the Journey House, becoming the only NFL team to provide their professional branding to a field in the community outside of their home stadium? Flight Simulator sure does. The proof is readily found just north of The Domes. (My plane is just above that lens flare; J.J. Abrams, eat your heart out.)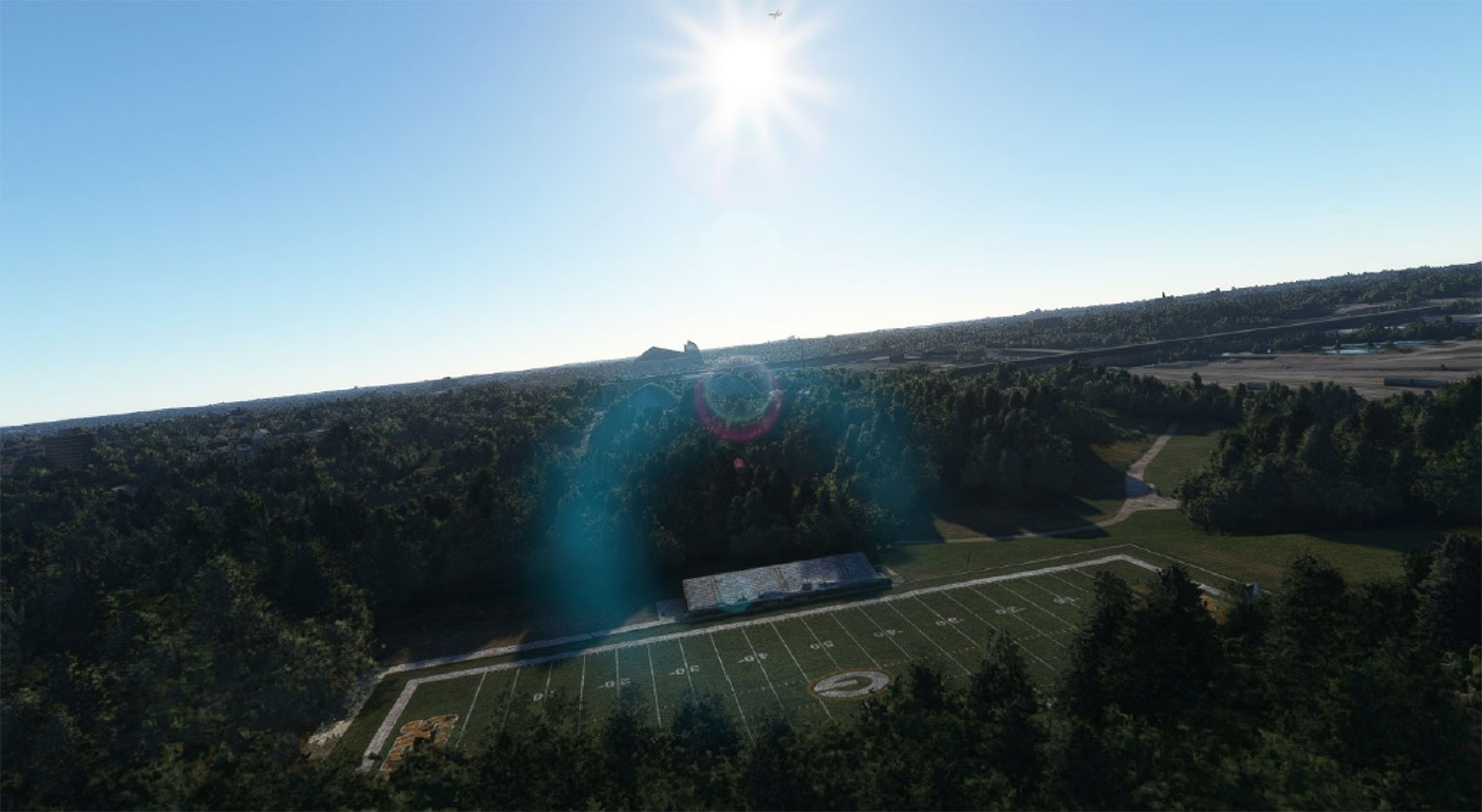 As I make my way east, I fly over the Menomonee Valley, with its virtual representation of Potawatomi Hotel & Casino and Marquette's Valley Fields. There is now an indoor practice field between the eastern soccer field and the western field, which is not represented here. The train yards very much are.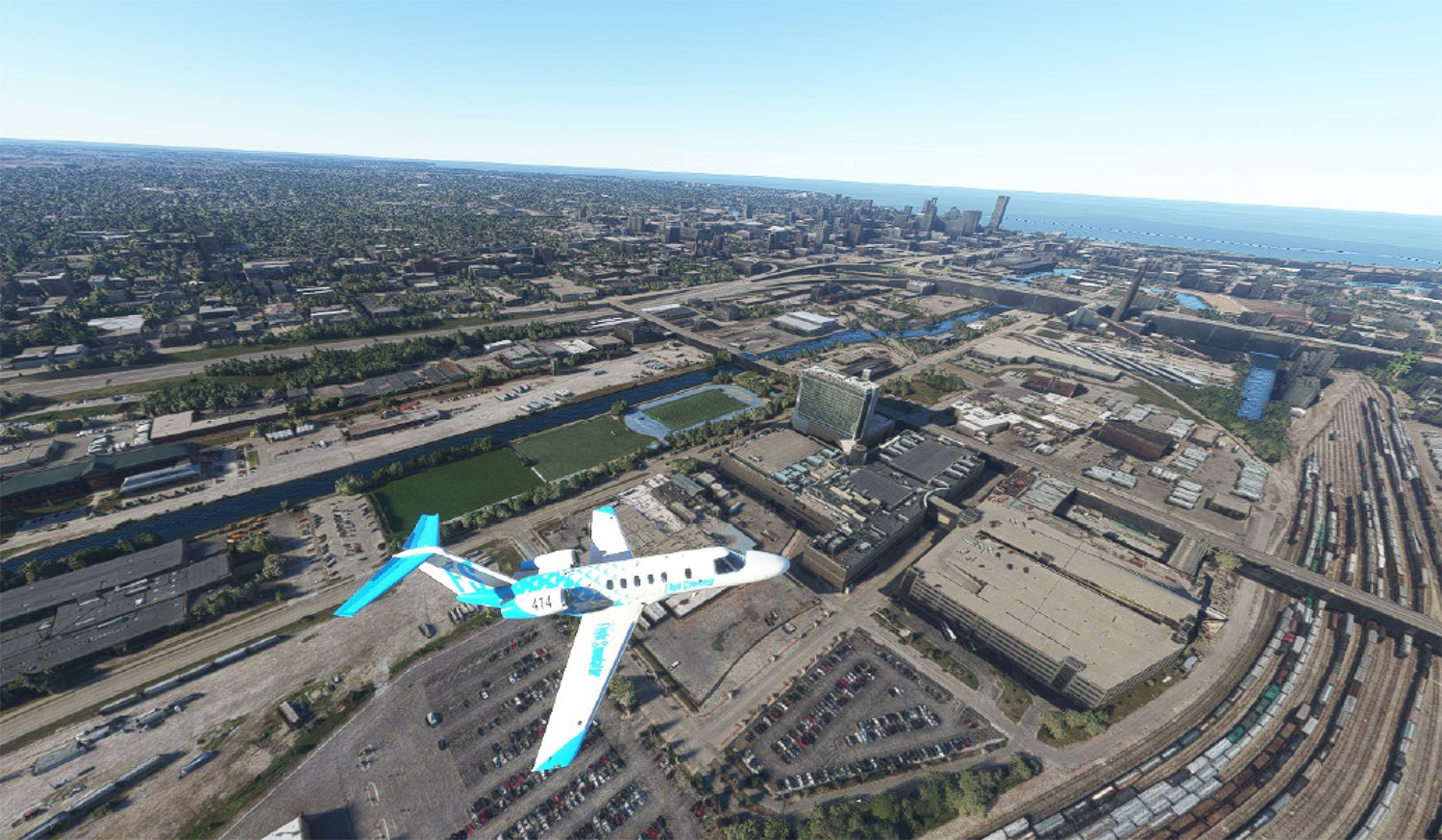 After a very steep bank to the north, I check to see if the game developers have included the current home of the (World Champion, don't forget it) Milwaukee Bucks. Nope. In fact, the Bradley Center is still standing here, which means this part of the map is firmly stuck in 2018. Hold on, the Deer District is only four years old? All of the development in those six blocks that made up the remainder of the Park East corridor, which now hosts some of the greatest fan experiences in Wisconsin, has occurred after 2018? It's still that new?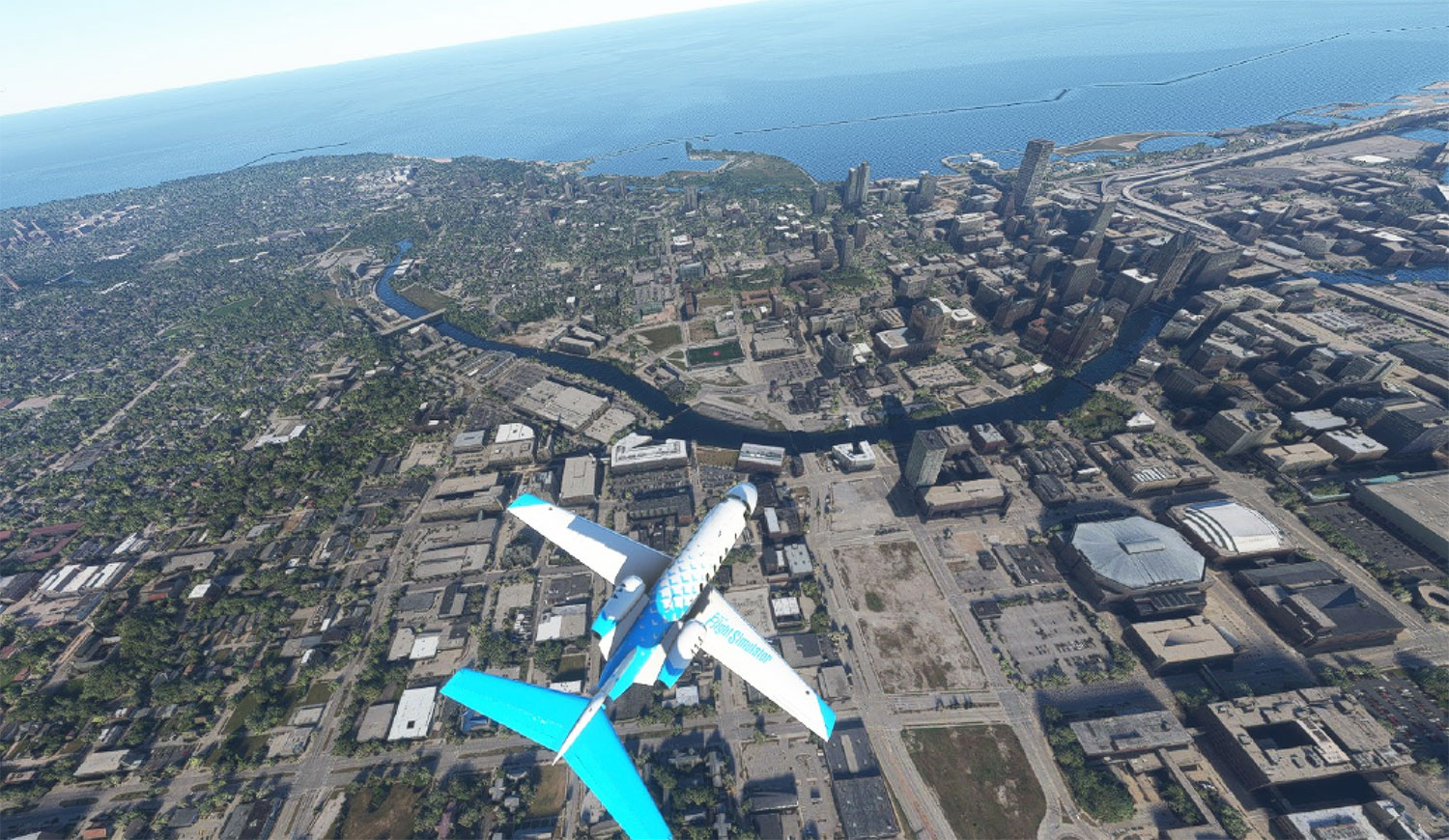 I should really focus on my piloting. Continuing on to Juneautown, I can confirm that Milwaukee's virtual downtown is not just stuck in 2018, it's back in 2016. Northwestern Mutual's tower hasn't broken ground yet, and I-794 East is undergoing that resurfacing that caused so much traffic to move through First Street in Walker's Point. I completely forgot about that summer.
Holy shit, there have been a lot of change in the last six years.
Lake Michigan is timeless, though. So is the Milwaukee Art Museum. The wings are, very appropriately, raised skyward.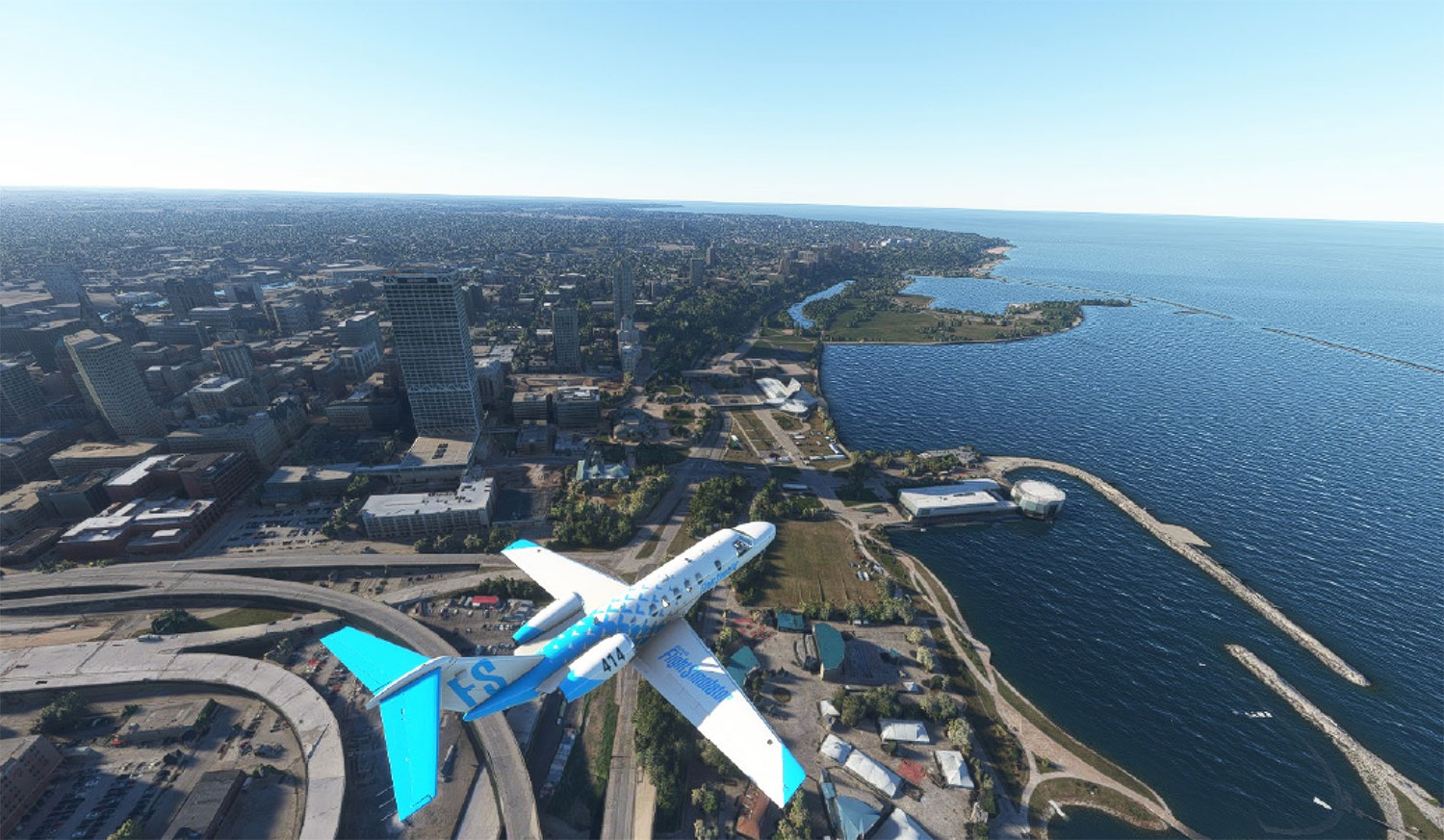 As I start to make my way back to the airport, I decide to be the best Maverick I can be and buzz the tower. Johnson Controls' tower, that is. I fly so close that I can tell it was 12:16 p.m. when Microsoft took its high-resolution photo that its AI turned into a full 3-D representation of the world's second-largest clock face.
Freshwater Plaza is still missing, however.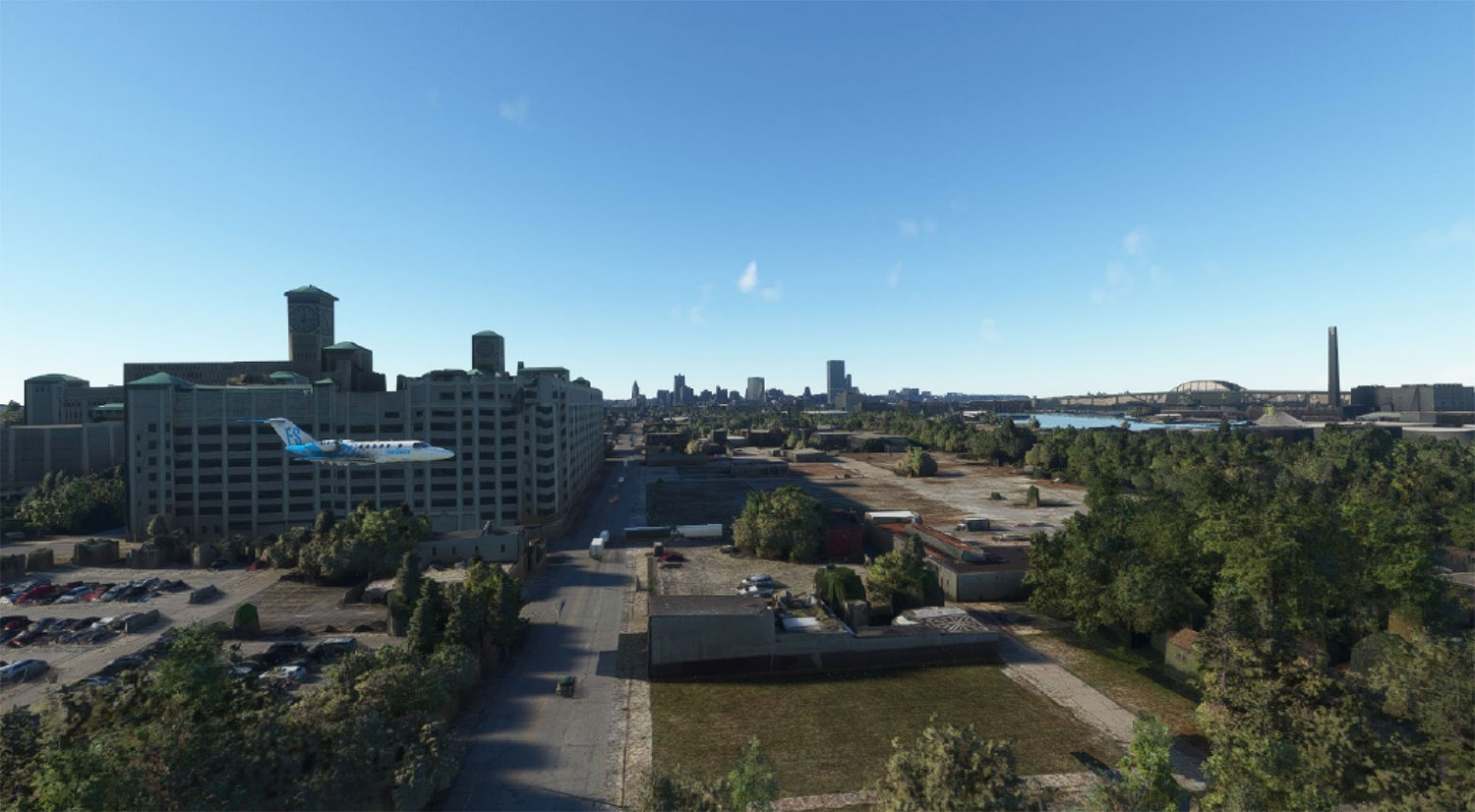 Before I attempt my (completely unassisted) landing back at KMKE, I want to see if the "Welcome to Cleveland" house in Bay View is represented in the game. After a pass that the FFA would cite me for, the answer is "Oh, you betcha."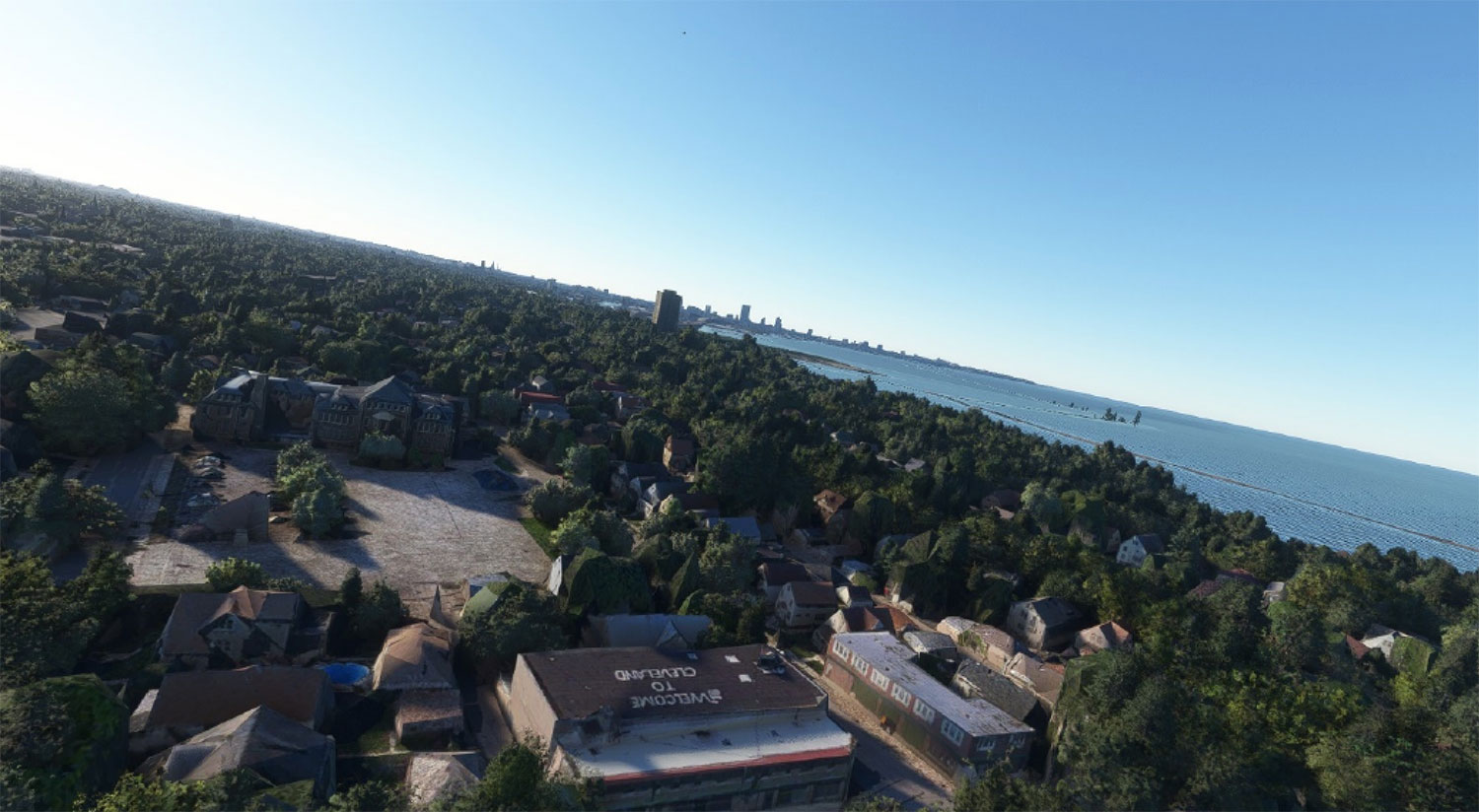 And if you wanted to know if you could make an emergency water landing in the Kinnickinnic River just off Jones Island because you spent too much time sightseeing and not enough time on your altimeter? Yes, yes you can. Floatation devices may be found under your seats.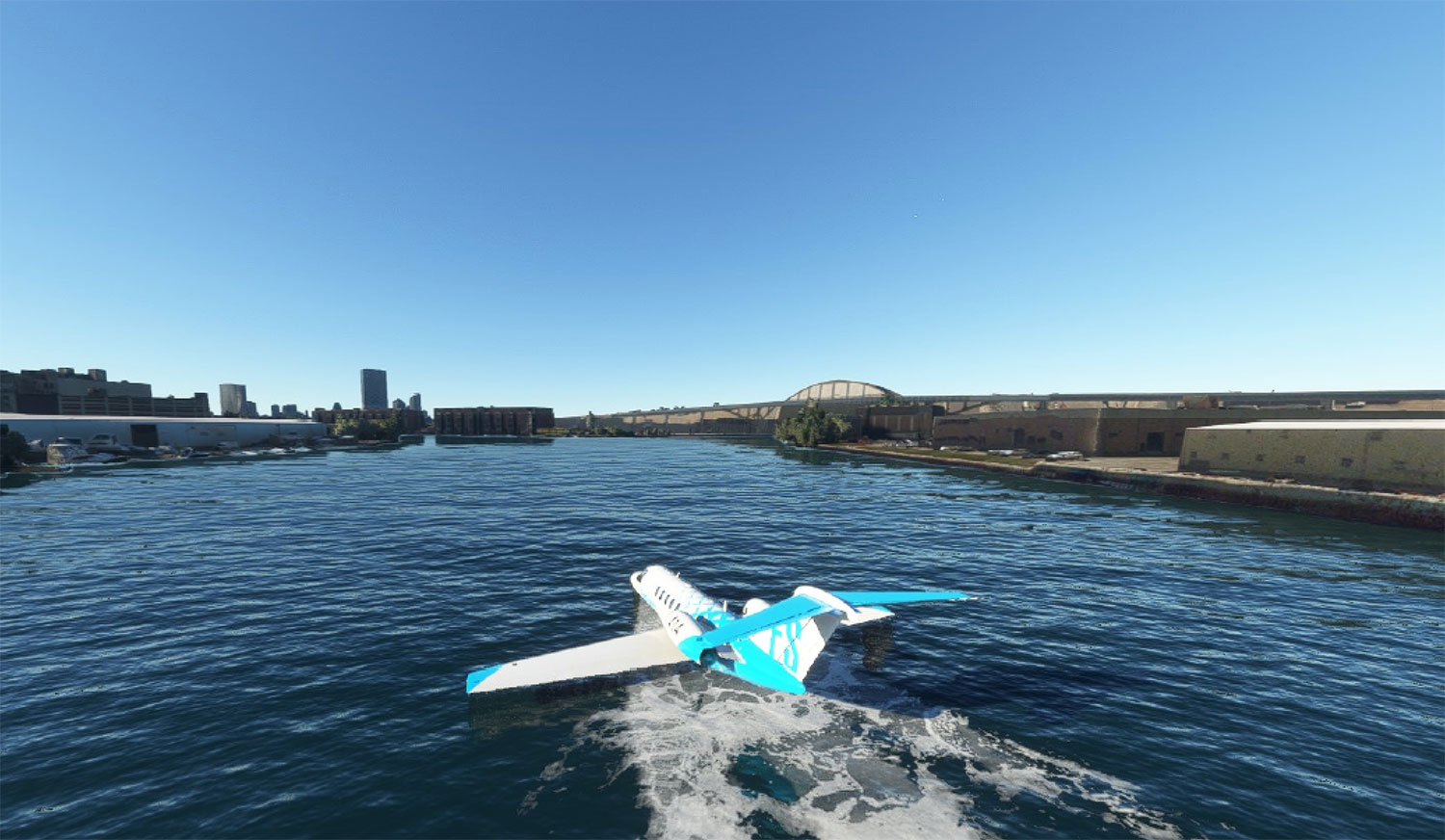 Ultimately, yes, Milwaukee's representation in Microsoft Flight Simulator is a little behind the times, but I think that's more a factor of the city's major changes in the last several years than Microsoft's ignorance of those changes. When seen in motion at 10,000 feet and 350 knots, the simulation is fantastic, and worth circling around for an hour. Or eight.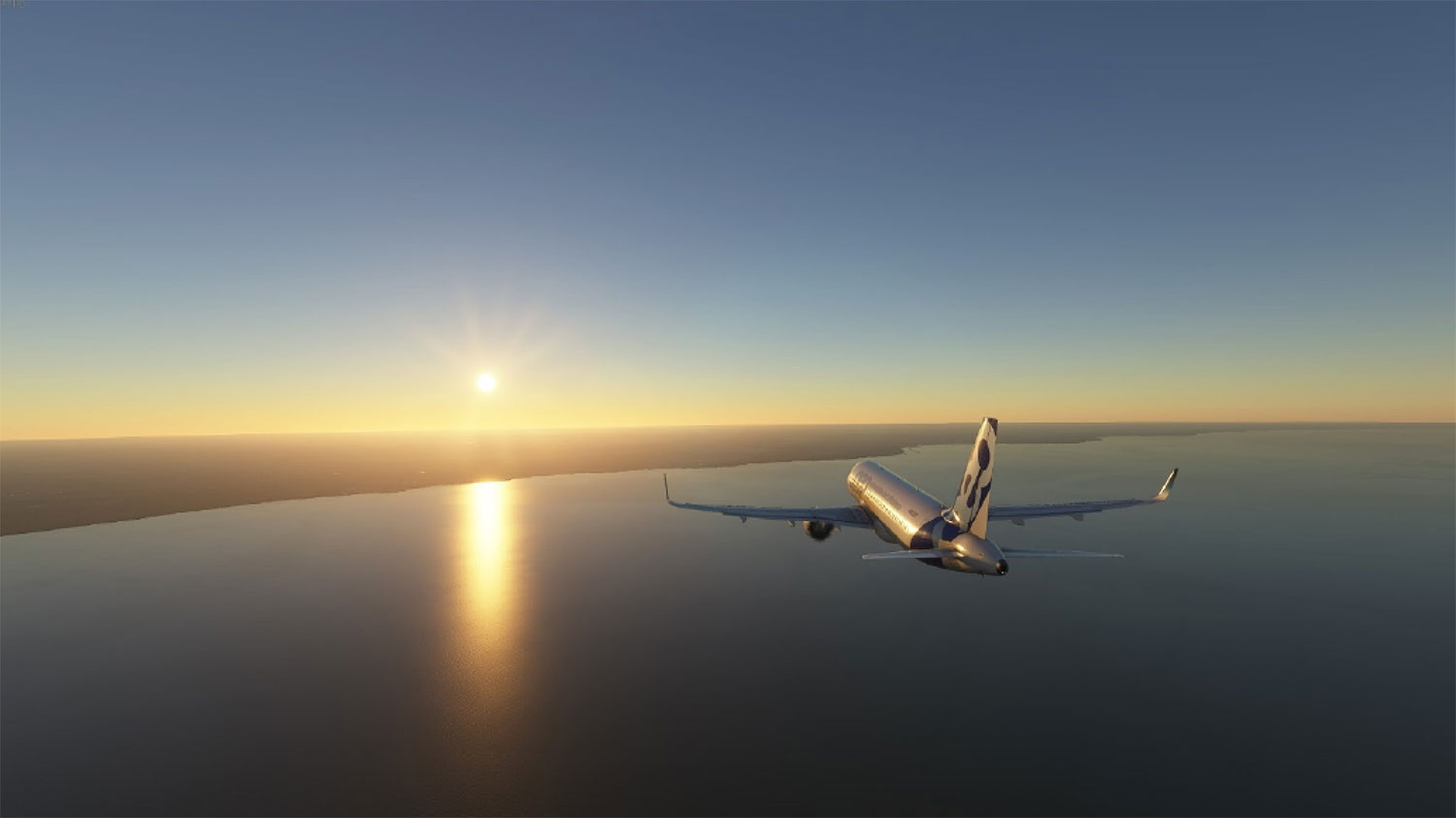 Did I miss your neighborhood? Did I miss your favorite local landmark? Then may I badly misquote the other eternal bard and say: Come fly with me / Let's fly, let's fly away. Just watch out for those amateur tour guides without pilot's licenses.
https://www.youtube.com/watch?v=6RlLFVqga6M
Exclusive articles, podcasts, and more. Support Milwaukee Record on Patreon.