Save the Mary Nohl House
Learn How You Can Help Save a Celebrated Art Environment
Fox Point Village Public Hearing
Tue., Jan. 31
7:00 p.m.
Village Hall, 7200 N. Santa Monica Blvd., Fox Point, WI
Zoom Participant Link
Dial: (312) 626-6799
Meeting ID: 838 9612 3111
As one of the few intact art environments created single-handedly by a woman, Mary Nohl's lakefront home has played a rich and distinctive part in the culture and heritage of the Village of Fox Point, Wisconsin, since the mid 1960s.
When Nohl died in 2001, she bequeathed her home and art collection to Kohler Foundation, Inc., which later transferred ownership to Creation and Preservation Partners, Inc., an affiliate of the John Michael Kohler Arts Center.
Long involved in the preservation and study of artist-built environments, JMKAC has undertaken substantial restoration and conservation efforts to stabilize and maintain the property in its unique location. It has invested more than $3.6 million in restoring the home and grounds since 2012.
JMKAC is currently asking the Village of Fox Point to consider the creation of a cultural overlay district for the Nohl property, which will:
• Create a pathway to host opportunities for local community members, educators, and artists to access the property.
• Support the production of work that deepens the legacy, understanding, and value of this important piece of community history.
• Allow for the development of a committed and sustainable long-term financial support plan to preserve the artwork and property into the future, ensuring that future generations of Fox Point residents will be able to say "Mary Nohl is a part of my community."
To learn more about preservation efforts, visit the webpage Mary Nohl Art Environment: Protecting a Fox Point Treasure.
How You Can Help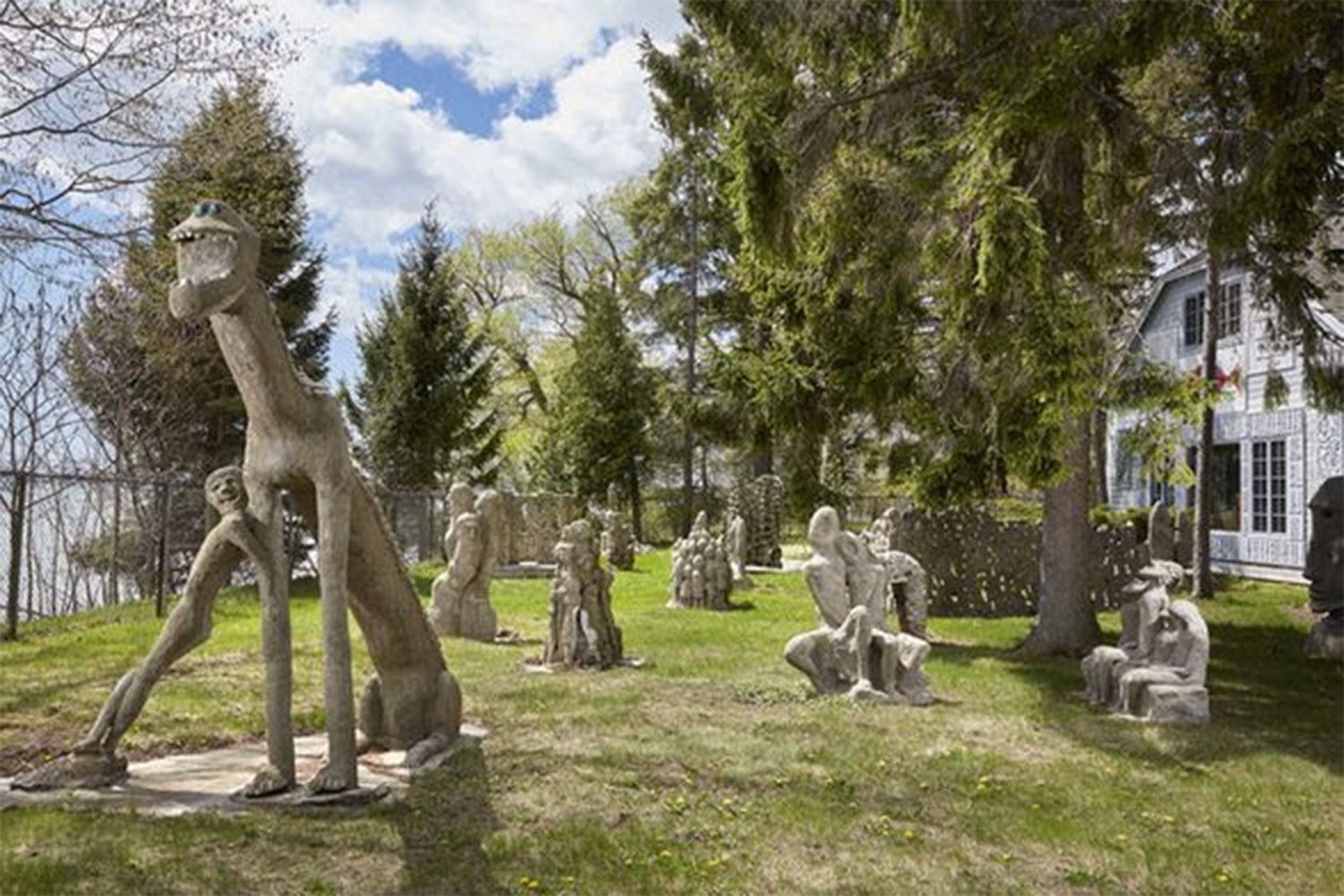 As the cultural overlay request moves toward a board vote, we need your support in letting the Village of Fox Point Trustees know that you want to keep Mary Nohl present and her environment preserved for future generations to come. Village of Fox Point decision makers need to approve our cultural overlay application to secure the future of Mary Nohl's artist-built environment.
You can help by communicating your support in any or all of the following ways:
1. Attend the Village Public Hearing and speak in favor.
Tuesday, January 31, 7:00 p.m.
Village Hall, 7200 N. Santa Monica Blvd., Fox Point, WI
Join via Zoom Participant Link
Dial (312) 626-6799
Meeting ID: 838 9612
2. Send an email to Village Trustees indicating your support.
Douglas H. Frazer, President
[email protected]
Eric Fonstad, Trustee
[email protected]
Christine Symchych, Trustee
[email protected]
Liz Sumner, Trustee
[email protected]
Greg Ollman, Trustee
[email protected]
Elizabeth Aelion, Trustee
[email protected]
Catie Anderson Knight, Trustee
[email protected]
3. Mail or drop off a letter of support.
Fox Point Village Hall
Attn: Scott Botcher, Village Manager
7200 N. Santa Monica Blvd.
Fox Point, WI 53217
[email protected]
Thank you for your support in saving Mary Nohl's legacy.
Find more press releases HERE.