Like most Gen-X music icons who aren't dead, Thom Yorke's most celebrated outfit (that would be Radiohead) has been relegated to part-time status lo these decades since its commercial peak. And why not? Sure, Radiohead is the only band of that era still making decent records and selling out arenas, but a creative force like Yorke (not to mention his bandmate Jonny Greenwood) can't be confined in a single project forever. Over the past 15 years, Yorke has released two proper solo albums, toured twice with supergroup Atoms For Peace, and contributed to multiple film soundtracks, most recently the 2018 remake of Suspiria.
Milwaukee could've had the preposterous opportunity to experience live performances of both Suspiria soundtracks in the span of three weeks. Oddly enough, though, Yorke has christened this current tour after an album he put out over four years ago, Tomorrow's Modern Boxes, easily his least accessible work to date. At the Riverside Theater on Wednesday night, Yorke and his two co-tinkerers (longtime Radiohead producer Nigel Godrich and audiovisual artist Tarik Barri) fiddled with gadgetry nestled inside very modern-looking boxes, focusing on new material while keeping one foot in the past—but not too far back.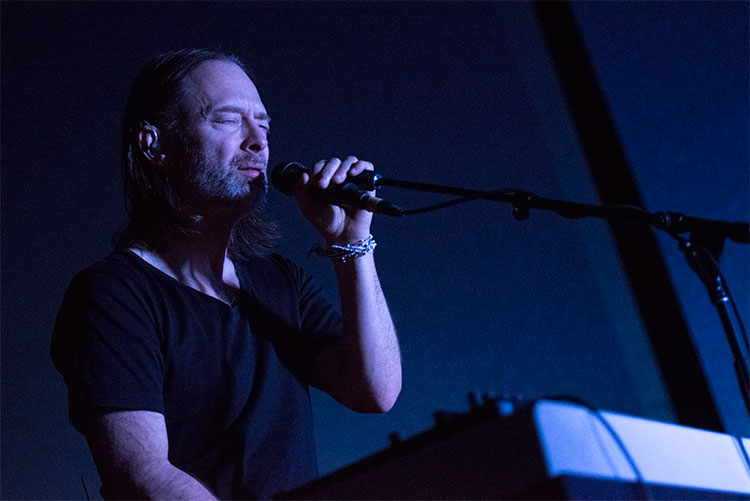 Beginning about four or five songs in, a few fans started trickling out, not having heard any OK Computer material yet. This is why Milwaukee can't have nice things; Yorke hadn't set foot here since Radiohead's lone Brew City appearance in 1993, and the house wasn't exactly packed to the gills. Admittedly, though, even Atoms For Peace have pulled off a few Radiohead songs. Yorke wasn't about to throw any bones, though.
This outfit was belligerently not a band. The strategy reached a touch of absurdity during "Cymbal Rush," wherein Yorke's gear wasn't cooperating, prompting much back-and-forth with Godrich. "The drummer's forgotten what to play," quipped Yorke, referring to an infallible sequence of ones and zeroes. He then moved to the piano, leaving Godrich to seemingly reconstruct the rest of the song, resulting in a very unorthodox rendition, although when the sampled drums finally kicked into high gear, they were a somewhat odd substitute for an actual drummer.
The show was billed specifically as "a live electronic performance," though, so fans shouldn't have expected anything different. Thom and Nigel frequently allowed songs to sprawl out for a minute or two, flowing seamlessly into each other and heightening the rave vibe. Having the lighting director right there onstage set up high expectations; Yorke's projects have long been known to employ groundbreaking visuals, and while this relatively stripped-down production wasn't on a Radiohead scale, the huge light panels behind the musicians dazzled our eyes with more of a live-art approach than simple bulbs and lasers. The images ranged from digital geometry to warm psychedelia, at times evoking the harsh linear violence of Stanley Donwood, the artist responsible for most of Radiohead's album covers.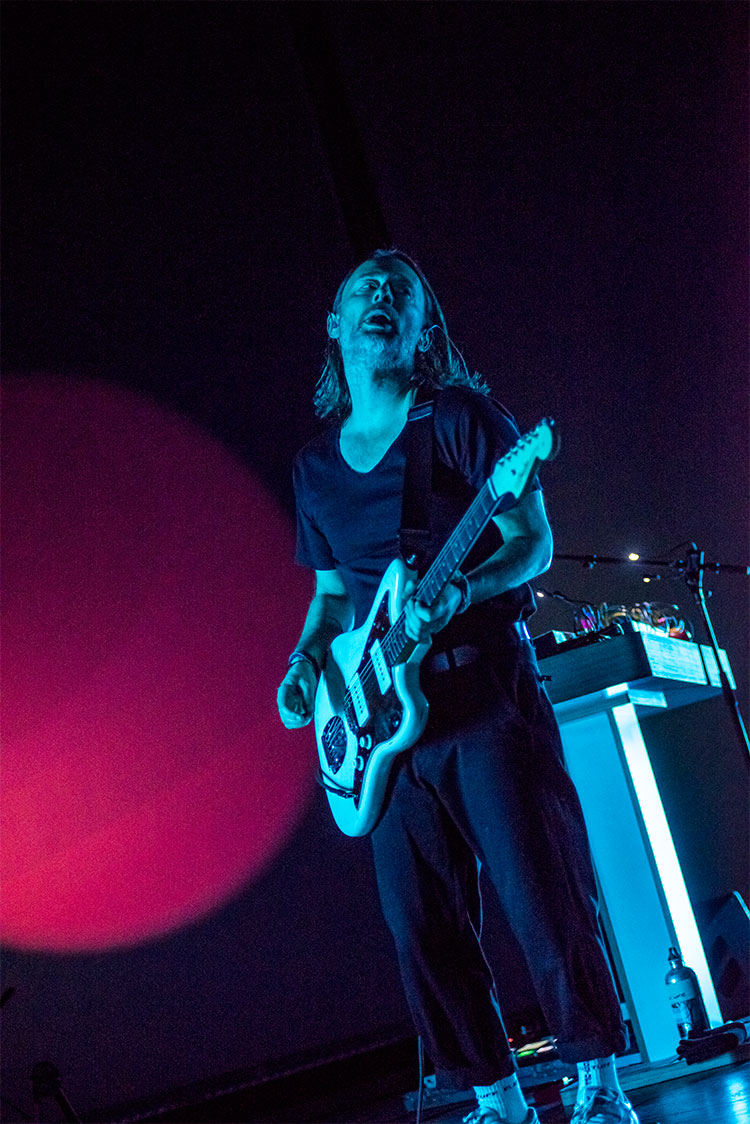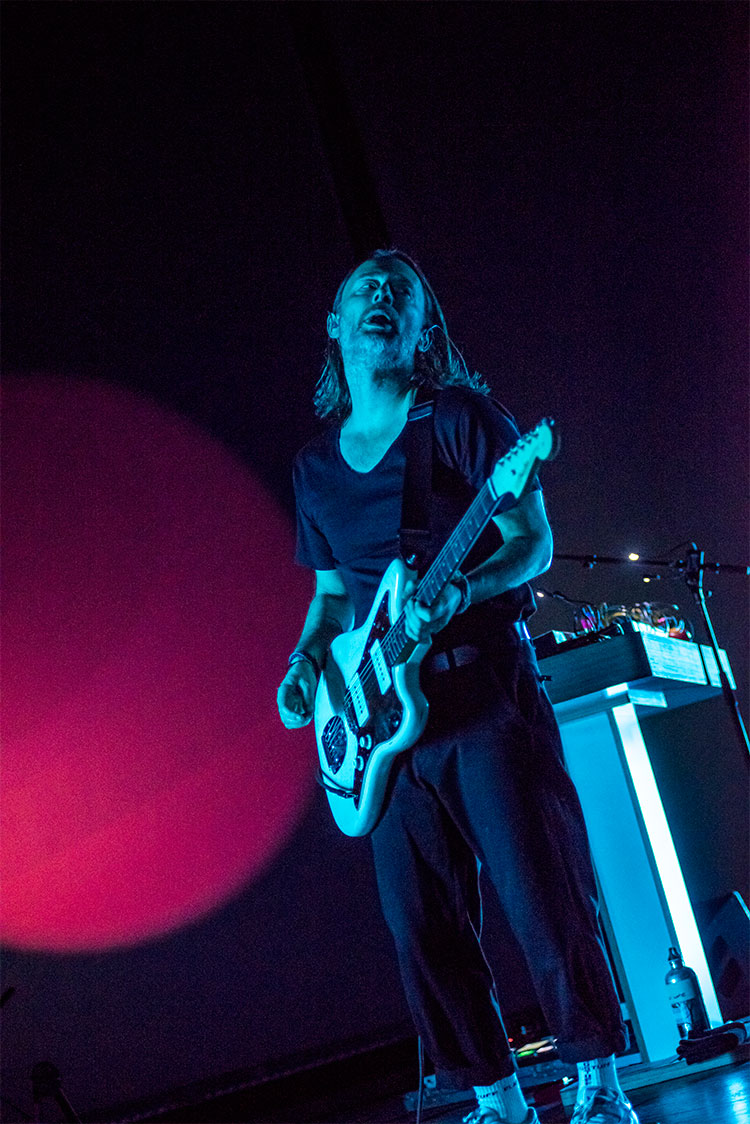 Yorke's Suspiria soundtrack, though captivating, wouldn't necessarily translate into a riveting live show. Luckily, he's got a bunch of other new material that hasn't appeared on any studio release. The very Yorke-ishly titled "I Am A Very Rude Person" wouldn't have sounded out of place on 2006's The Eraser, and "Two Feet Off The Ground" was another highlight of the set, preceding the Atoms For Peace barnburner "Amok" in a mid-set climax. The biggest surprise, though, was set-closer "Twist," a forgotten 2012 solo single that built into a massive joyous peak as it ended, a rare glimpse of unabashed positivity in the vast Yorke repertoire.
Perhaps most encouraging (and crowd-pleasing) were the re-workings of Eraser material. Even without a band, Wednesday night's renditions of "Black Swan," "Cymbal Rush," and "Atoms For Peace" made the studio versions seem positively bare-bones. The encore also featured a rare treat: the tour debut of bitter anthem "Harrowdown Hill." Its pointed refrain of "We think the same things at the same time / There are too many of us so you can't count" hasn't lost any of its bite, perhaps taking on new meaning in the modern world.
As Yorke sat alone at the piano for one final encore, hopes were probably high for that token hit; instead, it was the night's lone soundtrack nugget, "Suspirium." Yorke had danced, rocked out on the guitar, and masterminded a truly unique set of music, yet it was here in the final minutes that the man's most valuable asset stole the show. Most rock singers don't dare to save a challenging vocal for the end of the show, but Yorke soared through the plaintive ballad with ease. Stunning from beginning to end, it was perhaps a show for the diehards, but anyone who didn't leave early, didn't leave dissatisfied.