Milwaukee is chock full of things to do, but only a handful of events are worthy of the lofty honor of "Record Recommended" (patent pending). Here are our recommendations—brought to you by Lilliput Records—for October 30 – November 5, 2023.
MONDAY, OCTOBER 30
I Am + PeelingFlesh, Infamy, Gored Embrace, DJs Mike Gamm, Jimmy @ Cactus Club
"Brandishing a unique blend of furious thrash and death metal like a weapon of mass destruction, I AM is purely no-nonsense in their patented 'Texas Death' assault. Armed with riffs, speed, and overwhelming power, 'I AM writes songs that make you want to move' (Decibel Magazine). Across three full-length slabs of bludgeoning intensity and snarling rage, I AM put a Southern stamp and revitalized swagger into deathcore, a subgenre rarely as raw, energized, and diverse as this band. In the spirit of fellow Southern icons Pantera and newer Texan heroes Power Trip, I AM channels discontent and anger into empowering anthems, as likely to inspire a grueling workout as to incite the pit. Reminiscent of the combination of death metal heaviness and thrash metal speed found in the early catalog of Sepultura, I AM mines the heaviness of Morbid Angel and the dexterity of the Big 4 to create something groundbreaking of their own."
Popstar + The Present Age, Smoke Free Home, Shoobie @ X-Ray Arcade
TUESDAY, OCTOBER 31
Shania Twain @ Fiserv Forum
Where do you start with Shania Twain? We could mention her five Grammy Awards or the millions upon millions of albums sold. We could acknowledge her crossover country appeal long before that was commonplace in mainstream music. We could simply talk about how she's incredibly talented and how her abundance of hits has endured for decades at this point. Whatever your preferred hook is, you're probably happy to know she'll be coming to Milwaukee to treat Fiserv Forum material from her incomparable career as part of her "Queen Of Me" tour.
Double Trouble Halloween Movie Night: The Addams Family + Scream @ Lakefront Brewery
WEDNESDAY, NOVEMBER 1
Tool + Steel Beans @ Fiserv Forum
"Since the 2019 release of the TOOL's critically acclaimed album, Fear Inoculum, the band has won a GRAMMY Award® (Best Metal Performance for "7empest"), completed sold-out tours of both the U.S. and Europe, and headlined Bonnaroo, Welcome to Rockville and the Sonic Temple Arts & Music Festival. TOOL marked the 30th anniversary of the Opiate EP with the 2022 release of "Opiate2," a re-imagining of the EP's title track, released in tandem with a breathtaking 10-minute short film crafted by Adam Jones and visual artist Dominic Hailstone ("Alien: Covenant," "The Eel"). Reviews from TOOL's sold-out 2022 tours praised the four-piece, with Loudwire dubbing the performances as 'a masterclass of immersion, sound and stage design, musicianship… and levels of ungodly tightness.'"
THURSDAY, NOVEMBER 2
Sexyy Red @ The Rave/Eagles Club
"Her whole life, Sexyy Red knew she'd be in the spotlight. Who could tell her otherwise? A true Aries, she's always believed in the unbelievable. With explicit lyricism reminiscent of Trina, the raw storytelling of Boosie Badazz and Webbie, and Chief Keef's rugged authenticity, Sexyy Red's raunchy, in-your-face style taps into a strain of hilarious and animated rap the game has been missing since the heyday of Gucci Mane. But don't get it twisted – as the main creative force of her own songs, lyrics, and videos, her music is only ever 100% Sexyy."
Midweek Music: Listening Party @ Crafty Cow Tosa
Join us at Crafty Cow Tosa on select Wednesdays and Thursdays in October and November for a total of eight Midweek Music performances. Once again, there will be NO COVER for these all-ages shows, which will run from 7 p.m. to 8:30 p.m. If a free weeknight show isn't already great enough on its own, Crafty Cow Tosa will offer $4 pints from Third Space Brewing during all Midweek Music concerts. They'll also have a "Cheap Date" special, which includes two entrees, a starter, and a dessert for just $35. This week: Listening Party!
Hiss Golden Messenger @ Turner Hall Ballroom
"It's spring of 2023 in the North Carolina Piedmont, and songwriter and singer M.C. Taylor—leader of the band Hiss Golden Messenger—is feeling alive. Joyful. Eternal, he might say. For the Grammy-nominated musician, whose albums have traced an internal path through adulthood, fatherhood, spirituality, and depression for well over a decade, this is something new. The songs that make up "Jump for Joy"—the sharpest and most autobiographical that Taylor has written under the Hiss name—read as a sort of epistolary, postcards between the present-day songwriter and his alias Michael Crow, a teenaged dreamer very much like Taylor himself, who trips his way through the 14 tunes that make up the record."
Daniel Van Kirk @ The Laughing Tap
"Daniel Van Kirk is a stand-up comedian from Rochelle, Illinois. His album, Thanks Diane debuted at #1 on Apple Music and he's been named a 'Comic To Watch' by Comedy Central and one of JFL's 42 in Toronto. You may know him from his characters on Bob's Burgers (FOX), Physical (Apple TV+), Central Park (Apple TV+), and more. He can also be heard every week on the hit podcasts, 'Pen Pals' with partner Rory Scovel, and co-hosting 'Dumb People Town' along with The Sklar Brothers."
Benefit For Palestine: nalami + World In Action, Standstill, YMN @ Cactus Club
VOSH + Something Is Waiting, LUXI, Lavish Waste @ X-Ray Arcade
FRIDAY, NOVEMBER 3
Spinning Through The Past @ Third Space Brewing
Milwaukee Record co-founder Tyler Maas and Milwaukee Record contributor, longtime fish fry columnist, and full-on DJ Caleb Westphal will take to the turntables at Third Space Brewing on Friday to play four hours of music that will span more than 50 years. The all-vinyl DJ set—called "Spinning Through The Past"—will help the Menomonee Valley brewery and taproom launch the new "Living In The Past" pre-prohibition lager. Caleb will kick things off by playing selections from the '50s through the 1970s from 4-6 p.m. After that, Tyler will follow that up with a set consisting of favorites from the '80s and '90s until 8 p.m. Heck, there might even be a few early 2000s jams thrown in for good measure. There's no cost to attend this, but do yourself a favor and buy some drinks while you're there.
John Cleese @ The Riverside Theater
"Come and pay your respects to one of the most iconic and beloved comedians of our time in a night of unparalleled laughter and wit. (Barely) living comedy legend, JOHN CLEESE, is heading in your general direction for a live and truly memorable evening of comedy and conversation. With all-new routines shaped by his impeccable timing, trademark eccentricity and clever wordplay, John Cleese demonstrates through observational humor and gifted storytelling how he has achieved nothing short of comedy royalty. This multi-hyphenate performer is best known as co-founder of Monty Python, and is celebrated for his work on Monty Python's Flying Circus, Monty Python and the Holy Grail, Life of Brian, Fawlty Towers, A Fish Called Wanda, as well as the James Bond and Harry Potter franchises. Don't miss your chance to see this hilarious and insightful look at the life and work of one of the world;'s funniest entertainers in this thrill-of-a-lifetime evening. In lieu of flowers, the comedian wishes for you to please buy the premium Meet & Greet tickets."
Emmitt James "Genre-fi-cation" w/ KASE, Natural Satellite, MIC @ Cactus Club
"From the DIY circuit to playing bigger stages like the Roxy and the Novo, Emmitt James is a well celebrated and experienced performer. The Midwest-bred emcee and now LA-based hip-hop artist has been said to be reminiscent of acts like A Tribe Called Quest, Anderson. Paak and The Internet. Since being billed for Pharcyde Phestival ( 2018), Emmitt has been gaining momentum from opening for legendary acts such as The Pharcyde and Yasiin Bey (formerly known as Mos Def) to contemporary acts like Cuco, Joey Purp, Duckwrth, Old Man Saxon, Jay Prince, Banesworld and more. He also was a semi-finalist (top 12 out of 1,000) in the Adidas Originals Sound Lab grant competition where he scored a meeting with Pusha T at ComplexCon 2018."
Neighbor + Tigera @ Turner Hall Ballroom
Motherfolk + Well And Good, Social Cig @ X-Ray Arcade
Hollywood Undead + Tech N9ne, King Iso @ The Rave/Eagles Club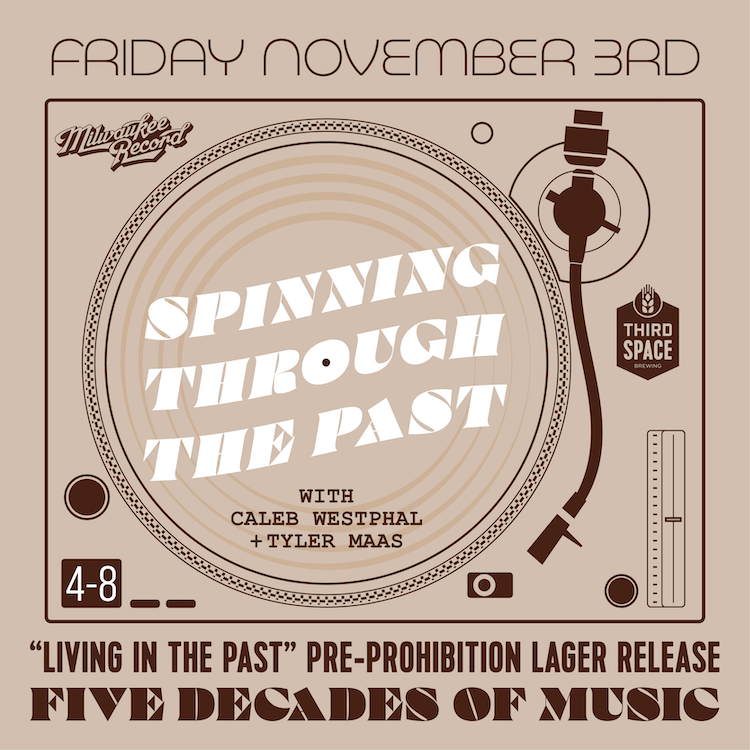 SATURDAY, NOVEMBER 4
The Great Milwaukee Can Koozie Swap & Bar Chip Bonanza @ Promises
Back in May, Milwaukee Record and Busch Light joined forces to host an unconventional event at Promises based around the almighty beer sleeve. "The Great Milwaukee Can Koozie Swap" brought dozens of folks to the Walker's Point bar/venue for an afternoon of koozie buying, selling, trading, and celebrating. It was a great time! Since it went so well, we figured we'd bring it back…except with an extra element. Join us at Promises this Saturday for "The Great Milwaukee Can Koozie Swap & Bar Chip Bonanza" from 1-5 p.m. Like last time, people who are 21 and older are invited to bring their koozie collections to Promises to try to make some deals. The first 100 people through the doors will also get a free can koozie that features the logos of Busch Light and Milwaukee Record on it. Show it to a Promises bartender ANY TIME BETWEEN NOVEMBER 4 AND DECEMBER 31 and get $1 off cans of Busch Light. And there's more! Give us a drink chip—from ANY bar, restaurant, or brewery…even places that are no longer open—and we'll let you spin our newly acquired prize wheel for a chance to win prizes like Busch Light swag, free drinks, Milwaukee Record merch, your choice of treasures from "The Prize Pile," and more. Don't have any bar chips to trade? Spins can also be purchased for $2 apiece.
Nicole Byer @ The Pabst Theater
"Nicole Byer is one of the most versatile voices in the comedy landscape today. An actress, comedian, writer, author and podcaster, she is perhaps most well-known as the host of Netflix's Emmy nominated competition baking series Nailed It!, which has gained a cult following of viewers since its premiere on the streaming platform in 2018. In 2020, Nicole made history by becoming the first black woman ever to be nominated in the category of 'Outstanding Host for A Reality or Competition Program' and was nominated again in 2021 and 2022."
Wisconsin Veterans Day Festival @ Peck Pavilion
"The Wisconsin Veterans Day Festival features live entertainment, food, drinks, exhibitors and vendors, and resources for Wisconsin veterans and their families at the plaza of the iconic Marcus Performing Arts Center."
Two Nights w/ Sleepy Gaucho + Blacktop @ Cactus Club
Mammoth WVH + Nita Strauss @ The Rave/Eagles Club
Grace Under Water + Robot Witch, Apex Aura, Nobletiger @ Linneman's Riverwest Inn
Beatles vs. Bee Gees @ Mad Planet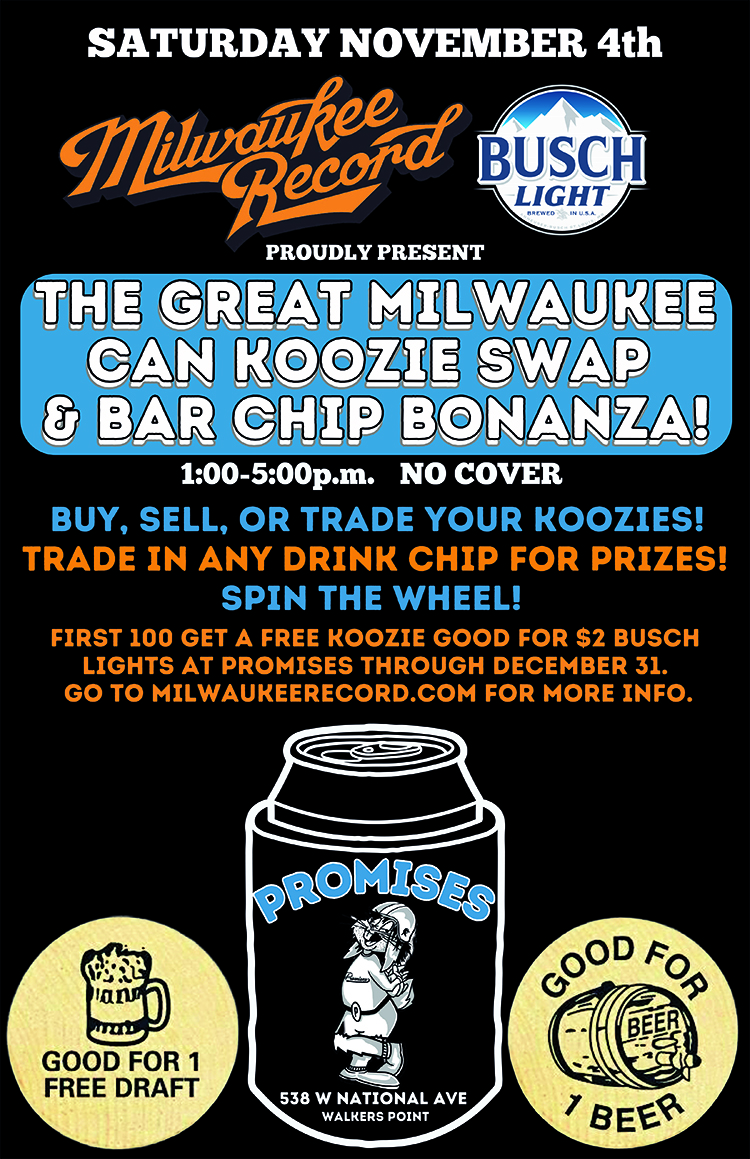 SUNDAY, NOVEMBER 5
Milwaukee Record Halftime Show: Holy Mary Motor Club
Our Halftime Series is back! This season, we've assembled a stacked roster of 15 acts that will provide FREE all-ages entertainment during halftime of Green Bay's games. Like previous seasons, the concert series will take place at Cactus Club. Also like previous seasons, Miller High Life will sponsor our football-focused festivities, meaning fans can enjoy "The Champagne Of Beers" and Miller Lite for $10 for a bucket of five beers all game long and "Record Recommended" High Life and Mystery Shot specials for $6. This year also brings two new sponsors into the mix. Our friends at Transfer Pizzeria Cafe will be coming by games (excluding Mondays and holidays) to drop off some pizza for everyone to share. Meanwhile, MKE Distilling Company's new vodka will be featured in Bloody Marys and Cactus Bombs throughout the season. This week: Matt Wild and friends reunite their old band, Holy Mary Motor Club, to play songs they wrote when they were 13.
Two Nights w/ Sleepy Gaucho + Rainbow Cobra @ Cactus Club
Want more Milwaukee Record? Subscribe to our free weekly newsletter and/or support us on Patreon.