You missed it the first time you thumbed through the Summerfest schedule. It's okay. Virtually everybody missed it.
Eventually, people either stopped dismissing the the oddly arranged smattering of consonants or they took note of the "formerly of Live" part of the listing that came after the alphabet soup surname slated to occupy the Miller Lite Oasis' less-than-heralded 3 p.m. slot on the only Tuesday of the 11-day music festival. The spreading realization came in waves. First came the recollection that Live was a band. Next came the deduction that Ed Kowalczyk was the guy from the band Live. Finally was the realization that the very same guy from Live was no longer in Live and whatever he was doing now was evidently only worth a mid-day slot on a weekday. Seriously, even Mr. Billy "Original And Classic Rock For Rockin' Kids" was awarded a set time 15 minutes later to give the last of the Festers coming through the gate for free some extra time to settle in.
Unbeknownst to many (and certainly to us), Kowalczyk quit Live in 2009 when the rest of his band brought litigation against him for licensing Live's catalog in his name alone, and after he reportedly demanded a "lead singer bonus." The split was finalized when the band replaced Kowalczyk with Chris Shinn, and, more over, sued the former vocalist again for using Live's name to promote his solo efforts.
Whether for sake of nostalgia, seeing very few other early afternoon standouts, or just a morbid curiosity regarding the twice-sued front man of a band that has sold more than 20 million records being left to play in the cruel, judgmental, and humbling light of day, this subtle 3 p.m. booking soon became the worst kept secret among Summerfest's midday gems. With the secret out, the question was "Did anybody want to hear it?"
With five minutes to the scheduled showtime, the sea of metal bleachers was maybe a third full with a patchwork congregation who favored Kowalczyk over Briar Rabbit, Steel Strings, and Revae. Even that close to curtain, we effortlessly snagged a spot in the 12th row, directly facing an untended stand-mounted microphone in the center of the stage. We assumed that's where the namesake would be, but despite three other musicians checking instruments on stage, Kowalczyk was nowhere to be found. After all mics and instruments were checked by the trio of backing musicians, they departed and the Oasis was left in silence for a matter of minutes until a bass-y, piano-driven interlude one would expect from a headliner—at the very least an 8 o'clock set—roused the same three black-shirted, denim-clad gents back on stage and incited the distinct intro to Throwing Copper rocker "All Over You." This was the first morsel of definitive proof that the act was as advertised, and instant reassurance that Kowalczyk was still permitted to play Live material (or that he couldn't, but didn't care). As the song's start faded, the man of the 3 o'clock hour finally revealed himself and appeased a small-but-enthused cast of Live lifers—as well as people looking for a place to sit and hear a song they knew from that CD Exclusive Company wouldn't buy from them because they already have too many in stock—with a true-to-album version of the song that peaked at No. 2 on Billboard rock charts in 1995.
He and the backing band we soon learned were called "The Texas Rangers" then transitioned to "The Great Beyond," a cookie-cutter radio rock song off Kowalczyk's 2010 solo debut, Alive. A pattern was set in motion. Fans would be rewarded with a Live cut or two, then made to be festival-goers-turned focus group for selections from the troubadour's three solo records—only one of which ever cracked U.S. charts. (Alive was No. 166.) The crowd's posture reflected whichever portion of his catalog Kowalczyk was addressing, as a vast swath of the still under-attended Oasis returned to their feet when Live's "The Distance" and "Selling The Drama" were played before receding to the hot metallic bleachers as the singer prefaced his new song "Zion." Even tie-dye dancing guy had a tough time getting into that one, as he halfheartedly flailed and pursed his lips. By this point, the back segment of the bleachers started to fill in a bit, but there were still noticeable gaps in the front section.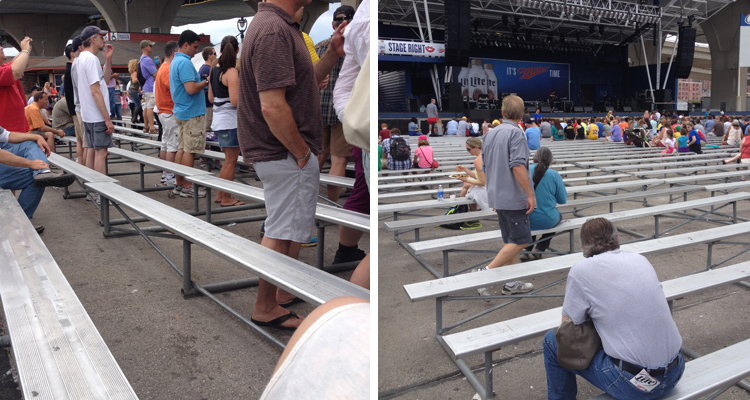 Soon, the "Zion"-induced lull was broken with "The Dolphin's Cry," the most serviceable single off 1999's platinum-selling The Distance To Here. The air of familiarity from people audibly singing along brought Kowalczyk's stage presence to a crescendo. Suddenly, the guy who was killing time before Mandy Jiroux and DJ Cassidy took the form of a cocksure front man, acting as if the '90s never ended and Napster hadn't reached the beta testing stage yet. He even draped his arm around his bearded 30-something bassist as to say, "Hey, I've changed. My lead singer's bonus is much less these days."
Before playing "Shit Towne"—which he claimed won Live no accolades from the mayor of their native York, PA—the patriarch of post-grunge revealed this year was the 20th anniversary of Live's best-selling and most-acclaimed album, Throwing Copper. It's strange to think two separate acts will claim it to the point of celebrating its anniversary. Though he still sports a Bic-shaved head and a tight black shirt, half of Kowalczyk's 41 years have come after his creative peak, and the last five annuals don't really sound like much fun…even by former rock star standards. But he has his four kids, which he mentioned (in a rare bit of stage banter) before he and his Rangers went into post-Copper single, "Heaven." A trio of passable solo songs were bookended by "Heaven" and Copper hit "I Alone." During the bridge of the latter, Kowalczyk perhaps instinctively tried to outsource singing duties to the crowd that only partially complied. Still, Kowalczyk seemed happy to be on stage, playing songs that once meant the world to the world, and that still meant as much to a much smaller group of fans. "Until next time, God bless you," he said, with implied assurance there would be a next time, before the predicted show-closer began.
As a hotshot hired hand guitarist strummed the unmistakable opening riff of "Lightning Crashes" (a song that charted when he was a toddler), the rumble of bass and drums from a stage over bled into the mix. It seemed somewhat symbolic of the unique event that has unfolded that Tuesday afternoon. It was Live with a dash of something else, all hastily wrapped in distinctly 3 p.m. packaging. Opening the Summerfest guide to see "Live currently with Ed Kowalczyk" headlining on a weekend night would've paled in comparison to the rare opportunity a select few took advantage of that afternoon. Between the nostalgia, the Live-like level of performance, and the sheer strange spectacle of it all, Ed Kowalczyk played the role of early-day booking anomaly to perfection.