In less than two weeks, thousands of music fans will journey to Eau Claire, Wisconsin for Justin Vernon's hometown festival, Eaux Claires (June 6-7). But the fourth installment of Eaux Claires is not your normal festival. You see, the organizers are not releasing an official lineup until the day the festival begins. Here's the lineup poster on the official website: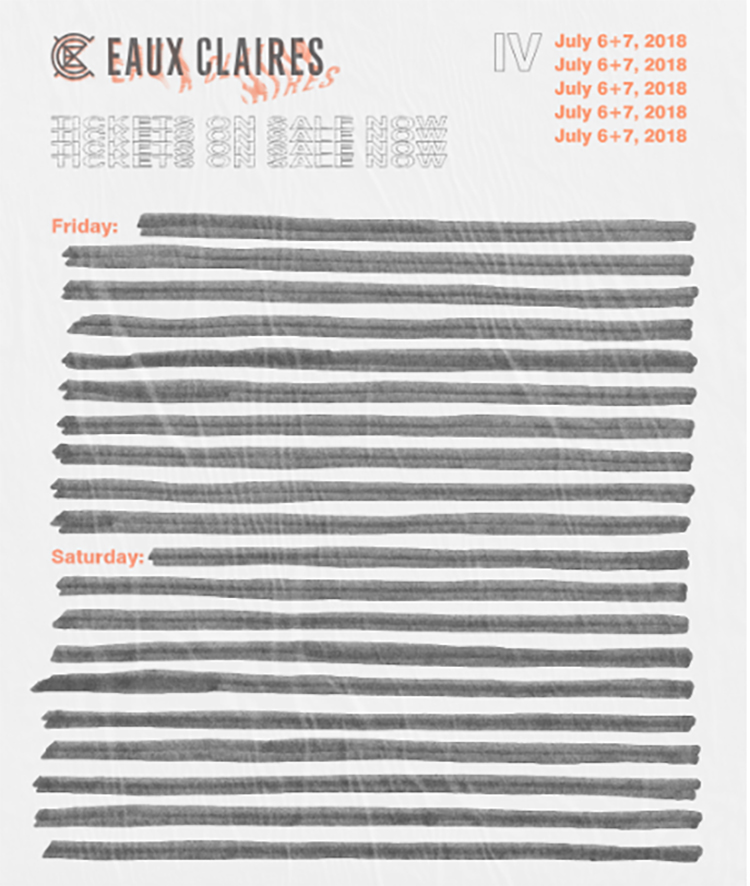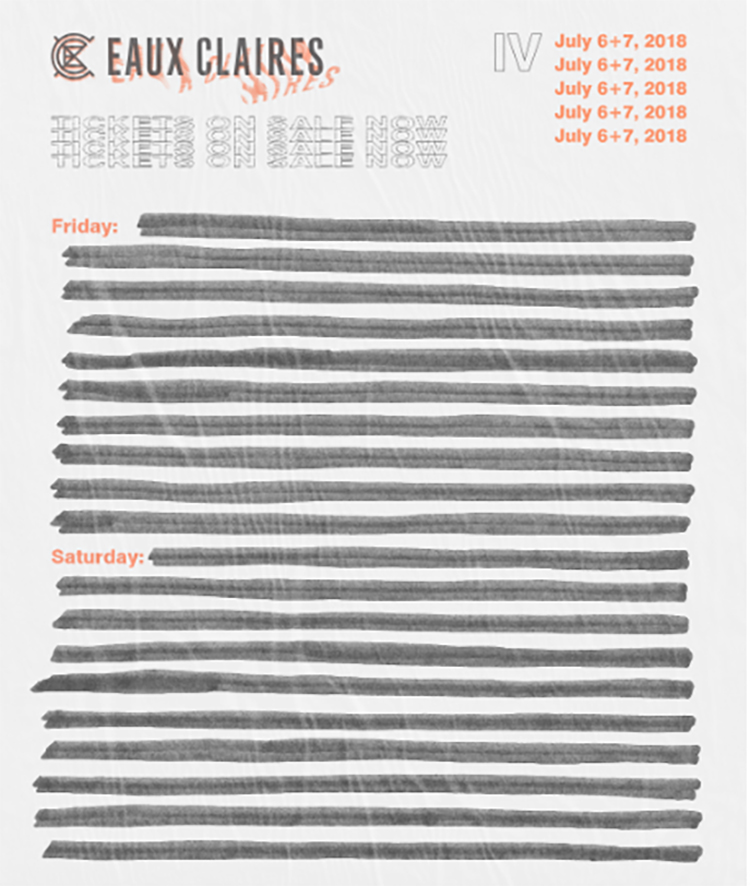 You can call this a gimmick, financially irresponsible, or just plain rude, but it will be more spontaneous than following a carefully calibrated schedule. I have been going to festivals for two decades, and the secret lineup is at minimum a curiosity, and ideally a thrilling experience. It also makes sense for Eaux Claires, which is known for non-hierarchy and discovery. However, in 2018, no secret is safe when the internet is engaged. If you want the lineup to remain a secret, I respect your commitment to not knowing, and encourage you to stop reading. Because it's not accurate to say that the lineup is a complete mystery.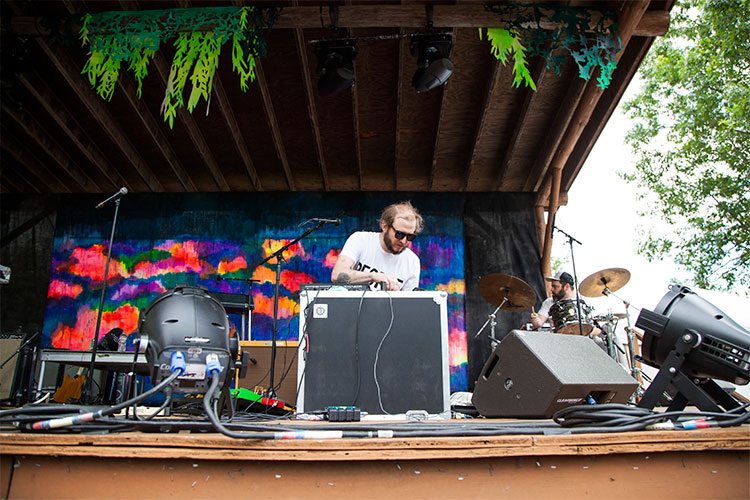 Vernon has released several mixtapes with snippets of music from a variety of artists. The working theory is that those artists will be on the bill. Vernon has also essentially confirmed several artists via Twitter and Instagram. A quick Google search reveals several message boards where fans are sleuthing out the hints and keeping track of potential performers. The artists include EXC regulars like Phil Cook, repeat performers like Sufjan Stevens, regional up-and-comers like Noname, folk stars like Julien Baker, and obscure dynamos like serpentwithfeet. This is what Reddit thinks: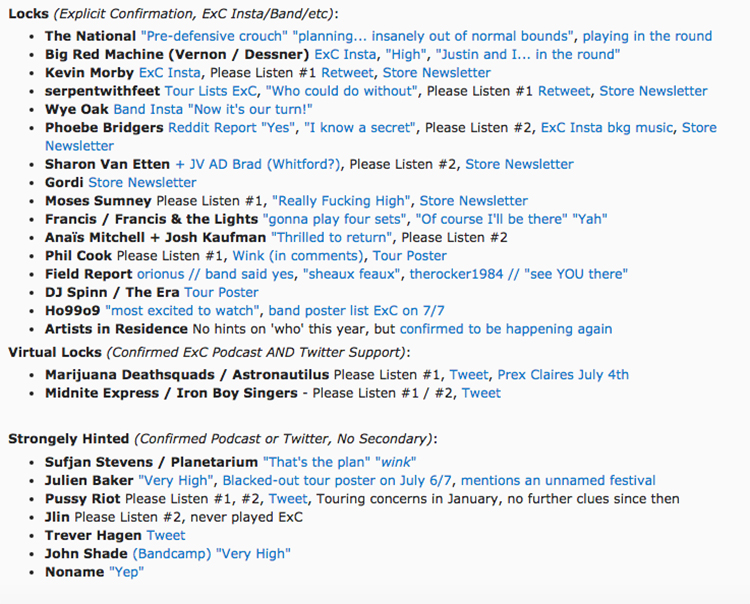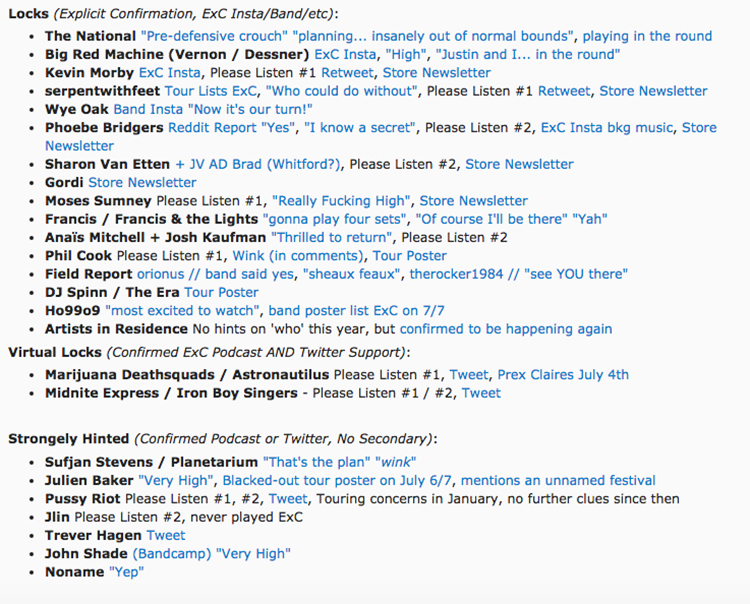 The lineup isn't a full-blown secret, but Vernon's playful reveal has been a lot of fun and a change of pace from knowing the full lineup months in advance. I have enough information to do my homework on music I haven't heard before, but I'm still enthusiastic about the mystery and potential for genuine surprise.
The mysteries are deepest with the headliners. Last year, Chance The Rapper, Sylvan Esso, John Prine, Paul Simon, and Wilco topped the bill. The internet has identified maybe 75 percent of this year's performers, but the known commodities are a bit lacking in star power. Patti Smith was on the first mixtape and would fit into the festival's usual folk legend spot. The National is a sure thing and will be playing "in the round," which suggests this year's festival will have a new and more intimate stage configuration. I think Vernon is keeping one or more headliners to himself, potentially to circumvent another festival's radius clause.
Here are some possibilities and the likelihood I think they might play:
Bon Iver – 75%: Bon Iver played the first two years before taking last year off. Vernon is playing a set with Big Red Machine, his burgeoning supergroup with Aaron Dessner. Assuming Bon Iver plays, it will likely be a joint show with TU Dance, and there is always a chance that Vernon plays a set with a hibernating bands like Volcano Choir or Shouting Matches.
Arcade Fire – 50%: Arcade Fire would be the biggest rock band to grace Eaux Claires' stages. Members Sarah Neufeld and Richard Reed Parry played previous years, and Arcade Fire's style meshes well with Eaux Claires. They are playing Summerfest on July 8, and Detroit on July 7, but they don't have a show on July 6. Some internet sleuths think this is a sure thing, but Summerfest claims that Arcade Fire is only playing one Wisconsin show in 2018.
Father John Misty – 45%: Vernon said he was "working it" when a fan asked if the festival jester might be on this year's lineup. Josh Tillman would make great use of the "in the round" concept, and his band is touring hard this summer, but unattached the weekend of Eaux Claires. If Arcade Fire isn't the secret big name that I'm anticipating, Misty is the next best guess.
Tame Impala – 15%: Tame Impala is playing four festivals in July, including a headlining spot at Pitchfork Music Festival. Their calendar is open July 6 and 7, but the internet hasn't identified them as a possibility. This would be an unexpected curveball, but it isn't outside the realm of possibility.
War On Drugs – 10%: War On Drugs is touring Canada in early July, but they have an open date on July 7. Could they make a brief detour to Eau Claire? It's possible because they share some connections with Bon Iver, but it's quite a bit out of their way.
Kanye West – 5%: Vernon has long been one of West's friends and collaborators, so there is always a vocal minority predicting a Kanye set at Eaux Claires. West's controversial meltdown (or transgressive marketing effort) overshadowed his recent album, but Vernon has stayed pro-Kanye. I like Kanye's classics, but his dragon energy would clash with EXC's tranquil vibe.
St. Vincent – 1%: Annie Clark played with Sufjan Stevens at the Oscars and toured with him before starting St. Vincent, so if you squint this makes sense. However, St. Vincent will be touring Europe until a festival in Slovakia on July 6. Would Clark race the sun from Eastern Europe to the Midwestern United States just to play at EXC alongside Sufjan and friends? My fingers are crossed, but this seems nearly impossible.
In less than two weeks, we'll find out whether the internet solved the mystery, or if Vernon and his crew hoodwinked us. Either way, I will be anticipating the morning of July 6 even more than I do the start of any festival. In an era where it seems like we can answer any question in just a few seconds, I am happy that Eaux Claires figured out a way to keep us in suspense.