Beginning as little more than a home recording project for singer-songwriter Dylan Baldi, Cleveland Ohio's Cloud Nothings have grown into something far bigger. In the last five years, the band has continued to develop their brand of hooky-but-noise-tinged material, tour heavily, and work with esteemed recording engineers like John Congleton and Steve Albini. Life Without Sound, the band's most recent album, was released at the end of January. Showcasing a slightly more focused sound than its predecessors, the band's fourth album has proven Baldi to be one of the most gifted songwriters in modern rock. The band concluded the domestic leg of their of their most recent tour Sunday evening at Turner Hall.
Ex-Decibully outfit Dramatic Lovers opened up the three-band bill. The inclusion of local support on a national bill is a relative rarity at Turner Hall, so it's always nice to see Milwaukee acts playing alongside established national artists in the near-1,000-capacity venue. Fans of Decibully will be pleased by Dramatic Lovers, and the scattered talk of their set was only positive among the audience. Tour support act, Moon Bros, followed with a set of dreamy, Mojave 3-esque folk songs. While it was no doubt incredibly gorgeous and spacious, their set was maybe not the best fit for the evening, as the energy leading up to the headliner's set was a bit more sleepy than some may have preferred.
Regardless, Cloud Nothings stepped onstage to a sizable and enthusiastic audience. Opening with brooding "No Future/No Past," Baldi then greeted the crowd before launching into "Psychic Trauma," from 2014's Here And Nowhere Else. Wasting little time between songs, the band followed with "Sight Unseen" from Life Without Sound.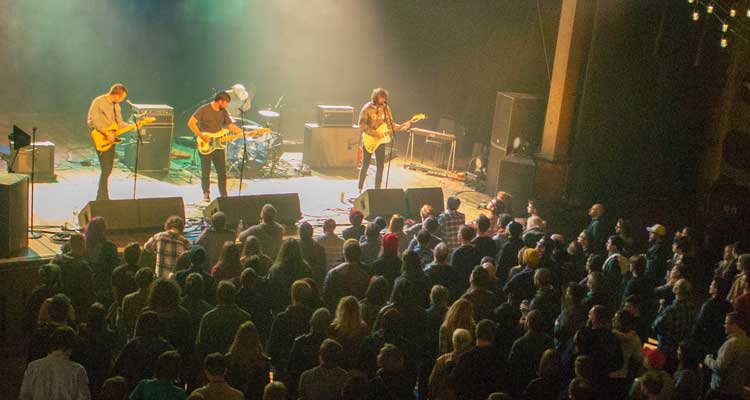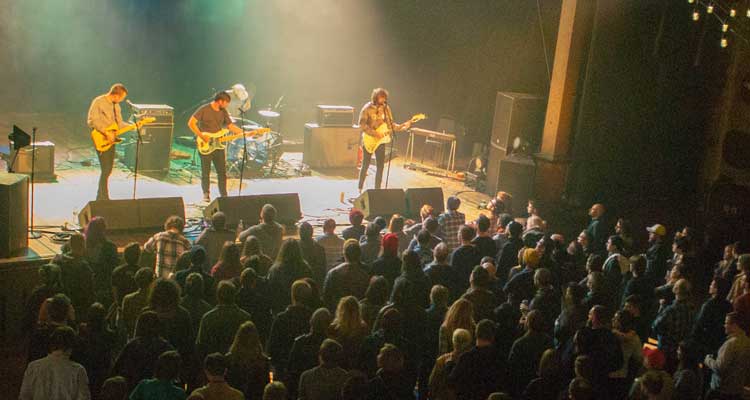 Writing great songs doesn't necessarily equate a charismatic stage presence. A lack of onstage energy, though, doesn't equate to a bad performance. In the case of Cloud Nothings, the excitement was not completely absent. While stage right—consisting of bassist TJ Duke and guitarist Chris Brown—was largely reserved, with its inhabitants choosing to focus entirely on their playing, a majority of the onstage energy was confined to center stage, where drummer Jayson Gerycz feverishly bashed away behind the kit. The middle ground was occupied by Baldi, who did his fair share of rocking out throughout the evening.
The band played selections from a large portion of their catalog with Ramones-esque efficiency. The ultra catchy "Fall In," the joyously rushed "Now Hear In," and the Weezer-y "Interal World" all made appearances in their hour-long Sunday night set. Like many before them, however, Cloud Nothings perhaps suffered just a bit from the natural acoustics of Turner Hall. As a result, Baldi's distinctly nasal voice (somewhat reminiscent of Britt Daniel of Spoon and Rodney Linderman of The Dead Milkmen) was not always audible in the early going. By the mid-show point, Turner's always-excellent sound crew had everything well balanced.
Closing the show with "Wasted Days," the nearly nine-minute epic built around a discordant noise freakout, the band attacked their instruments with an aggression and frustration that one could surely see as representative of more than just music. The band left the stage looking somewhat exhausted, and rightfully so. The last five years have been a non-stop cycle of touring, writing and recording. Milwaukee loves you, Cloud Nothings. Take some deep breaths, and when you return next year, we'll be more than happy to welcome you back.