Some Milwaukee things come and go, while some Milwaukee things become iconic. Mandatory Milwaukee is all about the latter. This week: the hash browns at Café At The Plaza!
Back in 2018, we bestowed "Mandatory Milwaukee" honors on both The Plaza Hotel (1007 N. Cass St.) and its open-to-the-public cafe and restaurant, Café At The Plaza. We stand by the love we showered on the four-story Art Deco hotel's "colorful tile floors, crown molding, vintage lamps, and French-framed posters." We still admire "the European-style lobby, with geometric carpeting, large potted plants, and wood-framed windows." And we still contend that lobby is "the perfect place to read your morning newspaper—or page through a copy of The Great Gatsby."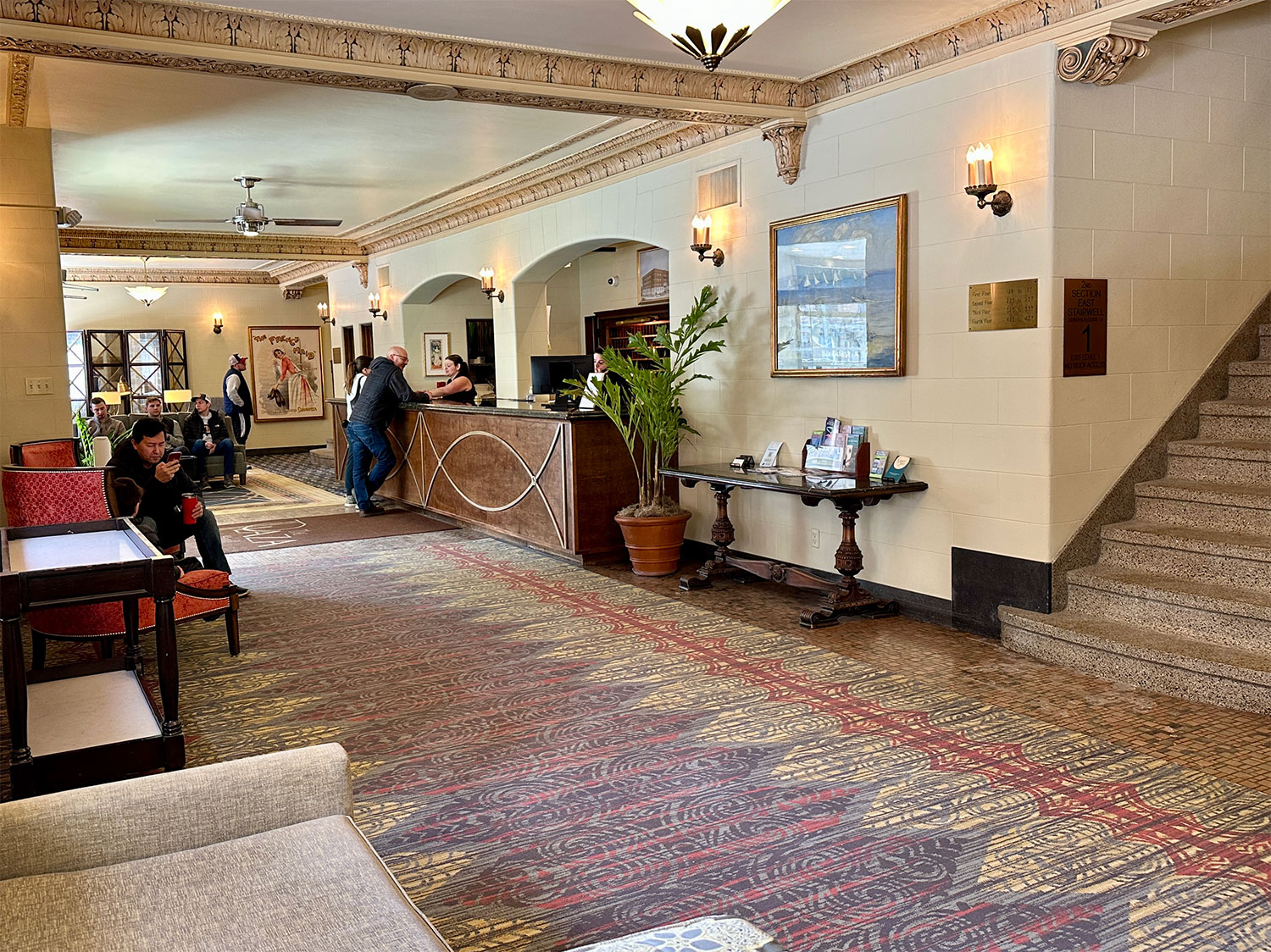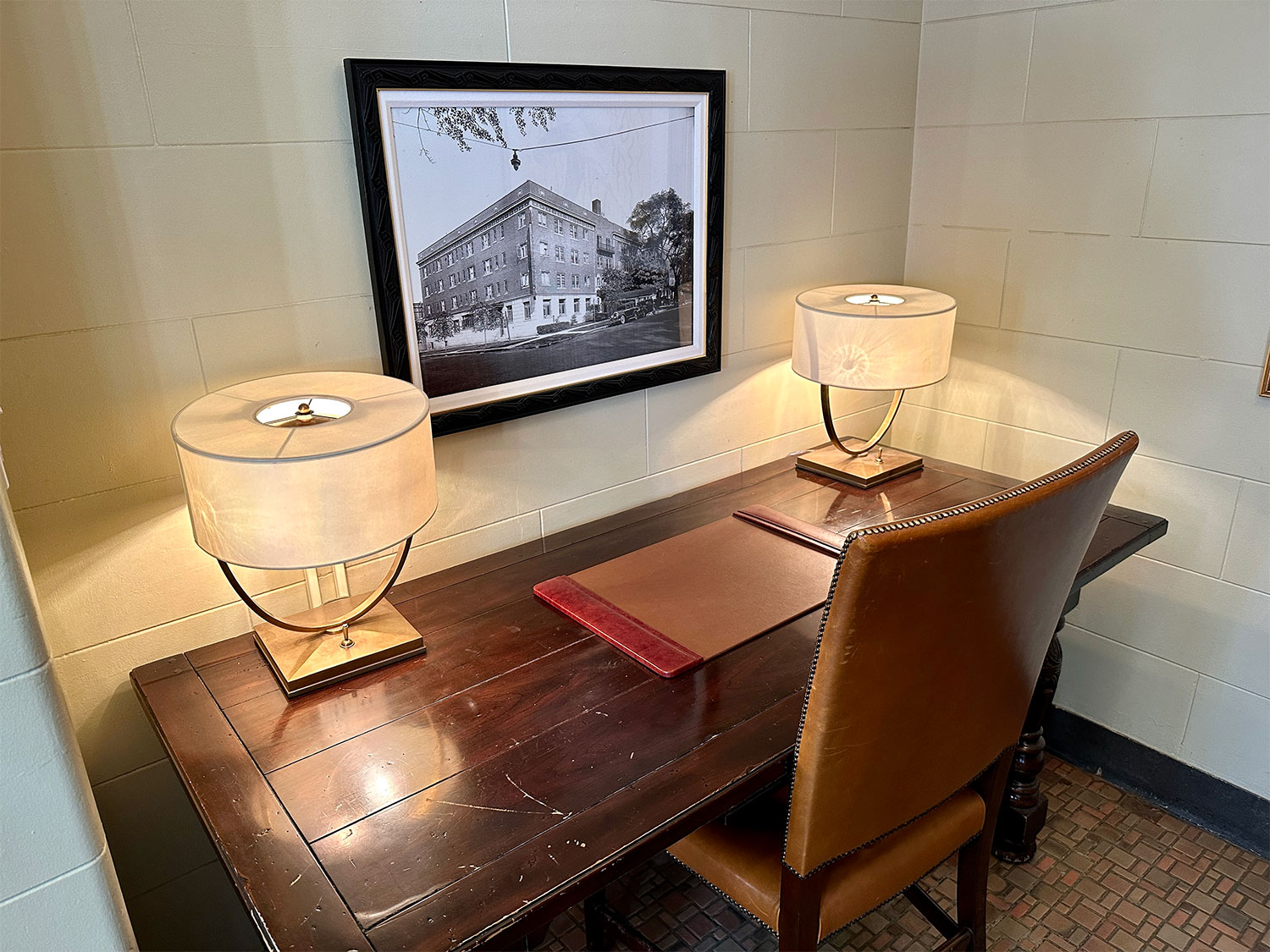 But let's get specific: We love Café At The Plaza—especially breakfast at Café At The Plaza.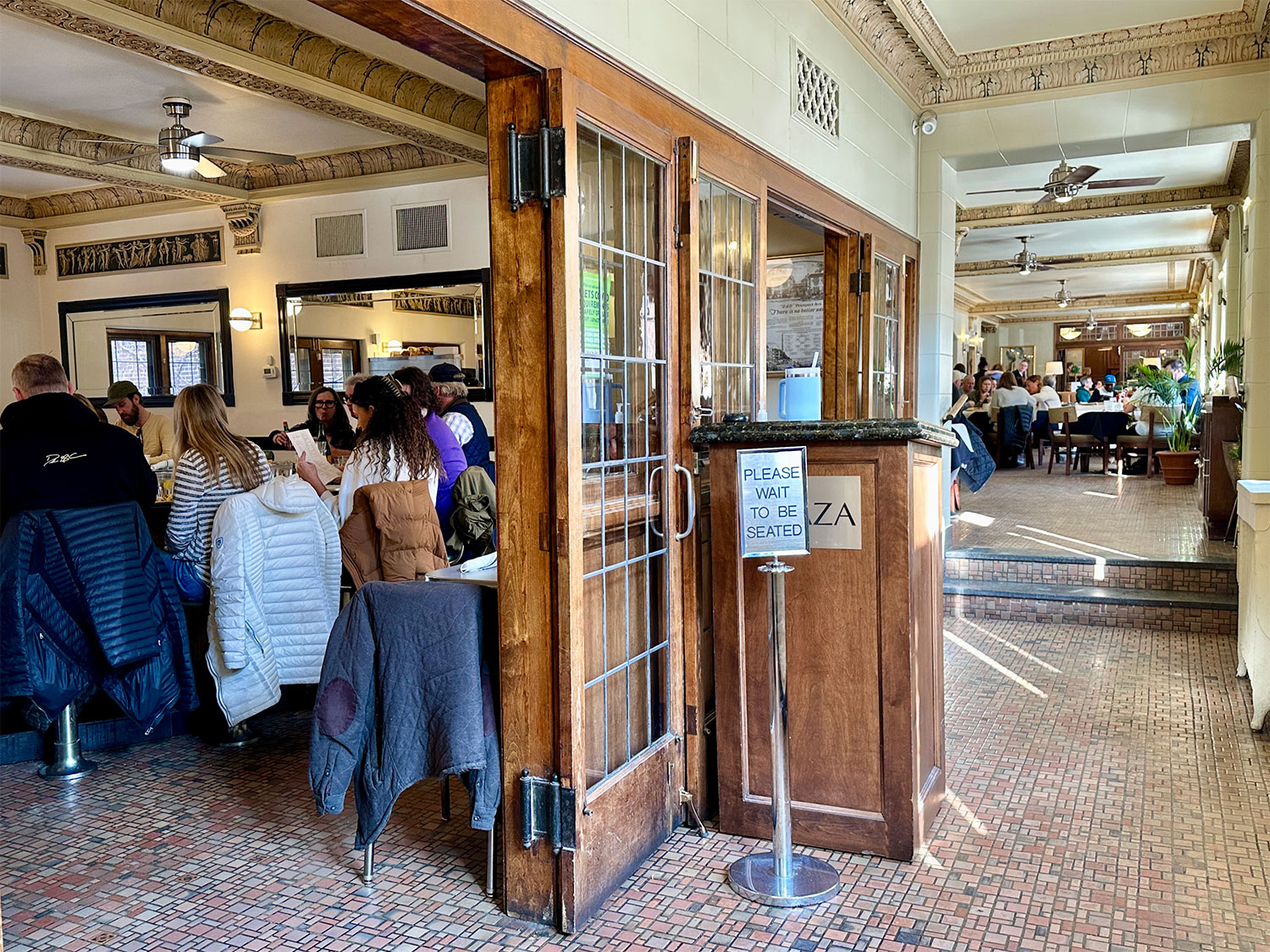 And we really, really, really love the hash browns at Café At The Plaza. THEY'RE SO GOOD. Just look at those things: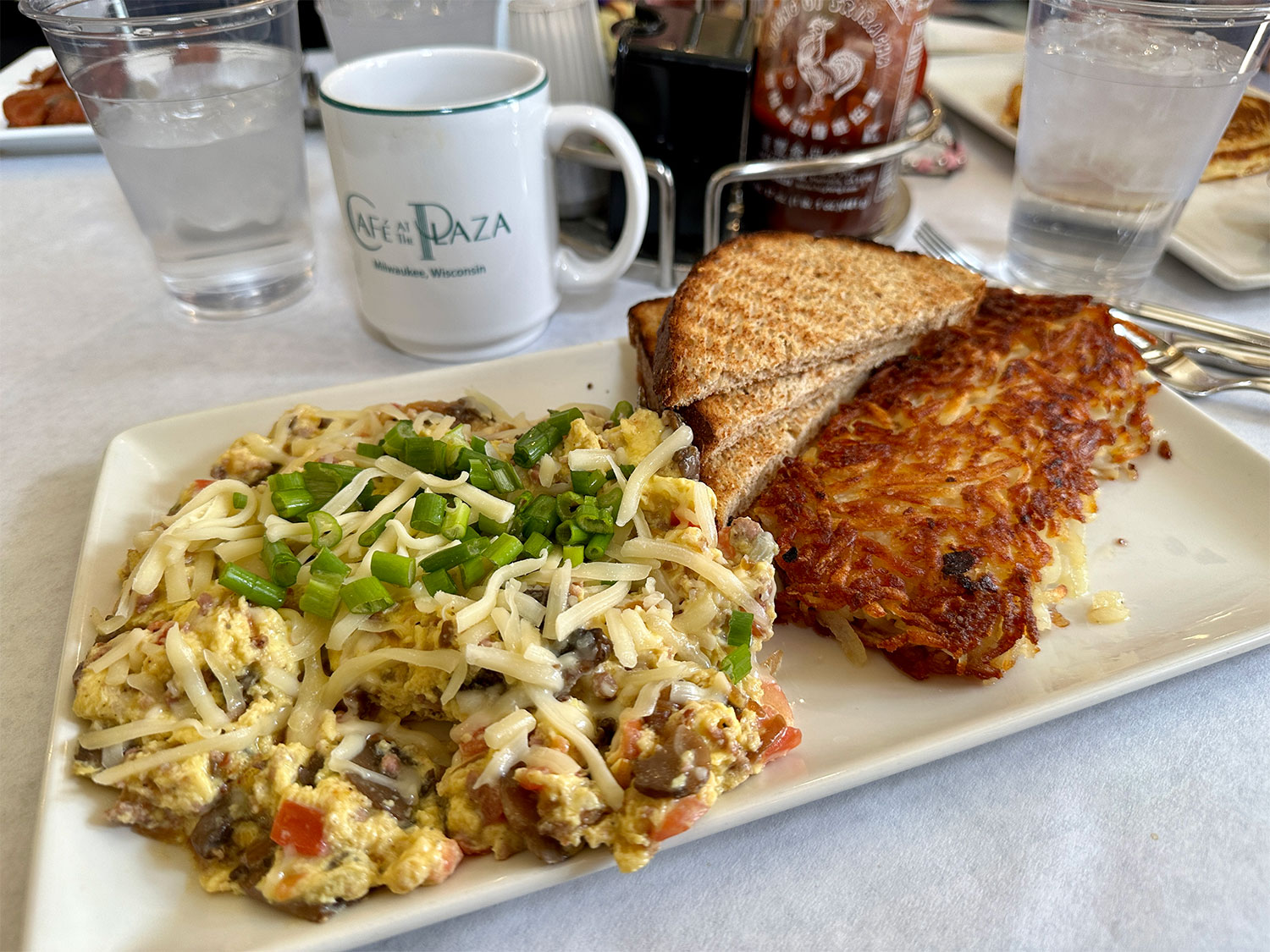 What makes Café At The Plaza's hash browns SO GOOD (and, indeed, "mandatory")? Let's call it the "But Not Too" stamp of excellence: they're crispy but not too crispy; they're greasy but not too greasy; they're salty but not too salty. They're perfect, just right, on the money, and absolutely worth the trip. Post a picture of your breakfast at Café At The Plaza and you're sure to get responses like these: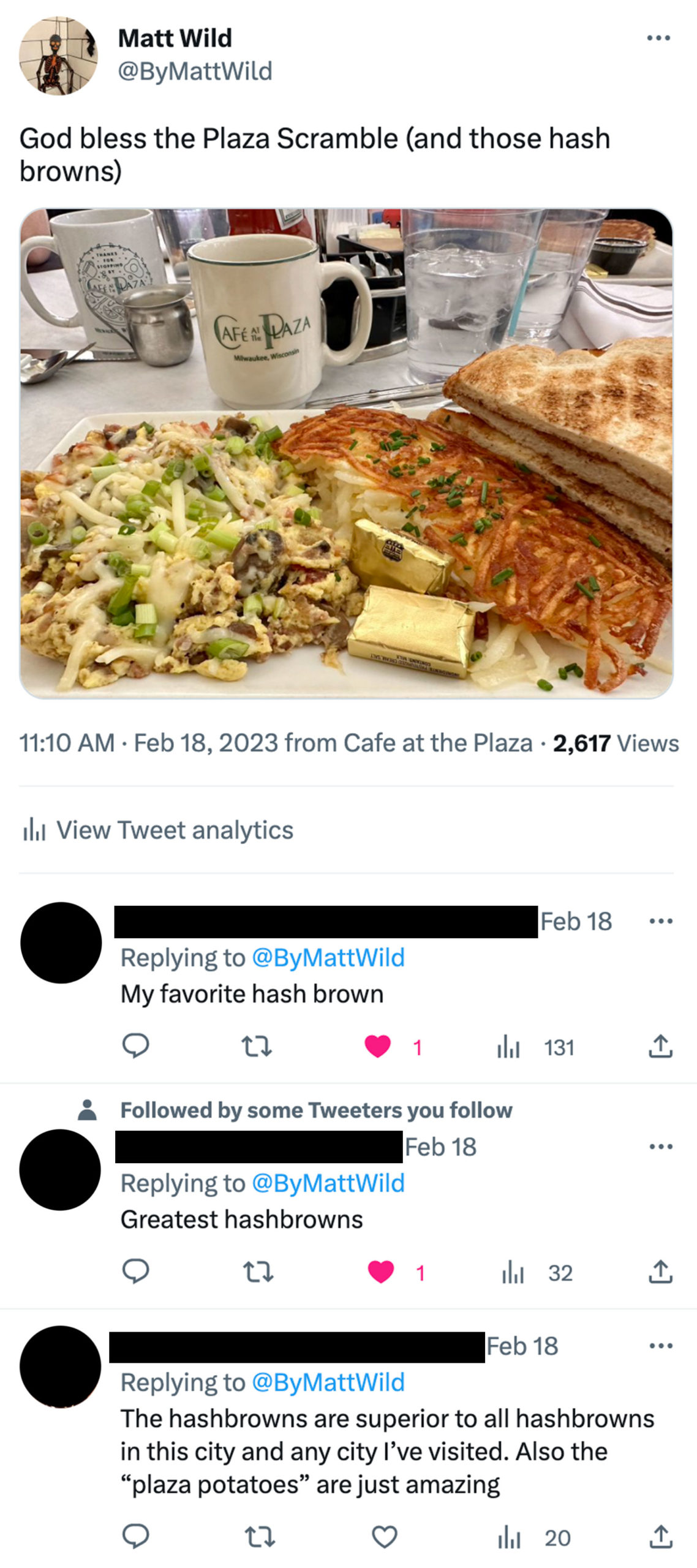 And about that Plaza Scramble: IT'S ALSO THE BEST. You got your scrambled eggs, you got your sausage and mushrooms, you got your tomatoes and caramelized onions, and you got your Wisconsin cheddar cheese and green onions. You bite into a Plaza Scramble, my friend, you're biting into perfection.
To be honest, anything at Café At The Plaza is the best. The atmosphere is terrific—whether you're eating in the main dining room, one of the cozy alcoves, that wood-paneled back room, the outdoor courtyard, or the always bustling countertop diner. The locally sourced food is terrific—whether it's a Plaza Scramble or a Veggie Benedict for breakfast, or a Southern Fried Chicken Sandwich for lunch or dinner.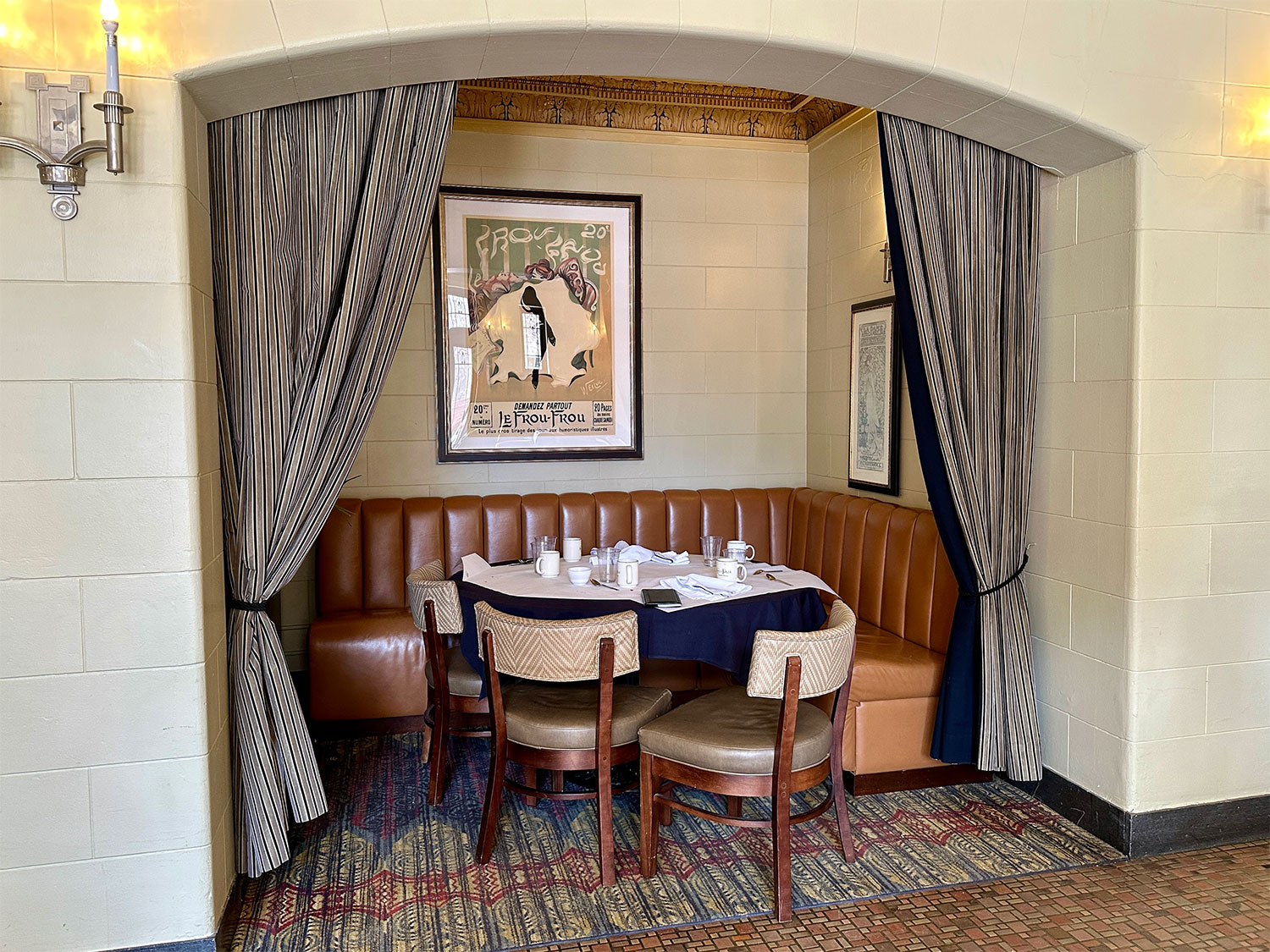 As for the hotel itself, here's some history from The Plaza's website:
Designed and built by architect George W. Adams in 1925, The Plaza Hotel was originally constructed as two separate buildings, both rich in Art Deco characteristics.

Machine-age streamlining and sleek geometry is emphasized around every corner. From clean, strong lines evident in the wall construction and window design to the colorful tile floors, walking through our space is like being taken back in time. Although not all the design is lavish, as the building (as well as many others during that time period) was forced to save money on white and grey paint through the Great Depression. These differing styles capture the two Art Deco phases found throughout the hotel to this day.

After our building was able to dust off the Great Depression, World War II came right behind it, calling on its resilience once again. Serving as one of Milwaukee's first bomb shelters along with providing cots for sailors traveling through Milwaukee, The Plaza Hotel did its part to help.

In 1950, the Tea Room was converted to a small café, with a seemingly reserved lunch counter installed. In 1984, the building, along with its winding history, was sold to the Crichton family. Only the second owners the building has ever had, the Crichton's still own and run The Plaza Hotel today. The Crichtons are invested in maintaining The Plaza's unique Art Deco style that has given it character all these years. Oh yeah, and that unassuming lunch counter from 1950? That's still there, fully treasured by Milwaukee locals. Just like about everything else in our wonderful time capsule of a Milwaukee staple.
"With an ever-evolving menu served in an iconic hotel that's pushing a century," we said back in 2018, "past and present both reside at The Café At The Plaza. And you're invited to join them for a meal, for a night, or for months at a time."
We stand by that, too. And seriously: GET THE HASH BROWNS.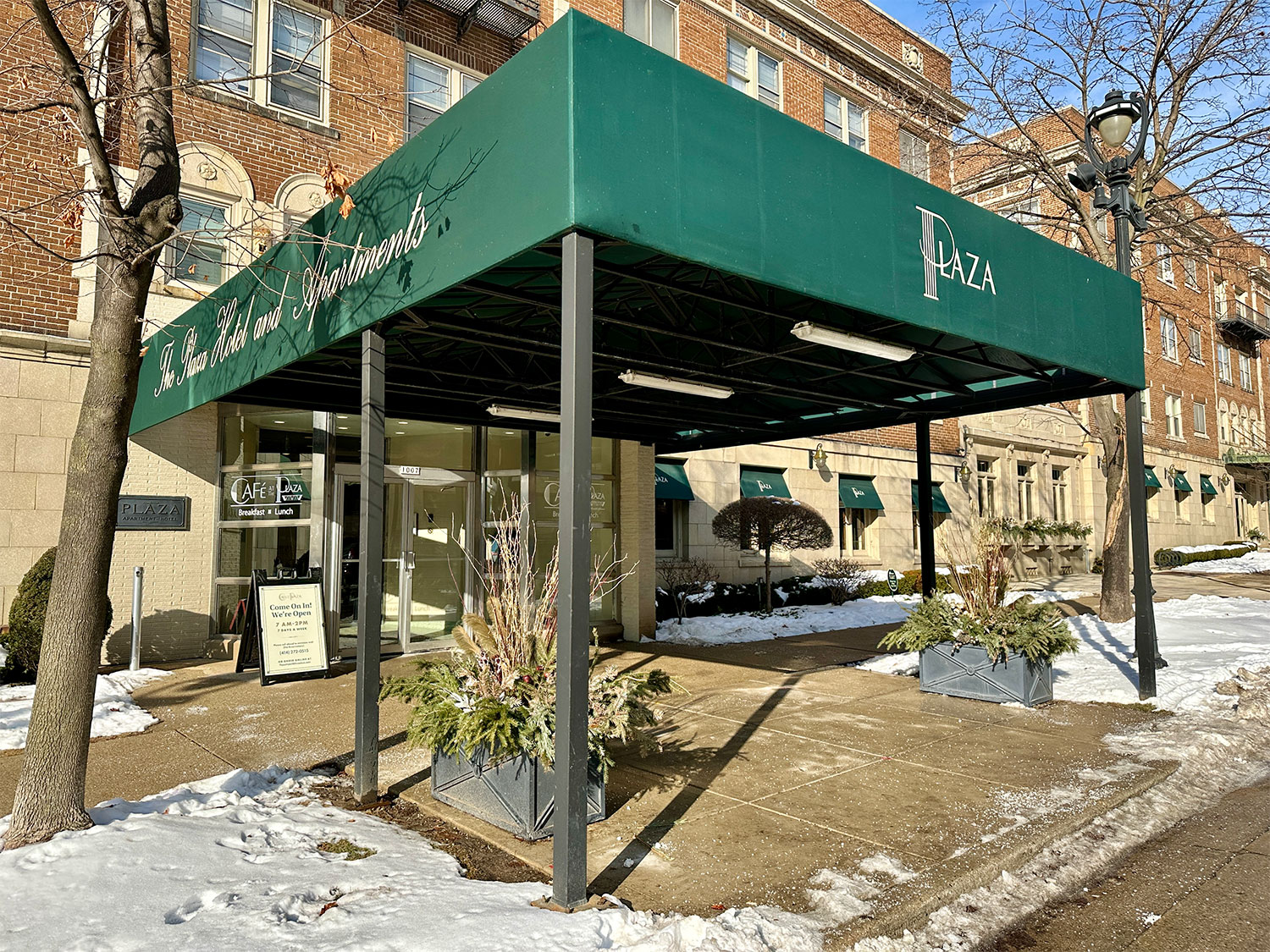 Exclusive articles, podcasts, and more. Support Milwaukee Record on Patreon.
---
RELATED ARTICLES
• Mandatory Milwaukee: Plaza Hotel and Café At The Plaza, where past and present both reside