Perhaps "Second Impression" would be a more accurate phrase for this piece, as readers throughout Wisconsin and the world as a whole initially became acquainted with Grand Avenue Saloon (550 W. Grand Ave. in Port Washington, 262-284-2103) last week, while pouring over reports about Dustin Diamond—better known to 1990s television viewers as lovable Saved By The Bell nerd Samuel "Screech" Powers—allegedly stabbing another patron who was photographing him while he was enjoying some Christmas-night libations at the understated establishment. Diamond's post-Bell reputation as a reckless and emotionally embattled former child star grew, as he was hauled off to jail and hit with a variety of charges. One Port Washingtonian earned a hell of a party anecdote (with the scars to prove it), and the business in which this alleged non-fatal incident occurred may forever be known as "the place Screech stabbed that dude." The jury is out on that last part.
With equal doses of nostalgia, schadenfreude, and general Midwestern curiosity, Milwaukee Record gassed up and drove approximately 39 miles north on I-43 to Port Washington to investigate the crime scene in the aftermath of the longest-tenured Saved By The Bell character making headlines in the Step By Step city, in what would be the seediest sitcom crossover episode of all time. Is the Grand Avenue Saloon the type of place you'd expect a stabbing to happen? Did the bar just have the misfortune of playing host to the ordeal? Would Mr. Belding be there? WE'RE SO EXCITED! WE'RE SO EXCITED! WE'RE SO…scared [sobs] to tell you what we found when we visited the Dealey Plaza of Port Washington bar-beef in the wake of Dustin Diamond's arrest.
The space: We entered the bar at the corner of Grand Avenue and Park Street on what passes as a bustling part of the 12,000-resident Ozaukee County seat. With new Port Washington citizen and Ghost Cuts (and ex-Drago, The Sensationalists) singer Jackson Kesy alongside us as a guide and potential witness, we arrived around 4 p.m., in the heart of happy hour. No, this wasn't at all like the bright, colorful Bayside High burger and fries joint, The Max. Rather, sunlight and TVs showing collegiate bowl games and NCAA basketball match-ups served as the light source. One aforementioned bowl game supplied the saloon's audio accompaniment. The subtle-but-unflappable sports motif extended to the decor, with signed Packer photos or yore, golf and softball trophies, and a Reggie White portrait lining the wall and tucked behind the bar. In all, it was quite comfortable.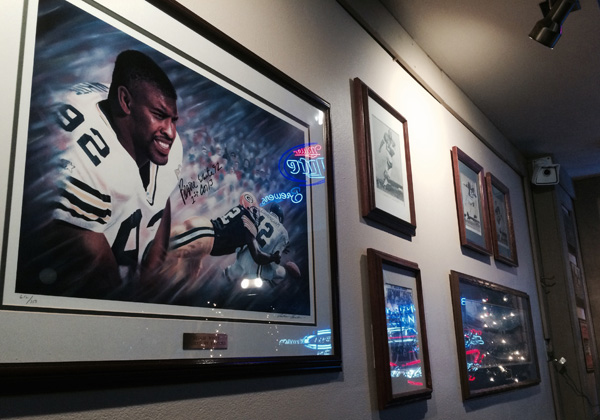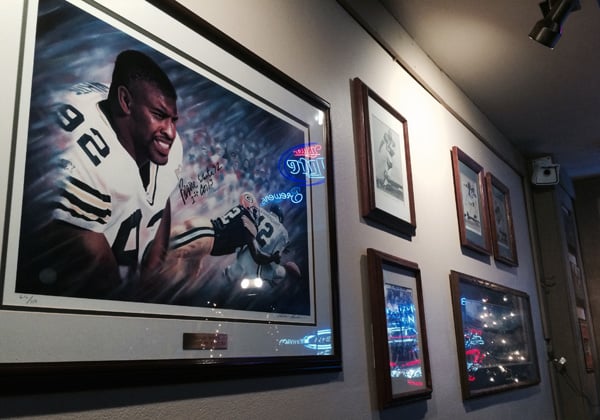 Grand Avenue Saloon is essentially a long and thin corridor of a watering hole, with a sort of townie bar selection-meets-small supper club feel. There are about 20 stools lining the bar, a pool table, an electronic dart board, foosball table (featured prominently in the TMZ-obtained footage), and one five-seater pub table that all basically fills the diminutive establishment. After grabbing our drinks, we gave ourselves some distance from the five (likely) regulars whose conversation seemed to be interrupted by our entrance, and settled at the table. Jackson faced the bar. We sat in what we perceived to be the very place the photos and video of Diamond were captured. During our two-hour stay, nobody mentioned Screech (save for Jackson hilariously recounting the "Kevin The Robot" storyline), Dustin Diamond, or anything about that fabled Christmas night. It seemed like business as usual.
The service: While the reaction from the small cluster of barflies at the rear of the establishment (and one Carhardtt overalls-clad guy talking to the bartender near the entrance) ranged from un-enthused to agitated, our late-40s or early-50s barkeep was quick to dispatch a warm welcome and made sure to offer us complimentary popcorn with our beverages. Perhaps he was aware people have brought knives into the place recently. We just think he was nice.
Milwaukee Record's drinks: The money we spent on gas for our 80-mile round-trip journey to and from Port Washington was given back to us in the form of happy hour savings. The night-long special du jour was $2.50 pints of Shock Top. Since it was the preferred brew of Sports Illustrated coffee blogger and occasional half-assed NFL columnist Peter King, we'd intentionally avoided Shock Top our entire life. Yet when you willingly drove the better part of an hour to drink at a bar just because the star of the Screeched: Saved By The Smell sex tape got into a scuffle by the foosball table six nights earlier, maybe it's best to let bar signage start making decisions for you. The beer was fine: exactly the mass manufactured, orange peel-accented "micro" brew we'd expect to make King salivate as if he was watching Brett Favre highlights alone. FYI: Wednesday's special is $2 pints of Spotted Cow, and Friday has a double bubble from 4 to 7. Microwavable snacks and frozen pizzas were also available for fair-to-generous prices.
The verdict: There's no forgetting Grand Avenue Saloon's unique place in Southeastern Wisconsin's D-list infamy. We drove all the way to fucking Port Washington to find where Diamond was in a rough spot this Christmas. In doing so, we found a diamond in the rough. Unless Lark Voorhies burns this bitch down someday or Cody Lambert ghosties his van through the front door or something, we'll probably never be back. That said, we're happy we came. Go Bayside!