It's an unprecedented and incredibly difficult time for restaurants right now. Wanting to highlight local establishments who are keeping food quality high while also keeping its customers and employees as safe as possible during the ongoing COVID-19 crisis, we're going to focus on restaurants that have completely shifted to carryout and/or delivery service in a series we're calling "Carryout Chronicles."
Triskele's (1801 S. 3rd St., 414-837-5950) is a Milwaukee anomaly. The quaint and cozy restaurant on the corner of 3rd and Maple looks like an inviting and unpretentious neighborhood tap from the outside. And, at least in normal times, that's true. At the very same time, this longstanding establishment so many would pass by without a second glance also happens to craft some extremely delicious dishes that range from gourmet seafood preparations and specialty pasta to elevated takes on standard pub fare like cheeseburgers and mac & cheese.
It's a rare restaurant where customers can feel just as comfortable pairing a Pabst tallboy with crab cakes or gnocchi and washing down some Friday Fish Fry with a glass of wine you would have expected to be a few bucks more than the listed price. At least that's how Triskele's was before the pandemic. These days, the casually-cloaked fine dining spot exists solely to serve outstanding carryout cuisine three few nights a week as the world awaits safer conditions and better days ahead.
With many restaurants reopening for in-person service, the Carryout Chronicles series will be winding down (at least at the frequency we have been releasing these articles since last fall). Before we put it to bed, however, we needed to end on what we knew would be a high note—a trip to get takeout from Triskele's.
Policies And Procedures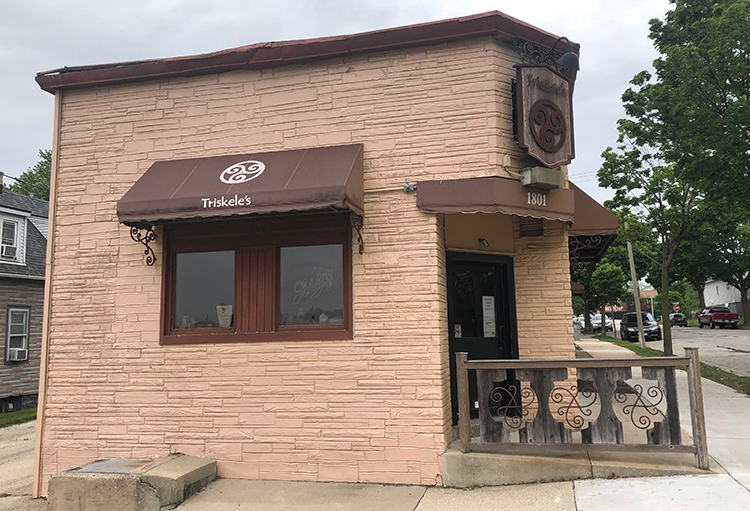 Every Wednesday through Friday, Triskele's posts that night's menu online. The CashDrop-supported site allows you to place your order and select your pickup time. If the convenience of a website isn't preferred, you can also call in your order at 414-837-5950 and arrange for pickup. Once your food is ready, you'll be notified via text (assuming you use the site, at least. No idea how it works over the phone).
Our order this past Wednesday was scheduled for 4:45 p.m. We got our text notification at 4:44 p.m., then made the short drive to park alongside the restaurant's Maple St. side. Before we could even call to say we had arrived, someone came out with our bag and handed it to us through our passenger window.
Carryout Quality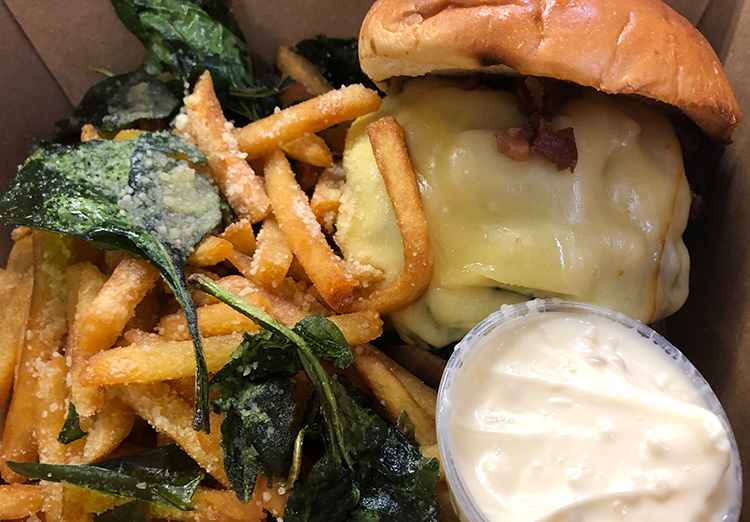 While the menu is somewhat pared down (to be honest, it's never been huge), it's full of stunners. We were feeling like a burger, so we choose from one of the week's three such options. Our selection was an Angus patty (cooked medium) topped with an ample amount of melted Muenster cheese, smoked bacon pieces, and a layer of homemade pickle medallions in-between a buttered and grilled bun. Each burger meal ($12.50) comes with fries, but we opted to upgrade to a side of Parmesan Truffle Fries for an extra $2.50.
This MIGHT be a tad hyperbolic, but that upgrade might be the single best decision we've made in months. After more than a year of hard, room temperate, and altogether disappointing fries, we made quick work of the hefty pile of hot, glorious, oh-so-tasty truffle fries. The Parmesan dusting, fried spinach, and garlic mayo dipping sauce made this wonderful side even better. If you have the chance, do yourself a favor and upgrade to Parmesan Truffle Fries.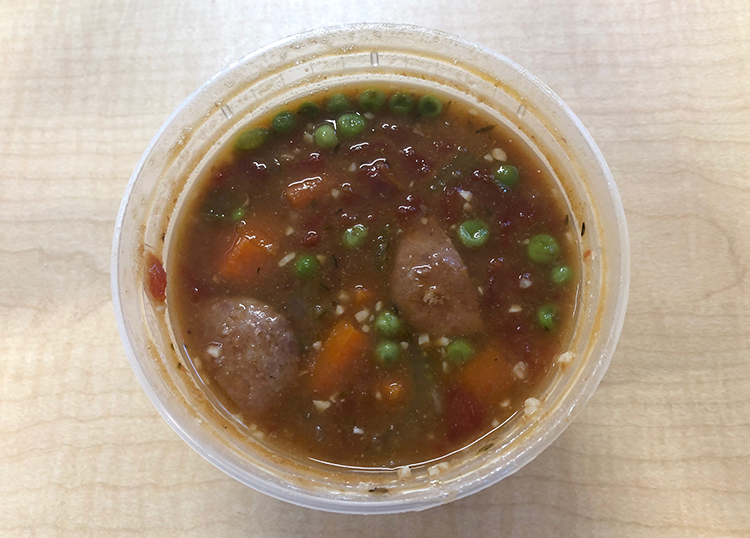 After taking a big burger, a sizable order of decadent truffle fries, and that entire container of dipping sauce to the dome in a span of about 10 minutes, we weren't exactly looking to eat anything else. However, in hungrier times earlier that afternoon, we also decided to order a pint of Triskele's minestrone ($6) and we tried that as well. The double-sealed container was still hot when we dug into it a good 20-25 minutes after being handed the bag.
The minestrone was rich and chock full of tomato pieces, potato chunks, meatballs, sliced sausage, carrots, celery, kidney beans, and a short tubular pasta (Paccheri perhaps?). The burger was very good—a Top 10 burger for 2020 and early 2021 for sure—and the fries were divine. The minestrone, surprisingly, landed somewhere between those two menu items. We were excited to eat the rest of it for lunch today. Our order also came with oyster crackers for the soup and a piece of fancy dark chocolate for no additional charge.
Other Info
Though we skipped dessert, there are some after-dinner treats on the menu. There's fish fry available every single Friday night. You can order cans of PBR and there are routinely bottles of wine on sale for as little as $10. And we'd be doing you a disservice if we neglected to mention Triskele's signature Mac & Cheese is still available, both on the restaurant's website AND (as the restaurant itself promotes) on DoorDash.
Triskele's is awesome and we sorely miss going there. It's sad that it took a pandemic to let us know exactly how much we took this local gem for granted in the "before times." We give them credit for their actions and their approach throughout the COVID-19 crisis, and if/when they get on the other side of this nightmare in one piece, we're going to let very little time go by before we belly up to the bar for some mussels, a local craft beer or three, and some other culinary wonders they create in their little kitchen on the corner of 3rd and Maple. We hope you'll join us.