Caleb Westphal hasn't missed a Friday fish fry since 2013. Follow along with his never-ending adventures here.
"We work for in our songs, a sort of a better world, a rainbow world," songwriter E.Y. "Yip" Harburg told the audience at the inaugural Lyrics and Lyricists event at the 92nd Street Y in New York City, on December 13, 1970. Using some of the lyrics he had penned in his signature song, "Over The Rainbow," he went on to wonder if that better world had been achieved by him and his contemporaries and what impact a song can have:
"Now, my generation, unfortunately, never succeeded in creating that rainbow world, so we can't hand it down to you. But we could hand down our songs, which still hang on to hope and laughter, so that in times of confusion like these, when all the world is a hopeless jumble, and the raindrops tumble all around, heaven opens a magic lane. When purple clouds darken up the skyway, there's a lovely highway to be found, leading from your window pane, to a spot behind the sun, just a step beyond the rain. Somewhere over the rainbow, way up high. There's a land that I heard of, once in a lullaby. Somewhere over the rainbow, skies are blue, and the dreams that you dare to dream really do come true…"
As we enter the third decade of the 21st century, it still often feels like we are in "times of confusion" and "the world is a hopeless jumble." There is much we must be cognizant of and be vigilant about, and songs of hope are needed just as much now as ever to keep our spirits up. For some, including myself, a good old Wisconsin Friday fish fry can help keep spirits up as well.
According to the website for the Rainbow Restaurant (6290 S. Martin Rd.; New Berlin; 262-679-0490), it was just four years after Judy Garland sang Harburg's words in The Wizard of Oz that the building that houses the restaurant was built. It has been a restaurant with "Rainbow" in its name ever since. It was so named because the building's facade—and part of its sides—were originally made up of prism-like glass block windows. Located on the northeast corner of College Avenue and Martin Road, on the southern border of New Berlin, adjacent to Muskego, the Rainbow Restaurant has been owned by the same family since 1979. When the glass block windows were removed in 1986, the name was still kept. While these light-refracting windows are gone, one thing that can be found at the restaurant today is a Friday fish fry.
The Rainbow Restaurant could possibly be best described as a country diner. Counter seating is available, and 10 or so tables fill the rest of the rather small establishment. When I met some friends there this past Friday around 6 p.m., they had already ordered drinks and were looking over the menus. The Friday fish and seafood options are three piece beer-battered cod ($10.95); three piece baked bod ($10.95); two piece breaded cod square filets ($10.95); breaded lake perch ($15.95); smelt ($10.95); panko breaded butterfly shrimp ($10.95); and breaded & grilled walleye ($15.95 for 1 piece/ $21.95 for 2 pieces).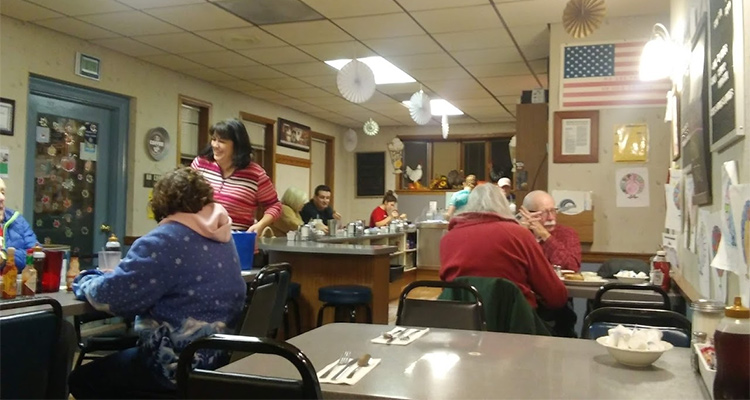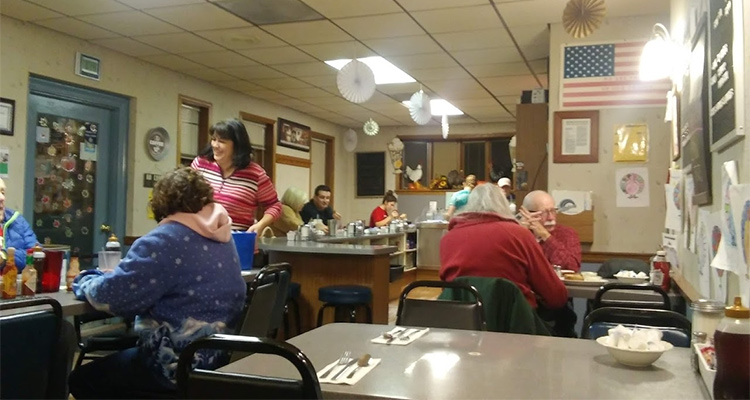 Meals come with either french fries or potato pancakes. Instead of automatically getting coleslaw, you get a choice of vegetables (hot or cold vegetable of the day, pickled beets, applesauce, or coleslaw), salad, or soup (soup of the day, chili, or clam chowder). The soup is a dollar upcharge. Fish sandwiches are also available. I ended up ordering the beer-battered cod with potato pancakes. Instead of having to choose between clam chowder and coleslaw, I ordered chowder on the side. As they don't make mixed drinks, I followed my friend's lead and ordered a Miller High Life.
The chowder was almost more like a soup than a chowder. It was replete with dill, but its flavor was not overpowered by it. Potatoes, clams, and small pieces of bacon could also be found. The Rainbow Restaurant has disclosed that they make the chowder fresh every Friday morning, and that they start it off "with a pound of butter, real clams, heavy cream, and milk."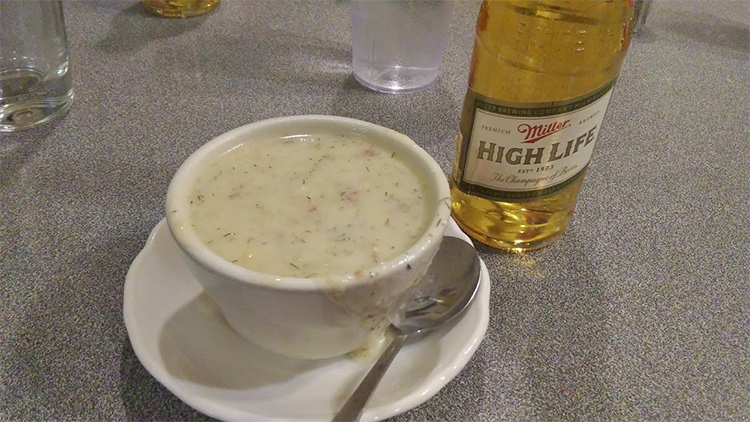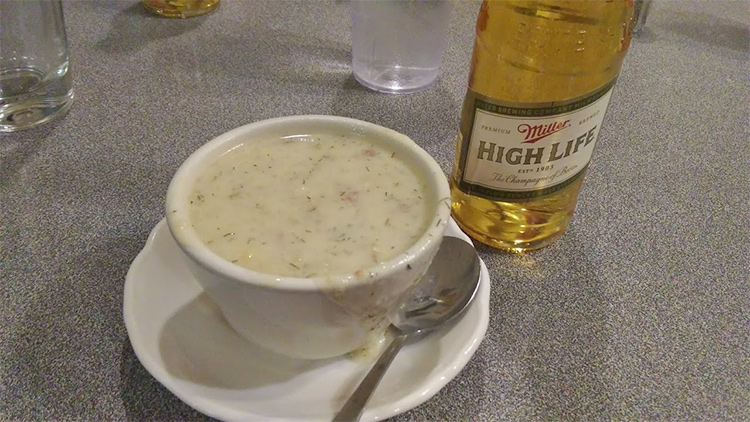 When preparing their fish, the Rainbow Restaurant soaks it in beer and dips it in batter right before frying it. When I cut through it, the batter held together like a breading, and it fully encased the fish not unlike many breadings do. This was no mediocre batter—it had a unique composition and pleasant flavor. The fish flaked moderately well and was satisfactory in quality. The tartar was pretty standard, mixed with some relish and seasonings.
Instead of the usual two potato pancakes per fish fry, at the Rainbow Restaurant you get three. There wasn't much to distinguish them from hash browns beyond them being cut into circular shapes. If I would have been eating breakfast and been given them as hash browns, I would have accepted them as being such. When looking at them closely, however, I could detect some flour or binding. Although they were almost like hash browns, they still were rather enjoyable. The fish fry was rounded out with a subdued green-cabbage-and-carrot slaw, and thick, buttered rye bread.
The Rainbow Restaurant may be more suited for a soup-and-sandwich-at-the-counter kind of afternoon than a Friday night fish fry (I did this back in January), but that's not to say their fish fry isn't competent, because it is. They have plenty of fish fry options and the one I tried was appetizing, filling, and reasonably priced. Some may say there is a pot of gold at the end of the rainbow, but if you've read this far, you likely already know what's really there: a fish fry. I'm sure Yip Harburg would have agreed.
Takeaways: A small, cozy diner; sufficient amount of fish options; you can't get an Old Fashioned here but you can get a High Life; there is dill and bacon in the soup-like chowder; unique batter with a pleasant flavor; you get three potato pancakes but they are really similar to hash browns; I felt super young here, and that is my kind of place to hang out.