According to data from the Department of Health Services, 4,972 COVID-19 tests were processed in the state of Wisconsin in the past 24 hours. Of those tests, 144 came back positive. With 4,828 tests coming back negative, the percentage of daily positive COVID-19 tests in Wisconsin for Monday, May 18 is 2.9%—a new low.
Six new deaths were reported in the past 24 hours, bringing the state's total to 459.
Here's what the past two weeks look like: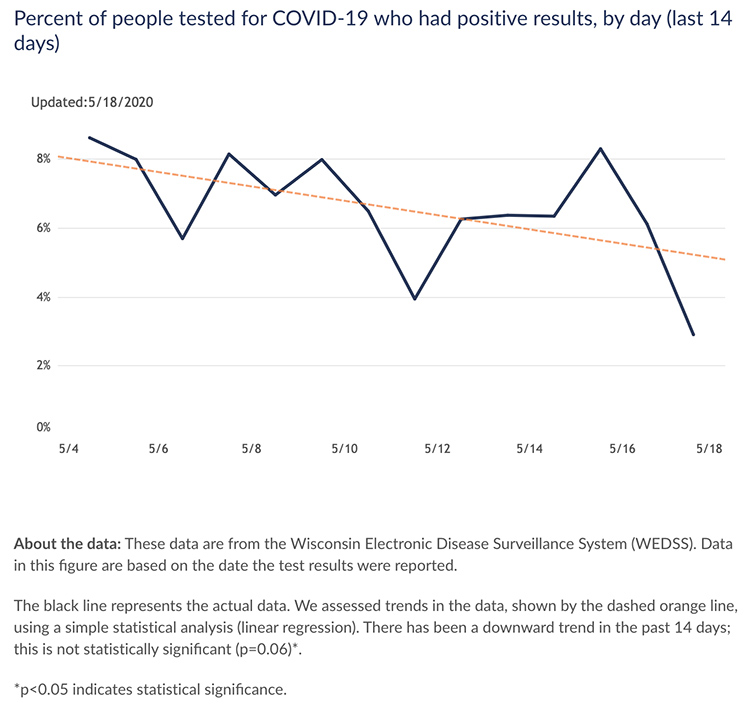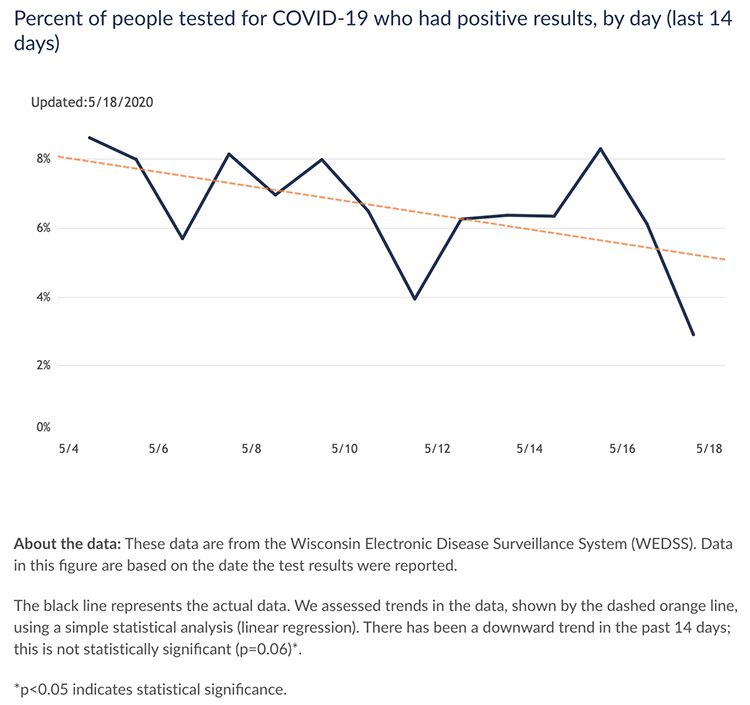 And now, everyone braces for…something. Well, the possible effects of last Wednesday's Supreme Court decision to immediately end the state's "Safer At Home" order and issue a "Do Whatever You Want" non-order instead. Various Wisconsin counties and cities currently have their own safer-at-home orders, while others have none at all.
So when will we see those possible effects? "We won't know for 7-14 days whether there will be a significant impact of the increased interaction that people are having," John R. Raymond, Sr., MD, president and CEO of the Medical College of Wisconsin, told The Daily Beast last week. So there you go.
Department of Health Services Secretary Andrea Palm spoke during an online press conference Monday afternoon, stressing the importance of continued vigilance during the COVID-19 crisis. Here are her remarks:
In light of the uncertainty and confusion caused by last week's Supreme Court ruling, I want to take just a moment to remind Wisconsinites that our work and our mission at DHS remain the same. We are committed to protecting and promoting the health and well being of the people of this state, and we will continue to rely on our public health experts and scientists to keep you informed on the best ways to stay safe and healthy, just as we have done since the beginning of this pandemic. DHS continues to work with our partners across the state to increase our testing and expand our contact tracing. We continue to work with local leaders to help ensure access to safe isolation, shore up our hospital capacity, and monitor the prevalence of COVID-19 in communities across the state.

We put together a strong plan based on the science of the virus and the fact that the gradual process is the safest way to reopen Wisconsin. That has not changed. The science has not changed. Nor have the recommendations of our public health experts.

I know there are questions that folks have and that weigh on their minds as they try to decide how to move forward. Should we still stay at home? Our best public health advice is yes, you are safest when you are at home. Can you safely visit with friends? Yes, our best public health advice is that we recommend you do that virtually—make a phone call, set up a video chat, send a note by mail. Can you take trips outside your house? Absolutely. But our best public health advice is that you should, as the governor suggested, continue to limit them as much as possible to your essential trips, like grocery store and pharmacy on a weekly basis. Can you go out to dinner? Our public health experts recommend that you continue to enjoy a meal from your favorite local restaurant via pickup and delivery, but not to dine in.

Our public health reality has not changed. This virus remains very contagious and our data and metrics tell us that we should continue to limit our interactions with others, as much as possible to protect ourselves and our communities, and to reduce the spread of COVID-19.

At DHS, our mission has not changed. We continue to do the work to protect and promote your health, by giving you guidance based on the best science and public health practices available. And we continue to share the data on where things stand here in Wisconsin.