Remember when the end of summer was also kinda-sorta the end of Milwaukee's festival season? Those were simpler (and much more boring) times. Thankfully, the city's already-bursting list of festivals, block parties, and other ambitious entertainment undertakings is extending well into autumn. As you get ready to have an awesome autumn, Here is Milwaukee Record's fall festival guide.
September 23
Fromm Petfest @ Henry Maier Festival Park
Summer's over. Woof! So why not say goodbye to the season with the always adorable Fromm Petfest? All the things you know and love will be back for this pet-tastic shindig: dock diving, lure and agility courses, the Doggie Dash speed trial, the Petfest Marketplaces, and a Bier Garden. Oh, and the whole thing is free! Don't forget to bring your (properly leashed and vaccinated) pet!
Jones Island Fest @ Kaszube's Park
For more than 55 years, Milwaukee has been the home of "The World's Largest Music Festival." Since last September, the city has also been the site of "The World's Smallest Beer Festival (Probably)." The latter event is actually called Jones Island Fest, a lighthearted happening hosted by Torzala Brewing Company that will return to Milwaukee's smallest and most secluded park for a second installment this Saturday. From noon to 6 p.m., the young and very good Bay View brewery will take over all 0.15 acres (or 610 square meters) of Kaszube's Park for a day of beer, food, fun, and the promise of "shenanigans."
Seven Year Anniversary Party @ Third Space Brewing
This weekend, Third Space Brewing will celebrate its seventh birthday—while simultaneously sending summer off in style—with a full day of beer releases, food trucks, philanthropy, and live entertainment. The Seven Year Anniversary Party will feature two new beer releases to enjoy, an eclectic mix of local food trucks serving up tasty eats and treats, and opportunities to donate to YMCA Camp Minikani (where Third Space's founders first met). Best yet, the brewery's outdoor deck will host 10 hours worth of live music from great acts in Milwaukee and elsewhere in the state. And there's no cover!
September 23-24
Doors Open Milwaukee @ various locations
One of Milwaukee's most unique events is Historic Milwaukee's annual Doors Open Milwaukee, a citywide "open house" where folks can explore the normally off-limits insides of theaters, museums, art galleries, and random businesses. This year's edition will boast more than 130 participating sites, including new sites like GRAEF, Mitchell Street Arts, The Garage at The Harley-Davidson Museum, Milwaukee Art Museum Research Center in the historic Judge Jason Downer Mansion, and many more. The complete list of sites can be found HERE.
Sunday, September 24
Bean Plant Block Party @ Anodyne Walker's Point Roastery
Anodyne's second annual Bean Plant Block Party will take place outside on Bruce Street between 2nd and 3rd streets in Walker's Point, and will feature skateboard ramps and obstacles, food trucks, beer, coffee, and more. The event is free and open to the public. Skaters of all skill levels are welcome!
Harbor Fest @ Harbor District
Celebrate all things boats, fish, and water at this family-friendly festival. Harbor Fest will take place on Sunday, September 24 in front of UWM's School of Freshwater Sciences (600 E. Greenfield Ave.). From 11 a.m. to 3 p.m., attendees can enjoy baby sturgeon releases (and a "sturgeon blessing"), a Riverkeeper Boat Parade, music performances, free boat tours, a children's makers tent, and food from local vendors.
September 29 – October 1
Harvest Fair @ Wisconsin State Fair Park
Does the idea of a less-crowded Wisconsin State Fair that takes place in early fall sound appealing to you? It should, because State Fair Park's annual Harvest Fair is always a delight. Music, food, lumberjack shows, scarecrows, pumpkin bowling, and oodles of vendors are all included in this free three-day fest.
October 1-8
Milwaukee Comedy Festival @ various locations
Originating long before the city had anything resembling a sustainable comedy community, Milwaukee Comedy Festival has grown and evolved along with Milwaukee's stand-up scene. Along the way, the annual comedic undertaking has also brought in noted national talent to headline some of its shows. This year's festival—which will be taking place October 1-8—is no different, as Kyle Kinane, Todd Barry, Dave Stone, Kelly Ryan, and more will take part in the 18th annual Milwaukee Comedy Festival along with great local comics and up-and-coming humorists from all over the country.
October 5-12
Cultures & Community Festival @ various locations
From Thursday October 5 through Thursday, October 12, Milwaukee Film's 2023 Cultures & Communities Festival will take over the Oriental Theatre—and much of the city itself. The "eight-day convergence of groundbreaking films, distinguished speakers, and public forums designed to amplify diverse cultural expressions and celebrate community" will include a host of city-wide parties, panel discussions, a "sneaker and streetwear summit," stand-up sets from comedians Janelle James and Aida Rodriguez, and much more. Find all the event information you need HERE.
October 6-8
Milwaukee Oktoberfest @ Cathedral Square Park
Swarmm Events is bringing Milwaukee Oktoberfest to Cathedral Square Park for three days of Germanic fun that includes live music (mostly polka with a little Pat McCurdy thrown in), plenty of beer and food from Kegel's Inn, and contests like a bratwurst eating competition and a Wiener Dog Beauty Pageant. Prost!

Milwaukee Tattoo Arts Festival @ Baird Center
The 13th annual Milwaukee Tattoo Arts Festival is a celebration of all things ink, as body illustration enthusiasts and renowned tattoo artists take over the Wisconsin Center for three days of fun, connection, and tattoos.
October 7
Beet Street Harvest Festival @ Cactus Club
Following miniature edition last fall, Cactus Club will bring its Beet Street Harvest festival back in full force on Saturday, October 7. While we don't know the lineup yet (we're told it'll be released any day now!), the Bay View block party brings about a winning mix of live music, local vendors, and family-friendly fun that isn't to be missed.
Curd Fest 2023 @ Drink Wisconsinbly Pub
While it's always Curd Fest in Milwaukee as far as we're concerned, the folks from Drink Wisconsinbly Pub are going the extra mile with a deliciously cheesy festival devoted to the almighty curd. Enjoy samples from a stacked cast of local vendors, sign up for a cheese eating contest, and have a few drinks while celebrating an iconic Wisconsin delicacy at the Deer District.
October 8
Brady Street Pet Parade @ Brady Street
Attention, four-legged creatures and the two-legged creatures who love them: The beloved Brady Street Pet Parade will return to the bustling East Side street on Sunday, October 8. Dogs, cats, pigs, ferrets, rats, lizards, and humans are all welcome. The big event (presented by Lakefront Brewery) will take over the eastern end of Brady Street from 11 a.m. to 3 p.m. Vendors, music from Lilliput Records, and oodles and oodles of adorable pets will be involved. Similar to years past, the judged contests (Best Costume, Best Pet/Owner Lookalike, Best Trick) will be emceed by Milwaukee Record's own Matt Wild. The event is free to attend, though you'll need to buy tickets if you want to enter your pet(s) in the contests. Get those tickets HERE. All proceeds will go to the Urban Cat Coalition.
Made In Nerdwaukee @ Enlightened Brewing
Browse an impressive selection of locally made "geek goods" at this indoor marketplace on October 8. Beyond the 15+ vendors taking part in the first of two Made In Nerdwaukee installments (the other will take place at Enlightened Brewing on December 9), attendees can enjoy craft beer, non-alcoholic cocktails, and food from Sweet Smoke BBQ.
October 13-15
Milwaukee Paracon @ various locations
Milwaukee Paranormal Conference is back! The weekend celebration of the strange and unusual is set to take place October 13-15 at various locations in and around Milwaukee. This year's installment is described as "a celebration of the ghost stories of Milwaukee, urban legends, Milwaukee UFO sightings, Wisconsin folklore, all kinds of paranormal and all centered on phenomena that happened in the Brew City."
October 15
WMS Fungi Fair @ Polish Center Of Wisconsin (Franklin)
Calling all fungi fans! WMS Fungi Fair is coming back to nearby Franklin on October 15. According to the description: "Get great gifts for the holidays for your friends who love fungi. Listen to lectures and eat great food, and then go on a foray with the experts. It will be just as spectacular as last year! NO Fee to enter."
October 19-23
Pumpkin Pavilion @ Humboldt Park
"This four-day, family-friendly event brings over 2,000 Bay View residents and Milwaukee neighbors to Humboldt Park Pavilion. Guests come to carve pumpkins, admire the display of 1,000 lit pumpkins, enjoy live music, eat local food, and embrace the fun that is Halloween."
October 19-22
Boo At The Zoo @ Milwaukee County Zoo
This "merry not scary" event brings after hours fun to Milwaukee County Zoo from October 19-22. Enjoy a "trick-or-treat trail," pumpkin carving demonstrations, light shows, and (of course) lots of animals. All who attend are encouraged to come wearing a costume.
October 20-22
Twisted Dreams Film Festival @ Times Cinema
"With surrounding cities like Madison, Chicago and Oshkosh hosting their own festivals dedicated to horror, co-directors Christopher House and Stephen Milek decided it was time Milwaukee had one to call its own. Thus, the Twisted Dream Film Festival was born in all its bloody glory. The TDFF is dedicated to showcasing celluloid terror with its willing audience, providing a haven for like-minded souls." The 8th annual Twisted Dreams Film Festival will take place at Times Cinema October 20-22.
October 21
Flannel Fest @ Boone & Crockett / The Cooperage
Boone & Crockett's "Flannel Fest" will return for its third in-person installment on Saturday, October 21. Enjoy live music, food vendors, and local retailers in the Boone/Cooperage lot during this free, family-friendly festival. The lineup has not been released yet, but we've always been impressed by it and we're sure this year's will be no different.
Totally Rad Vintage Fest @ Wisconsin State Fair Park
The event description sums this up pretty nicely: "Step back to a time before Wi-Fi at Totally Rad Vintage Fest, a traveling vintage festival dedicated to the 80's, 90's & Y2K. Feel the nostalgia as you shop from over 80 vintage vendors, challenge a friend at the vintage arcade, show off your fit at the throwback photo ops or jam to the tunes being spun by the vinyl DJ. There is a little something for everyone inside TRVF. Vendors primarily focus on vintage clothing but you'll also find toys, video games, home goods, memorabilia and more! Whether you're hunting for a gem hiding in a bargain bin or searching for the collectible piece of your dreams you are sure to find it at Totally Rad Vintage Fest."
October 27
Wisconsin Whiskey Festival @ Hilton Milwaukee City Center
"Guests can expect over 150 whiskies to sample from 35+ local and national distillers. Tickets always include your entry, event program, pen, whiskey journal, and a Glencairn tasting glass all in a tote bag for you take home!"
October 28
Jack-O-Lantern Jubilee @ Red Arrow Park
The second annual family-friendly Halloween event is coming back to Downtown Milwaukee's Red Arrow Park on Saturday, October 28, from 11 a.m. to 2 p.m. The first 500 attendees will have the opportunity to pick out a free pumpkin from downtown Milwaukee's only pumpkin patch. Families can also gather for story time with The Pocket Lady and Wes Tank. And there's more! Face painting, giveaways, food vendors, and more will be featured. The free event is intended for kids of all ages, though it's especially suited to tykes ages 2-10.
Dia de los Muertos Festival @ Forest Home Cemetery & Arboretum
"The Dia de los Muertos Festival is a FREE family friendly event that aims to bring together the southside community to celebrate the traditions of Dia de los Muertos and enjoy the space that the Forest Home Cemetery & Arboretum has to offer. The event will kick-off in the morning with a 5k Run/Walk through the grounds of the cemetery. After the run, the festival begins with food trucks, local vendors, arts and crafts for kids and families, traditional music and dance, altars to the dead, face painting, community resource booths, and so much more."
November 4
Wisconsin Veterans Day Festival @ Peck Pavilion
"The Wisconsin Veterans Day Festival features live entertainment, food, drinks, exhibitors and vendors, and resources for Wisconsin veterans and their families at the plaza of the iconic Marcus Performing Arts Center."
December 1
Christmas In The Ward @ Catalano Square
Seasonal music, theatrical performances of holiday classics, a visit from Santa, and a tree lighting ceremony all await you in Historic Third Ward at the Christmas In The Ward event. There's also hot chocolate and beer available for purchase.
December 3
Hover Craft @ The Pritzlaff Building
Since 2009, Hover Craft has brought skilled local artists, crafters, retailers, and others residing beneath the broad "maker" umbrella together to bring Milwaukee-made goods to area consumers during the holiday season. It'll return to The Pritzlaff Building for another installment on Sunday, December 3.
Milwaukee Krampusnacht @ Best Place and Historic Brewery District
Since 2017, Milwaukee Krampusnacht has celebrated the half-goat/half-demon Krampus—a.k.a. a figure from Alpine folklore who punishes naughty children and acts as a foil to the do-gooding Saint Nicholas—with a family-friendly night of costumes, music, food and drink, and arts and crafts. This year's Milwaukee Krampusnacht will take place in the Brewery District (between 9th and 11th Streets on Juneau Avenue) on Sunday, December 3.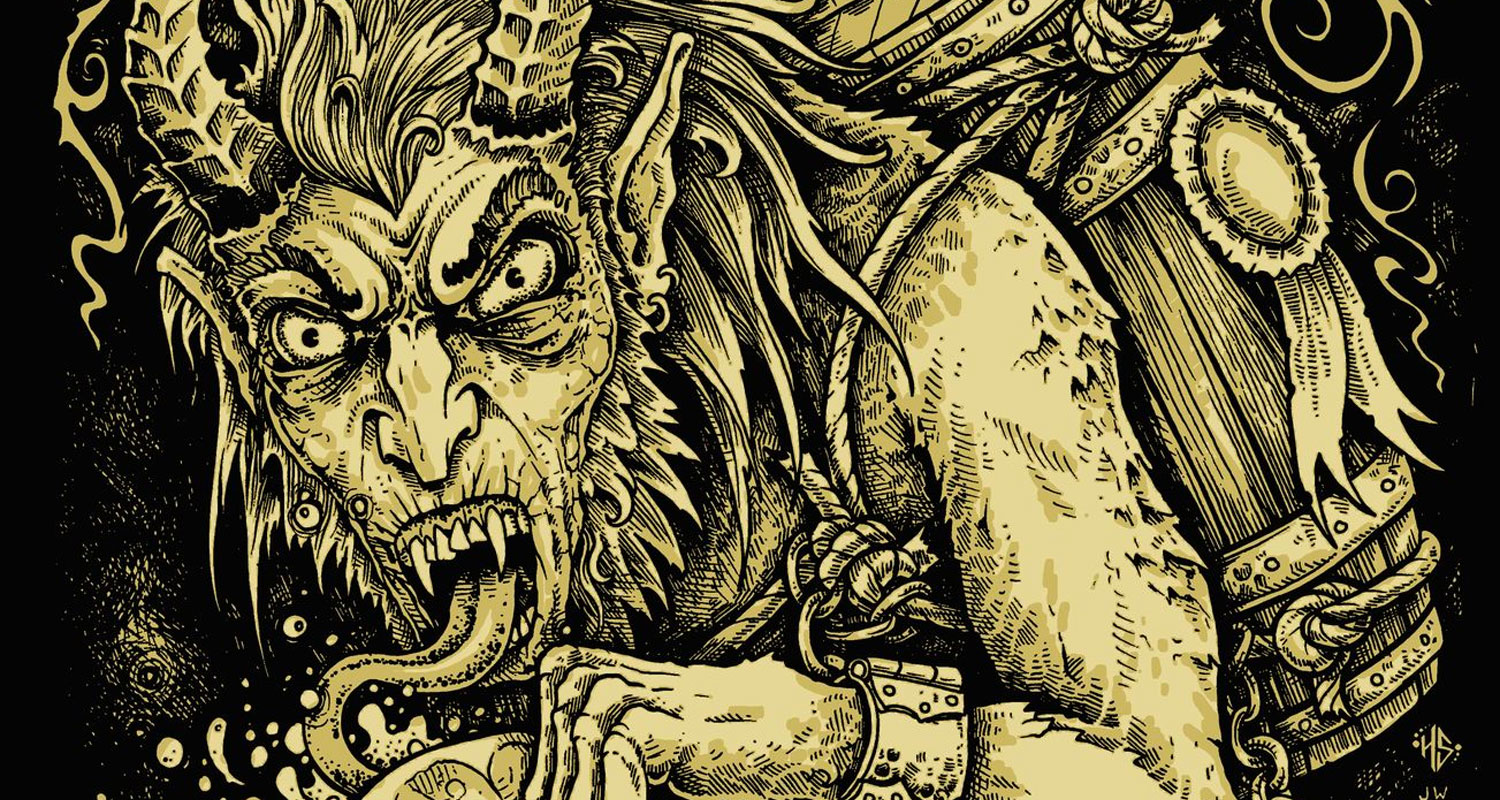 December 9
Made In Nerdwaukee @ Enlightened Brewing
Browse an impressive selection of locally made "geek goods" at this indoor marketplace. Beyond the 15+ vendors taking part in the second of two Made In Nerdwaukee installments (the other will take place at Enlightened Brewing on October 8), attendees can enjoy craft beer, non-alcoholic cocktails, and food from Sweet Smoke BBQ.